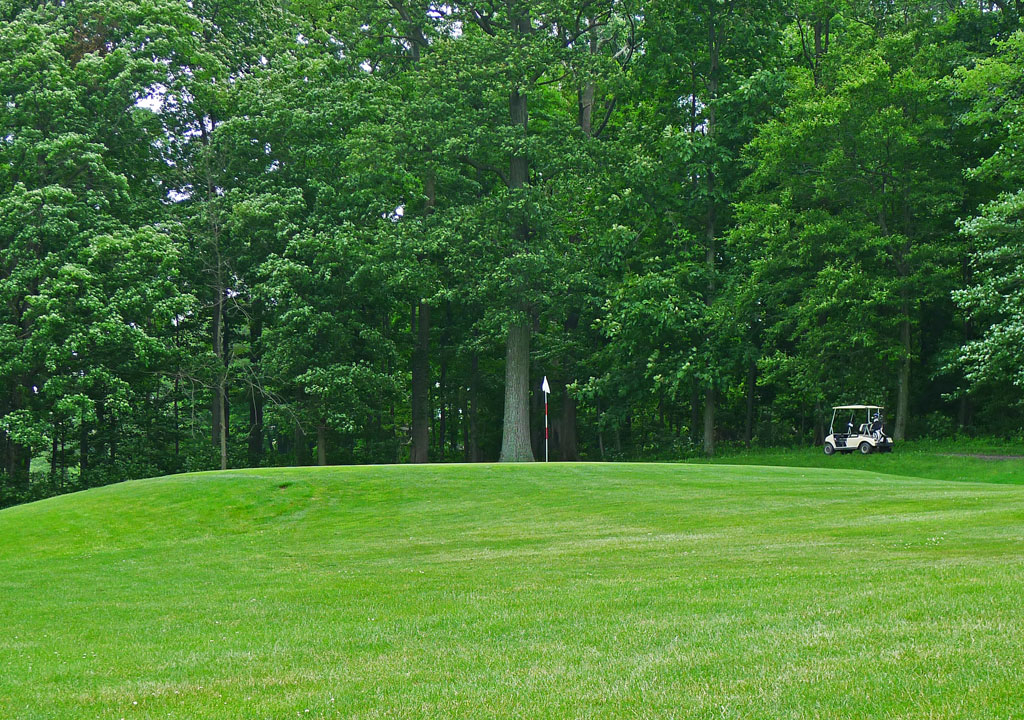 1931 Donald Ross design. According to the website, Ross is "widely considered the most prolific and successful golf designer of all time. Ross was noted for his ability to create holes that were perfectly integrated into the landscape. His design philosophy stressed using what nature provided rather than wholesale remodeling of topography."

You had me at Donald Ross!
Wide dogleg left fairways and small greens greet you at the first two holes. Hole #3 may look easy from the tee but the fairway rough in front of the hole makes you think twice about your club selection. The dome-shaped green at #4 is the strength of this long par 5 (pictured above).
The greens are excellent and if you can hold these beauties on the straight-forward par 3's (holes 5 & 7), pencil in a par on the scorecard. The eighth hole is the number one handicap and my double bogey punctuates that rating. Number nine is an easy par 4 and a great way to make up a stroke or two as you close out your Donald Ross experience.
Ace:  1931 Donald Ross design. Nothing more to say. But I will – I would be remiss not to thank Janet and course manager, Mark Reed for helping make my round a terrific experience. The photo below is a colonial period house that is part of the Tumblebrook facility. There is so much history to explore in this part of the country. Have fun and remember there is Always Time for 9.
3600 Jacoby Road, Coopersburg, PA 18036;  610-282-0377;  www.tumblebrookgolfcourse.com