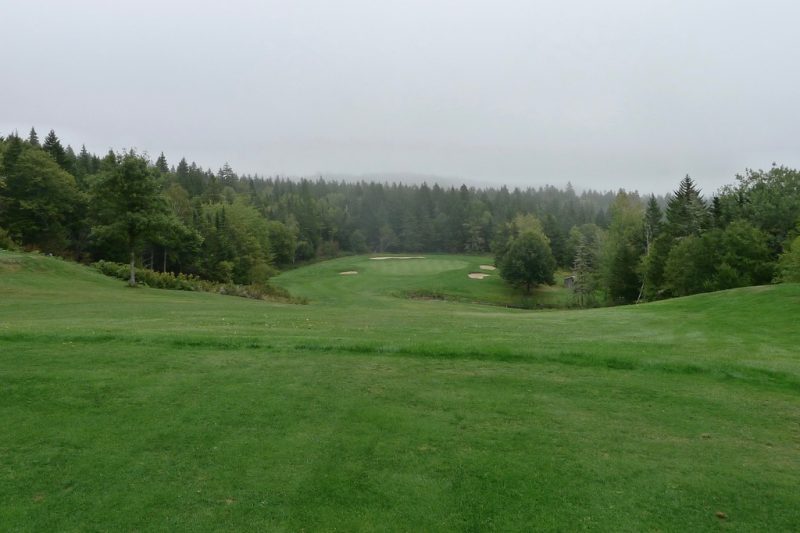 "Stately". I asked Karen to describe Herring Cove Golf Course in one word – her response, "stately". So what is the definition of stately? An adjective – having a dignified, unhurried, and grand manner; majestic in manner and appearance; dignified; imposing; impressive; and awe-inspiring. Let's see if this course can live up to this lofty praise.
First a little backstory. Herring Cove Golf Course is located on Campobello Island. Also on the island you will find Roosevelt Campobello International Park which was the summer home to President Franklin Delano Roosevelt. As a boy and young adult, he loved to sail, hike, and golf on the island. He even helped to design a long-gone golf course. Tours of the house, grounds, and visitors center will give you an insight to the day-to-day life of the Roosevelt family. I'll give her (Karen) the dignified and grand manner for our entire "presidential" exploration of the island.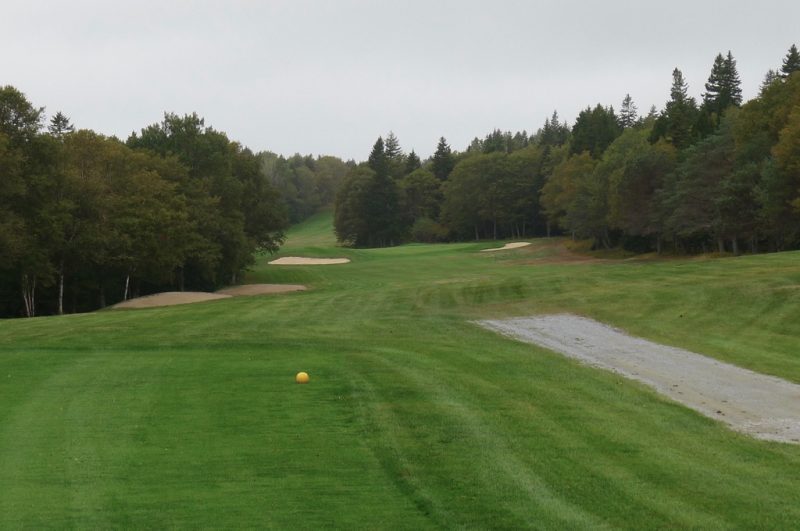 The course was designed by Geoffrey Cornish and not President Roosevelt but I'll still give it an impressive. Since we were only playing nine, we pegged it up from the blue markers (for the "back" nine, use the white markers). As we stood at Hole #1 all we saw were trees to the left; trees to the right; fairway bunkers to the left and right; fog everywhere; and the sounds of Herring Cove muffled in the distance. This opening hole does have a majestic feel. I had to extract my ball from one of those fairway bunkers but avoided the three large ones (left, back and right) around the green.
Hole #2 is a straight 389 yard par 4 with a blind tee shot. Trees once again dominate both sides of the hole and if your drive leaks to the left, there are a couple of fairway bunkers ready to accept that hook. The green is large and bracketed by a large bunker to the right and a smaller one to the left. Hole #3 is the first par 5 with a dogleg to the left. There is a bunker and few trees at the bend to discourage your biting off too much of the dogleg. We had the added obstacle of fog settling over the fairway. Mr. Cornish likes his bunkers and you will find more of them surrounding this long, narrow green.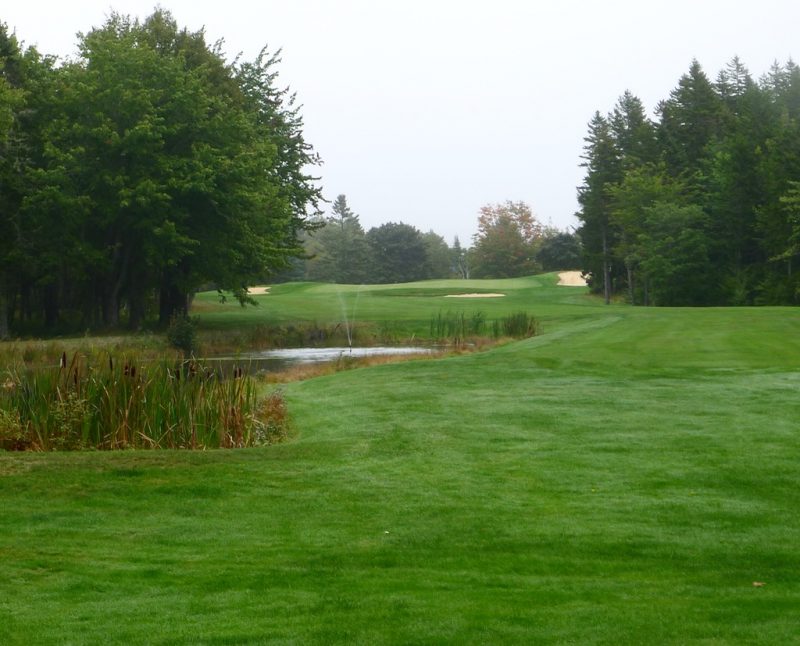 Water to the left of the fairway; trees to the left; trees to the right; and a large undulating green surrounded by bunkers. That is all you will discover at the par 4, fourth hole. The fog is starting to lift as we stand on the elevated tee box at Hole #5. We are 226 yards out and from the blue tees we can't see the large pond that sits to the front/right of the green – you are warned. What we do see is a beautifully tree-framed hole that has bunkers all around.
Hole #6 has an uphill, blind tee shot, so be careful of the group ahead (this was not an issue for us today). Your best approach angle is from the right – I was left and still could not see the flag. Your second shot does require some accuracy because: 1) if you are long, the green slopes from back to front and you can putt it off the green (trust me); 2) if you are short, you will have an uphill shot to a blind green. I took my six and slinked on to the next hole.
Time for me to break out the driver at the 233 yard par 3 seventh hole. Fog was starting to settle in from the Bay of Fundy but I was still able to make out the large green with bunkers guarding the left and right sides. There is a big drop-off behind the green, so you don't want to bring that into play. Of course, with my senior swing, I'm not going to bring long into the equation!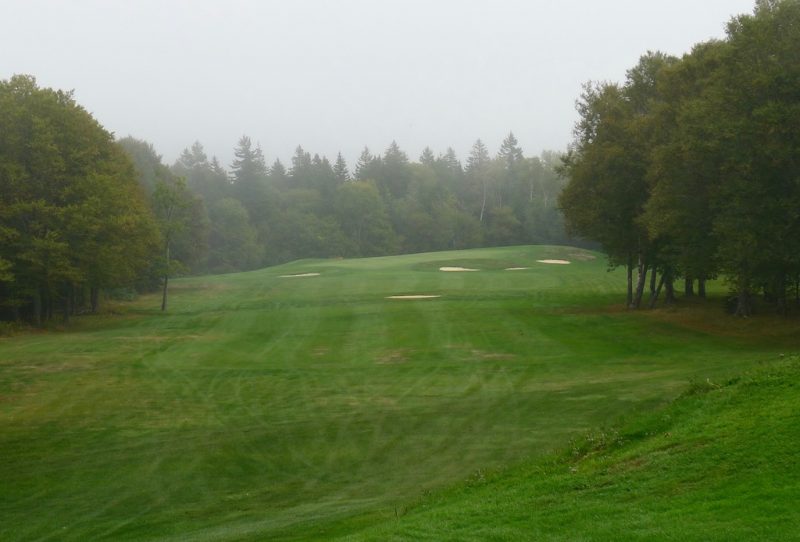 Hole #8 is a reachable (for some) par 4 of 294 yards. There are five bunkers waiting to snare any shot (good or bad) including one in the middle of the fairway. Splendid signature hole! A wide-open fairway greets you at the beginning of Hole #9. Fairway bunkers can cause issues on your second shot, and more bunkers and mounds surround the green as you try to close out your round with a birdie/par.
Rating – Birdie:  I'll give Karen her due and agree with some of the definition of stately but more important – it's a fun course in a charming setting. Since you will be interrogated by border crossing guards, I would recommend making the most of your day by exploring all of Campobello Island.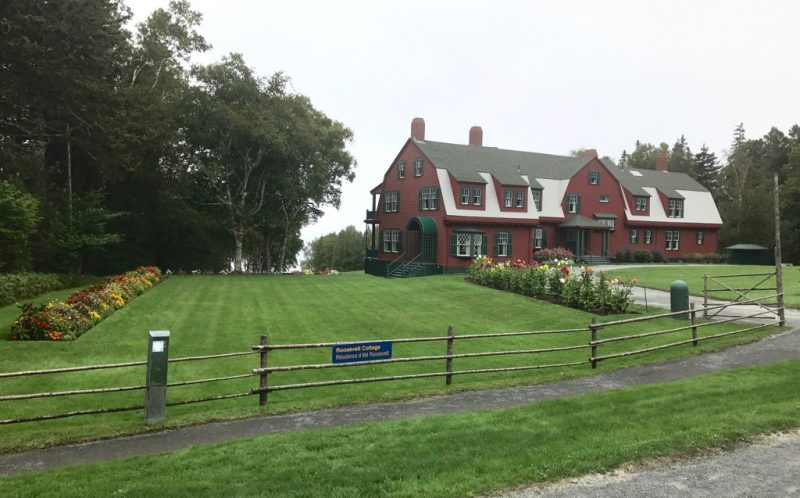 Besides playing 9/18 holes of golf, you may consider biking/hiking around Campobello International Park; touring the Roosevelt House and Grounds; kayaking on Friar's Bay, Herring Cove, or Mill Cove; taking a whale-watching tour; and visiting Mulholland Point and East Quaddy Head Lighthouses.
195 Herring Cove Rd, Welshpool, NB, Canada E5E 1B8;  506-752-7041;  www.campobello.com