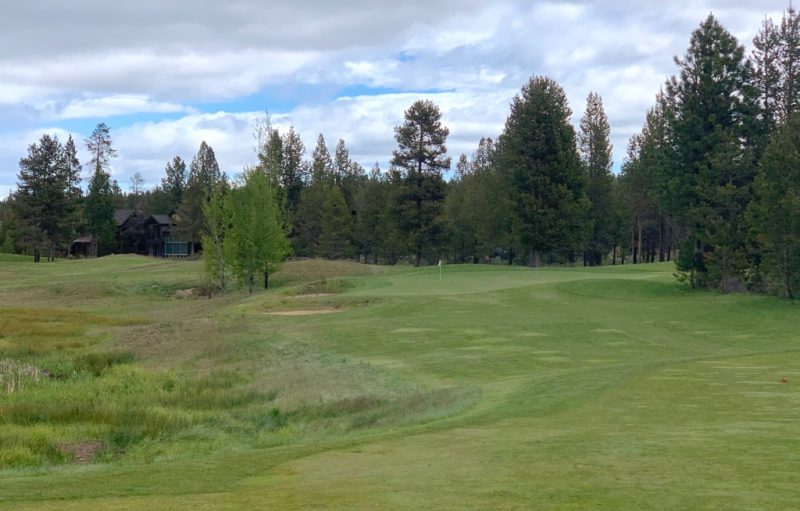 We golfers are a funny bunch. Never satisfied, always looking for the next miracle fix. Personally, I get very "flippy" at impact and have been working on hitting down on the ball and driving through impact. Instead of beating balls at the range, I wanted to work on my iron game under a real golf situation. Just down the road, I found the perfect location – The Caldera Links at Sunriver Resort.
Caldera Links is a 9-hole par 3 course. The USGA has a PLAY9 initiative and one of their 9 Great Reasons to PLAY9 is Practice Your Entire Game. Playing nine holes can be a more complete option than the range. An outstanding resort; an almost perfect day; and a new golf swing – what more could a golfer ask for?
A real golf swing! I'm playing from the tips at Hole #1 which measures 100 yards. There are only two sets of tees (white and red) on the course and the holes range from 65 to 172 yards. Wedge in hand, I confidently address my ball and proceed to "flip" it into the only trees in sight to my right. The thought, swing down and through", races in my mind as I peg up another ball and yank this one left of the large green. Did I mention it is only 100 yards out there? Okay, double bogey on the first hole, I have eight more holes to find my new swing.
After only one hole I'm so frustrated it's time to focus on some positive information. Here is what the Sunriver Resort says about their Caldera Links nine. "The same team that brought you the award winning Crosswater Golf Course, brings you Caldera Links, a family-friendly 9-hole course in Sunriver, OR that makes the great game of golf approachable and enjoyable." Another one of the USGA's Great Reasons to PLAY9 is Get the Family Together. By playing nine, you can carve out time in everyone's busy schedule to play the game we all love! I'm not sure if I'm loving it right now, but while we were playing, a number of families were having fun as they worked their way around the course.
The resort continued to state, "developed by renowned architect Bob Cupp along with Sunriver's own Jim Ramey, Caldera Links includes tour quality bent grass greens and bluegrass tees which are groomed daily by our Crosswater team. It is the perfect course to hone your skills or introduce your children to the game". Hone your skills? That's why I am here, let's see if I can find a swing at Hole #2?
Nope – short left.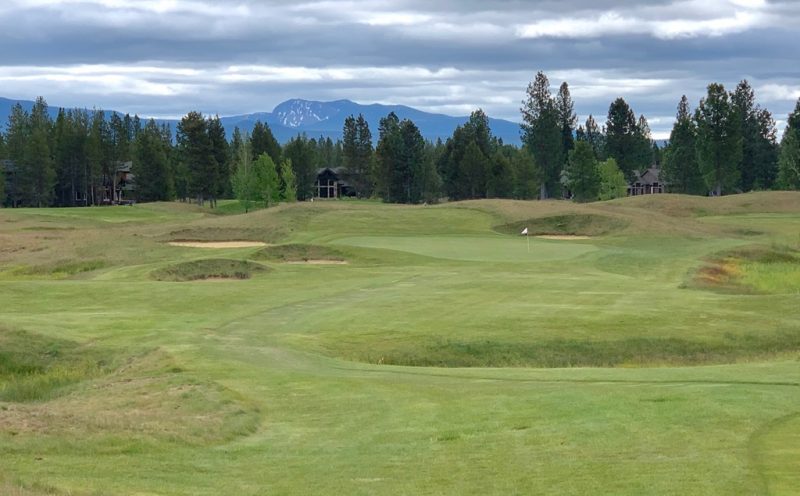 And so it goes until Hole #4 when I was able to put a decent swing on the ball. It was playing about 140 yards today. You know that feeling when you flush it and then watch the ball sail over the green because you aren't used to hitting it that pure? These greens are large, and I have yet to find one with my first shot! Let's talk a little about these greens. They are big (which will help the beginner and high handicap golfer), but they are also undulating (which will challenge the more experienced player). I have no idea which category I fit into anymore!
Hole #5 may offer a difficult shot to the vertical-challenged hitter as you need to carry a small watery area. I finally had a successful launch and landing at this hole. Is my hard work starting to pay off? At Hole #6, it's time to grab your camera and take a picture. For a good view of this hole, please visit my Always Time for 9 YouTube channel. This is another hole that can play to all levels of golfers. There are three bunkers down the left side, a small waste area to clear with your tee shot, and a large bunker behind the large, undulating putting surface.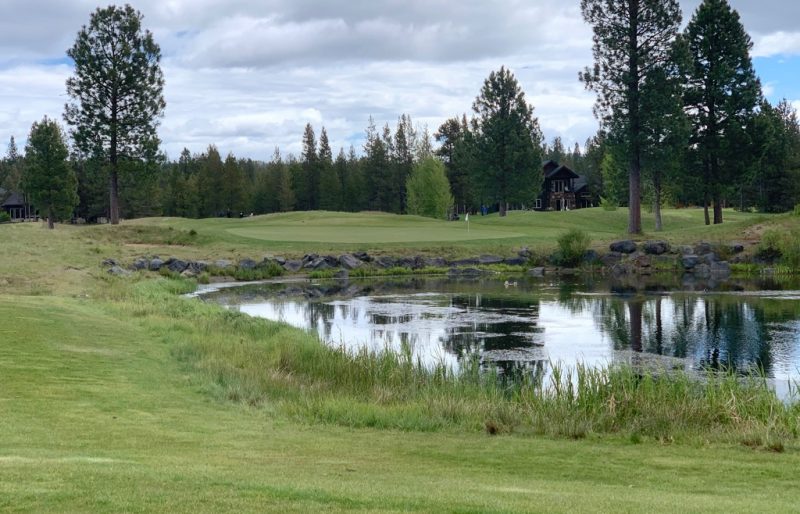 The next two holes are wide open, each with bunkers flanking the greens. The ninth and finishing hole is only 100 yards but it has a pond to carry. It is a fun and exciting hole for the young golfers to try to carry that watery grave.
Summery:  In 2016 Golf Digest ranked Sunriver Resort in the Top 10 for Family Golf Trip Destinations. In their article they mentioned there was so much to enjoy when not playing one of the four courses (Caldera, Crosswater, Woodlands, Meadows). These activities include rock climbing, whitewater rafting, horseback riding, fly-fishing, hiking, biking, and shopping. Plus, you are only about 20 miles down the road from the beautiful town of Bend. Whether you are seeking a relaxing round after tackling the Crosswater Course, introducing your kids to the game, or trying to find your swing, don't pass up this course.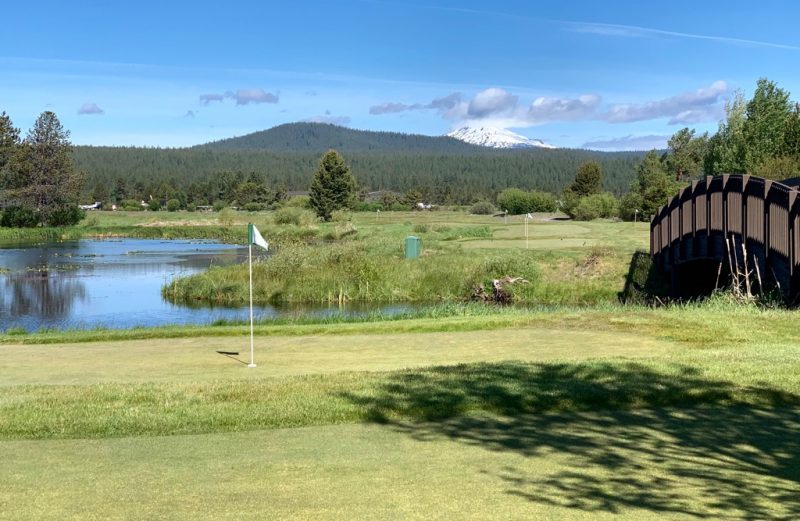 P.S. I'm still seeking that consistent swing!
17600 Center Drive, Sunriver, OR 97707;  541-593-4851;  www.sunriver-resort.com