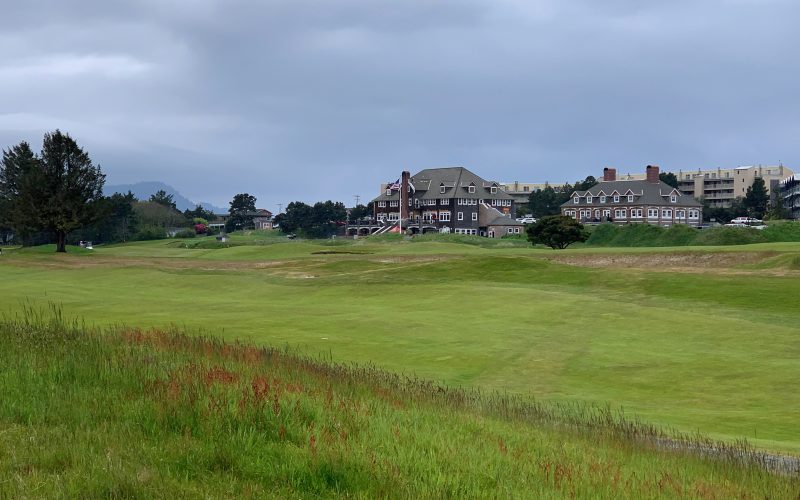 What memories come to mind when I mention the name Herb Tarlek? 1970's? Obnoxious salesperson? WKRP in Cincinnati? Les Nessman? Loni Anderson? None? For most people, "none" is probably the overwhelming answer. However, for McMenamins, it's the Herb Tarlek Day Golf Tournament at Gearhart Golf Links in Gearhart, OR. As a 20-year-old in the 1970's, my memory of Herb Tarlek is the same as McMenamins…Bad pants and tacky shirts! This was the "ugliest affair on the coast".
Part One – Gearhart Golf Links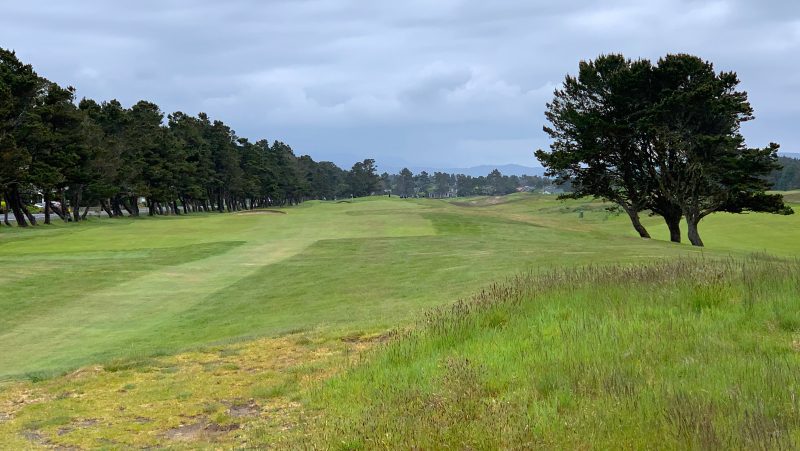 The legend is golf started at Gearhart Golf Links in the late 1880's with three holes of links-style golf with tin cups for holes. A few Scotsmen felt the seaside meadows of the Oregon Coast reminded them of their homeland courses. That makes it the oldest golf course west of the Mississippi that is still in existence today (as stated on their website). Over the years it has grown to 18 holes and a recent renovation has returned it to its original links-style features. The staff is professional, and the facility is first-class. They want you to enjoy yourself and most of all…have fun! A must stop for anyone traveling the Northern Oregon Coast.
Part Two – Herb Tarlek Day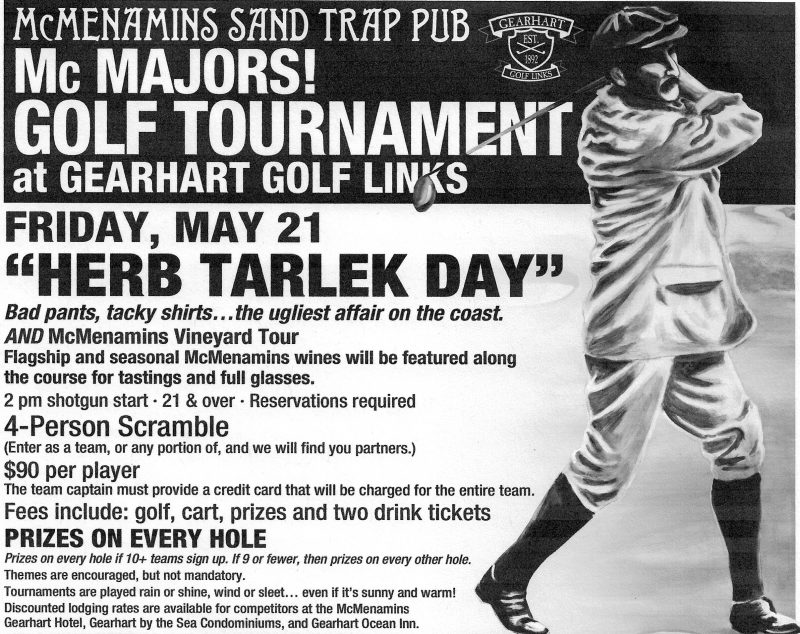 Speaking of fun, this day was about bad pants, tacky shirts, wine tasting, more wine tasting, and bad golf (our team). Our team of bad golfers had fun and we only finished 17 strokes behind the winning score. There were prizes on all 18 holes, and we took home "0". I think we were robbed on the longest putt made on one of the holes. We tried our best (as seen below) to dress the part, but many of the other team's golfing attire would have made the real Herb Tarlek quite the conservative dresser. If you ever have the chance to attend a McMenamins golf tournament, give it a try and plan for a fun day.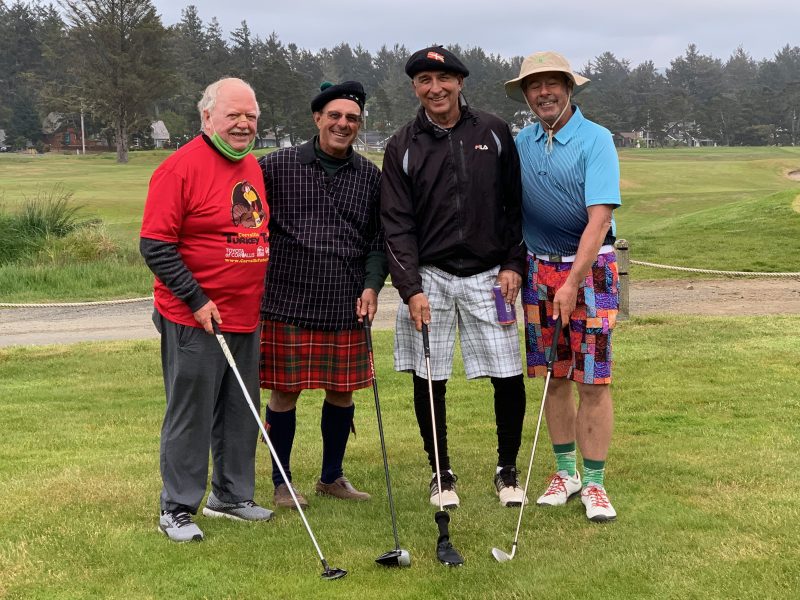 Part Three – McMenamins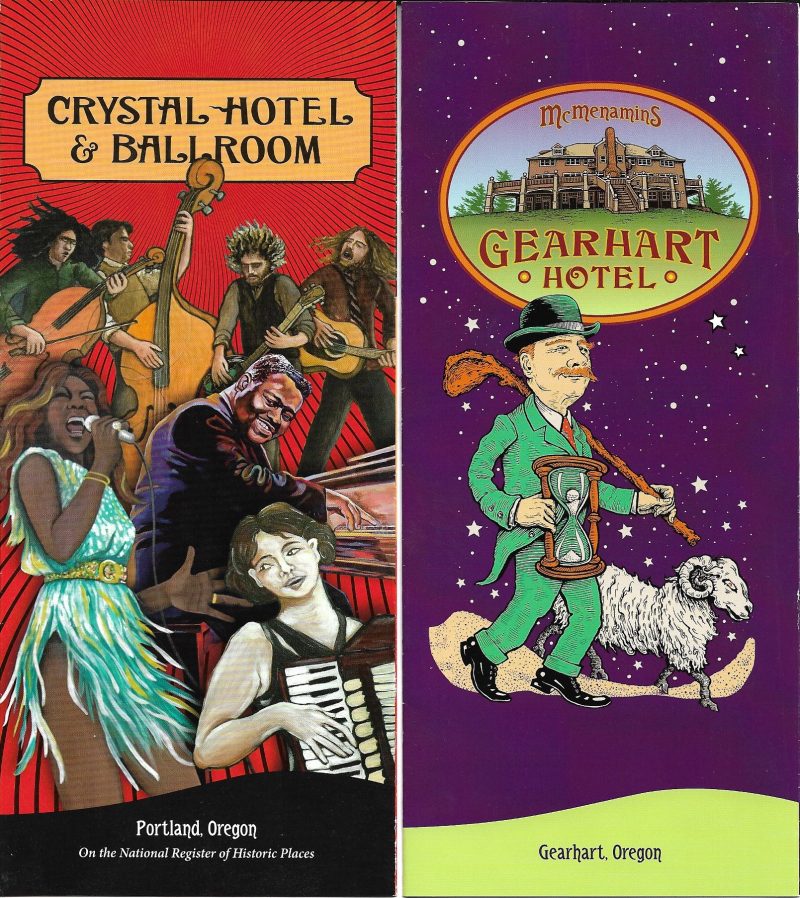 Hotels, Pubs, Breweries and More! That just about explains who they are and what they do. If you are seeking the ordinary, please visit the chain restaurant and hotel of your choice. If it's funky, quirky, whimsical, and extraordinary, you've come to the right place. They have established their brewpubs, hotels, movie theaters, golf courses, wineries, and more in neighborhood settings, downtown locations, and in old schools, churches and more. On the site of the Gearhart Golf Links you will find the McMenamins Gearhart Hotel, and the Sand Trap, Pot Bunker, and Sand Bar pubs. This was our third stop on the Oregon/Washington, Always Time for 9/McMenamins, Golf/Beer Trail. In our town of Bend, OR, their site is the Old St. Francis School. For those of you who attended Catholic School, it will bring back those terrifying days of the nuns smacking you with those three-sided rulers. Stay at the hotel in a room that once was the scene of those "fun" days; drink away those memories at one of the three restaurants; and relax in the small movie theatre or indoor pool. With over 50 locations in Washington and Oregon, it's about the journey to fill the McMenamins Passport booklet and explore the Pacific Northwest in unique fashion.  www.mcmenamins.com
P.S. My experience in Catholic school was mostly fun, but for my younger sister, well, that's a story for another day!
157 N. Marion Ave., Gearhart, OR. 97138;  503-738-3538;  www.gearhartgolflinks.com