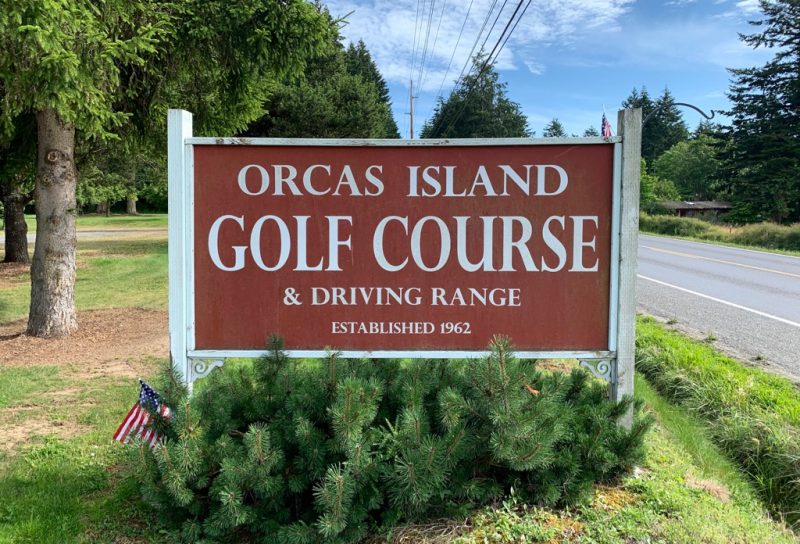 Orcas Island Golf Course is one "whale" of a course. As I sit at my desk, I can almost hear the groans regarding this statement. On a more serious note, during this time of COVID-19, it is important to help support these small town, family-owned courses. On Orcas Island (part of the San Juan Islands), the Taylor family has created a place to golf, socialize, and relax in a beautiful setting. On the scorecard, they have given a few tips on each hole to help guide you around the course. Let's see how much these helped me.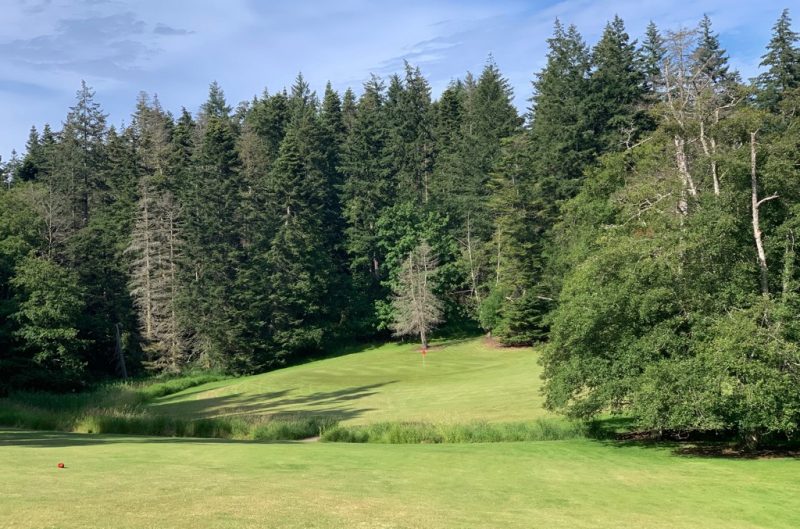 Hole #1 – Slight dogleg, play between two trees in the middle. Stream at bottom of the hill, 75 yards from green. Perfect, both the tips and the way I played the opening hole. My tee shot landed in the middle of the fairway; 2nd shot was about 10 yards short of the stream; 3rd shot on the green; and two putts for par. I'll take that start any day at the number three handicap hole. A perfect hole if you possess a nice easy fade with your driver. Hole #2 – Play approach shot into the green off the bank on the right to be safe from water. This par 4 from the blue tees is 393 yards and the number one handicap hole. If you are playing 18, there is a second set of tees that will give this course a slightly different look. This hole is a dogleg left with a small pond at the turn in the fairway. If you are short of the dogleg, your second shot will need to carry the pond and also stay right as there is a larger body of water to the left of the green. My first two shots were right (as suggested) but too far to that side as I found myself playing in the weeds and hacking my way through the trees for double bogey.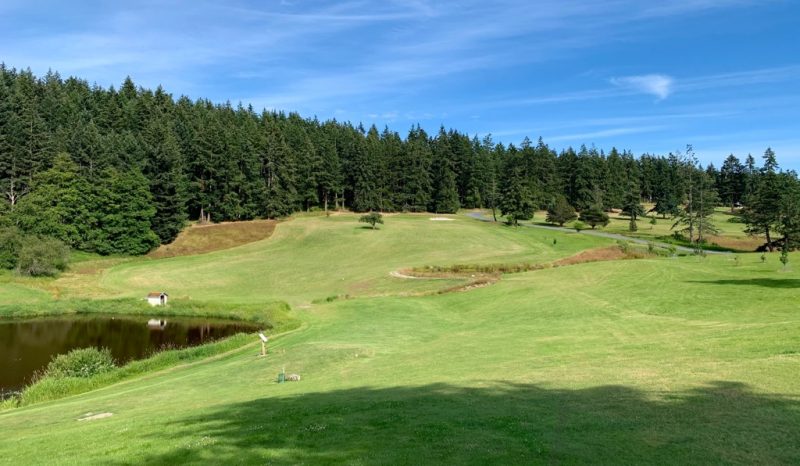 Hole #3 – Green has a lot of slope, avoid downhill putt from back to front. A wide-open fairway from an elevated tee greets you at this hole. Time to bring out the "big dog" and let it fly. It only measures 284 yards but plays longer because after your tee shot, it's all uphill. The first bunker of the day guards the right side of the green and of course it's right in my line to the green. I cleared the bunker; landed on the green; then watched helplessly as the ball rolled off and back toward the bunker. Check – the green does have a lot of slope – bogey.    Holes #4 & #5 – Fairways slope to the right, play approach shots close to the left-hand Douglas Fir treelines as you dare. First of all, look both ways before you tee off at #4 because there is a lightly traveled road that you need to cross. As noted, bring out your best fade at this hole. The fifth hole is a par 3 of 149 yards. My tee shot landed on the right edge and again, I watched it trickle off the side. Most of the greens look very inviting, but they can be silent killers if you are not in the right spot. Another bogey.
Hole #6 – Play at the old madrona tree on the right and let the ball feed back down to the green. I tried to follow the directions but my drive looked good as it went right down the middle at this 274 yard par 4. The fairway does slope from right to left as stated, but as we walked after my ball it was nowhere to be found. Could it have rolled way left into the small stream? It doesn't slope that much. Not finding my ball, I dropped and proceeded to get up and down for bogey. As we walked to the next hole, I spotted my original shot in the middle of the fairway. I know we are getting old and visually impaired, but that was ridiculous. Since no one was following us, I played my original ball and improved my score by one shot – par.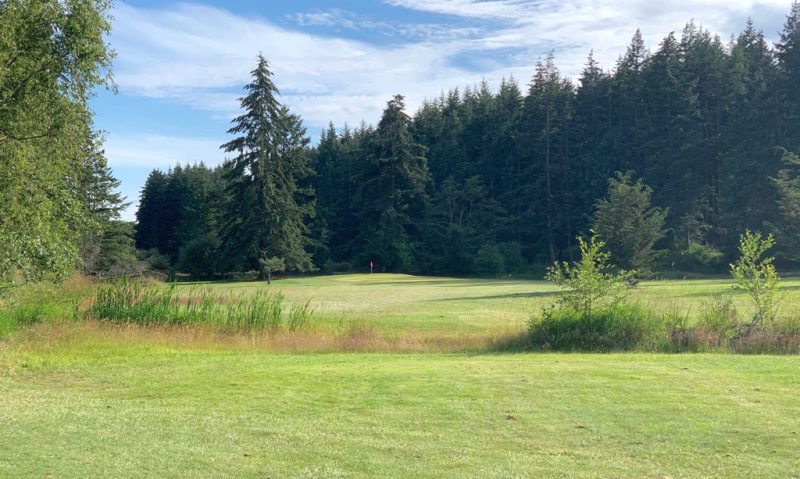 Hole #7 – Due to the slight slope of the green, a good shot will hold the green, or spin back. I didn't need this advice as my tee shot was well right and short of the green at this 157 yard par 3. Time for a lesson on how to properly hit an iron! I was able to scramble to a bogey.  Hole #8 – Aim your tee shot at the rock pile. Beware of going O.B. on the left into the driving range. Very solid advice but my tee shot(s) did not cooperate. Yes, I said shots. My best "Tin Cup" impersonation came alive here. Just to the right of the aiming area is a small vegetation hazard. My first tee shot had a slight fade and I found the hazard. Second shot – found the hazard. Reload for number three – hazard. At this point I'm not even counting shots because I know with the new WHS scoring system, my net double bogey will be a big snowman. I thought my new "draw bias" driver was supposed to correct that fade/slice! If played correctly, this should be a fun hole.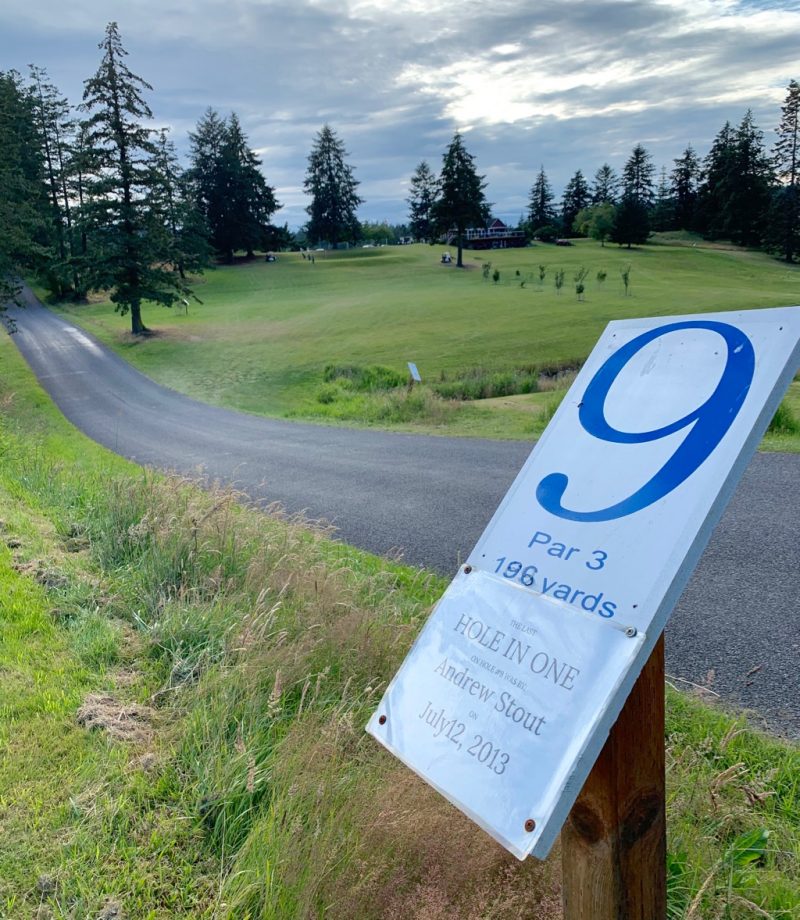 Hole #9 – Use the bank at the back of the green as a backstop. What a way to end the round – a 203 yard, uphill par 3. I pulled my 4 hybrid and gave it a good ride but still was a wee bit short of the green. The back of the green did not come close to being in play and neither was the front – bogey.
Summary – Ace:  During the late 1800's this land was a mustard farm but by no means is it a [hot]dog track today. Do I hear more groans? Many times as I scan course scorecards, I do not agree with their handicap numbers. Orcas Island's handicap holes I felt were "right on" from 1 through 9. The first two and last two holes are the most difficult and I played them as such!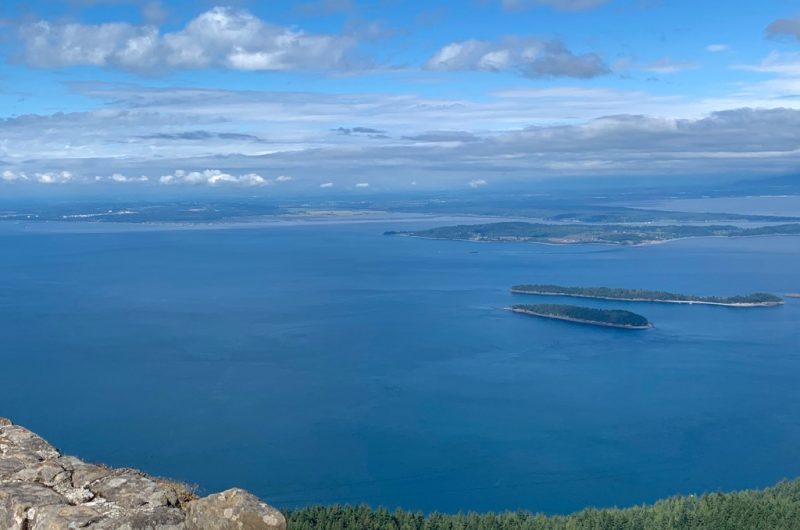 As I have mentioned before, it is important to support small town, family-friendly courses as they foster a sense of community and the Taylor family has accomplished this. After our round, it was off to Moran State Park. We took a 4 mile hike around Mountain Lake; drove to the top of Mount Constitution for an outstanding view of the islands; and finished the day by adding back those calories at Brown Bear Bakery. When I'm with Mrs. Always Time for 9, our days consist of Birdies, Bogeys, Bakeries, and Beer!
2171 Orcas Road, Eastsound, WA 98245;  360-376-4400;  www.orcasgolf.com