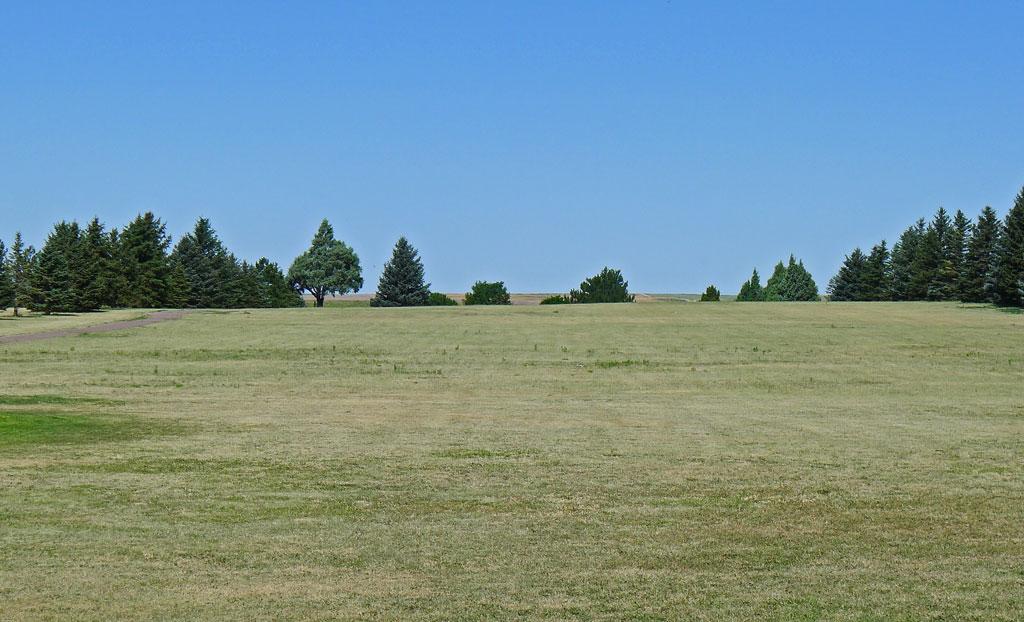 Finding the course was my first order of business. Driving down Wyoming Ave., I read the street signs – 4th, 3rd, 2nd, and made my left at 1st (or what I thought was 1st) and ended up at the course but no signs of a clubhouse. I saw the maintenance shed and the 6th tee box. I walked around and saw no one.
I finally located the clubhouse by driving down one more street. The address is correct (1st & Wyoming) but someone decided to place Main Street between 1st and 2nd (my bad for not being sharp). Since the premises were vacant, I placed my $15 in the tube and was ready to tee off when Gene drove up in his cart. He was probably thinking, "what is this stranger doing teeing it up at our course?" Gene is one of the volunteers who work these small town courses and make them a fun experience for everyone. Thanks Gene for sharing your local knowledge about Stratton Golf Club.
Hey Ed, you would love the opening hole! Hole #1 is a wide open fairway that filters to a small bowled green. If anyone misses this fairway, it is time to take up another sport. Wide fairways are a theme throughout the course and Hole #2 is no exception. Just watch out for the small pond that may wreak havoc with your second shot. Hole #3 is an uphill par 3 to a small green. Most of the greens are small and challenging. This is the third course of my I-70, Eastern Colorado, Small Town Golf Trail trip and just like the previous day at Prairie Pines Golf Course, the greens and collars around the putting surface were in excellent shape. The fairways were dry because of drought conditions. Hole #4 is the number one handicap and your tee shot needs to clear the top of the hill for any chance of a good score at this par 4, dogleg right hole. My short drive = double bogey. The fairways just get wider as you address your tee shot at Hole #6.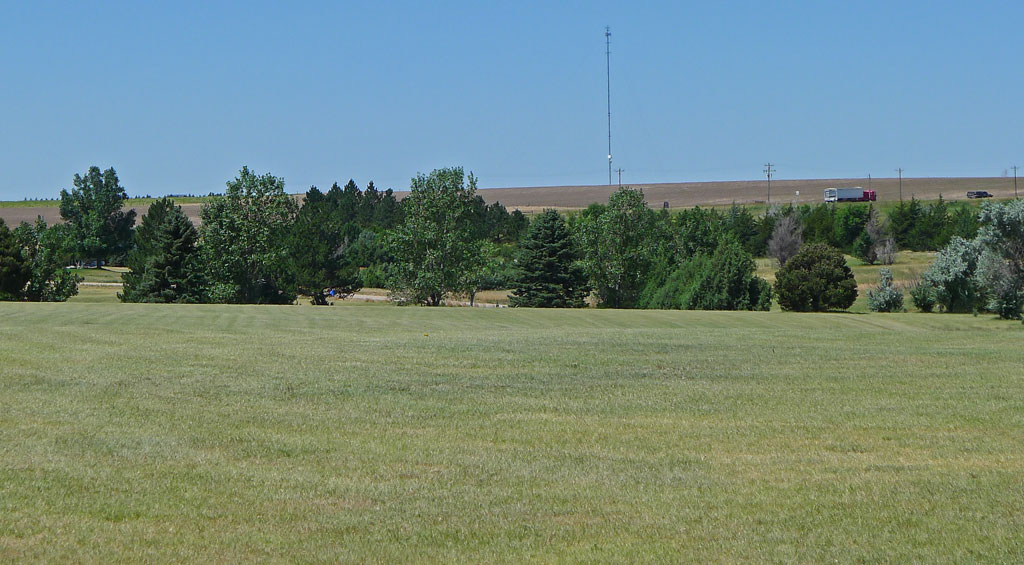 I met Rick, the head (only?) groundskeeper at this hole. I complimented him on his great job of keeping the greens in great shape. As with most of the small town courses, much of the work is volunteer and he also uses most of his own equipment to maintain the course. Thanks Rick for a job well done! As I stood looking at the wide expanse at number six, I had difficulty finding the flag. Rick said, it's straight out there, aim between the pines".  He also mentioned it is a good birdie hole – he was correct.
Hole #7 is a 225 yard uphill par 3. Are you kidding me? I hate it when I can't even get my driver to reach the green at a par 3! I can see for miles and miles and miles and miles and miles, Oh yeah. The Who sang about it and I saw it at Hole #8. I totally misplayed Hole #9. What a blockhead! The blind tee shot leads to a fairway to the right. I played down the left through an opening that is bordered by rows of pine trees that I thought was a "fairway". When I came to the end and didn't see a green, well…I felt a little foolish as I noticed a green 30 yards to my right.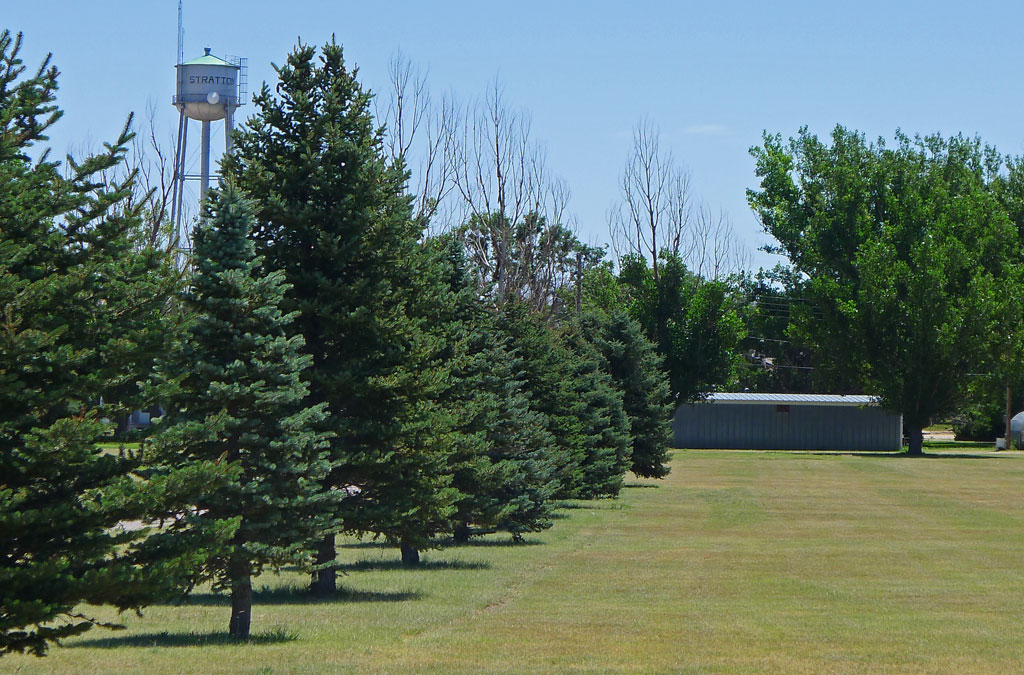 Birdie:  Another nice small town golf course along I-70. Many of the holes have blind tee shots but all have wide-open fairways which make it high-handicap friendly. I'm not sure what happened at the ninth hole – tired; not focused; senior moment? Let me know how the real fairway plays at this hole. A quick two hour round (they do not offer carts) for $15. Well worth the stop as you travel on I-70 in Eastern Colorado.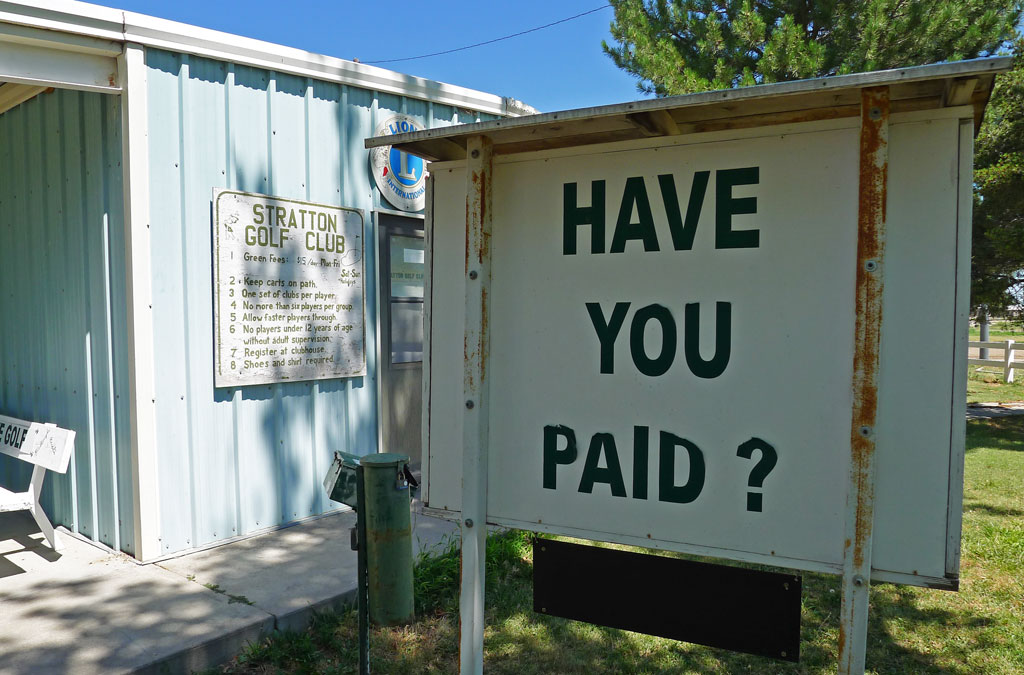 1st & Wyoming Ave., Stratton, CO 80836;  719-348-5412