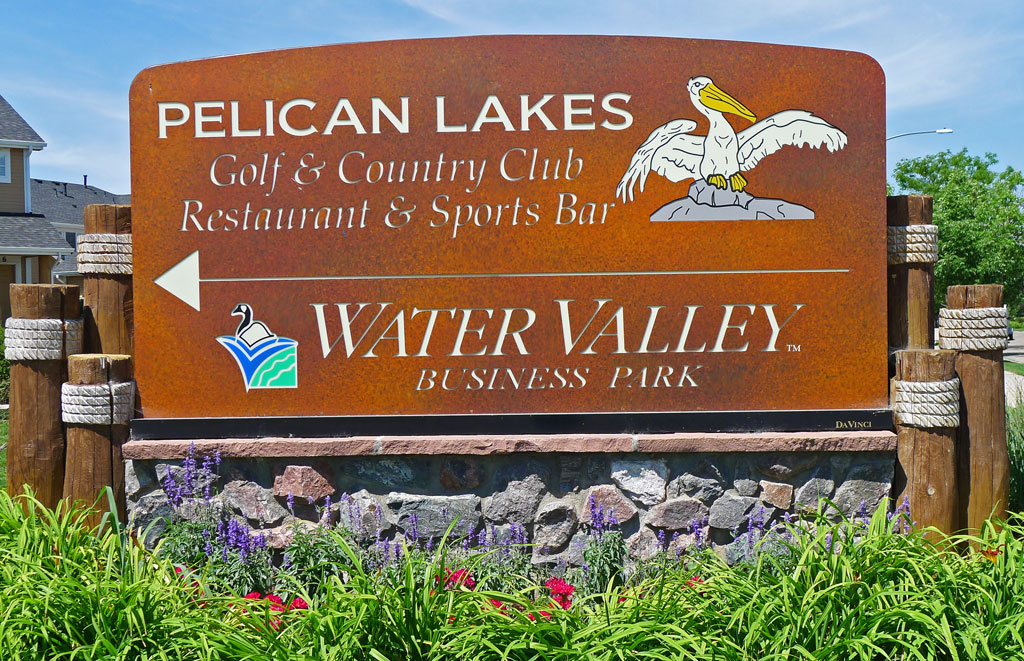 Directions to The Falls Course from the clubhouse: "Follow the path on the right of the putting green; go over the bridge; then turn right at the maintenance shed". The handmade sign taped to a folding chair helped us find our way. If you are not as adventurous as we are, you can request to be personally shuttled over to the first tee. If you are walking (and I don't encourage this), you will need to have an employee cart you to and from this 9-hole track at the Pelican Lakes complex at Water Valley. 
Hills, hills, and more hills greet you at Hole #1. As you approach the green, there is not a flat spot anywhere on the fairway. Then try to roll a putt into the cup on the large, undulating green…and this is the number 8 handicap hole! Hole #2 is a short 298 yard (from blue tees) par 4. The substantial hills continue and at the end of the fairway there happens to be another sizable, undulating green situated between these large mounds. A wayward approach shot to either side of the green may get a lucky bounce and be directed back toward the hole.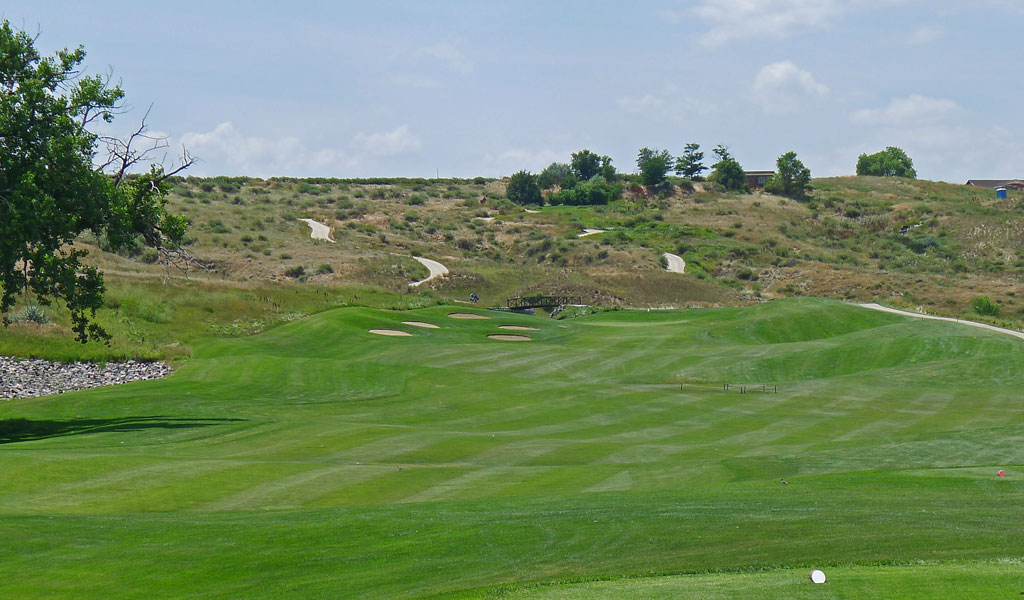 You probably guessed what is coming at the par 3, 194 yard third hole. A crazy wide (but not deep) green with 18 levels. Not quite that bad, but you are getting the picture that you better have your "A" putting stroke today. Hole #4 is the first (and only) par 5 and it is a very visually pleasing hole. The hills continue (and of course the large, undulating green); add a few strategically placed pot bunkers; a partially hidden green; a bridge over the creek; and the native-shrub hillside looming behind the hole. All this makes for a fun number two handicap hole. What a fun and outstanding course! It may be time to think about moving back to northern Colorado. Hole #5 is a downhill (yes, very downhill) par 4. There are bunkers guarding the green to the right and prodigious mounds that may create havoc on both sides of the (let's say this all together) , the large, undulating green. Since we went downhill at #5, it's time to go back up the hill at Hole #6.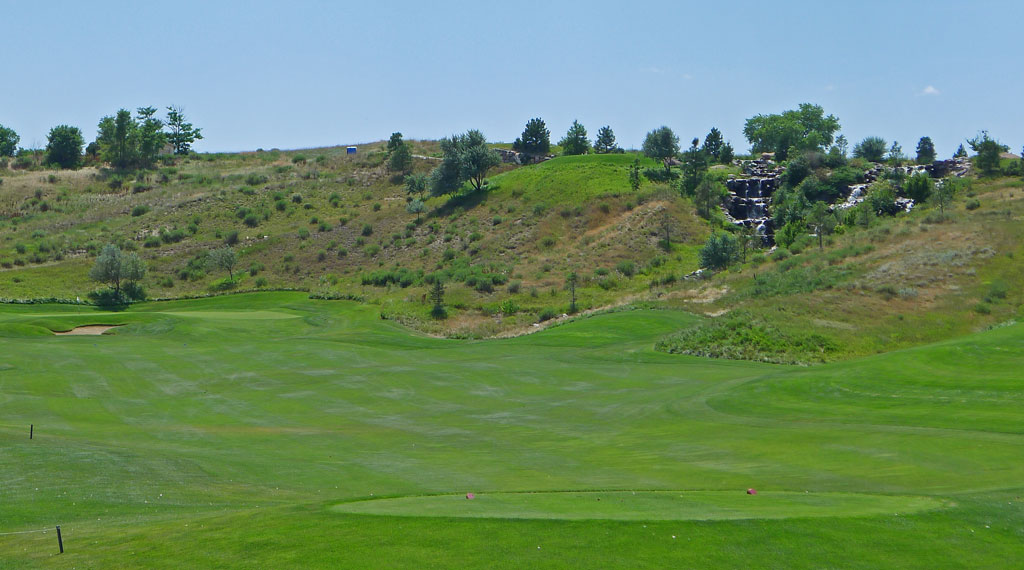 So, did you heed my advice in the first paragraph about walking the course? If not, I'm sure you are regretting your decision at this point. As you motor past the waterfall on the right and attack the two-tiered green (what only two levels?), you realize that water is very scarce on the Falls 9. All the water at Water Valley is over at the 18-hole Lakes Course. A senior moment occurred at Hole #7. This par 3 is 156 yards with a carry over a pond. Here comes some of that Cache la Poudre River water! My tee shot was tracking right at the flag (and once again I am thinking about my first ace) and I was shocked when it came up 20 yards short. Well I thought I heard Dave say, "it's 130 yards". A good reminder to always check the scorecard.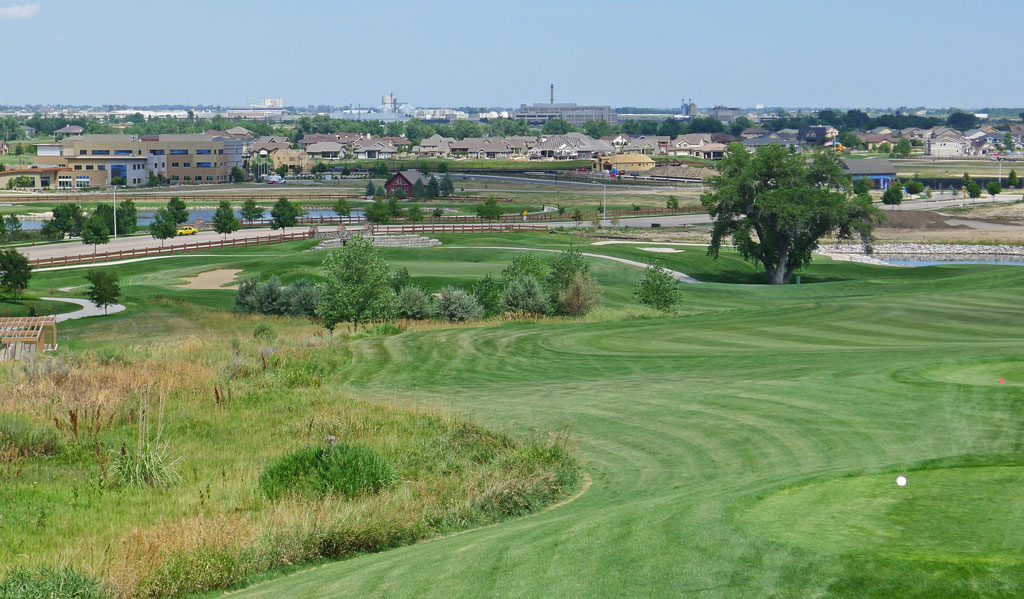 Hole #8 – senior moment part two. Maybe the heat was getting to me, but this time Dave and Woody corrected me in time and pointed me to the proper green in the distance. My sight line was completely off on this dogleg left par 4. This was the first hole with a severe dogleg and for the second consecutive hole I was in a fog. Now I realize that some of you will say that since we are in Colorado that the fog may have been brought on by some substance. I'm sorry, I've totally lost track of what I was writing about… Hole #9 – number one handicap; island green; audience waiting to cheer/boo us on, then dive for our water-drenched golf balls. Fun way to end an outstanding day – most of us found dry land.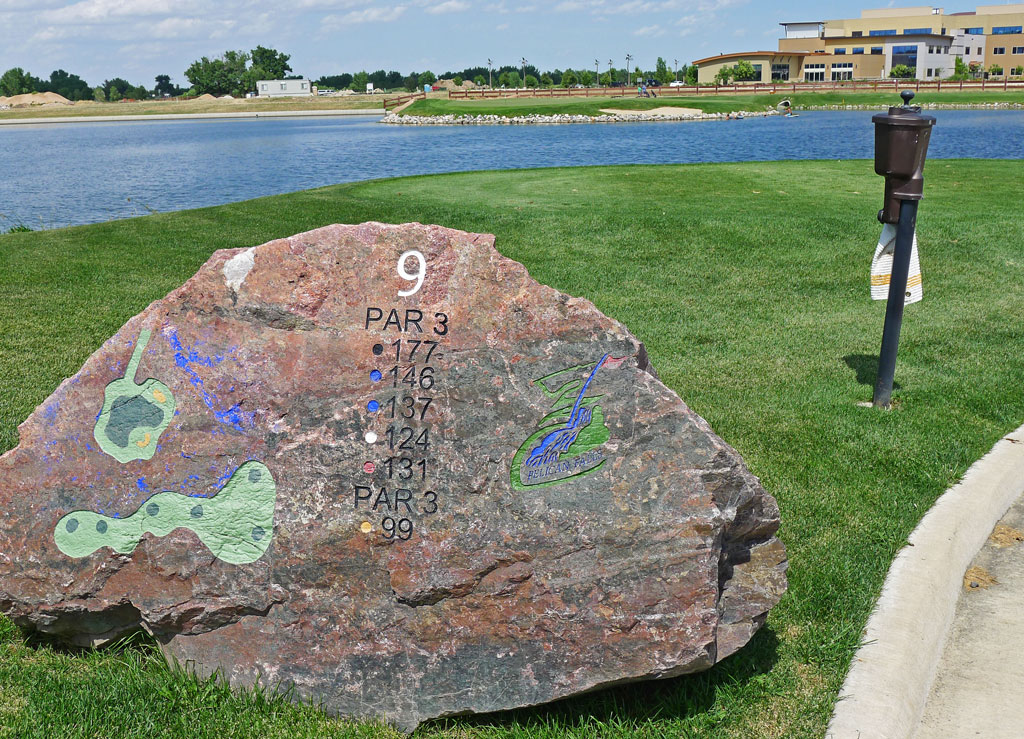 Ace:  At first glance you might dismiss this par 34, 9-hole gem as being too short at 2865  yards (black); 2596 yards (blue) but those greens more than make up for The Falls lack of length. The pin placements were also very demanding usually being tucked behind mounds or bunkers. Four tee boxes, plus a fifth that plays as a par 3 course, makes this an outstanding course for all level of players. Need to play 18? Visit the Lake Course which has more shoreline than any other course in America. Par 3, 9-holes, 18-holes, 27-holes – Pelican Lakes Golf and Country Club at Water Valley has it all.
P.S.  A few months after playing here I met Mike Hines who designed the course.  Before I knew who he was, he asked me what was my favorite Colorado 9-hole course. Luckily I mentioned The Falls Course at Pelican Lakes.  Great job, Mike!  
2015 Update:  The Falls Course at Pelican Lakes is our 2015 Course of the Year!
2020 Update:  This course just keeps getting better and this golfer keeps getting more senile. I should have read my review before I played this course again. In the first paragraph I said, if you are walking (and I discourage this)…well I walked and at 69, I was regretting it. There are two steep uphill grades and this old heart was pumping. Somehow I was still putting together a decent round. This is still in my top 5 of all the 9-hole courses we have played during the years. The course was in fantastic shape and the greens are still quite the challenge. I played with a fun couple, Jay and Stephanie, along with my Always Time for 9 buddy, Dave. If we ever move back to Colorado, this would be the course/area I would call home.
1625 Pelican Lakes Point, Windsor, CO 80550;  970-674-0930; www.watervalley.com