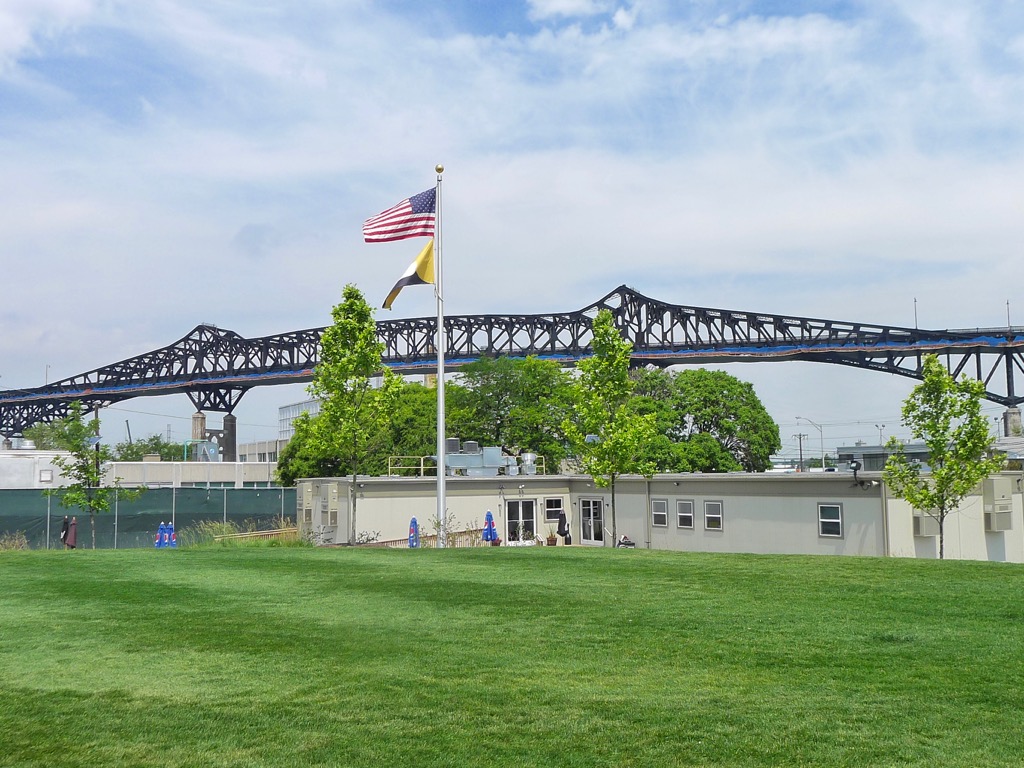 Don't judge a book by its cover. First impressions can be very deceiving. Remember these words as you turn onto Duncan Avenue and start to dodge all the semi's delivering their goods to the warehouses along this strip. I was starting to wonder if Siri was playing a joke on us because there was no way there was a beautiful course down this street. So when Siri said, "you have arrived, the destination is on the left", Lincoln Park West and the Pulaski Skyway loomed before us. The course was awesome!
Playing from the white tees today, Hole #1 is a 300 yard par 4 that doglegs to the left with wispy fescue on both sides of the fairway ready to snag any wayward shot. The green is hidden and tucked down to the left. What an excellent hole to start the round. The Bridge looms behind Hole #2, a par 3 which concludes with a tough, undulating green.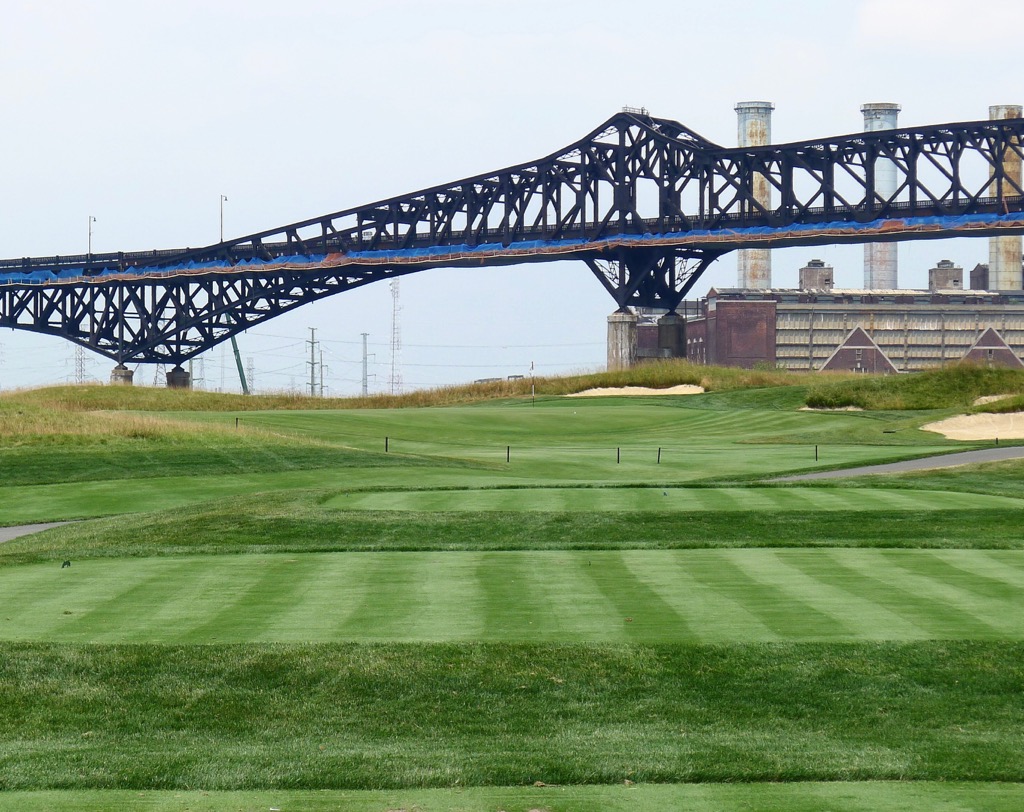 My notes about Hole #3 are as follows: 469 yard par 5; tight fairway; bunkers to right are within reach; I laid up to 4″ of hazard; unbelievable hard #1 handicap; keep left or you will have water/fescue to carry to reach green; and finally…a bugger of a hole. Hole #4 – there is trouble awaiting both front and back of this 111 yard par 3 – if you don't find the green, a bogey will be your best score. The fifth hole is a dogleg right and plenty of trouble right if your "slice" takes you in that direction. Another good photo opportunity of the bridge that spans this hole.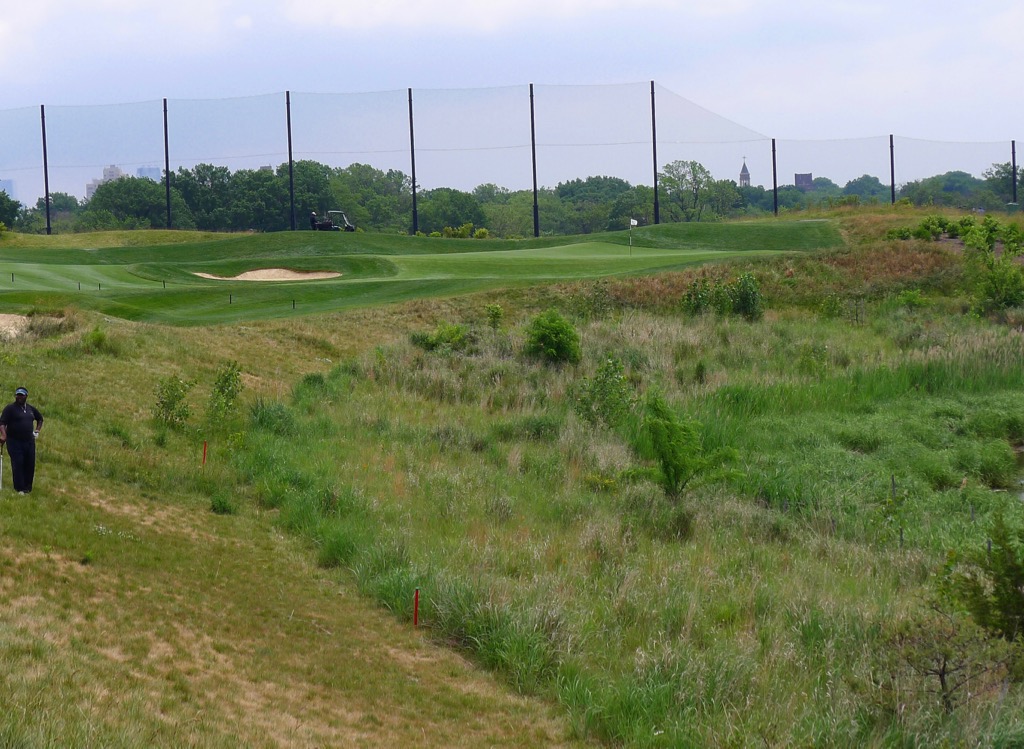 Hole #6 is a tight par 5 with fencing both left (guarding Duncan Ave.) and right (guarding fellow golfers). Another beauty with numerous bunkers to avoid, but the real obstacle is the distraction of the New York City skyline in the distance. More fencing greets you on Hole #7 as it helps to protect those motorists traveling I-9, so you might as well pull out the Big Dog and let it all hang out on this 326 yard par 4. There is not a flat lie on this fairway and the bunker fronting the green can be deadly.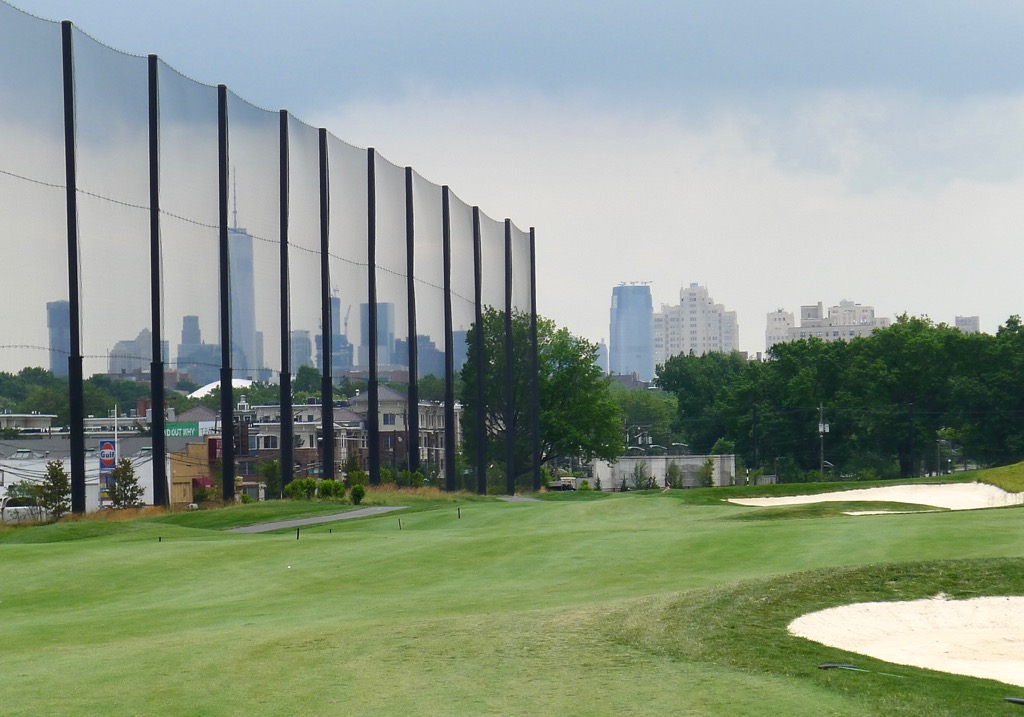 Hole #8 – all I can say is good luck! This 458 yard par 5 (white) has a tee shot of 185 yards to carry the waste area. During my trek down the "fairway", I never saw the green during my first three shots. I was playing from the right rough most of the way. I must have thought I was cutting yardage off this dogleg right hole. I suppose it is easier (though it is the #2 handicap) if you play from the short grass. All my playing partners agreed that this should be the #1 handicap hole. The ninth hole is a par 3 with the bridge framing the green. From the teeing area it does not appear to be all that difficult but…1) the bunker to the left is cruel; 2) the two-tiered green is nasty. I landed on the wrong level and had to putt away from the hole to get close. Somehow I was able to two-putt for a finishing par.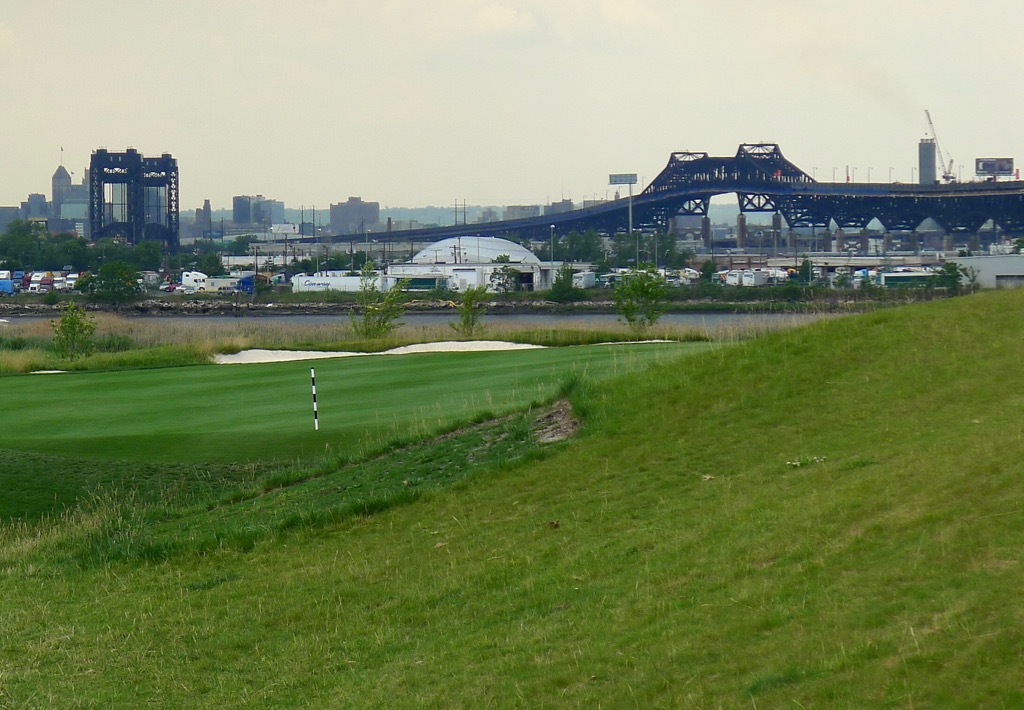 Ace:  What a wonderful day in Jersey City. The course is fantastic; my playing partners of Ed, Perry and Brenden were a pleasure; and the weather was perfect. If you enjoy driving around the New York/New Jersey area, plan for a 9-hole round at Skyway Golf Course. 
515 Duncan Ave., Jersey City, NJ 07306; 201-763-7520; www.skywaygolfcourse.com