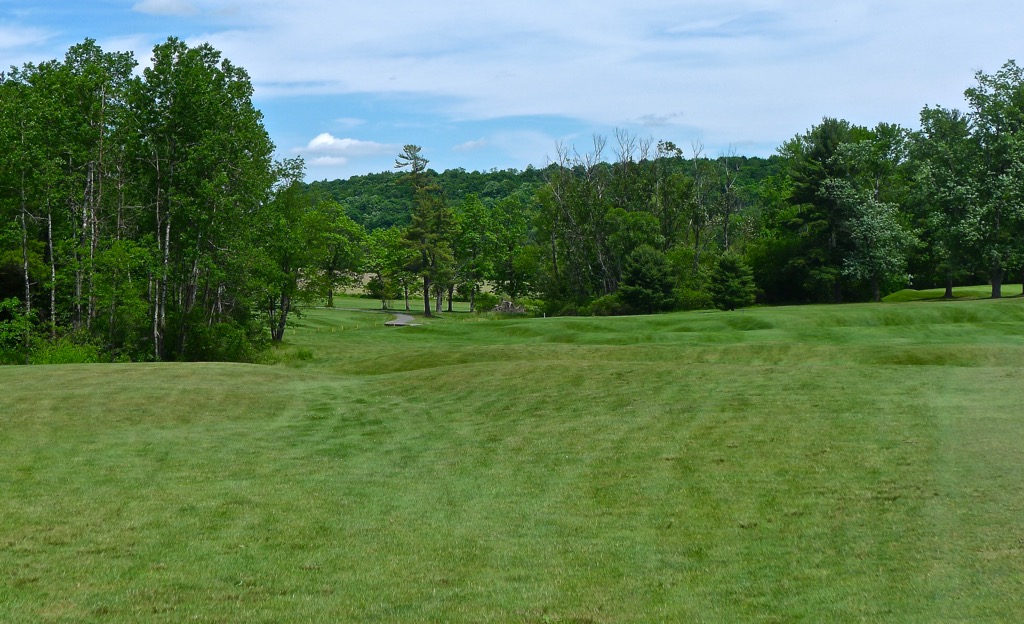 The translation of Immergrün must be not a flat/level lie on the entire course. When I asked the St. Francis University Women's Golf Coach, if there was anything special we needed to know about the course she said, "not a flat lie anywhere to be found". This is sooooo true! Our day almost ended before it began.
Always Time for 9 team member Ed, took his first swing of the year and his left knee buckled as he nearly "cork-screwed" himself into the ground. A funny thing happened though, as he kept his left knee quiet and took a slower swing, his game improved and the day was saved!
The whole (not) flat/level lie thing became quite evident as we viewed the first fairway at Hole #1. This 474 yard (from the member tees) par 5 is a dogleg left to a long, narrow green. Somehow I managed a par to start the round and Ed bravely rebounded to secure a bogey with his new-found swing thought.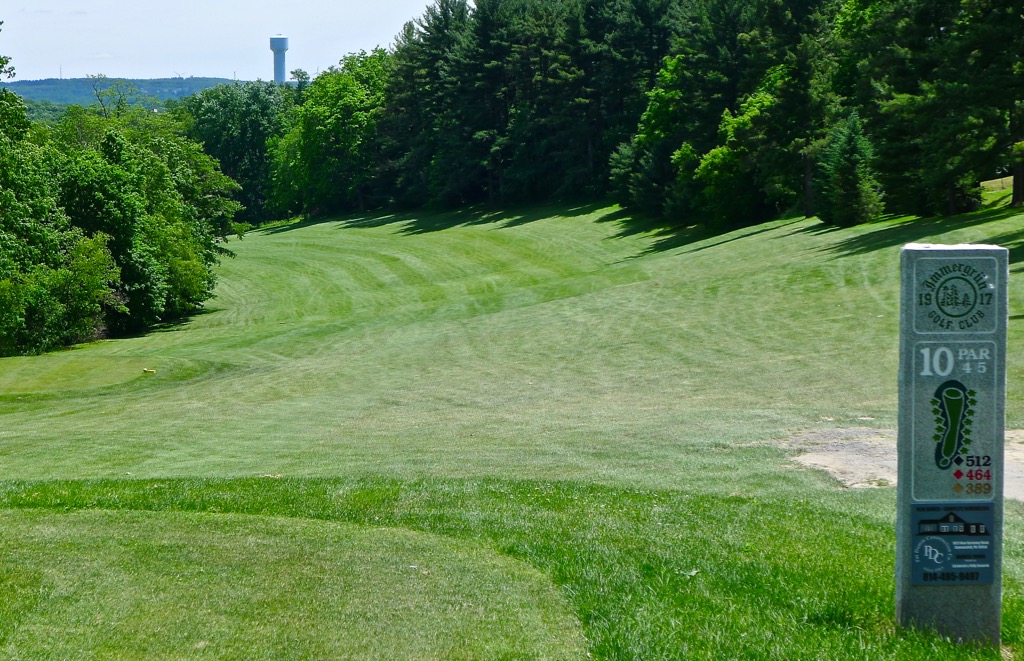 Hole #2 is a par 3 with a nasty bunker guarding the front right of the green (and pin placement today). Hole #3 took the (not) flat/level lie to a whole new level. This 382 yard par 4 is tree-lined with trouble to the right. Luckily the fairway slopes to the left (as usual) and to add just a wee bit more challenge, it also has enough humps and bumps to assure there is no level lie anywhere. Even though the uphill par 3 fourth hole presented no issues, we both decided to play bogey ball.
Hole #5 has a (how should I communicate this)…severe right to left slope with a green that is hidden somewhere down there to the left. Even by the green the fairway is sloping to the left and the greenside bunker will attract any wayward approach shots.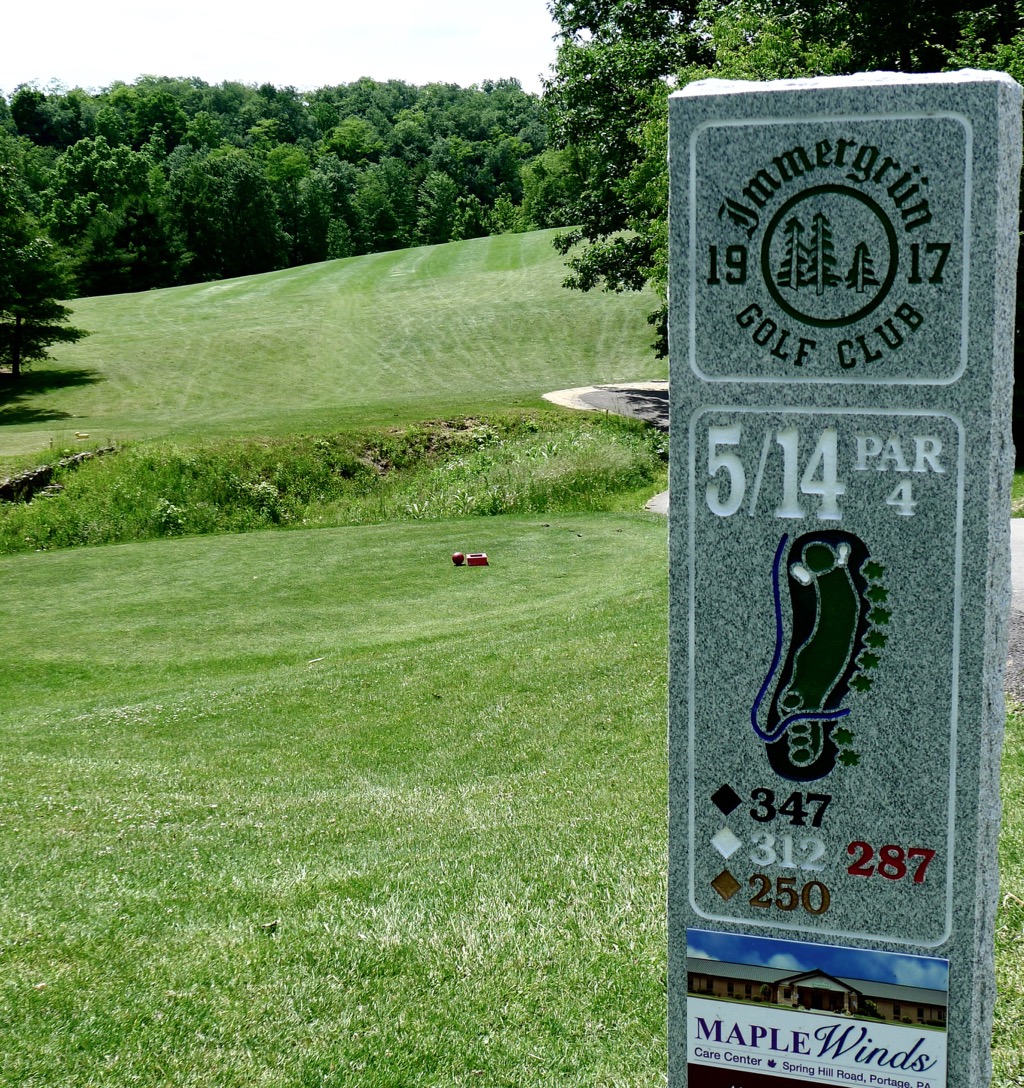 Hole #6 is the number one handicap hole. Yes, I can agree with this! Sorry to be redundant but…severe dogleg left: sloping fairway left; rolling fairway; two hazards to cross; and then up to the green. #1 handicap? Yes! Hole #7 – ditto to all the other par 4's (but that's not a bad thing). Hole #8 is an uphill, blind tee shot to a downhill, blind shot to the green. Even though you can't see much of anything on this hole, please be assured that the fairway does slope right to left. Hole #9 – I'll just let you fill in your own description from the photo below.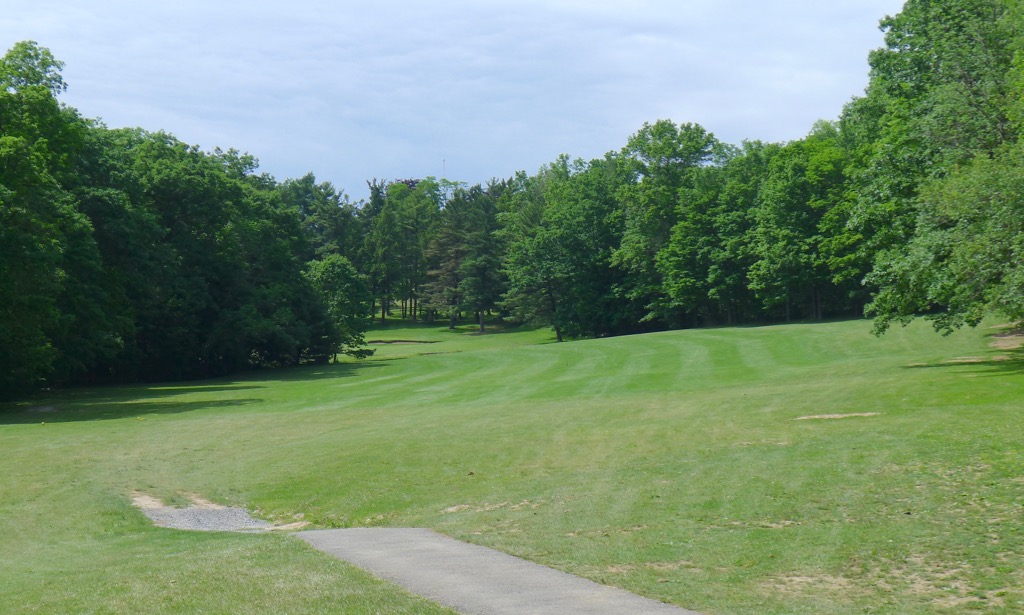 Ace:  Immergrün Golf Club is a true hidden gem. Donald Ross designed this course in 1917 for Charles Schwab (who must have been fighting an incurable slice) and the students attending St. Francis University are the benefactors of this wonderful course. The campus is a little off the beaten path, and about one hour from Pittsburgh and a half hour from State College. If you are looking for a quick nine before the big Penn State/St. Francis gridiron classic (the Red Flash do play Division 1 football), this is the place to stop. We played on our way to the 2016 US Open at Oakmont.
P.S., Ed finished the round unscathed from further injury and acquired a new swing thought that helped him during our future rounds.
105 Saint Elizabeth Street, Loretto, PA 15940;  814-471-9650;  www.immergrungolfclub.com