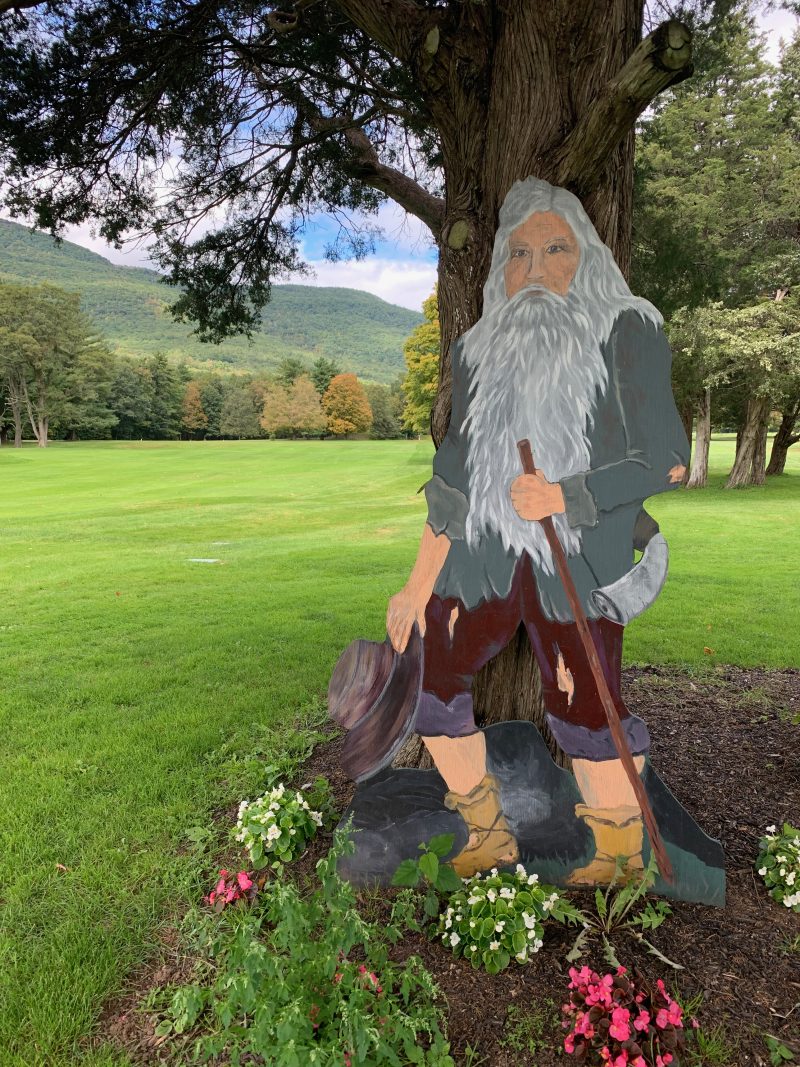 Rip Van Winkle lives a life of ease much to the chagrin of his wife, Dame Van Winkle. Rip's passions include wandering through the Catskill Mountains looking for 9-hole golf courses. The townspeople love to watch his YouTube adventures and the stories he tells about his quest to find the perfect course. One day while practicing his iron game in an open field, he hooked his shot into the woods. He encountered a group of men who shared with him a "magic potion" that they promised would correct his hook, and he quietly fell into a deep sleep. Twenty years later he woke up from his deep sleep and found himself on the first tee of a new course called Rip Van Winkle Country Club and that where our story begins.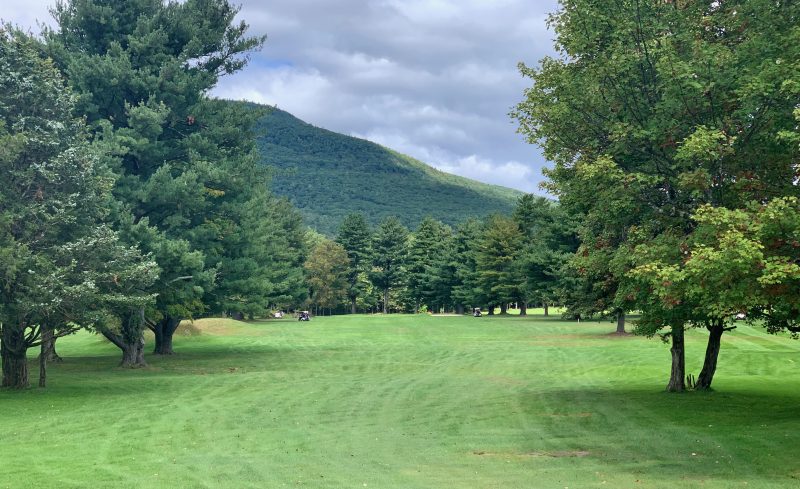 It was a cold and blustery day as we stepped onto the tee box at Hole #1. The sounds of sirens were emerging from the mist, so they must have heard that Rip had emerged from his 20 year sleep. There was no sign of him at this 320 yard (blue) par 4, so off we went to this visually appealing hole in the Catskill Mountains. It's a very nice opening hole with a wide fairway that is bracketed by large mature trees. We found old Rip at Hole #2. After a twenty year sleep, it looked like he had to make a stop at the "lavatree"! It's a par 4 of 300 yards with a slight bend to the left. This is a good hole to work on your draw. Bunkers both left and right guard the green.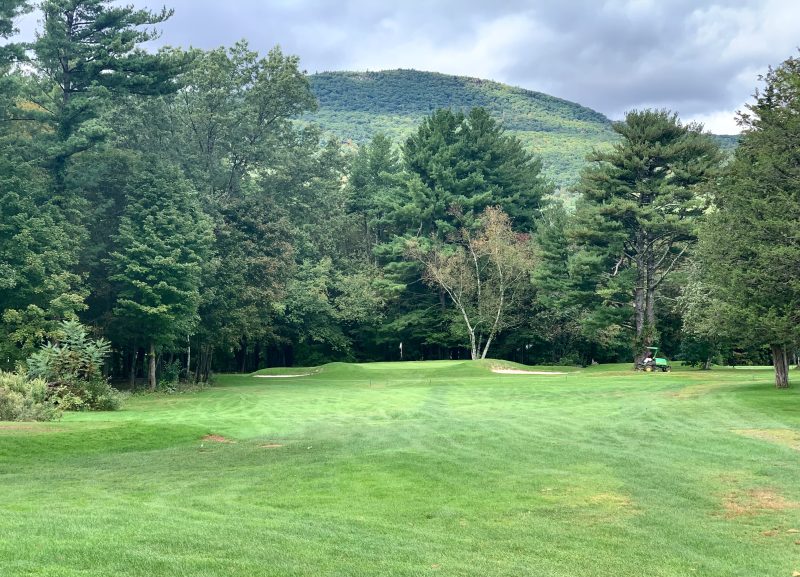 The par 3 third hole shouldn't cause any issues unless you pull it left into the woods; float your shot into the two large bunkers to the left; find the bunker to the right; or land on one of the edges of this Donald Ross "turtleback" green. Double Bogey – enough said! Hole #4 is the #1 handicap hole and resulted in my fourth straight "5". There is a small creek that splits the fairway and will have to be carried on the second shot. This is decision time for the high handicap (short hitter) – go for it or lay up? It's strange to think about laying up on a par 4, but it could be a wise move for some golfers – but not this one!
Hole #5 is a par 4 of 300 yards with a pond to carry on your drive. I played this hole like Phil Mickelson would…let me explain. 1) I hit a wild drive to the right into the 8th fairway; 2) I now have a large tree blocking my access to the putting surface (playing in the correct fairway would have been a better choice); 3) Pulling a very lofted wedge out of my bag, I somehow cleared the tree and found the green; 4) Two putts and a par…easy. Just an FYI, my playing partners played this hole correctly and none of them recorded a better score.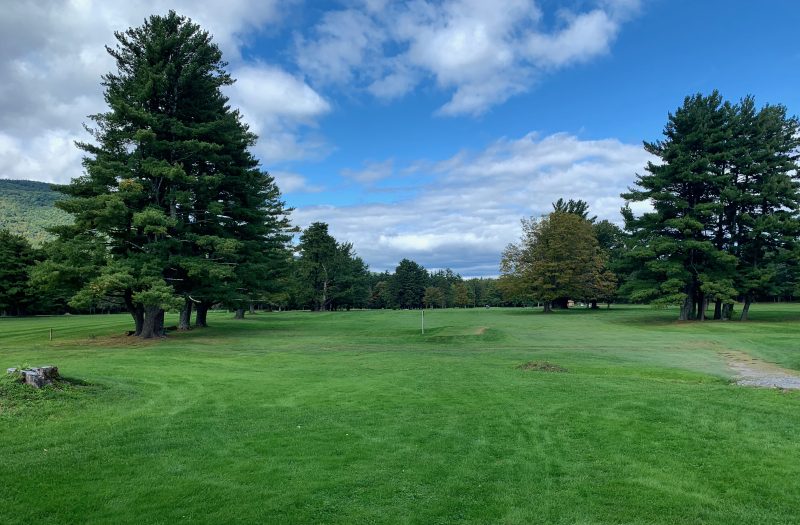 Hole #6 is a straight par 5 but if you tend to hook your tee shots – good luck finding your ball in those woods. There are a number of large trees at the seventh hole, but they spread out enough that they can "easily" be played through. Trust me because all of the sudden I'm on a par role and playing the part of an escape artist.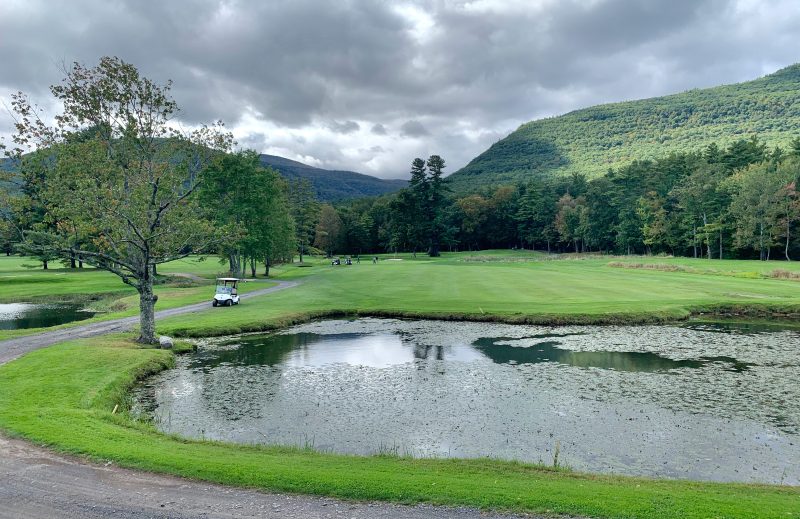 Water, water everywhere on the par 3 eighth hole. There is a pond to carry off the tee box; another water hazard to the right of the green; and for good measure, a creek running down the left side. Throw in a little sand behind the green and this hole should be called "the beach hole". Instead it is named The Dwarf. Didn't see him today, but I'm not venturing into those woods – remember what happened to Rip. The finishing hole is a par 5 and a chance to finally find that elusive birdie.
Rating – Birdie (46 out of 60):  The Rip is family-owned and operated, and one of those hidden gems we always talk about.  Playing a Donald Ross designed golf course feels like stepping back in time, and his courses are usually a little shorter which is perfect for old geezers like us and the beginner/high handicap golfer. The course was in good condition for being late in the season, and the trees were just starting to turn. Each hole is named to describe the journey Old Rip took through his 18-holes (if you play the 9 holes twice). As we started to exit the course, we heard our names being called and guiding us down the road to the Rip Van Winkle Brewery. This is where the story ends…see you again in 20 years!
3200 NY-23A, Palenville, NY 12463;  518-678-9779;  www.rvwcc.com