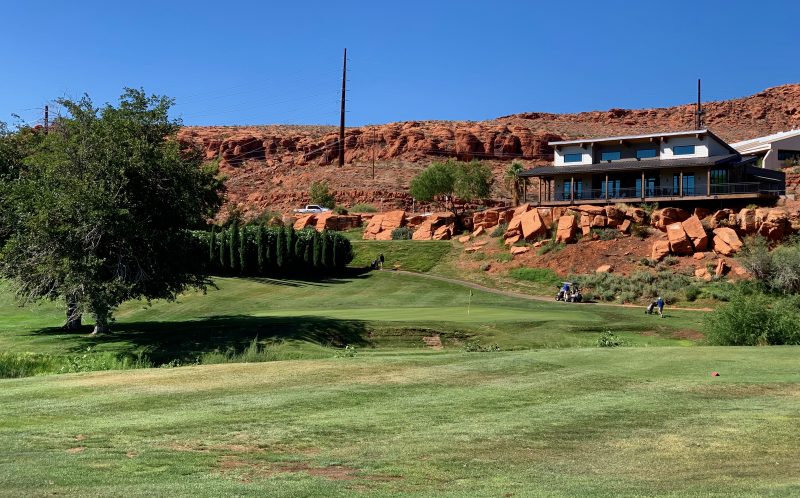 Dixie Red Hills Golf Course has been on my "bucket list" for many years. My list does not contain the Top 100 courses in the world (even though I have played some of them), it is about Discovering 9-hole Gems on America's Highways and Byways as we Golf the Fairways Less Traveled. During my career I had the pleasure of working the St. George area and as you may know, it was one of my favorite areas in the United States. Back in the day it was work, work, work, but I always admired this course from a distance. I had a fantastic supervisor during this time who stressed the importance of "finding your path in life" and that led me to this retirement journey. So let's see if Dixie Red Hills lives up to the billing I have created in my mind.
Hole #1 is just as I imagined. Green grass; red rocks; and clear blue sky. To steal a line from some movie – "Is this Heaven? No, it's St. George". This par 4 has a slight dogleg to the left. The fairway is tight with trees left and right and a beautiful rock formation behind the huge green. Another large green awaits your tee shot at the par 3 second hole. It's 188 yards from the white tees and you are better being short because the green slopes dramatically from back to front.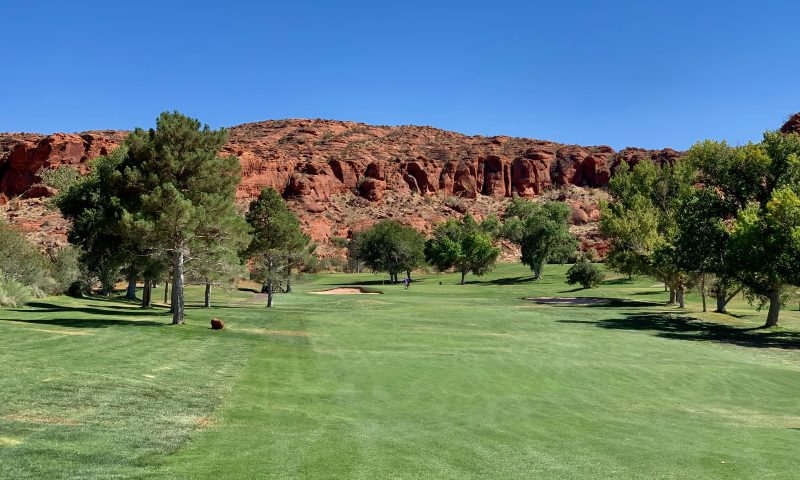 Listening to my notes, I said Hole #3 was stunning at least four times. A par 5 of 502 yards with a big dogleg to the left. Be careful because you can drive it through the fairway on your drive (or 2nd shot). My 3rd shot found the greenside bunker, but I holed out for birdie. That's how you play the number one handicap hole!! Hole #4 has a beautiful outcropping of red rocks behind this par 3 green. I've been so mesmerized by the scenic beauty around here, that I failed to realize I was one under after four holes.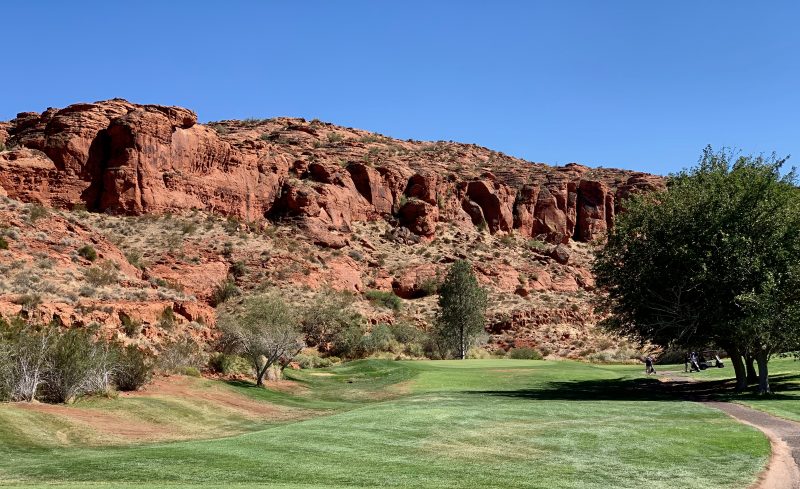 Another one of those 90-degree dogleg left holes at Hole #5, but this one is a par 4. Both DC Dave and I were short of getting to the dogleg, so it was decision time. Hit up and over the hill to a blind green, or play down the fairway? Up and over we went and somehow we both found the fringe surrounding the green. It's an excellent risk/reward hole! The par 3 sixth hole has a good view of the clubhouse and the red rocks behind it. And by the way, you have to carry a pond to safely find the putting surface.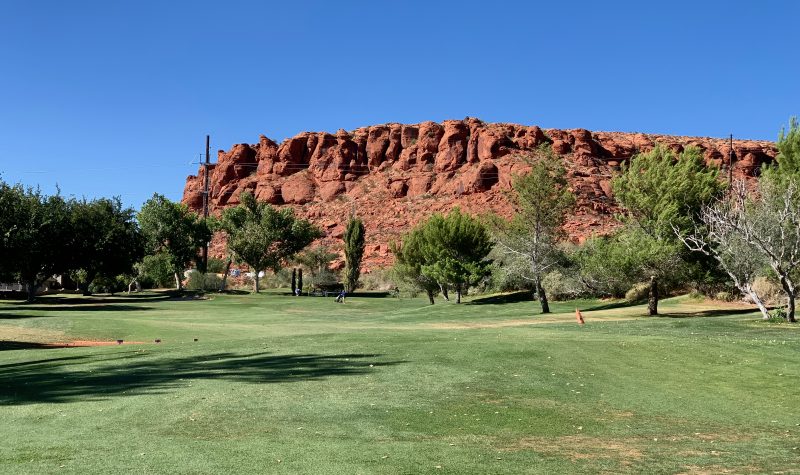 Another risk/reward tee shot at Hole #7. This "S"-shaped fairway tempts you to drive over the trees rather than take the safe play down the fairway to the left. Of course we went for it and I turned the par 4 into a double bogey. Just hit it up the chute at Hole #8 because trees line both sides of the fairway. The person who designed this course must have had a ball flight that turned right to left or he was left-handed because at Hole #9 we find another green to the left. If you don't drive your ball past the "V"-shaped tree, you have the same risk/reward question we have had numerous times today – up and over, or wedge down the fairway? Can you guess our decision?
Rating – Ace (50 out of 60): Yes, it lived up to my hype. The course is a stunner as are many of the courses in this area. If you ever have a chance to play in the St. George area – TAKE IT!
Even if golf is the main agenda for visiting the area, you need to take a day of rest and explore the beauty of Zion National Park.
645 W. 1250 North, St. George, UT 84770;  435-627-4444;  www.sgcity.org