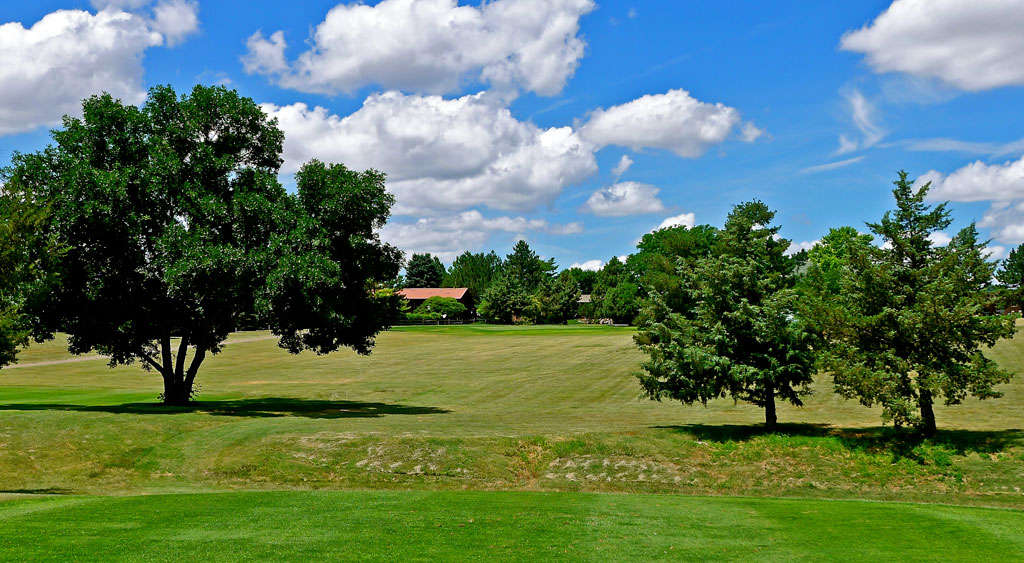 I was greeted by a wave of youngsters as they loudly exited the course. I had arrived as these junior golfers had just finished their round and lessons. Great job by Prairie Pines to help grow the game! I had driven three hours to play at the eastern edge of Colorado and I was able to walk right on – luckily the kids had just finished. This was Day 1 of my I-70, Eastern Colorado, Small Town Golf Trail trip.
Hole #1 is a wide-open, straight par 4. For that matter, most of the fairways are wide and it should be easy to find a safe landing spot for your drives. I was confused by the scorecard as it showed only mens (blue) tees and womens (red), but the course had red, white, and blue tee boxes. I played from the blue's as it showed only 2937 yards for the 9 holes. Hole #2 is a dogleg right with a fairway that slopes dramatically to the right. I decided the best course of action was to just hit it straight (like I have the ability to work the ball) and let the fairway feed it down the hill. So now I decided to yank one left. Still not a bad place to be for an approach shot.
This course is unique in a few ways. You are reminded many times to keep carts on the path. I thought this was rather strange until I realized that the cart paths ran down both sides of all the fairways. I had never seen this before and I liked it. It saves wear and tear on the dry buffalo grass fairways. The fairway markers are easy to locate but it took me a few holes to decipher them. A unique color pattern: yellow=200 yards; blue=150 yards; white=125 yards; and red=100 yards.
At Hole #3, you would be wise to take more club at this uphill, 175 yard par 3.  A big (and I mean big) dogleg right greets you at Hole #4. This is a fun hole that ends with a difficult undulating green. Most of these greens are large but by no means flat…and they are awesome! Hole #5 requires a precise shot to assure a good score at the dogleg left par 4.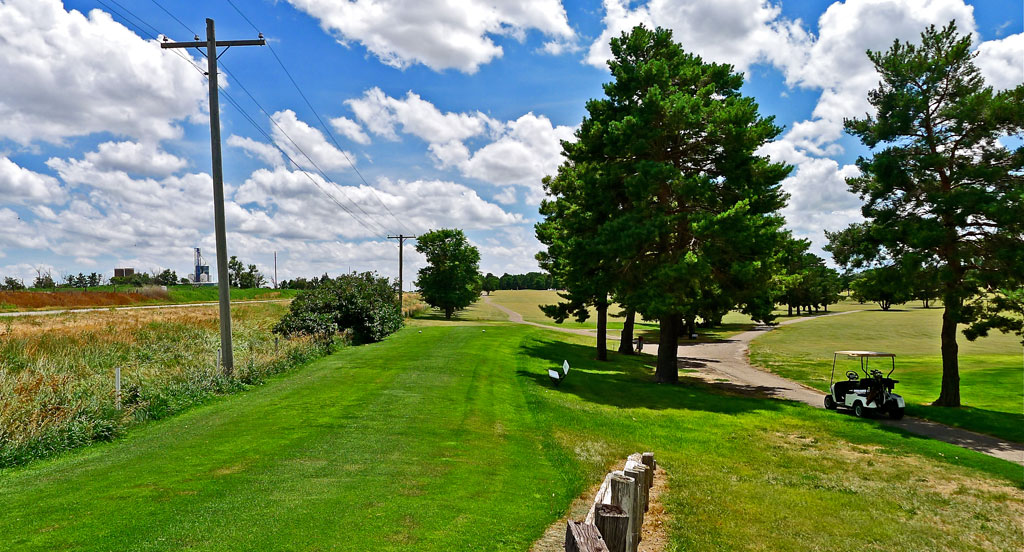 If you can hit your tee shot straight for about 20 yards, the wide fairway at the sixth hole will accept just about any type of drive. It is the only par 5 on the course and you are well on your way to birdie…if you clear that first 20 yards. Hole #7 was very baffling to me. I'll use the pro's explanation for a bad score – "this hole just didn't fit my eye". Everything slopes to the right and so went my tee shots (yes, plural) but the green is tucked up the hill to the left and out of sight from the teeing area.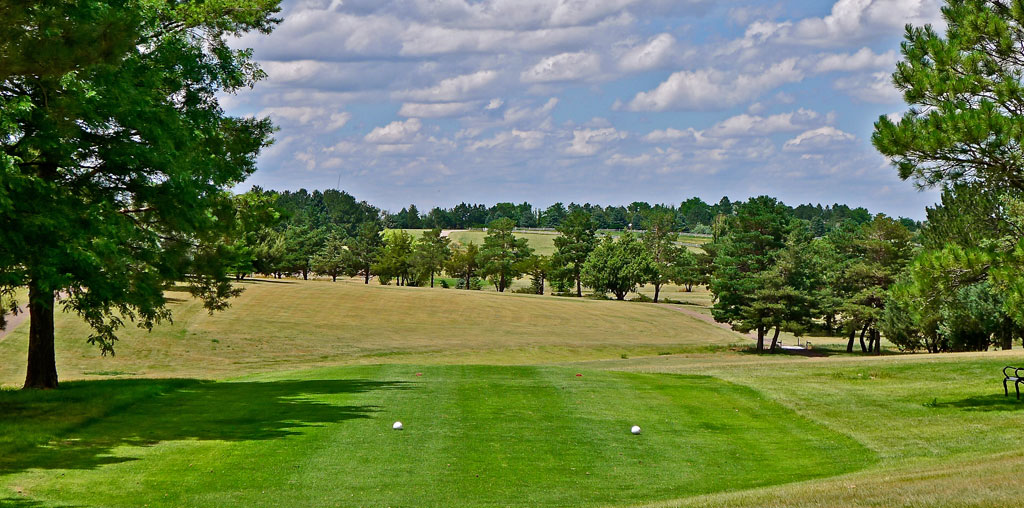 I had been playing from the blue tees all day but many of my shots continually landed short of the intended target.  Being the precise ball-striker that I am, my thoughts drifted back to the red, white, and blue tee boxes. Maybe as at many other 9-hole courses, the white was for the front 9 and the blue for the back 9. At Hole #9 (and of course at the end of the round) I had my first encounter with any other golfers. I asked these two locals why the discrepancy. Here is their explanation – the scorecard was probably printed about 20 years ago and the "new" blue tees were added for more length. The blue on the scorecard is probably the current white tees (got that?). The last hole I decided to move up and play from the whites and was rewarded with a par to end my round.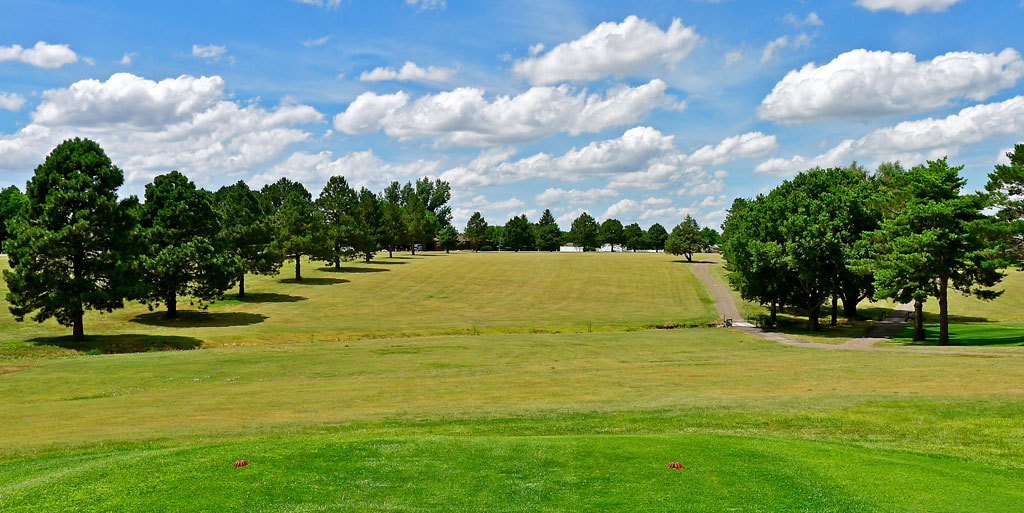 Ace:  This is why I travel and explore. This is a hidden gem in Eastern Colorado. Did I mention the greens? If I ever hear the statement – "it's only a 9-hole course" – I can refer them to Prairie Pines Golf Club. The native buffalo grass fairways are not pretty to look at but are very drought resistant that is very important in this part of the country. But the greens, I will put them against many of the 18-hole courses and they will be better. A great job by the mainly volunteer staff to keep them in such great shape.
So now Burlington, CO is more than a place to stop and get gas while traveling along I-70.  Besides playing a quick round of golf, what else is there to see? If you are traveling with kids the Kit Carson County Carousel might be a good attraction. It is a National Historic Landmark and one of only 150 wooden carousels still in existence.
48680 Snead Dr., Burlington, CO 80807;  719-346-8207