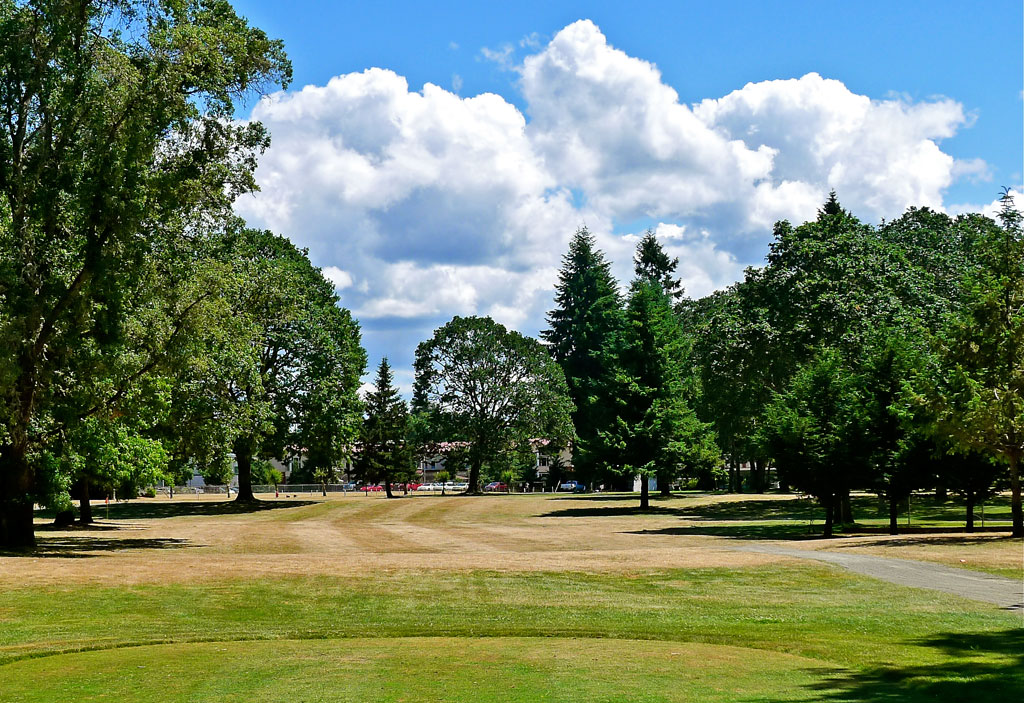 Fort Steilacoom Golf Course reminded me of Chambers Bay. The fairways were brown and firm; the greens were in good shape but a little bumpy; the green fee was $16…I guess that is where the comparisons start to fall short. I was warmly greeted by Tom, a former Colorado resident, and he enlightened me about the course I was about to play.  First thing – leave your driver in the car and add another wedge to your bag.
This 9-hole course is short (2491 yards from the blue tees) and for the most part very straight. Hole #1 is straight and tight. Good advice by Tom…leave the driver in the car. Hole #2 is, you guessed it, short and tight. But at only 246 yards, this par 4 was worth a daring move. I ignored Tom's suggestion and pulled the driver from my bag. A driveable par four was too inviting to throttle back. The driver had a questionable result but I was able to avoid the five bunkers surrounding the green to secure a par.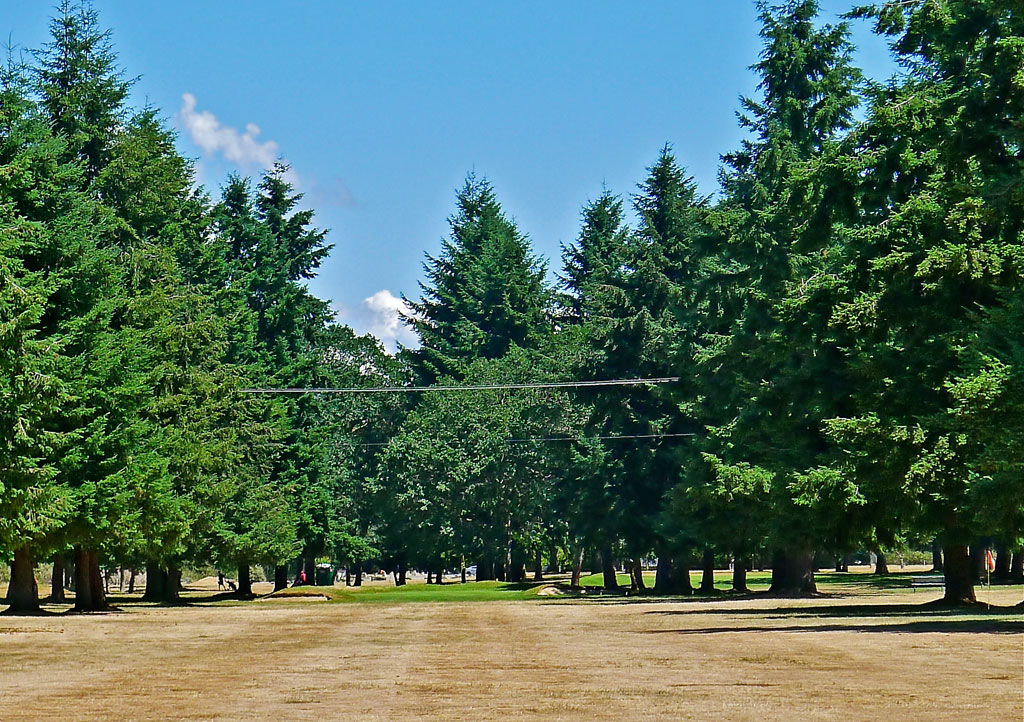 Holes #3 and #4, let's see, how would I describe them? For something different how about forthright and snug. Use any club that you feel comfortable hitting straight. Accuracy is your main objective on the first four holes. Hole #5 is straight and tight a wide-open 440 yard par 5. Might be time to take a quick run back to your car to get your driver! It is hard to believe this is the #1 handicap since it is the first open hole on the course. It must be because it is the only par 5 on this par 34 track.
Hole #6 is the second par 3 and nicely framed by trees around the green.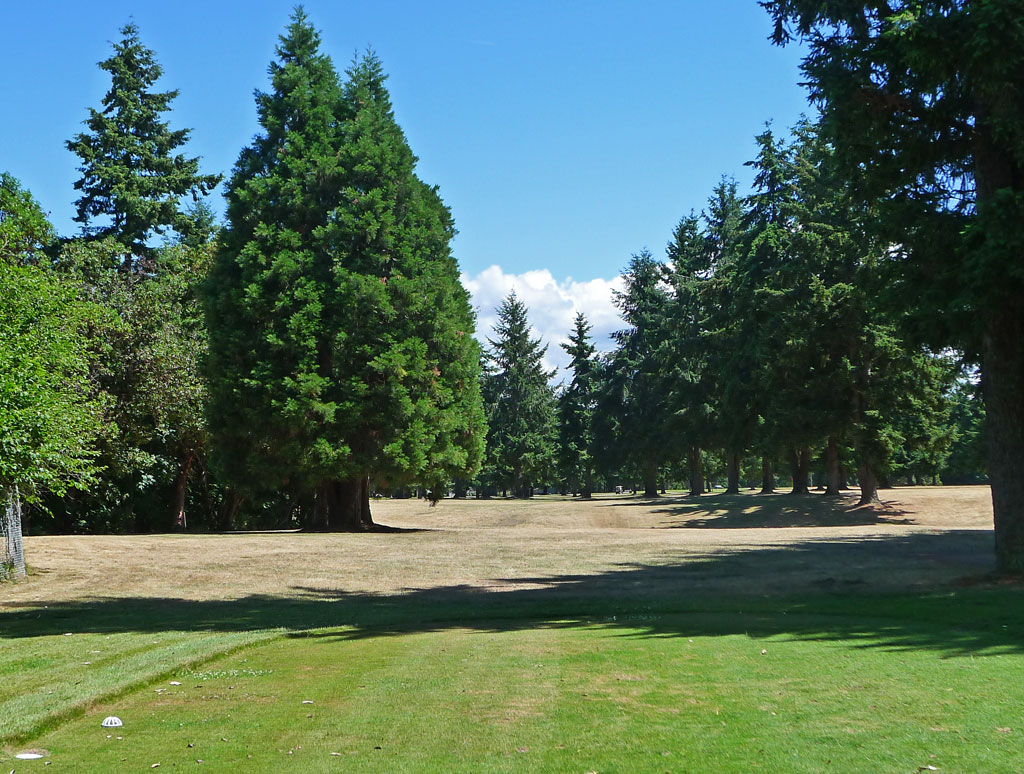 Hole #7 – what to hit? The first dogleg and a driver or 3-wood may be hit through the fairway. I picked a 2-hybrid and this was a little too much club (for me). A quick duck-hook will be history in the grove of trees to the left. Most of the holes there are no need for yard markers and the ones I did need (around 100 yards), I was always able to locate the red disk marker. Now I was around 150-160 yards out and no marker to be found. After searching for a few minutes (no one within a few holes of me), I gave up and went back to address my ball. Out of the corner of my eye, I noticed a 150 yard stake not more than three feet from my ball – DUH!
Hole #8 – 165 yard par 3. I recorded my first hole-in-one! Now my shot was a little off line and ended up in a 21″ Footgolf hole but a hole-in-one is a hole-in-one, right? I'm not sure what the correct ruling is but I took a free drop and got up-and-down for my par. Now that you are almost at the end of your round, it is probably too late to address the different flag colors. Since the course has an 18-hole Footgolf course integrated into the 9-holes, there are a number of flags on the course. The yellow/black flags designate the golf holes; the orange flags are for Footgolf.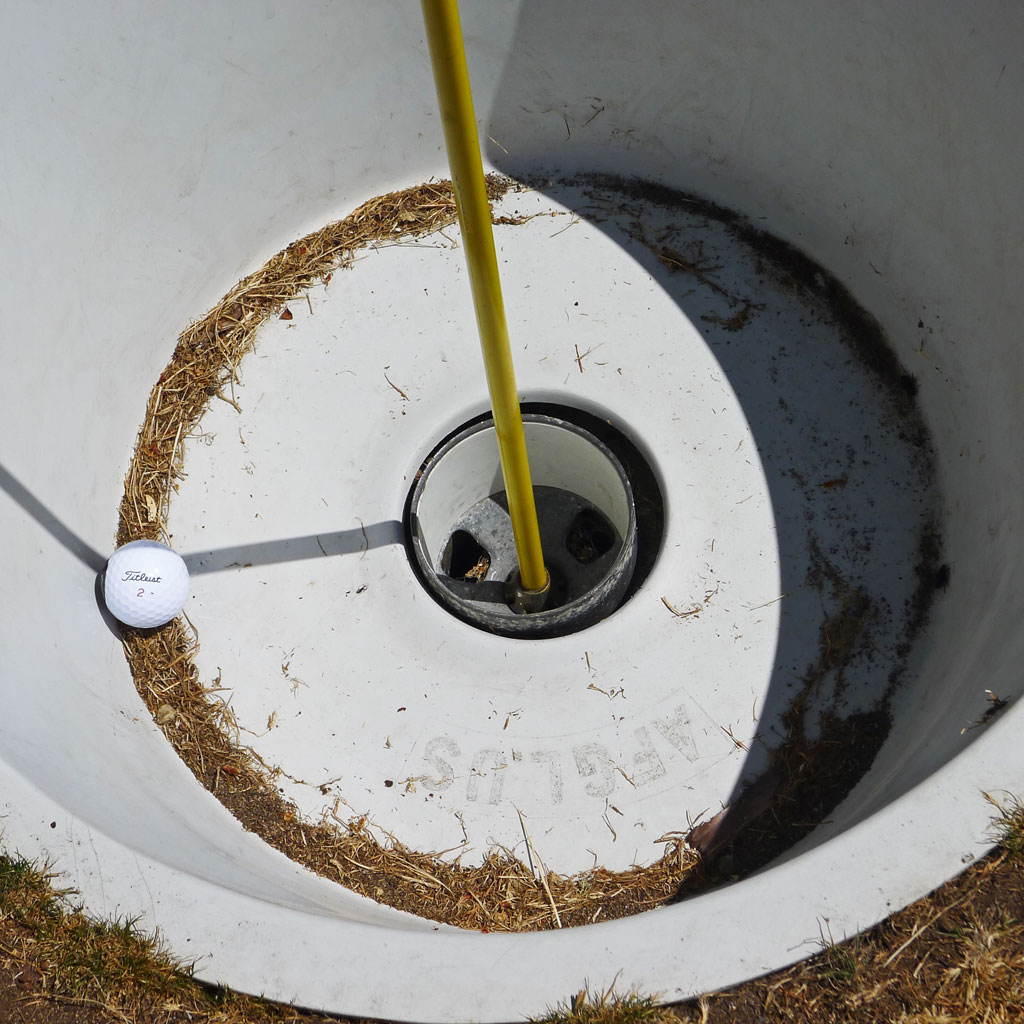 Hole #9 – hmm, another dogleg? And another hole I can use my driver. A nice little fade landed me past the dogleg and into the middle of the fairway. Now if I could only putt, this would have been a great birdie hole!
Birdie:  Now I realize many of you would look at Fort Steilacoom Golf Course and say "what"? Yes it does have brown fairways and bumpy greens, but as I mentioned above, so does Chambers Bay. I'd rather pay $16 than $216 and have money to spend on all the other adventures around the Sea-Tac area. The staff was very friendly; course was not crowded; pace of play was about 1hr 30min; had time for 18-holes of Footgolf; and my confidence was high due to my par, par, par, par, par, par finish.
8202 87th SW, Lakewood, WA 98499;  253-588-0613;  www.lakespanawaygc.com/fort-steilacoom