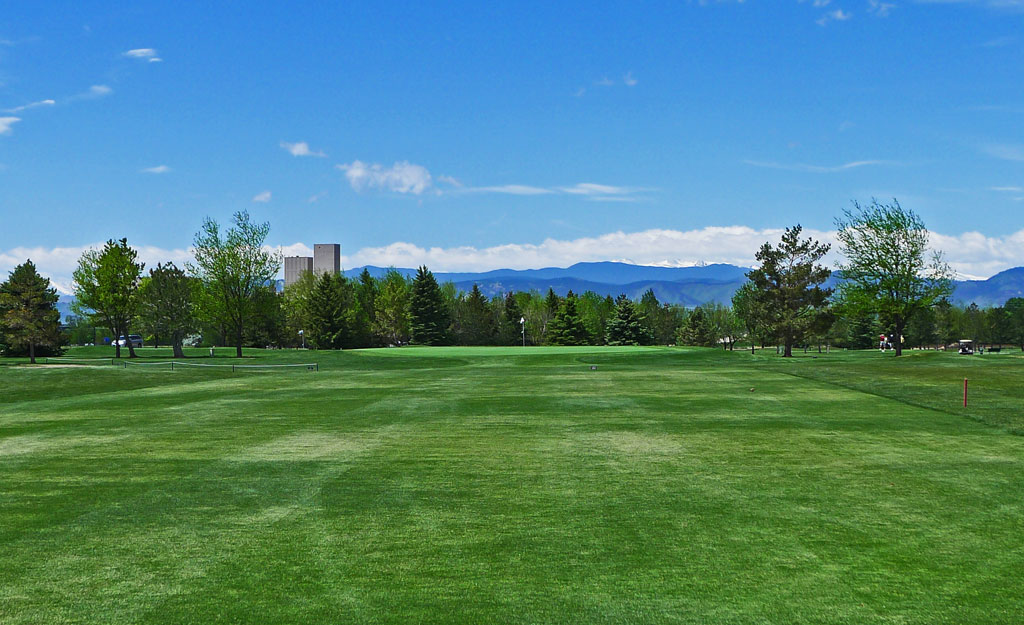 Driving north on I-25 in Fort Collins you encounter a Budweiser plant to the west and Mountain Vista Golf Course to the east. So your first decision of the day – golf in the morning and Budweiser in the afternoon or vice versa? Whichever you choose, it is sure to be a fun day.
We chose the former and I'm glad as we tried to navigate the first three holes all of which have severe doglegs and are heavily guarded by trees. Always fun to start the day with the number one handicap hole. Your mind has to be clear on these holes as club selection and course management are critical to get off to a fast start.
Hole #6 is a long, long par 5 of 579 yards and, of course, it was playing into the wind today. If you keep your shots to the left, you will avoid trouble. The ditch that runs through the course can come into play on holes #7 and #8.
At the par 3 eighth, the mountains and the Anheuser-Busch plant come into clear view. I don't know about Ed and Dave, but I'm starting to build a giant thirst! I don't remember much about Hole #9, my thoughts were on a Bud.
Par:  The course is wide open after the first few holes. There are a fair amount of trees that can interfere with wayward shots, but water and sand hazards are few. Mountain Vista GC did offer a challenge to the three of us with handicaps all north of 13. Pair Mountain Vista with the Budweiser tour for a full day of fun (it's called Fort Fun for a reason). In addition to the brewery tour, the famous Budweiser Clydesdales West Coast Team resides at the Fort Collins location. If you still have not gotten your fill, there are many more micro-breweries in this Colorado State University town. One last piece of advice – stay safe my friends.
2808 Northeast Frontage Road, Fort Collins, CO 80524;  970-482-4847;  www.mountainvistagreens.com