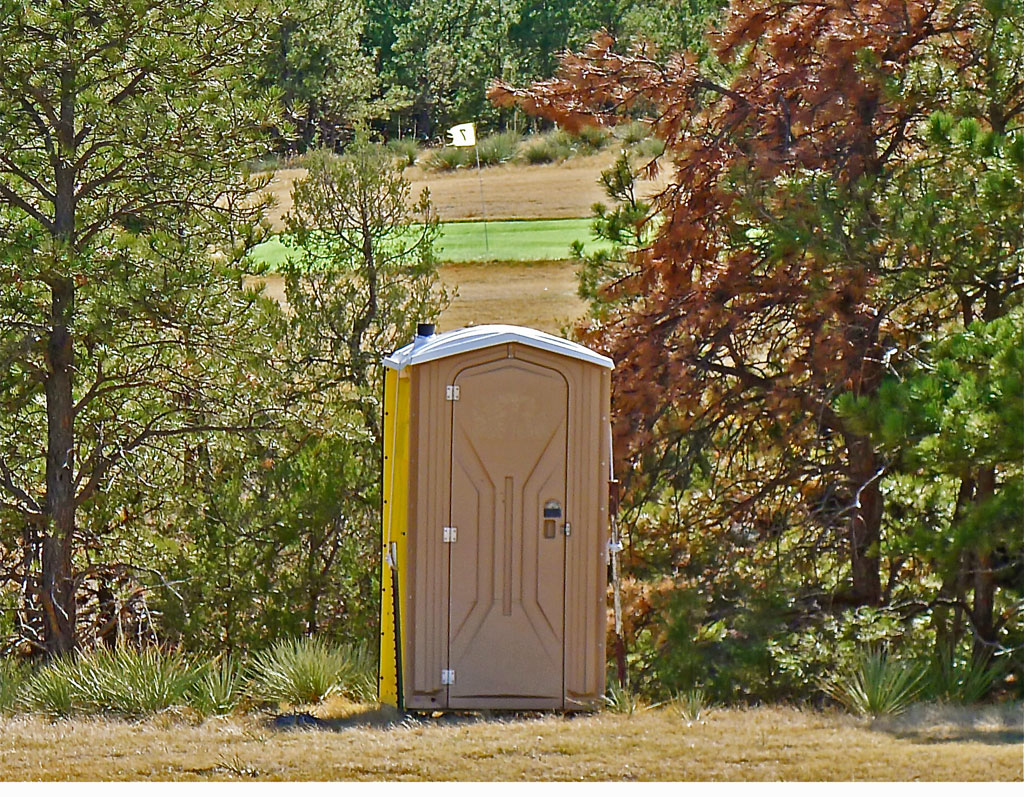 Golf or hiking shoes? Walk or ride? 4-wheel drive? Open or closed? Pay here or at the police station? These are questions that needed to be answered as I approached the lean-to that serves as the "clubhouse".

Perched on the side of a cliff, I studied the green patch (all tee boxes and greens are made of Astroturf) below in the distance at this 257 yard par four, first hole. After driving the green, I hiked (no carts here/leave the golf shoes at home) down the hill and approached the green (thinking eagle). However, as I got closer, I noticed a big number "8" on the flagstick. So as you are standing on the elevated tee box at #1, look to the left of the road and you will get a glimpse of the green behind a group of trees. I knew the first shot was too easy.
Holes two through six are wide open, barren, and brown (except for the tee boxes and greens). The short par 3, seventh, is my favorite. Only 102 yards long but you need to clear a grove of trees and a strategically place porta potty. The three porta potties are the only facilities at the course…just saying. Truth be told, I was a little scared to look inside any of them.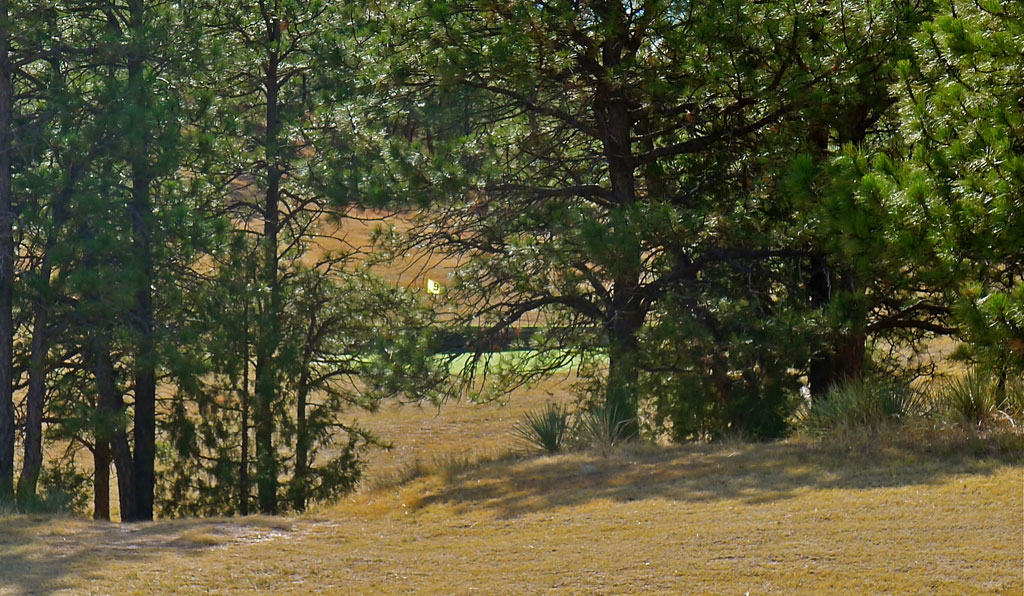 The round concludes with a very short (207 yard) par 4. A strange but interesting hole with a grove of trees fronting the green. I decided to hit two wedges (one to lay up – the next to clear the trees) for my par. Have you ever hit consecutive wedges to land on the green in two? I need to find a regular to ask how they play this hole.
Bogey:  You don't need a 4WD, but the road entering Pine Bluffs Recreation Area is very rough. There are two entrances to the course – the first gate will probably be closed but you can park at the top of the hill and walk down to the first hole. I would drop the $5 green fee in the slot (I also saw a handmade sign that says pay at the police station).
If you are looking for solitude and a place to practice your shot-making skills – this may be your course. Located off I-80 at the Wyoming/Nebraska border, I know this course does get some play because of all the empty Bud cans in the trash. Of course this could just be the favorite drinking spot for the Pine Bluffs high school kids!
I-80, Pine Bluffs, WY 82082;  307-245-3236 (not sure who would answer – maybe the police station?)