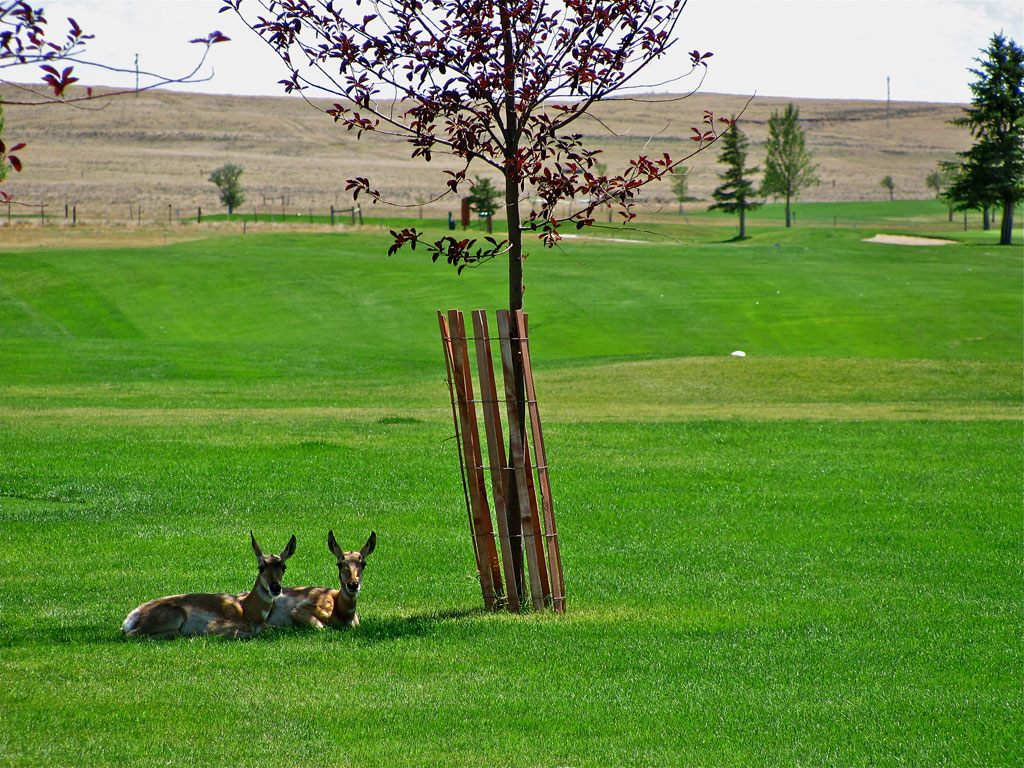 Wright = right. Something drastically not wright today. Was it that I was one of only 6 golfers on the course on a beautiful Saturday afternoon? – no. Was it that I had to share the course with more antelope than golfers? – no. Was it that I was playing a course in Wyoming and there was no wind? – Wright.

I was greeted on the first tee by a pair of antelope lying leisurely in the shade – they did not move. Remember, the antelope have as much wright to be on the course as you do – please respect this. The first two holes are good chances for birdie but beware of the water hazards on the wright. Play the blue tees at hole #3. The tee box is in an interesting location with trees blocking the view of the green.
Haycreek is a good course for the high handicap golfer. Most of the holes are doglegs to the wright and there is not much sand. However, water can come into play on numerous holes, so you need to keep focus. I was greeted by a herd of antelope lounging at their favorite watering holes (#5 and #6). They do their thing, we do ours.
Your round can quickly slip away with a stray shot at the number one handicap, par 5 ninth hole. Choose any club that keeps you down the left side – wright is certain death.
Birdie:  Depending on the wind, Haycreek will play like two distinctly different courses. On a windy day from the back tees, it's a handful. Without the wind, it's defenseless. Good luck finding one of these days. Whichever you choose – it will be wright.
1229 East Elkhorn, Wright, WY 82732;  307-464-0747