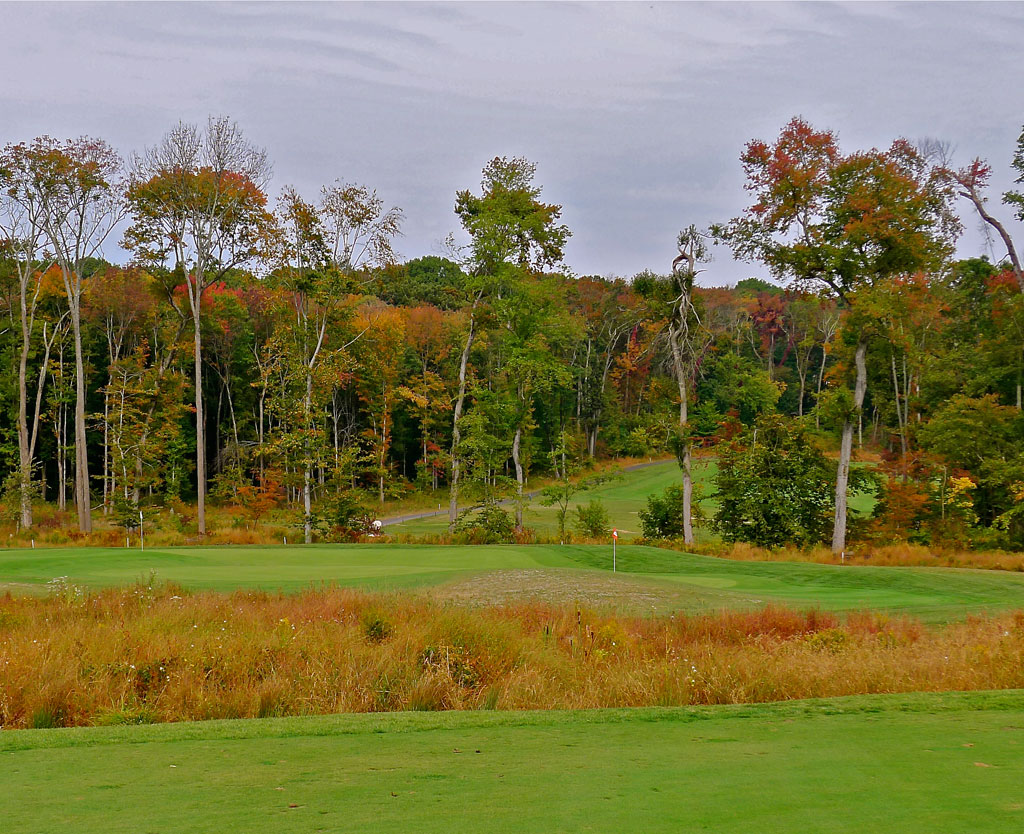 The round started like no other – with a chauffer, and at the par 4, 302 yard fourth hole. My chauffer was Carl Feineis, a passionate employee, who invited me to explore this 9-hole gem. The fourth hole is actually #1 on the scorecard and there is a short ride to get to this tee box.  Got it? If not, here is the long explanation.
Architect, Kelly Blake Moran, is in the process of creating an 18-hole course. It started as six holes and currently is open as a 9-hole course. In the grand scheme of things that means you are playing the eventual holes 4 through 12 (but 1-9 on the scorecard). Got it now?
Hole #1 (future #4) is a short, fun dogleg right par 4 with trouble down the right side. The fairway slopes dramatically right to a small and well-guarded green. I laid up (aim for the 150 yard marker) but it would be a fun hole for someone who is long and can put a big fade on their tee shot to go for it. Hole #2 (future #5) is a 150 yard par 3 with a carry over Nesham…Nesham…Neshaminy Creek (hard for a Pennsbury graduate to get out the word Nesham…). Hole #3 (got it now?) is a 339 yard par 4 with trouble down the right side.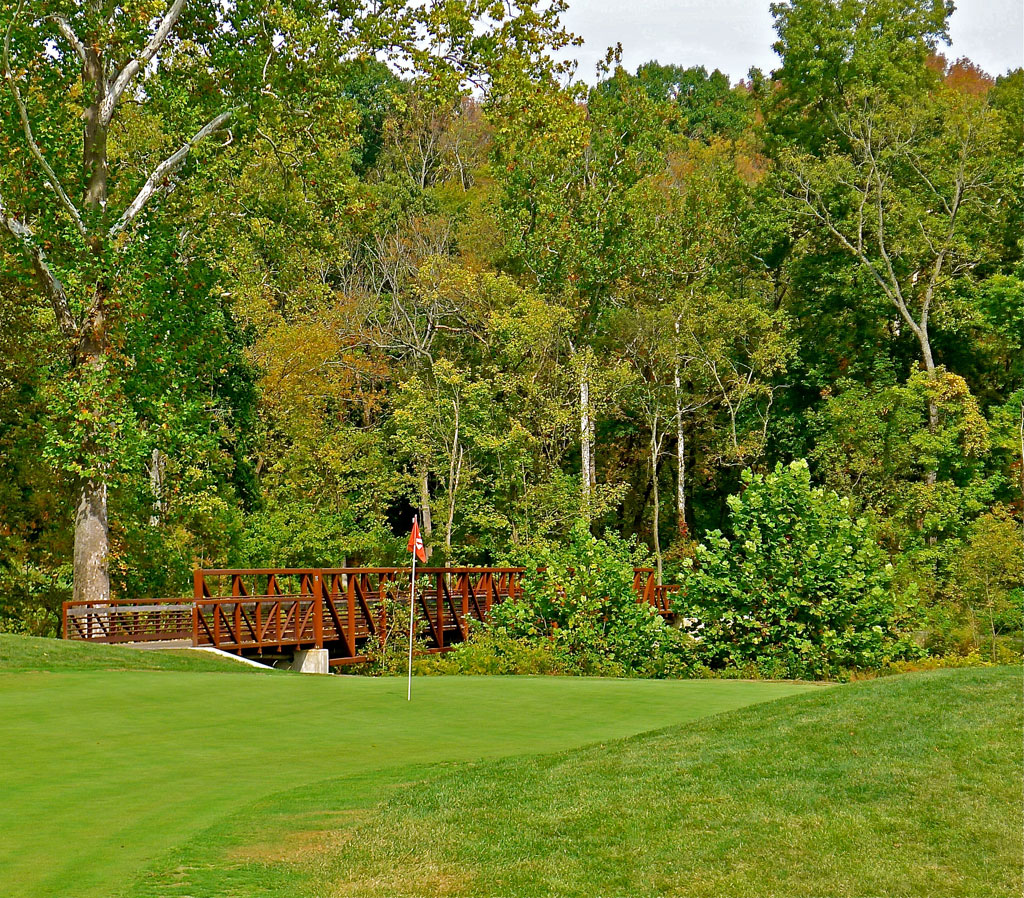 Don't be short, left, or right at Hole #4. There are bunkers all around this 161 yard par 3. Speaking of bunkers, Mr. Kelly Blake Moran used many of them throughout the course. They are very shaggy and natural; there are a number of finger-shaped; u-shaped; and for that matter, all shapes. At Hole #5, you might be introduced to one of the u-shaped bunkers. It is strategically placed about 200 yards (from the white tees) on the left. The fairway looks big from the tee box, but the hill on the right will swallow any wayward shot that way and that u-shaped bunker is hidden to the left. If that's not enough, there are three bunkers fronting the green.
You'd think this course was down the shore for all the sand you have to navigate at Hole #6. It's possible to find bunkers in the fairway and left and right of the green. Just for fun mix in dense vegetation and a swale to the left and a large undulating green and you have an adventurous 375 yard par 4. Remember our fun u-shaped bunker at #5? Well you can find it again at Hole #7. There is plenty of native vegetation on both sides of this 457 yard par 5 to make your par difficult to attain.
Hole #8 is a 150 yard par 3. There is tall vegetation fronting the green, so as long as your tee shot is airborne you are safe, right? Wrong. Once you cross the creek you realize most of the green (which is crazy sloped) is surrounded with bunkers and suddenly turning into a nightmare. So now we are at Hole #9 (future #12). The first thing that catches my eye was not the layout of this hole or the trees behind the green (see above picture) in all their Fall splendor, but the sign advertising $2 Yuengling Beer Special for the week. Carl, let's get this cart moving!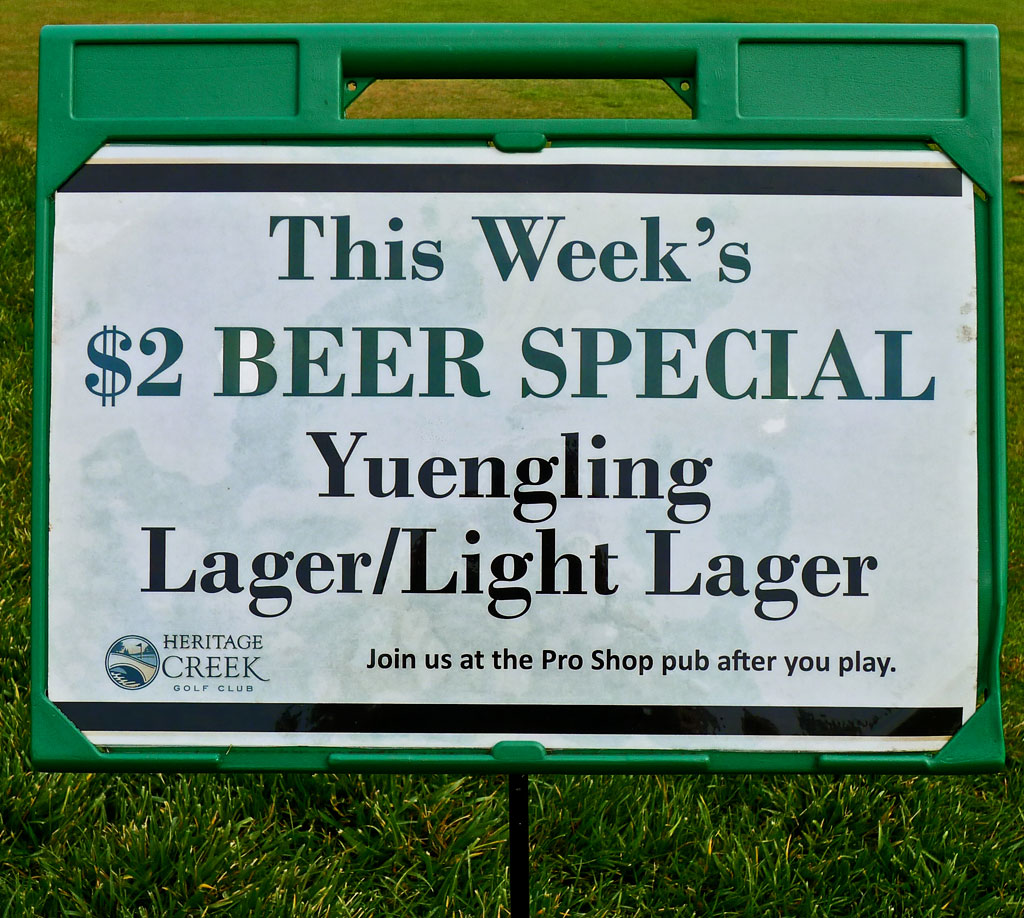 Not so fast, however, because this is a great short par 4. Your best bet for a good score is to lay up. If you try to drive the green (only 297 yards) the "junk" in front of the putting surface and the big hill on the green are sure to cause problems.
Ace:  Got it now? I hope I did. If not, Ryan and his staff will proficiently explain the present and future layout. This is one of the better 9-hole courses I have played. When completed it should make for one of the premier 18-hole tracks in the Bucks County area. I just hope Mr. Moran leaves enough sand on the Jersey beaches for us to enjoy the Atlantic Ocean.
1949 Meetinghouse Road, Jamison, PA 18929;  215-674-8283;  www.heritagecreekgolfclub.com