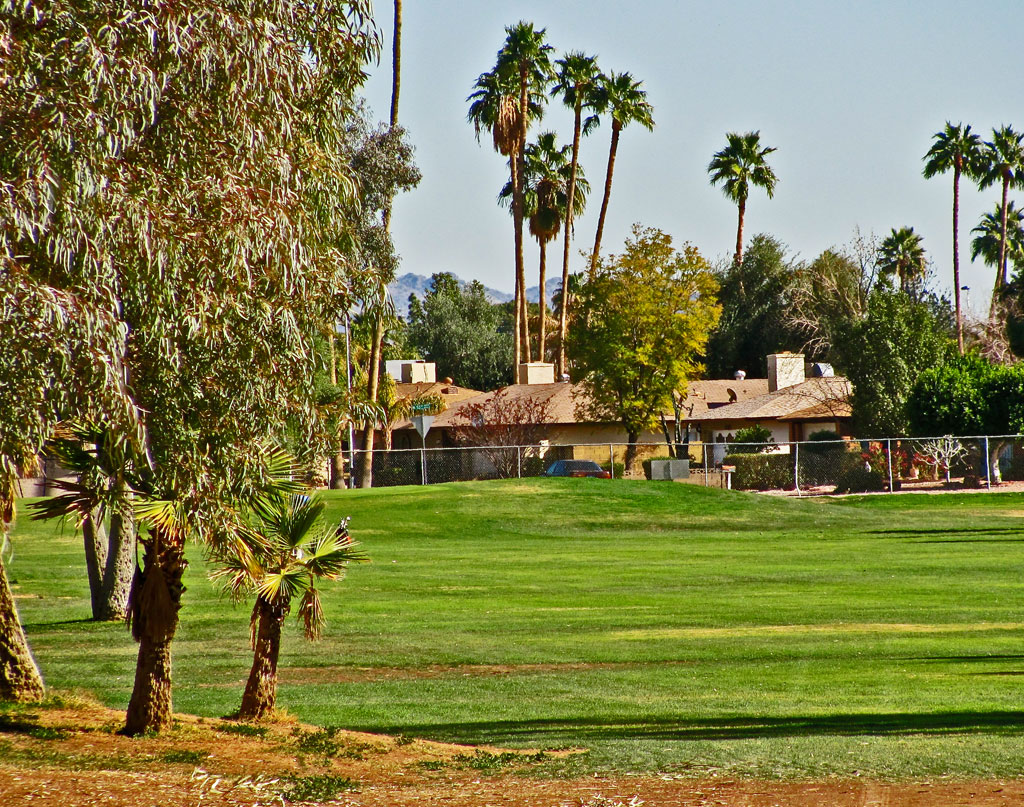 This is the true "Circle in the Square" location (and you thought it was in New York). Glen Lakes Golf Course opens with an easy, straight par 4 – score 4. Holes 2, 3, 4, 5 – scores 4, 4, 4, 4. These first five holes play around the perimeter of the property (forming the "square"). Now it's time to flex your muscles and let the big dog loose as you enter the center of the course and the last four holes.
Holes #6 through #9 form the "circle" and include two drivable par 4's (scores? of course 4, 4, 4, 4). I parred all the par 4's and bogeyed the par 3's on this par 33 layout.
Glen Lakes is inviting to high handicap players with it's straight holes, but can challenge better golfers with water lurking on all par 3's. After avoiding the greenside lake at hole #6 and exiting the green, the routing gets confusing. You enter the confluence of the shared tee box for holes seven and nine, and of course there was no tee marker for either hole. Instead of walking aimlessly between your options (like me), check your scorecard for the correct direction of Hole #7 – it's so much easier.
When I finally arrived (again) at hole #9, it presented itself as a curious par 3. Water to the left, water to the right and a large palm tree in the middle that can come into play if you don't quickly elevate your tee shot. Missed the tree, missed the water, and completed my round of nine consecutive 4's.
Par:  Any course is a good one to be playing in 70 degree weather in January. It was a good course to work on my troubles from the previous day and for $15 with cart, it did just that.
Since your round should only take 90 minutes to complete, it's time to explore downtown Glendale. I spent time at an all inclusive antiques & collectibles store. A Mad Hatter's has something for everyone. If you are looking for a unique sports gift, you can find it here.
Time to eat. Across the street is a German restaurant that was featured on The Food Network's Diners, Drive-ins & Dives – Haus Murphy's. I was greeted with a "guten tag, wie gehts?" Now was my time to revert back to what I learned in Mr. Rifkin's high school German class. I responded with, "Danke gut, und dir?'" His "Prima" concluded our dialogue and about all I remember from the first module of freshman year. I satisfied my thirst with a Warsteiner Dunkel and devoured the excellent weiner schnitzel while enjoying a beautiful January evening on the patio. Auf Wiedersehen!
5450 W. Northern Ave., Glendale, AZ 85301;  623-939-7541;  www.playglenlakesgolf.com