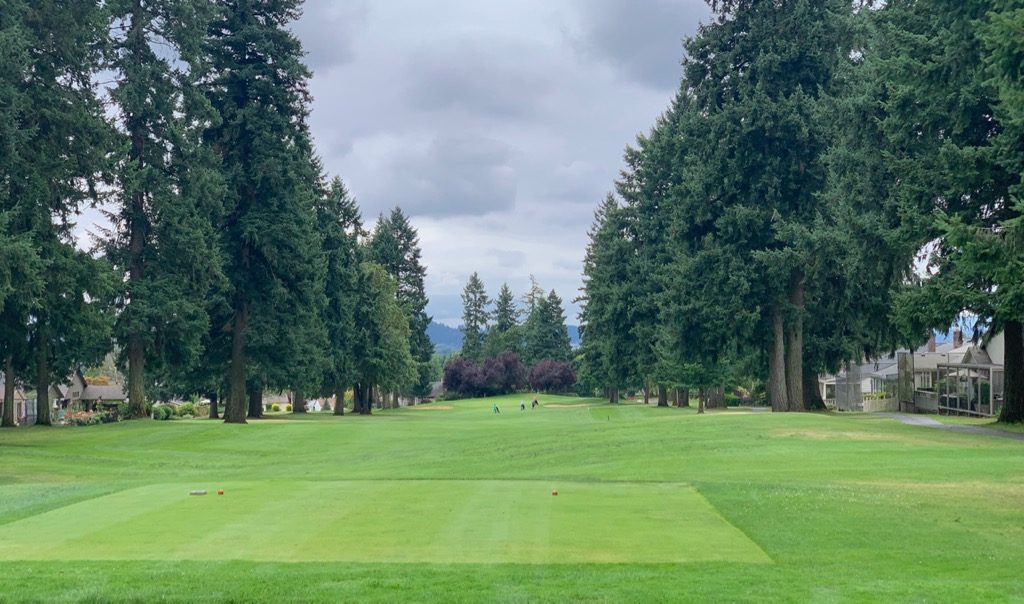 Please don't slice; don't hook; don't hit a house; is insurance paid up? These were my swing thoughts the entire round as I tee'd it up at each hole on the Fairway Village Golf Course. The course is part of a 55+ community and I felt right at home as we met our playing partners. I'm creeping up on 70 but Harold was out there hitting it right down the middle at 89. I just want to be breathing at 89!
So here we go. Hole #1 has a fairway that is lush, tree-lined, and house-lined. It's a par 4 of 316 yards and the most important objective is to pick a club that you can hit straight. If you have a big slice, you need to throttle back or check your insurance policy. Hole #2 is a par 3 but has very similar characteristics to the first hole. Anyone hit a house yet?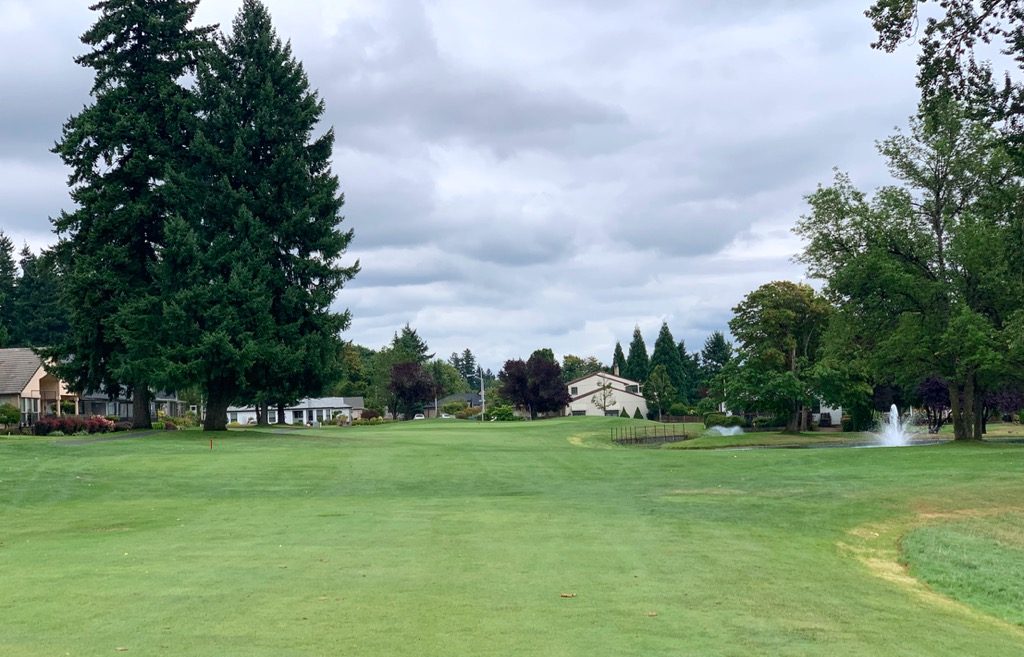 It's always a great advantage when you play with people who know the course. Hole #3 is a par 5 and the number one handicap hole. The fairway is open to the left, but the right side has houses and hidden water past the trees to the right. Without the help from Harold and Gene, we never would have known the water was there. The large green slopes from back to front, so choose your approach club accordingly. Hole #4 has a relatively wide fairway and once again there could be house trouble down the right side. Most of the homes have protective screens but not all of them. There is water on the right of the large green as well as bunkers on both sides.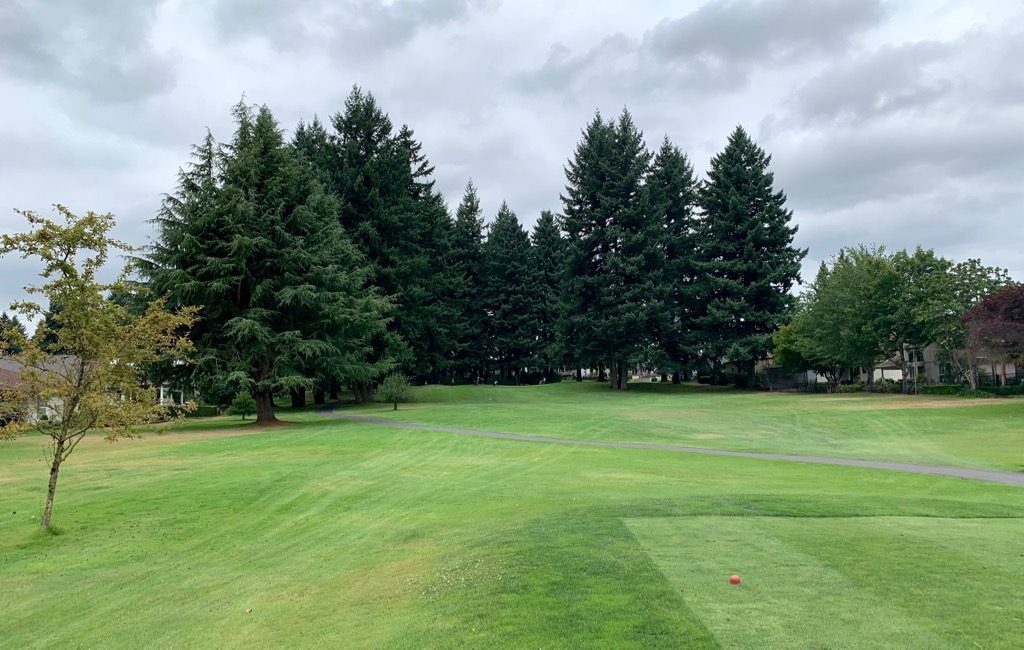 Another large green awaits your tee shot at the par 3 fifth hole. It just wasn't large enough for me as I carded a double bogey. Large pine trees encircle the picturesque sixth hole's green. Another par 3 that may give you tree trouble, but the houses should be out of play. At Hole #7 the pine trees stand tall and tight as you decide how to play this dogleg right par 4 hole. This is the second hardest hole on the course and the placement of your drive will set you up for success or failure. My failure resulted in a bogey, but this is a fun hole.
So are you considering going up and over the trees at the par 4 eighth hole? Think twice before you try to cut the corner at this dogleg left, 277 yard hole. There is a large bunker just beyond the trees ready to accept your attempt at heroics. The prudent play is to hit an iron down the fairway, pitching wedge to green, and one putt for birdie. Or in my case, two putt for par. Hole #9 – you need to be extra careful with your tee shot here. Harold and Gene both own homes to the right of the green at this par 4 of 264 yards. I know what you are thinking, 264 yards, I can drive this green. Remember, the harder your swing, the bigger the slice! Is your insurance paid up? Do you want to meet Harold or Gene? If you see them, give them my best regards! There is plenty of room down the left side, where I played and made my par (and kept my good relationship with my new friends).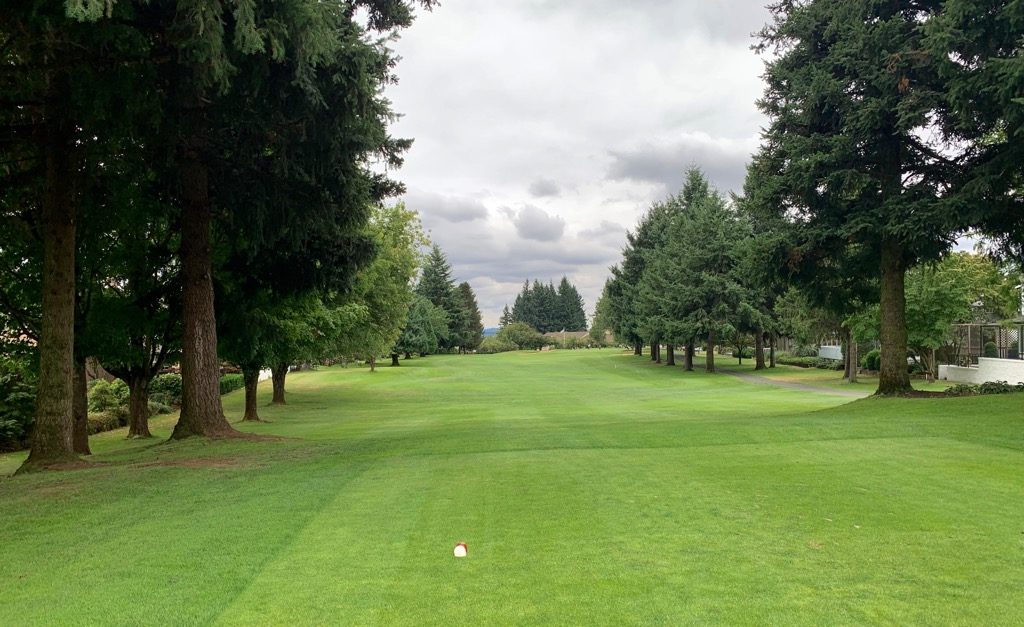 Rating: Birdie: This par 34 course was so much fun to play. It was in excellent shape. We played with two nice gentlemen, who made Karen and me feel very welcome. The staff was outstanding. And best of all: I didn't slice; didn't hook; and didn't hit a house.
After the round we were heading up to Seattle for a Mariners game, but there is always time for our 2nd stop on the Oregon/Washington, Always Time for 9/McMenamins, Golf/Beer Trail. McMenamins on the Columbia, which was the famed Kaiser shipyard of WWII,  was our lunch spot for the day along the Columbia River. Another stamp in the Passport! mcmenamins.com 
15509 S.E. Fernwood Drive, Vancouver, WA 98683; 360-254-9325; www.ourfairwayvillage.org