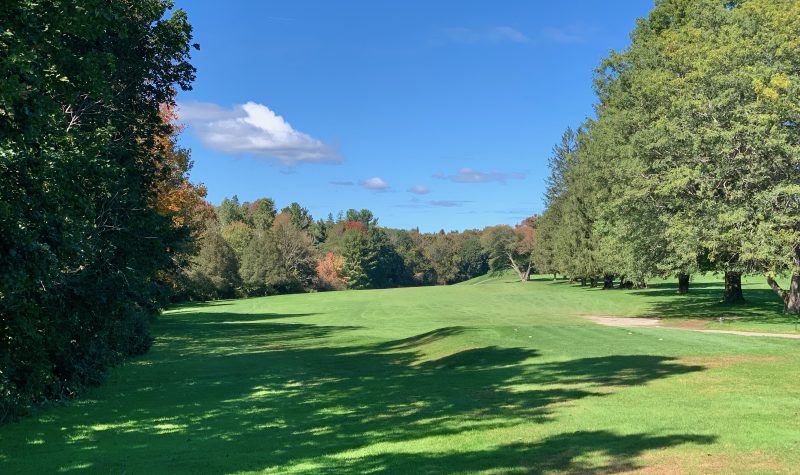 Dudley didn't Do-Right by me today. It was a very Rocky ride for me during my round at Dudley Hills Golf Course. The only thing that saved me today were my booming drives that garnered Snide(ly) comments from my playing partners. They received Whiplash as they watched those squirrelly drives wiz down the fairway in all directions. If you are younger than 60, you probably have no idea what the bold words have in common. More about that later, now let's talk golf.
Hole #1 is a beautiful opening par 4 of 353 yards from the white tees. There is a line of trees down the left side protecting a road. Right is no bargain either, but at least you may be able to find your ball and have a shot at this small green. The trees to the left will continue to cause issues on Hole #2. There is a big hill to climb to get your tee shot a good view of the green at this par 4. You can't go too far right, but there is a fence up there to help protect other golfers against your wild slice.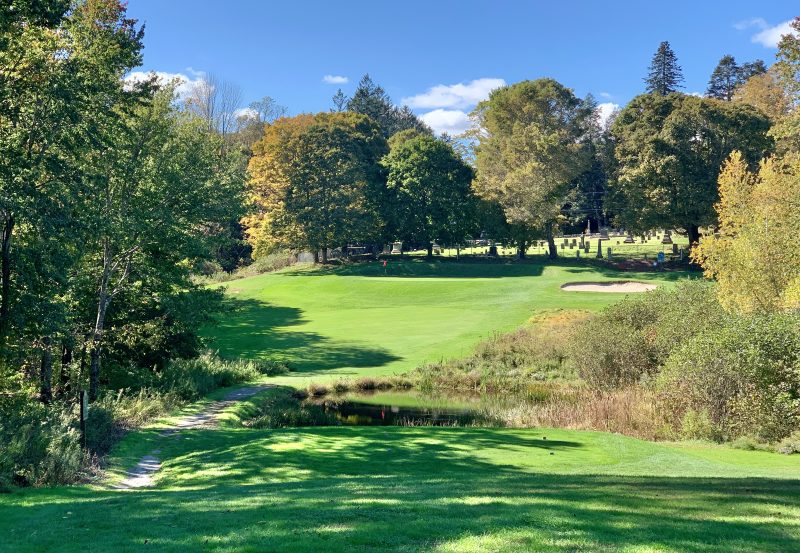 Hole #3 is a par 3 of 142 yards over water to an elevated green. If you hit it short, you can roll back into the fairway; if you are right, you find the large bunker; and if you are long, you're dead in the cemetery. The trees continue to be bothersome to the left at Hole #4. The green is obscured from view so just hit over the hill, but not too far right because the fairway slopes dramatically to that side. For good (bad?) measure there is water down the right. There must have been rain last night because the low area approaching the green was quite soggy and required our best cart driving skills to maneuver around it without destroying the grass.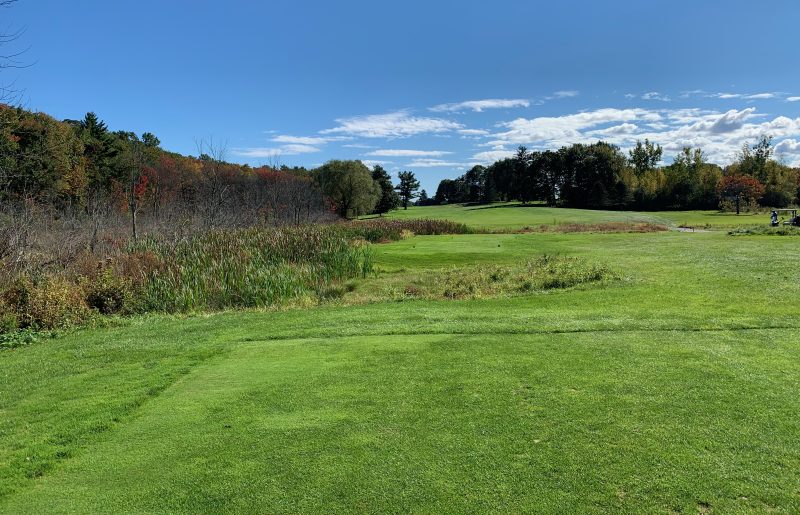 Hole #5 is a par 4 of just over 300 yards with…wait for it…woods down the left side. You definitely want to attack this green from the right side. Hole #6 is a difficult par 3 of 172 yards. Woods down the left as usual, with a severe drop off on the left side of the green. You don't want to be down there because you will become one with that wooded area! The right side is surrounded by bunkers, so there is only one option to score low here – land your tee shot on the green!
This course was designed by Devereaux Emmett who must have worked the ball from left to right. Most of the trouble is down the left side and it continues on Hole #7. This is the number one handicap hole and a straight par 4 of 392 yards (white). Another wayward shot to the left will result in your ball in the bunker or the woods. The eighth hole is the first par 5 and my suggestion is to just keep hitting it straight down the fairway. If you can't hit it straight, this is the first hole you can be wild left and right and be able to play your shots from adjacent fairways. Hole #9 is another par 5 which runs the opposite direction of #8. Just keep aiming at the clubhouse. For those of you with a big swooping fade, aim at the American flag in the parking lot and the ball will land gently on the putting surface.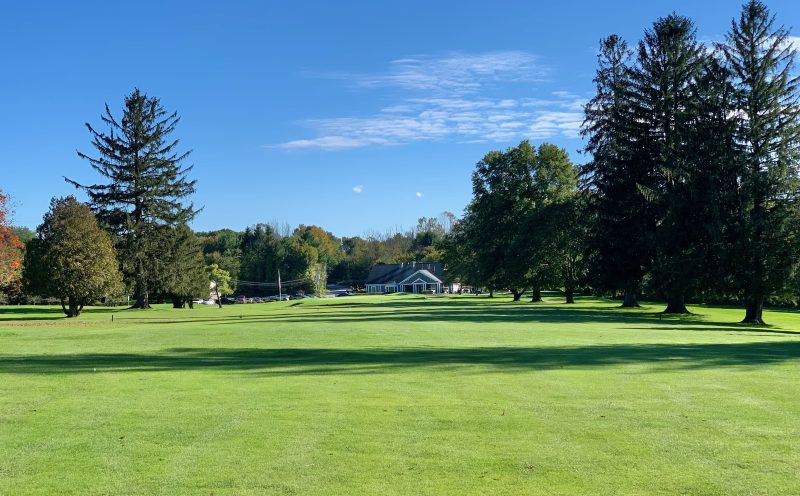 Rating – Ace (50 out of 60): This 1926 Devereaux Emmett design was in excellent condition and a pleasure to play. There is an excellent mixture of holes and many challenges around the greens. For those who usually dismiss 9-hole courses as not being a good challenge, try this one – you won't be disappointed. If you pair this course with (Nell) Fenwick Golf Course in Old Saybrook, CT, you will have yourself a very enjoyable 18-hole round.
After our round at Dudley, we decided to take the one-hour drive over to Springfield and visit the Basketball Hall of Fame. When we completed touring the hallowed halls, it was time for a little two-on-two game; which tuned into one-on-one; which ended in a short shoot around so we wouldn't injure ourselves for golf the next day. Now I've been able to visit the baseball, football, and basketball Halls of Fame.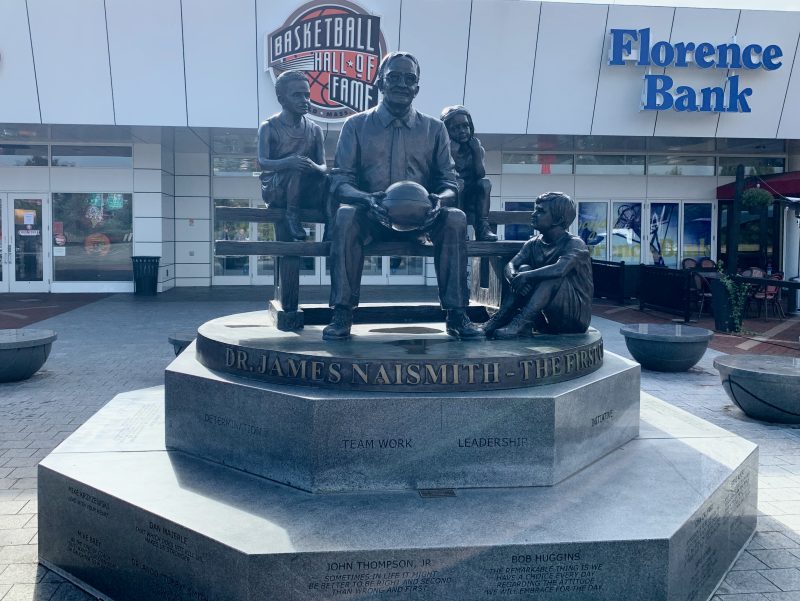 Golfers in their 70's will remember these names from a TV show that debuted in 1959. The Adventures of Rocky and Bullwinkle and Friends had a cast of characters over the years that included Rocky the Flying Squirrel, Dudley Do-Right, Snidely Whiplash, and Nell Fenwick. For the younger golfers, Dudley Do-Right and Rocky and Bullwinkle were brought back to the big screen in the late 1990's to a very underwhelming response. I guess only the Baby Boomer generation can appreciate quality television viewing!
80 Airport Road, Dudley, MA 01571;  508-943-4538;  www.dudleyhillgolf.net