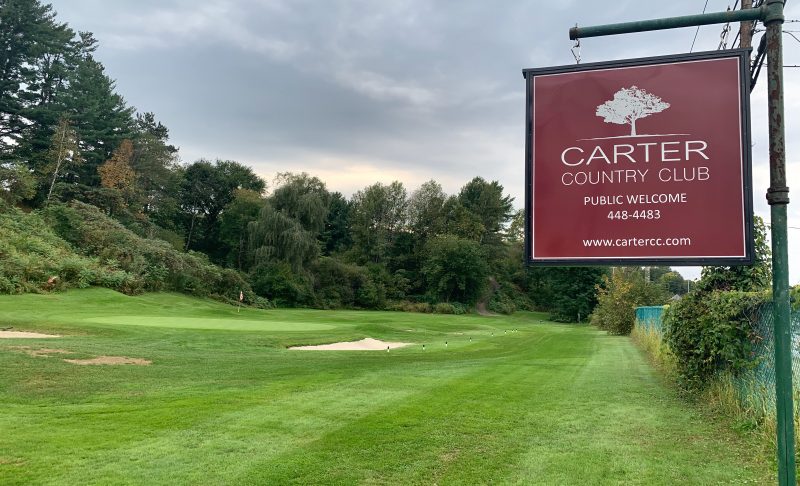 This has become a 9-hole Donald Ross New England adventure. First it was Rip Van Winkle Country Club in Palenville, NY and today it was time to visit Carter Country Club in Lebanon, NH. Some of his designs feature "turtleback" greens; a Ross double plateau; and the Punchbowl. The route the golfer had to take was an important decision Ross had to make and he favored very clear routes that would not require much walking. When he would design a par 4 hole, he favored an uphill short hole. He often created holes which invited run-up shots but had severe trouble at the back of the green, typically in the form of fall-away slopes.* Let's see if any of these features can be found at Carter Country Club.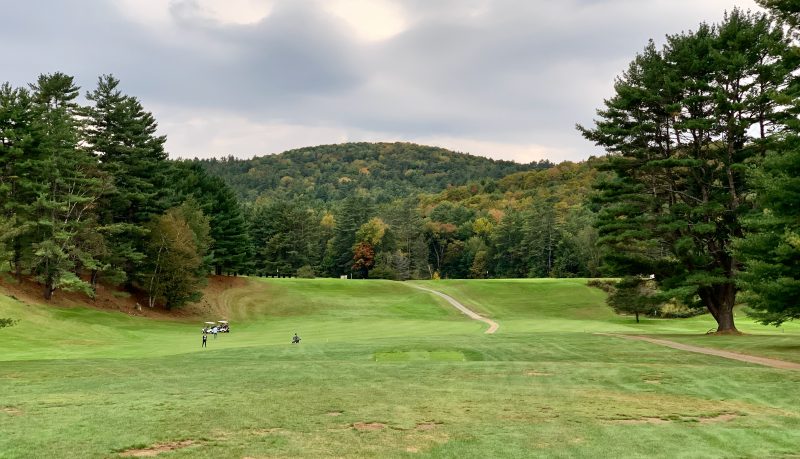 As you survey the landscape at Hole #1, you see two flags in the distance. My guess is we will be aiming for the one to the left of the cart path. If you brought your wicked slice today, you can play from the far right but you might be interfering with the group on #4. Your second shot is very uphill, so "club" accordingly. This par 4 is 315 yards from the white tees. Looks as if this one checks one of Mr. Ross' design features. The par 3 second hole is 150 yards with trees all around and a bunker to the left of this small green.
You'll find a difficult tee shot at Hole #3. There are reeds and native grass to carry; there is a dense woods to the right; and big trees looming left. The only option is to hit it straight! As you stroll down this par 5, the fairway is quite hilly and hopefully your third shot will attack the elevated "turtleback" green. That's right…any shot catching the edge on all sides will probably slide off the putting surface. Hole #4 is virtually hole #1 but a little longer. You can be a little wild left (you can play from fairway #1) and we saw a few golfers approaching this green from the first fairway (or it could have been the 8th). So just beware of balls approaching from these two adjacent holes.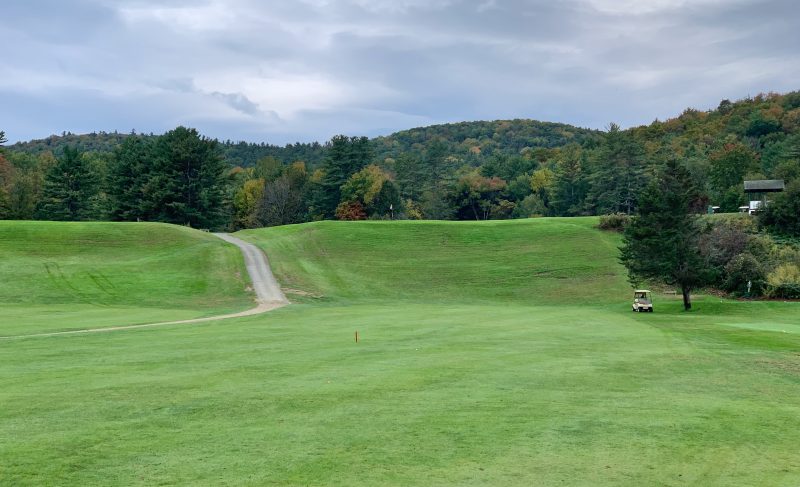 As we travel to Hole #5, we are aware that some of these holes are very close to one another, so bring your best "fore" scream when teeing off. Tee boxes and greens are very close together. Yes, Ross did favor clear routes and not much walking. So far today we have had three or four balls come flying toward us. Stay aware of everyone around you and turn up your hearing aids. This hole will be one of the easiest on the course – a straight par 4.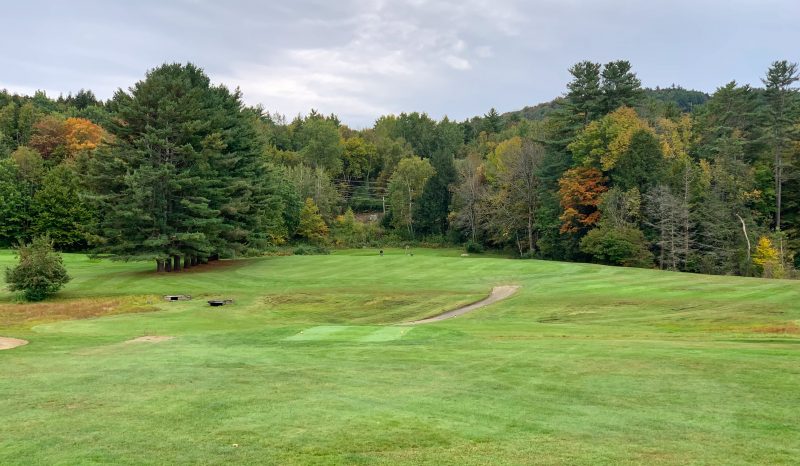 Hole #6 is a strange hole. It's a par 5 that starts with a bend to the left. The fairway runs down the left side, but to the right is a big hill with a drop-off to the green below. I would consider this a risk/reward hole. You can safely play down the left side or with a good drive, go for the green with your second shot. I went for it (go figure) and thought it was an excellent shot. However we never found my ball and a bogey was scored. Was this a Ross "double plateau" fairway? Hole #7 is a straight short par 4 of 260 yards. I was staring at eagle after my tee shot, but two flubbed chips turned into a bogey.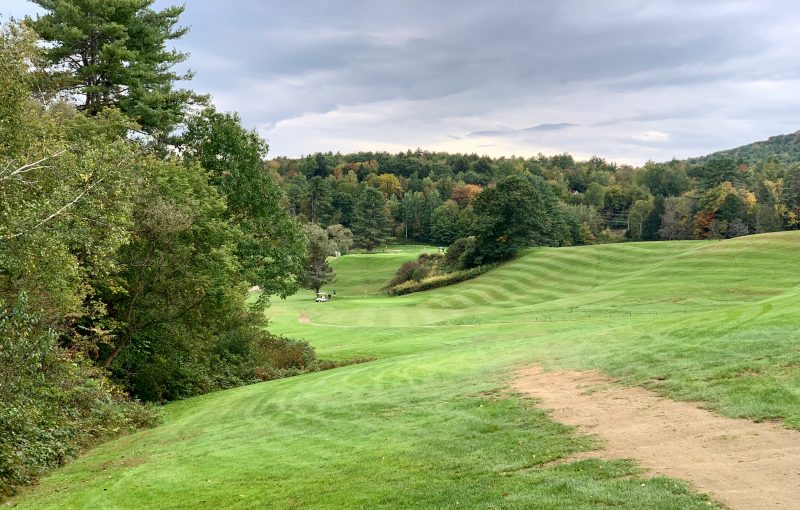 Another short par 4 at the eighth hole with a deep forest to the left. There's still plenty of trouble to the right but it's much easier playing out of the large trees in that direction. We end our round at Hole #9. A par 3 with two bunkers fronting the green; dense bushes to the right; and a busy road to the left. Welcome home and thank you, Mr. Ross!
Rating – Ace (51 out of 60): *I think the descriptions about Ross designs that were used from an article about Ross by Andy Johnson of The Fried Egg were evident on this course. We didn't find any double plateau greens but in general the greens were small and sometimes difficult to find with our wayward shots. If we did find them, it was tricky to keep them from rolling off. Except for #9, the greens were very receptive to run-up shots, but again if the speed is misjudged, good luck holding them. Make sure your chipping game is in top-shape when visiting Carter Country Club.
On this rainy day, we decide to forgo a wet hike through the forests of changing colors. Our destination changed to Ben and Jerry's Factory in Waterbury, VT. The factory tour was closed due to COVID-19, and as we stood at the back of the line for our sample of heaven, the sign stated we had about an hour wait. This was a Tuesday in October – doesn't anyone work or go to school anymore? We decided to skip the line and find a place in downtown Waterbury to drink beer instead. After the first two restaurants told us there was a 30-40 minute wait (again, doesn't anyone work?), we found The Reservoir with their 38 brews from Vermont. And all was good with the world again!
257 Mechanic St., Lebanon, NH 03766;  603-448-4483;  www.cartercc.com