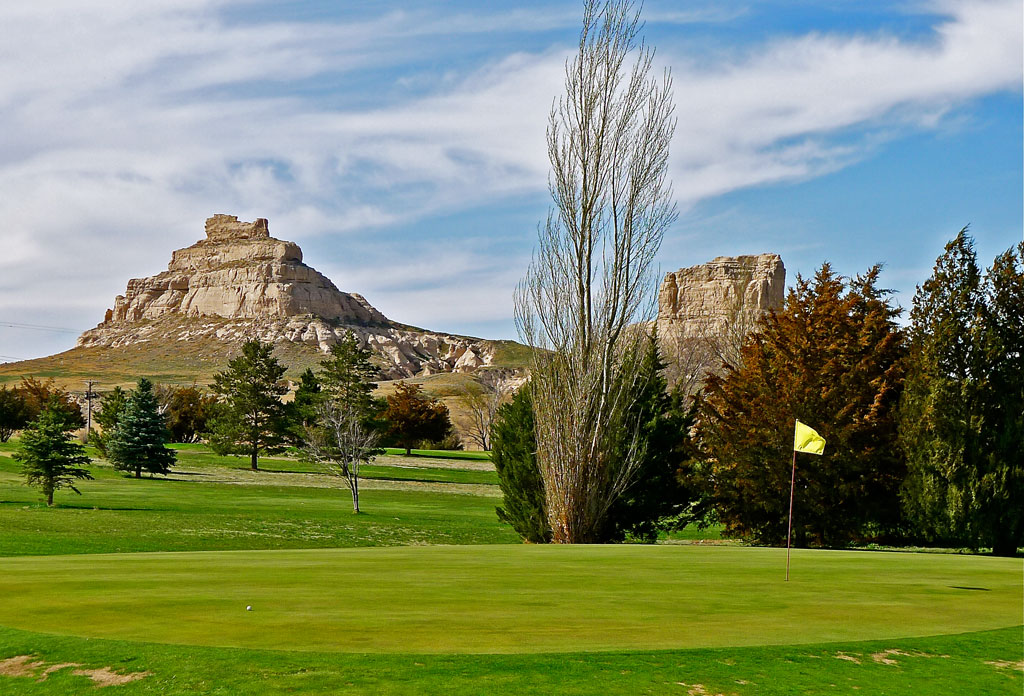 With a name like Courthouse and Jail Rock Golf Club, I couldn't pass up the opportunity to investigate further. I was amused by the directions the Golf Nebraska website shares, "turn left on an unnamed road that is marked by a small white "Dinklage Feedyard" sign on the right." These directions aside, the course is fairly easy to locate. When you arrive in Bridgeport, hop on Highway 88 and let the rocks guide your way.
Once you understand that the course lies in the shadows of the two rock formations, the name makes complete sense. Hole #1 is an easy par 3 that allows you to ease into your round. Hole #2 is a straight par 4 with a great view of Courthouse and Jail Rocks – keep the camera handy.
Holes #3 and #4 are side-by-side straight 500+ yard par 5's. Both have large greens – one being flat, the other domed. It's now time for the fun to begin with a series of rollercoaster holes to finish the round. Hole #5 is a downhill par 3 that measures 265 yards from the blue tees.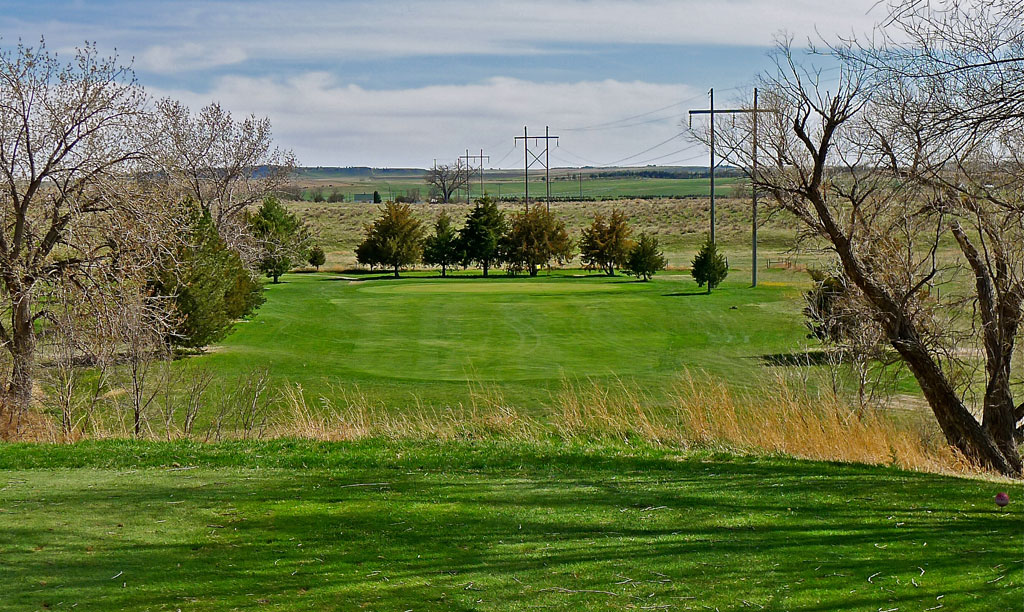 Time to carry Pumpkin Creek at the short, uphill par 4 Hole #6. If your tee shot is straight or slightly left, you could find your ball resting comfortably on this small green (photo at top of page).
At Hole #7 , the tee marker shows hazards but there were none to be found on this driveable par 4. However, after closer inspection of the course layout on the scorecard, there may have been different options in the past (or future?) to play both holes seven and eight. If the hole configuration is different when you play and you find one of those missing hazards, let us know and we can update the course description but sorry, we can't change your score. You will finally encounter a few doglegs at both Holes #8 and #9. Trees guard the fairways, so drives to the left will offer the best approach shots to the greens. The finishing hole will also give you the best photo opportunity of Courthouse and Jail Rock.
Birdie:  Oregon Trail migrants thought Courthouse Rock looked like…well…a courthouse, therefore you also need a jail adjacent to it. So if you are retracing your ancestor's travels along the Oregon Trail in Nebraska, and you see these two rock formations rising 340 feet above the valley floor, you'll know that a quick 9-hole golf fix is only a few miles away.
Highway 88, Bridgeport, NE 69336;  308-262-9925