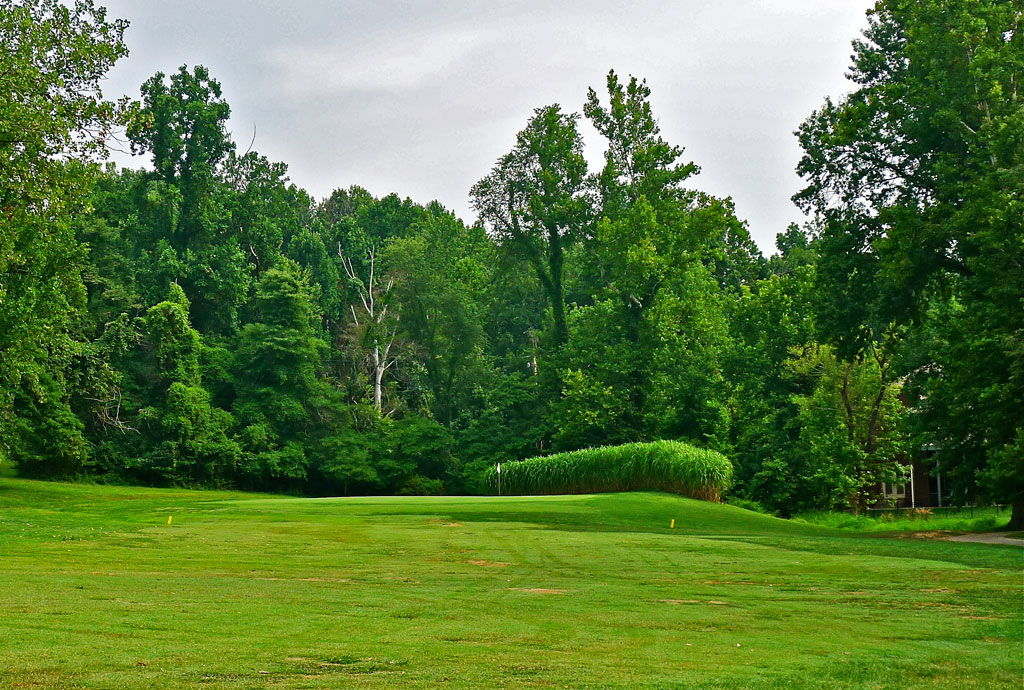 I wanted to play Valhalla…but they did not want me. So what was the problem? Just a few issues…1) It's a private golf course; 2) The PGA had some major tournament occupying the course this day; 3) It's not a 9-hole course. So down the road we traveled to Waverly Park and a more accommodating track – Bobby Nichols Golf Course.

After my first tee shot of the day, Karen and I were about to move down the fairway when from behind us we heard someone shout, "can we join you?" I'm thinking, where did these three geezers come from and now our two hour round will turn into three. At 63, I was the youngest geezer and probably the least talented golfer of the group. As we were soon to learn – Charlie, Bill and Red made our round more enjoyable.
Hole #1 is a slight dogleg right par 4. On this hole I hung with these three course regulars as I made par to start my day. Hole #2 is a beautiful downhill par 4 with creek trouble down the right and tree trouble down the left. These trees are green, dense and mature and very unlike the sparse ones we find on our Colorado courses.
Hole #3 has a blind tee shot and a fairway that slopes toward those large, mature trees to the right. Make sure you ring the bell (pipe) after your approach shot to the well-guarded green on this 337 yard par 4. Your tee shot needs to carry Nichols Creek at the par 3 fourth hole and land softly on this tree-framed green. The greens were very soft and receptive, so have your repair tool handy.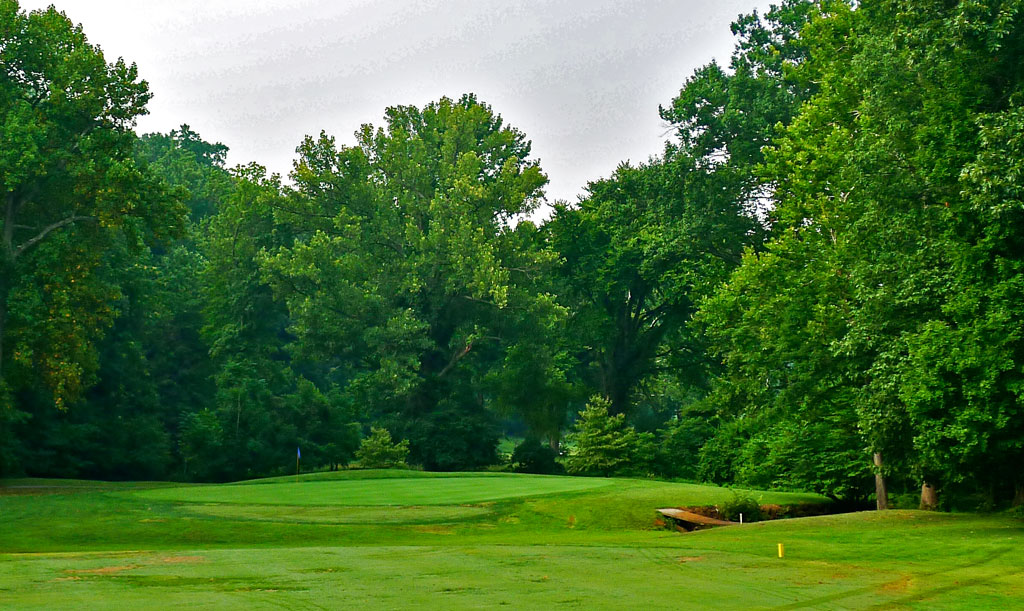 Hole #5 is a long, narrow and #1 handicap. My suggestion for club selection is any ones that will keep you straight the entire length of the 501 yard par 5. Trees create trouble down the left; the creek is trouble crossing the fairway, then continuing down the right side; and finally, a large bunker guards the front of the green. Woods to the right; trees to the left – once again, club management is critical on this par 5 sixth hole whose elevated green is tucked away in the woods.
Hole #7 – we have a theme continuing here – trouble left; trouble right. If you haven't come to this conclusion, course management and club selection are imperative to avoid the high numbers on your scorecard. Hole #8 is a fairly easy par 3 as long as you avoid the front right bunker. Hole #9 is a big bending dogleg right with a tee shot that needs to carry Nichols Creek. You can play it safe by playing to the left fairway (the part you can see) or hit a high fade over the trees to the right and the part of the fairway and green you can't see. I was glad to have the local insight of my playing partners at this fun finishing hole.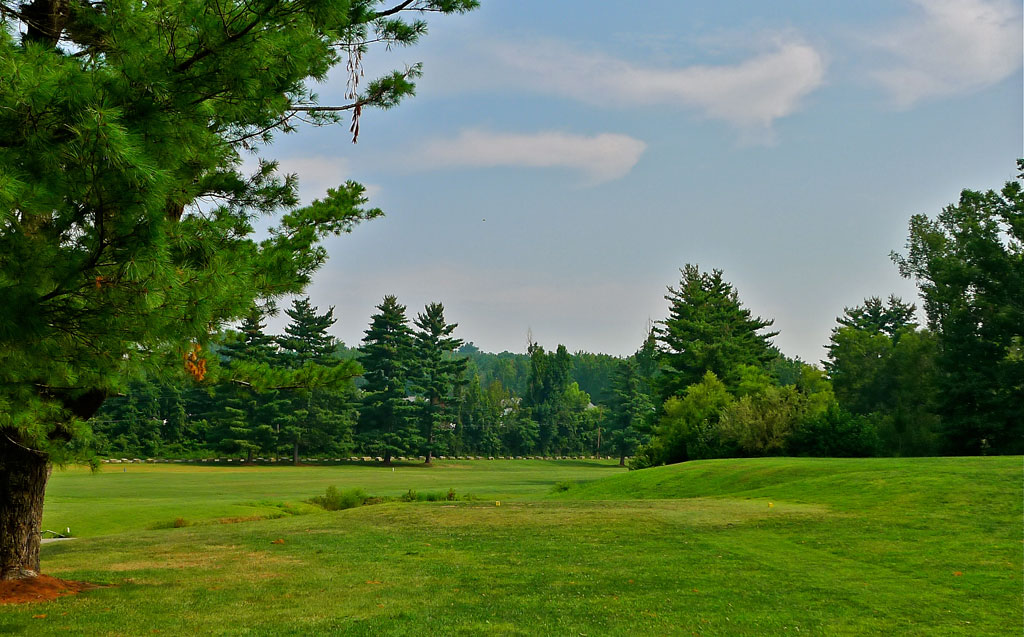 Ace:  Who needs Valhalla? We had so much fun today playing with Red (80), Bill (78), and Charlie (75) – and Red was probably the best golfer of this foursome. Oh, to be able to play like that at 80 years of age! It was our good fortune that they joined Karen and me because not only had they played here for years, Bill and Red also worked on the course before it opened.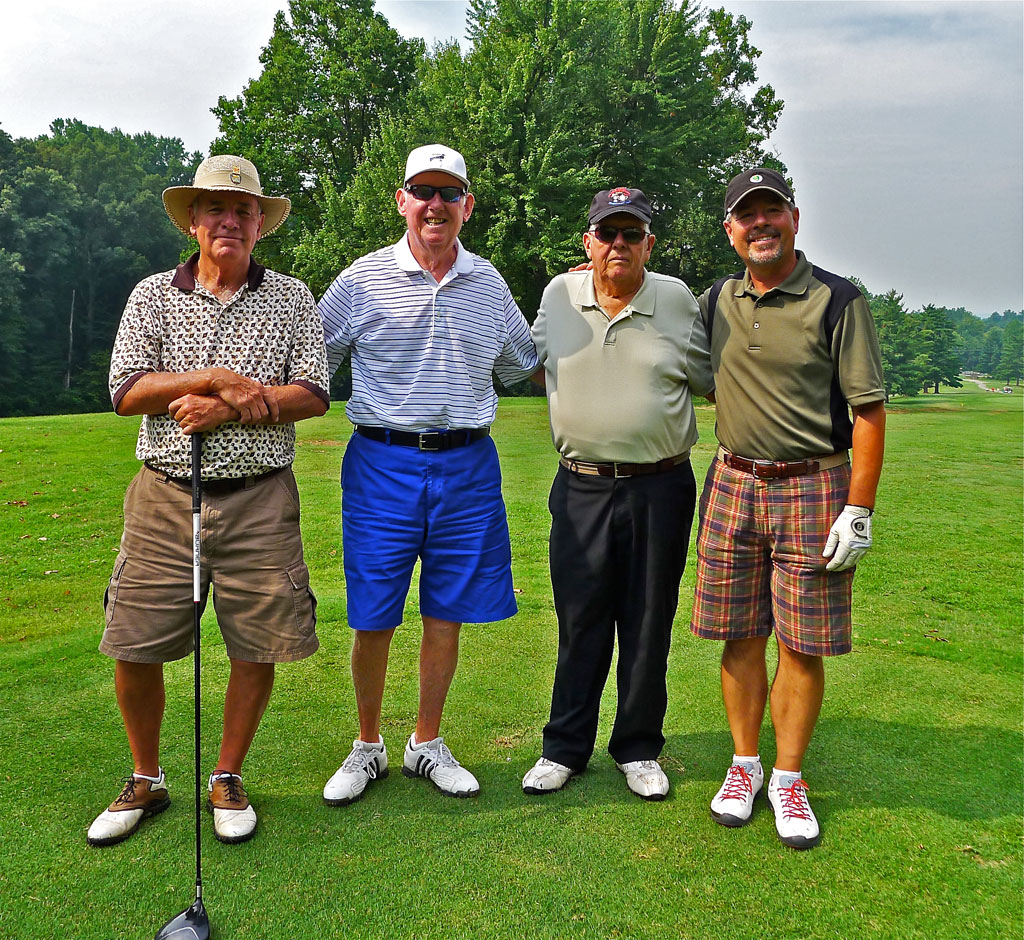 There are so many cool things to do in Louisville that you may only have time for 9 holes and Bobby Nichols Golf Course (named after the PGA professional) is the place to visit. A few must-see attractions in Louisville include: Kentucky Derby Museum, Louisville Slugger Museum & Factory, Churchill Downs, Muhammad Ali Center and Louisville Mega Cavern. Who has time to play 18 holes at Valhalla anyway?
4301 East Pages Lane, Louisville, KY 40272;  502-937-9051;  www.louisvilleky.gov