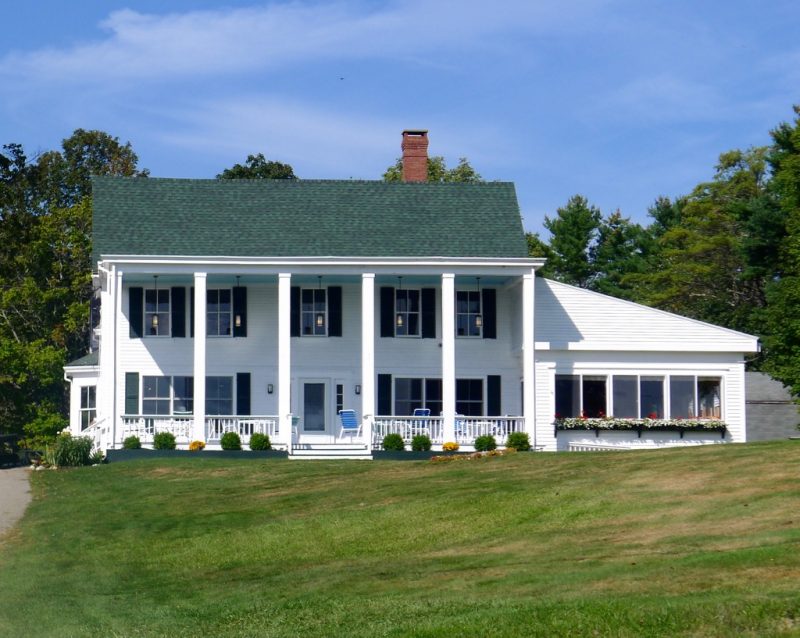 "Wawenock" is the name of one of the bands or subgroups of the Penobscot tribe, located in what is now Maine. The name Wawenock means "round island" in the Penobscot language. I have to admit, every time I hear that name I think of Donald Penobscot from M*A*S*H. I'm not sure about the "island" part but there is plenty of water around this area. I do understand the "round" reference because…
We are ready to step up to the first tee and start ours.
As you gaze at the landscape at Hole #1 from the elevated tee box, a wide-open fairway and large bunker-surrounded, tree-framed green catches your eye. Your second shot needs to find the green at this 329 yard par 4 as the collar surrounding the green slides off dramatically in all directions and will leave you with a difficult up and down.  Hole #1 allows you an opportunity to ease into your round – Hole #2 doesn't. Surrounded by trees on the tee box, your first shot needs to fly far enough to clear the bunker and woods to the right at the dogleg that will give you an unobstructed view of the green. If you are successful with the first shot, the second will need to avoid a large bunker (left); a pot bunker (right); and the bunker that surrounds the back of the green.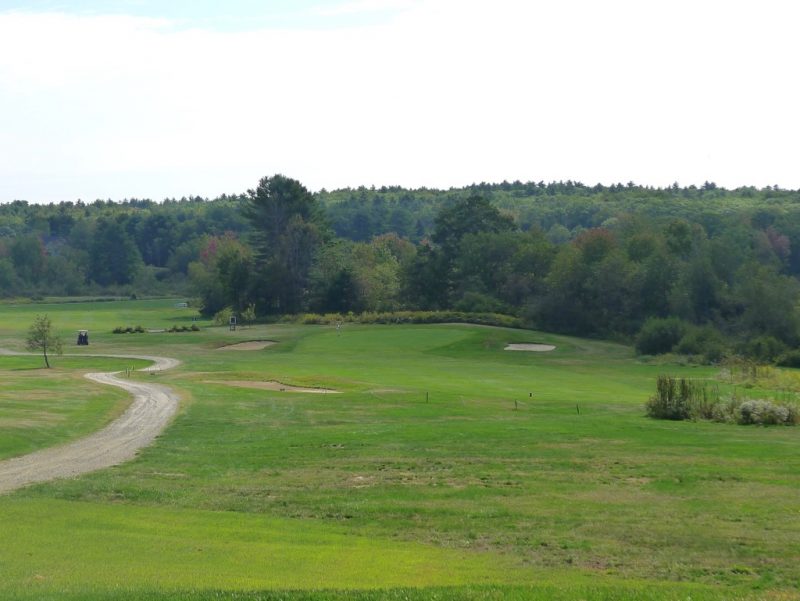 I always hate when I have to pull my driver from the bag at a par 3. That is what I had to do at the 233 yard third hole. As I write this, my thought is maybe it's time to move up to the senior/ladies tees. From the elevated tee box, your vista includes a large green; two large bunkers ready to capture errant shots to the left or right; and even a large fairway bunker to corral that dreaded topped tee shot. Those red tees are looking better and better each year!
You will encounter thought provoking club selections at Hole #4. RJ, the head professional, explained this hole beautifully to us before we started our round. First, you have a reasonably wide fairway for your drive but a stream bisects the landing area at 251 yards. I'm in good shape as I hit my drive about 240 yards. Second, do I lay up between the stream and the pond and play it safe for an easy par? Of course not, I didn't come all the way to Maine to play it safe. I should have played it safe! I easily cleared the stream but the pond was a little larger than it looked from my spot in the fairway. I was still happy with a bogey – fun hole!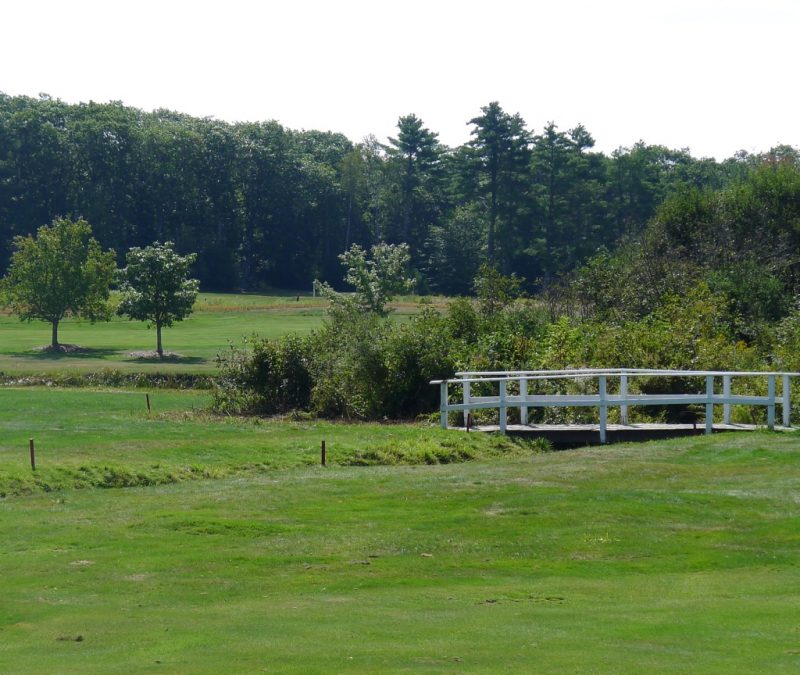 Enjoy the cool, shady ride through the woods to Hole #5 – it felt good on a hot, humid day. Another wide-open fairway but it's better to be right than left (where I was). Somehow I was able to draw around trouble (a first) and proceeded to get up and down for par. There are deep bunkers left and right of the green which will only come into play with really bad approach shots. Hole #6 is a downhill par four with that pesky stream coming into play at about 230 yards. It's better to play down the left side (of, course, I was right) and once you clear the stream watch out for the water that is hiding to the front right of the green.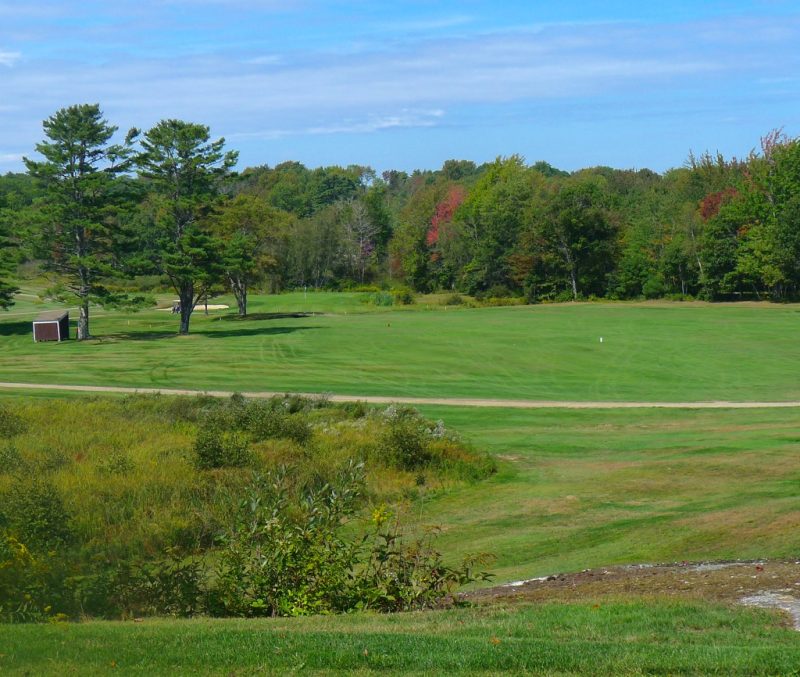 Hole #7 has plenty of fairway to hit but then with your approach shot, you need to navigate the bunkers and mounding around the green. The par 3 eighth hole is only 134 yards long but four (or was it five) bunkers surrounding this green are deep-faced and evil. Please, no big slices at Hole #9. This dogleg right has both woods and a road that way. There is plenty of room to the left (again, I went right) and those evil bunkers surround the final green.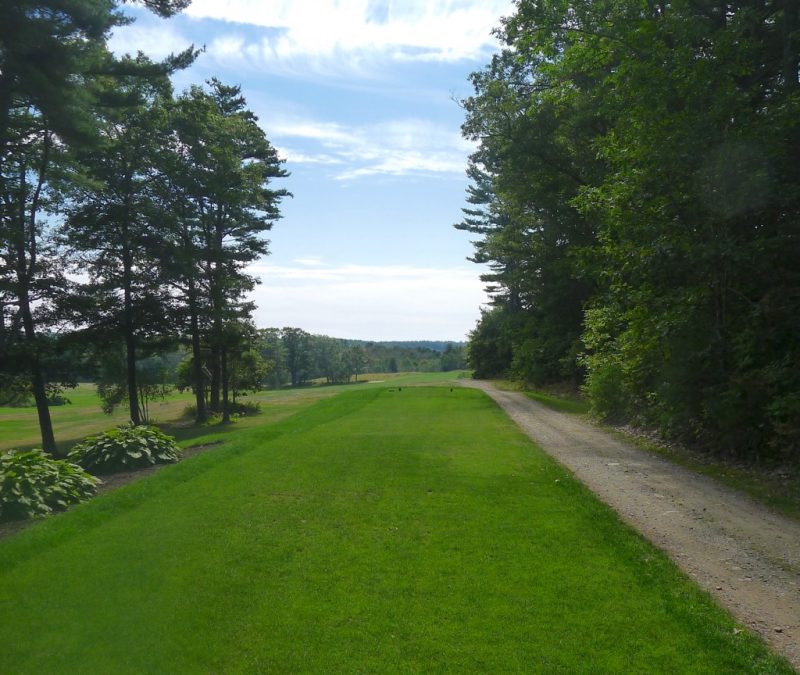 Birdie (missed an Ace by 1 point):  The fairways were patchy after a dry summer but very playable. The greens were in excellent shape and challenging. The bunkers were in great shape and very thoughtfully/strategically placed. My feeling about bunkers at many of the courses I play is that they are just there because the architect thought there should be sand on the course. These are different – evil but thoughtfully placed. And not to be forgotten, RJ and the staff were very welcoming, helpful and fun. Thank you!
Wawenock GC was our first golfing stop on our Maine trip. On our journey to Walpole, we made stops in Old Port (Portland); Freeport (and a visit to L.L. Bean); and the small, quaint towns of Damariscotta and Camden (our favorite). If you are looking for another golf experience be sure to visit Samoset Resort in Rockport. This is an excellent 18-hole track that we played on a previous buddy trip.
685 State Route 129, Walpole, ME 04573;  207-563-3938;  www.wawenockgolfclub.com