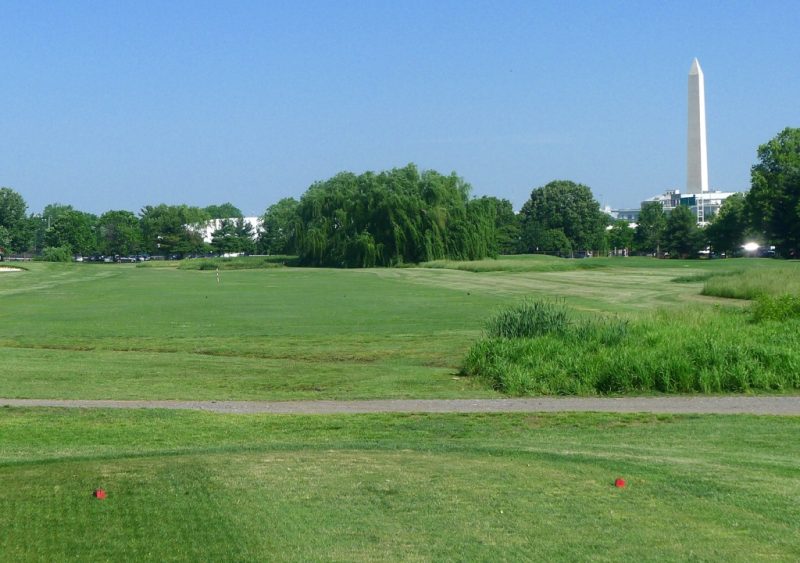 We had one full day in Washington, DC. One Always Time for 9 team member had never visited our nation's capitol. How do we visit Arlington National Cemetery, Lincoln Memorial, The White House, U.S. Capitol, Jefferson Memorial, Smithsonian, plus many more and still get in a round of golf? Here is how we accomplished everything in an eight hour time frame…
We didn't…but we came close.
Our day commenced with golf on the 9-hole, par 33, White Course at East Potomac Golf Course. The facility which also houses the 18-hole Blue Course; the 9-hole par 27 Red Course; and a two-tiered driving range was hoppin'. Luck was with us as we were able to walk right on.
We felt muy macho today and decided to play from the back tees. Those of course are the white tees and they measure a whopping 2420 yards! Hole #1 opens with a 156 yard par 3. If you are not "big hitters" like us, you can choose from two sets of family tees – Gold (1570 yards); Blue (1820 yards) or the Red tee box (2227 yards). Hole #2 is the number one handicap and played up to its billing. The initial shot at this 381 yard par 4 needs to get airborne to clear the vegetation and find a safe landing area. Today there was three feet of growth to the right of the fairway, so get ready to hack your way out if your slice takes you that way. There is a rock bunker (it does have a little sand in it) to the right of the green. You get your first nice view of the Washington Monument from this hole.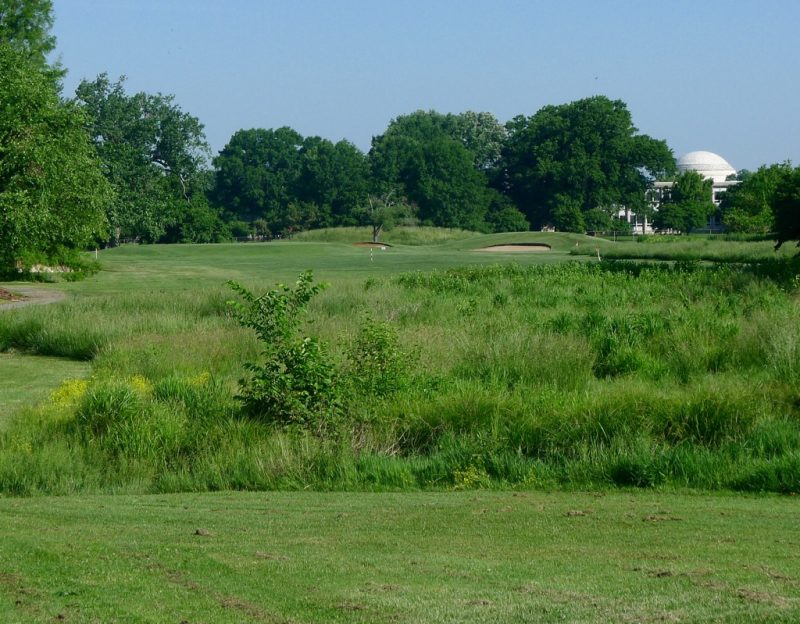 The short par 4 third has just enough trouble for you to think twice about club selection at this 266 yard hole. There are trees and three foot rough to the right (Ed chose this route) and a high grassy area to the left (chosen by Dave). I took the more conventional route and chose the fairway. Hole #4 is another short (285 yards) par 4 with only the three foot rough to the left of the green and a bunker guarding it to the right. A straight shot will reward you with a birdie or possible eagle opportunity. Our shots were not particularly straight (i.e., wayward) as our scorecard read – bogey, bogey, double bogey.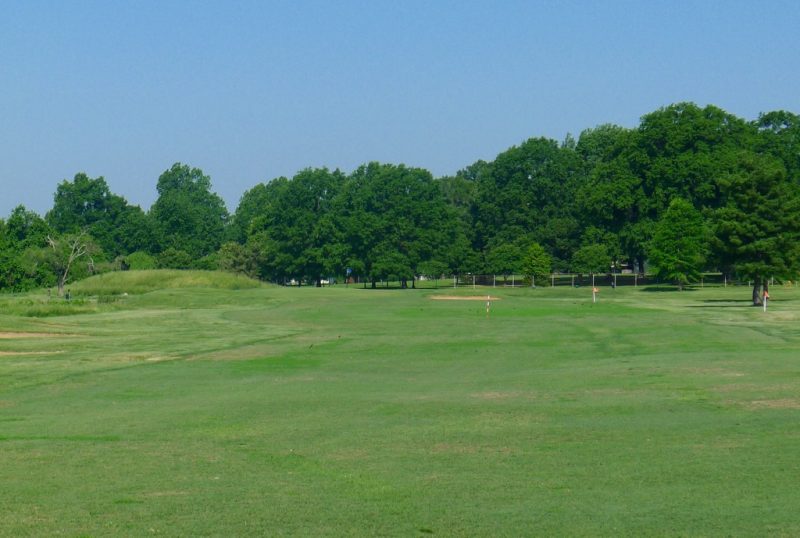 Hole #5 is a par 3 with all kinds of bunker trouble. These bunkers were in much better shape than the one back at #2. Hole #6 is another par 3 with no real obstacle unless you duck-hook one way left – it may land on the road. Hole #7 is a benign 355 yard par 4. Hole #8 has a wide-open landing area (oh, except for Ed) for your tee shot. There is another nice view (see above photo) of the Washington Monument from the teeing area. The ninth hole also provides an expansive fairway (good job, Ed) for you to finish your round on a high note.
Par:  The White Course gave us exactly what we were looking for – a quick round before we went off to see the rest of the city. For a low-handicap golfer who only wants to golf – choose the Blue Course. The White Course is a good choice (along with the Red Course) for the high-handicap golfer and it is also referred to as The Family Course. Interested in playing 18-holes of Footgolf? The White Course is the place to kick around the soccer ball, so when playing golf make sure you are aiming at the correct flagstick.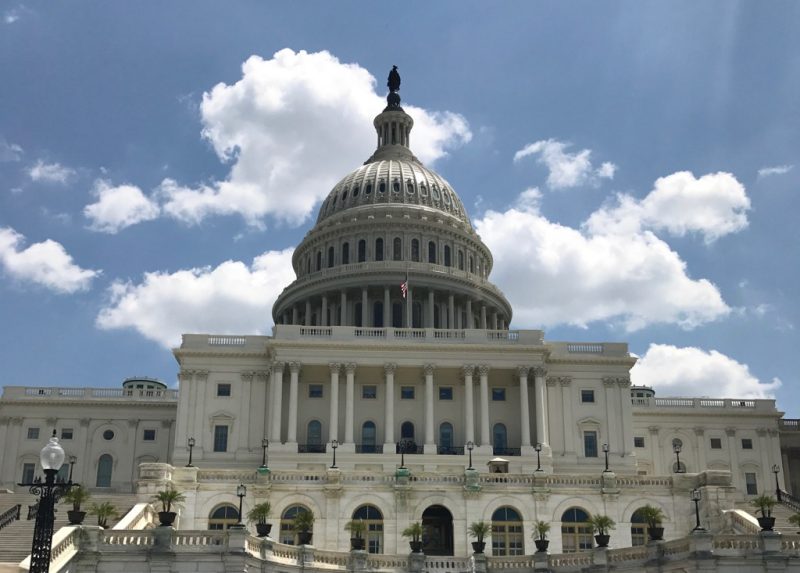 We were off to a good start, golf completed by 11am and we have the afternoon to do a little sightseeing. We chose the hop-on; hop-off Old Town Trolley Tour of Washington DC. Even though we were not able to get off at all 25 stops, it is a good way to get a general view of the city.  Mission complete!
972 Ohio Drive SW, Washington, DC 20024;  202-554-7660;  www.golfdc.com