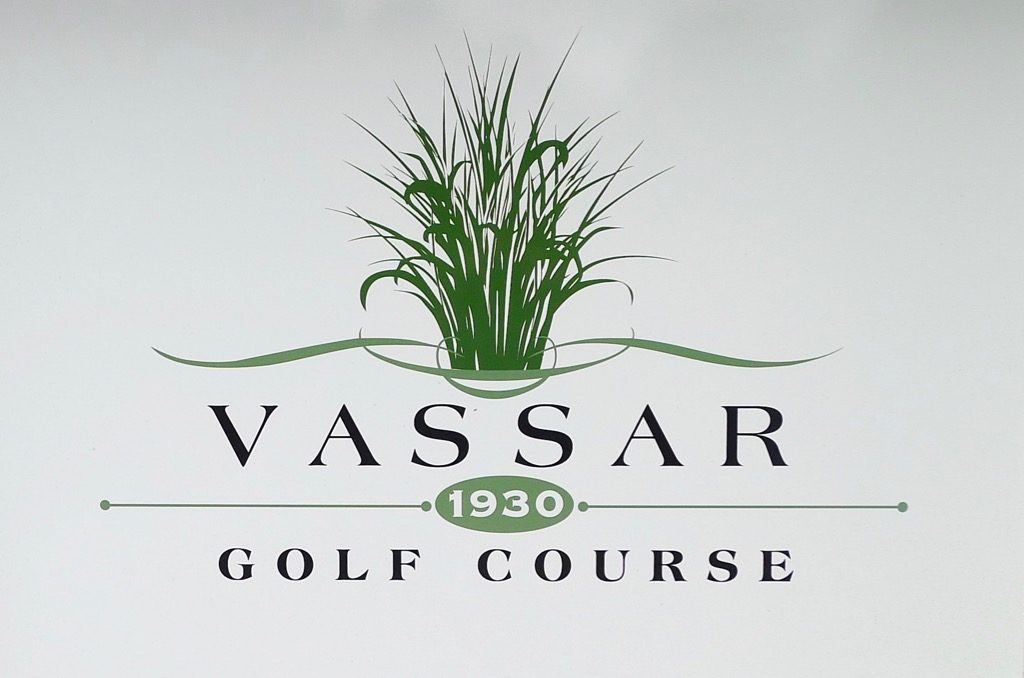 Athletics have been my "meal ticket" for my entire life. There was no way my high school grades and SAT scores would have gotten me on the campus of Vassar College. Back in 1968, the admissions department would have politely turned me down to my face, but behind closed doors, they would have been having a good laugh. There was also a third strike against me back in those days. In the Fall of 1968, I would have been the only male (not a bad thing) on campus. The college did not become co-educational until 1969. Fifty (yes that's 5-0) years later, I got the last laugh…
I stepped up to the first tee at Vassar Golf Course which is situated on the beautiful Vassar College campus. Once again, I am the only golfer on the course. That seems to be a theme these days. Instead of joining her adoring husband for a round of golf, even Karen has deserted me to explore this beautiful educational institution. Ah, the nut doesn't fall far from the tree for Karen. My father-in-law was a dean/professor at Colorado State University.
Since I was the only golfer around, Rhett Myers, the PGA Professional, was able to spend time giving me the lowdown on the course. Rhett has been managing and operating the course for 15 years and he let me start without even checking my GPA or SAT scores.
Doesn't it just make your day when you can birdie Hole #1? An uphill par 4 of only 277 yards. Drive to the middle of a wide-open fairway; approach to the center of the green; and one putt – dead center. I should probably walk off the course now and join Karen in the library (did I actually say that out loud?). How I missed the two bunkers guarding the green, I'll never know! Watch out for all those trees to the left of the second hole. An iron is your best choice off the tee as a long drive will run out of fairway at the 269 yard dogleg left.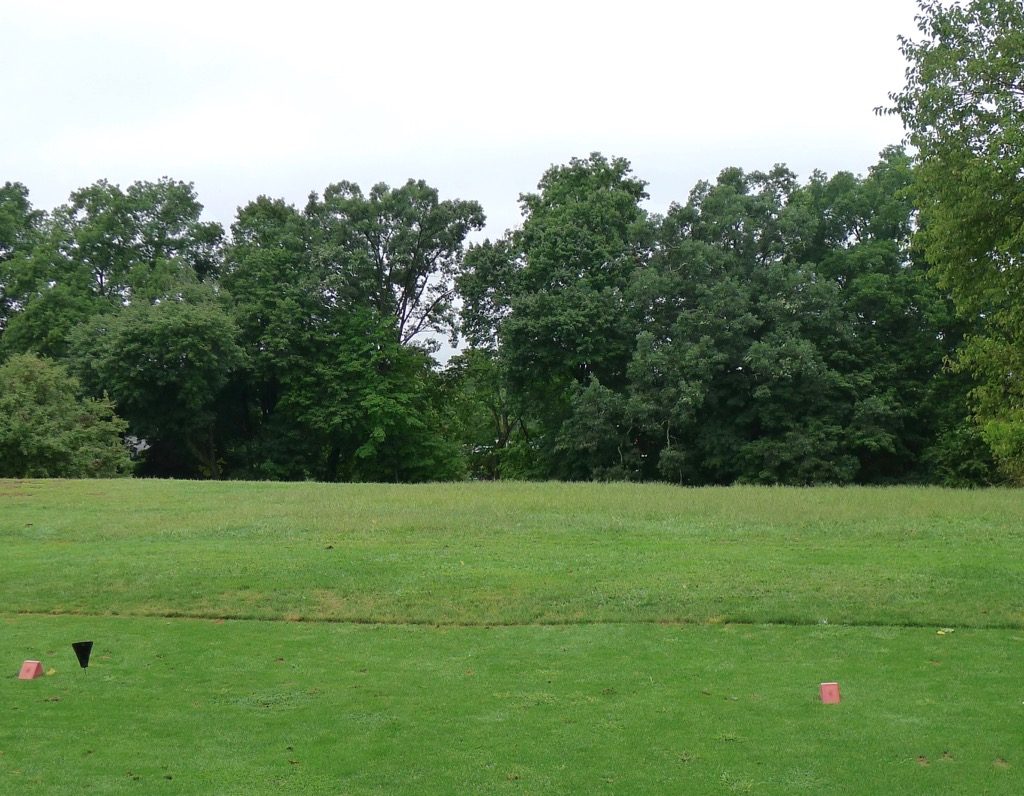 Hole #3 will always be a mystery to me. This par 3 is only 117 yards but has a blind tee shot. Playing for the first time, you need to walk up the hill a short distance to determine where the green is located (no flag is visible). I hit (what I thought was) an awesome tee shot but as I crested the hill, no ball was visible. So, you can guess what I'm thinking. Let's review to help you out. I hit a perfect tee shot and I crested the hill and see no ball. You would think the same thing – it must be in the cup and I just missed seeing my first hole-in-one drop into the hole. Wrong, no ball in cup! I never did find my ball and I scoured all around the green. Some varmint must have raced to the hole, took it out and made a quick getaway. That's the only logical explanation, right?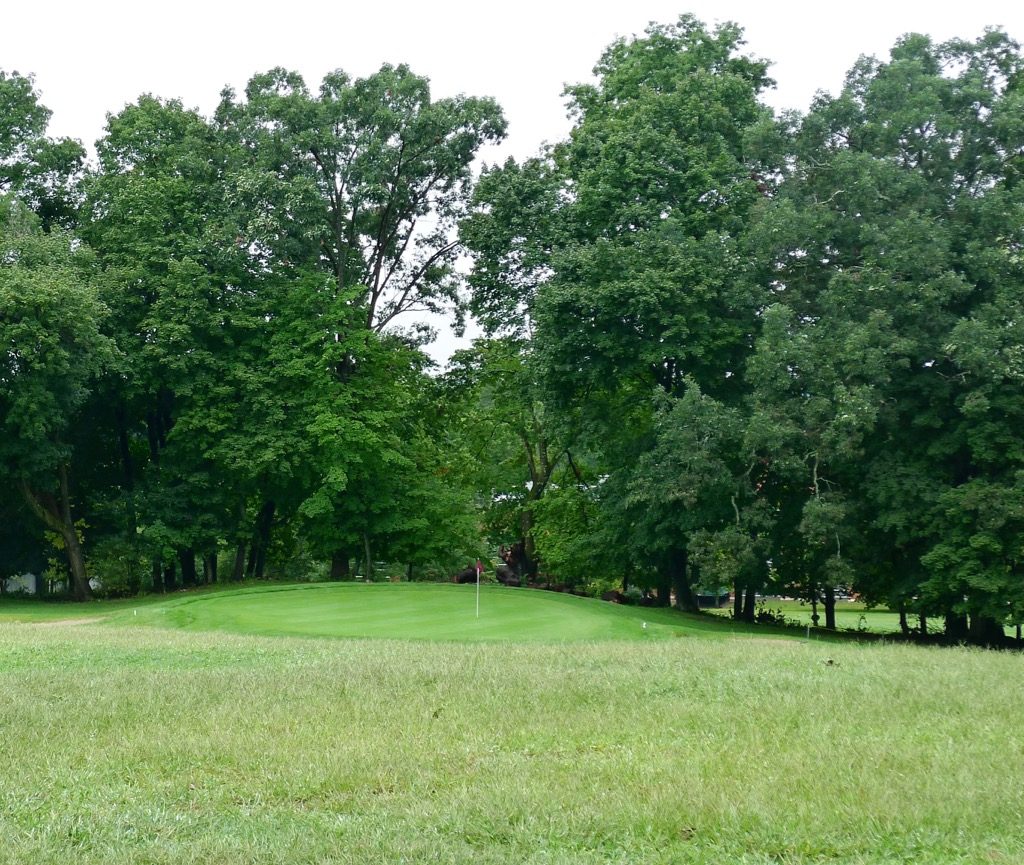 An expansive fairway greets you at Hole #4. There is a blind tee shot but just aim for the striped pole in the middle (and top) of the fairway. If you don't reach the pole, you'll have another blind shot at this dogleg right 377 yard hole. I didn't have to worry about it today, but ring the bell as you walk by to let the golfers behind you know the coast is clear. I was confused at the dogleg left fifth hole. Looking at the scorecard as I write this article, I'm not sure how this happened (old age)? According to my notes, as you walk down the fairway you will see two flags (greens) – one short; one long. Your green is the one in the distance, the shorter one is for the next hole. The scorecard looks different than I remember this hole. Old age sucks! I guess I wasn't confused on game day as I was able to record my second birdie of the round.
Your tee shot needs to be precise at the par 3 sixth hole. The false front makes holding the green very tricky especially if the flag is up front. Hole #7 has trees down the entire left side. I usually don't have to worry about the left side but with this new driver, who knows. I did find the left rough but was still able to get up and down for par with an audience of deer watching my every move.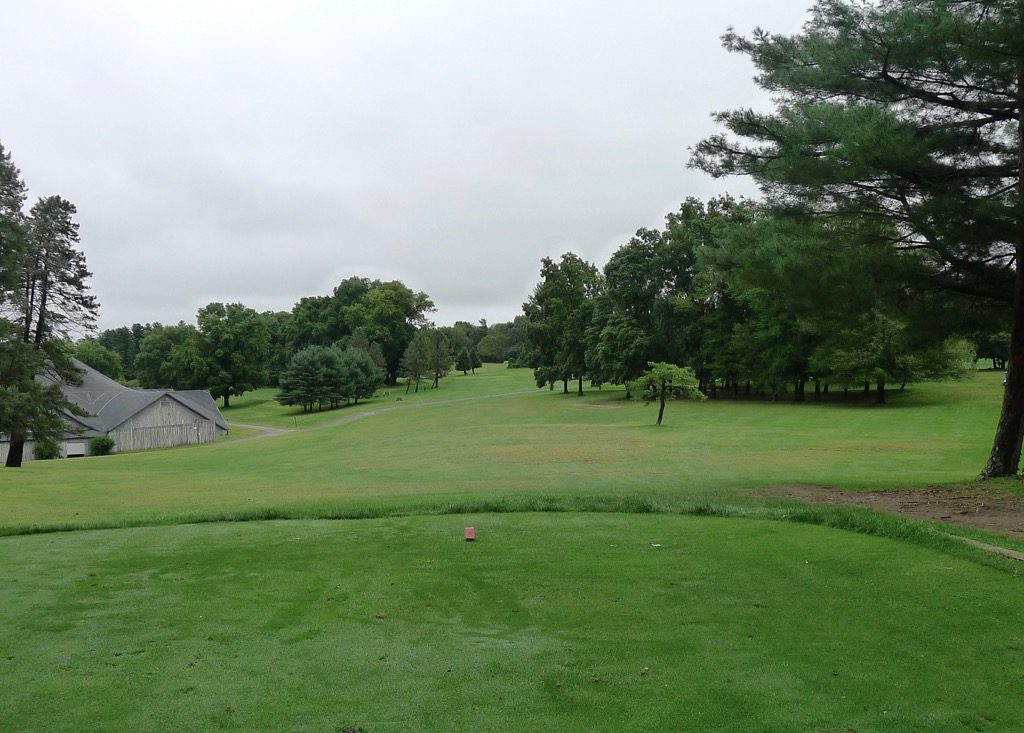 Looks can be deceiving at Hole #8. The fairway appears to be narrow because of a few large trees but there is plenty of room to land a "good" drive. Hole #9 is the number one handicap hole and must be a challenging one during tournament play. It has a 90 degree dogleg to the left and a difficult, undulating green.
Ace: I passed with flying colors. For me a two-over round was excellent. The course is rather short but as they say in their bio, "it offers a scenic 2,500 yard layout with beautiful mature trees, character and charm". The course is very walkable, offers enough challenges for any level of golfer and a 9-hole round will be completed in about two hours. This allows you to explore other attractions in the Catskill region.
Which we did. After completing my round on campus, I set off to find Karen. She had spent her morning at the library and art museum. How can two different people survive 35+ years of marriage? Sometimes we can go our separate ways (our morning) and at other times we can share in joint passions (our afternoon). Today it was hiking and drinking beer (sort of).
The afternoon was highlighted by the four-mile walk Walk over the Hudson Loop Trail that meandered through Fanny Reese State Park; crossed two bridges over the Hudson River; led us along the Poughkeepsie Waterfront; and the final spot for a bite to eat at the River Station Restaurant to sample their chowder bar (and local brew for me).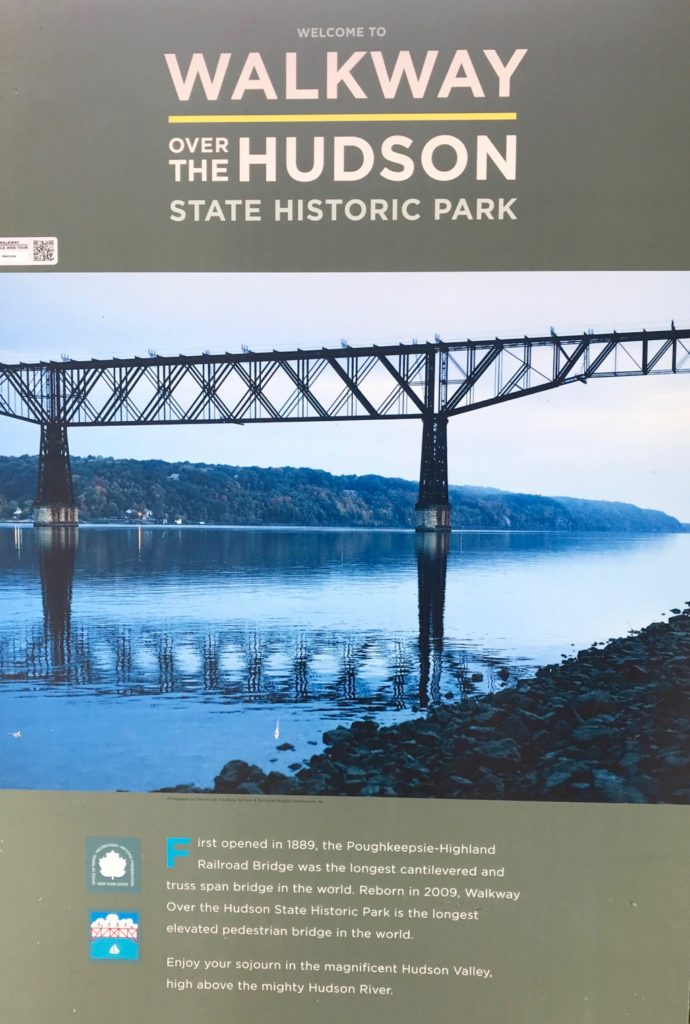 One last stop before we head of to our B & B. Plan Bee Farm Brewery has a mission to brew 100% New York State ingredient beer and many of the ingredients are grown on site. What led us there was the beer (for me) and the goats (for Karen). What a team!
124 Raymond Avenue, Poughkeepsie, NY 12604;  845-473-9838;  www.vassargolfcourse.com