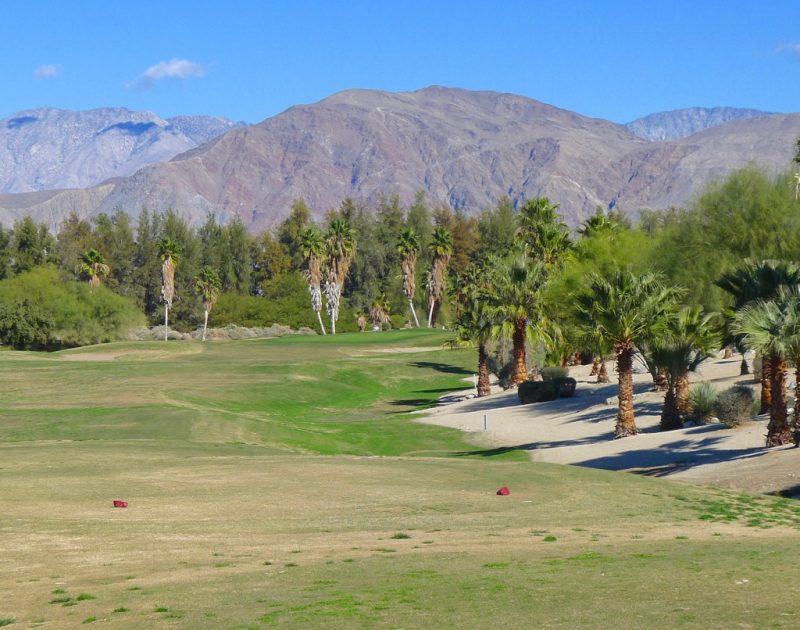 First things first, you need: 1) A road-hugging convertible sports car. 2) A full tank of gas. 3) An empty bladder. 4) Dramamine. Let's see how prepared I was…
1) My rental Kia Rio performed admirably well (but my old 1980 280ZX would have been awesome). 2) I had enough gas to get me there and back to civilization (had enough foresight to start with a full tank). 3) Thank goodness I didn't have any coffee before starting the trip. 4) I love motion, so the rollercoaster route was fun. Being from the Mile High city, I had to laugh as I started to see elevation signs that stated 2,000 and 3,000 feet above sea level. Of course I started to wonder about golf when I noticed snow on the ground. Was this two hour trip for naught? This happened to me once before in Arizona and I was stymied. But alas, I started my descent and found myself in the desert town of Borrego Springs.
The weather had been unseasonably cold in San Diego but it was perfect in the desert. I should have worn my shorts – will I never learn? Today I was trying to get out during a golf tournament. The staff was very accommodating and allowed me to sneak past a foursome at Hole #1 and begin my round at the second. This is a straight 487 yard (blue) par 5 with a bunker strategically placed to eagerly grab any wayward tee shot. There are two bunkers by the green which makes any long approach shot a dangerous proposition.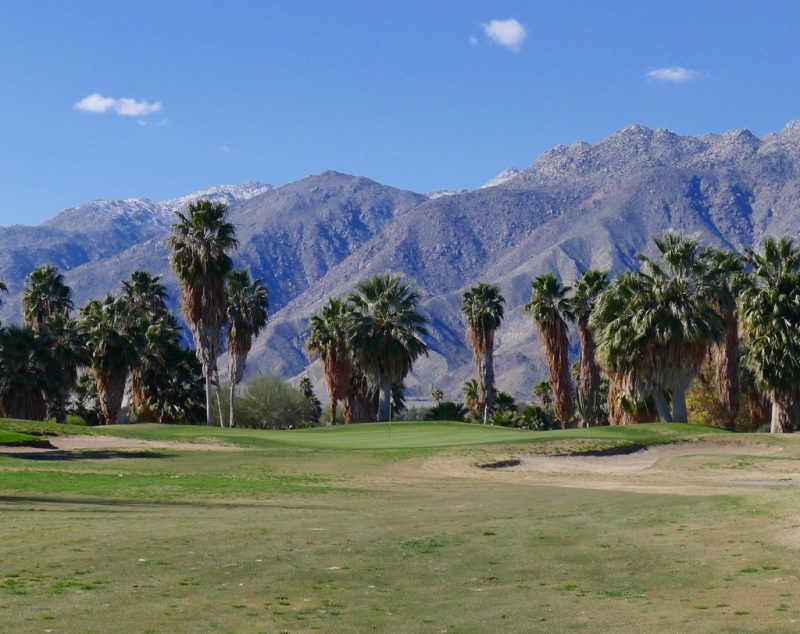 Hole #3 is a par 3 of 209 yards and can be a bear for us short hitters. I need to hit a hybrid at this length and it is difficult to get the loft needed to clear the front bunker and get my ball to stop on the green. Somehow I beat the odds and was able to par this number one handicap hole. Hole #4 has a slight dogleg to the left, but there is a birdie opportunity here if you avoid the big, big bunkers guarding a big, big, roly-poly green.
Let's see – have I mentioned the bunkers yet? At the Par 4 fifth hole, there is a small waste area to carry with your drive and more bunkers await your arrival left and right of the green. The Par 3 sixth hole has a wonderful setting with the mountains and palm trees in the background. Of course any misdirected shot left or right will find the obligatory bunker.
"Give me your camera"…"Excuse me?"…"Give me your camera!". This is how my conversation started with Larry, a course volunteer.  I'm thinking "what did I do wrong?" and he's thinking, "I just want to take your picture in this beautiful setting". I spent some quality time at Hole #7 with Larry learning about why the course was in its present condition; that the 18-hole par 3 course was in excellent condition and right down the street; his time living in my home state of Colorado; and watching the outing catch up to me. It is a great spot to take in the beauty of this area. Thoughts about the hole? Bring your best draw and meet Larry there to take a few pictures.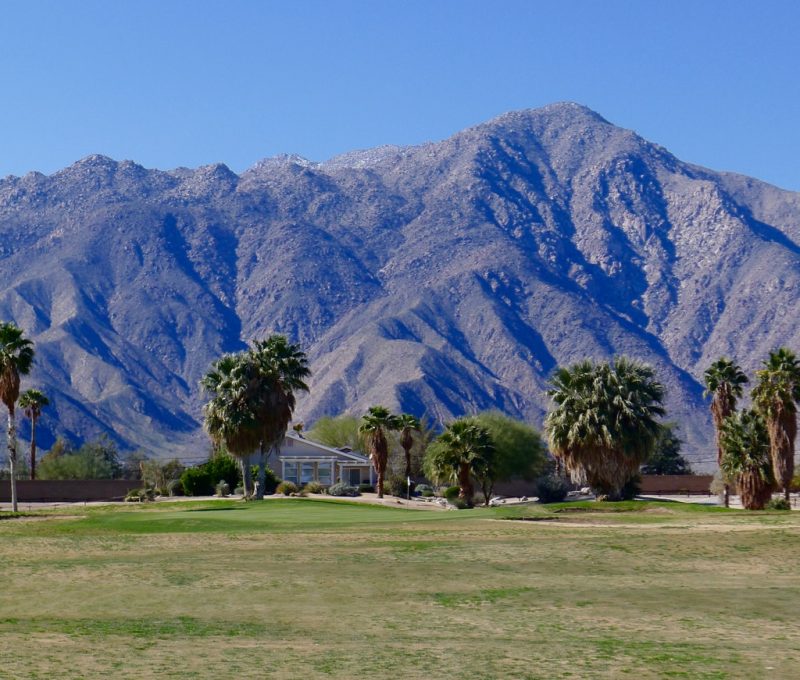 Palm trees flank the tee box at Hole #8 as you prepare to fade your shot down the fairway that bends to the right. Beware, there is a hidden bunker to the left at the 200 yard marker as the fairway starts to curve to the right. Hole #9 is a fantastic finishing hole. It is a 310 yard par 4 with two bodies of water to clear. The last one leading to a fun island green.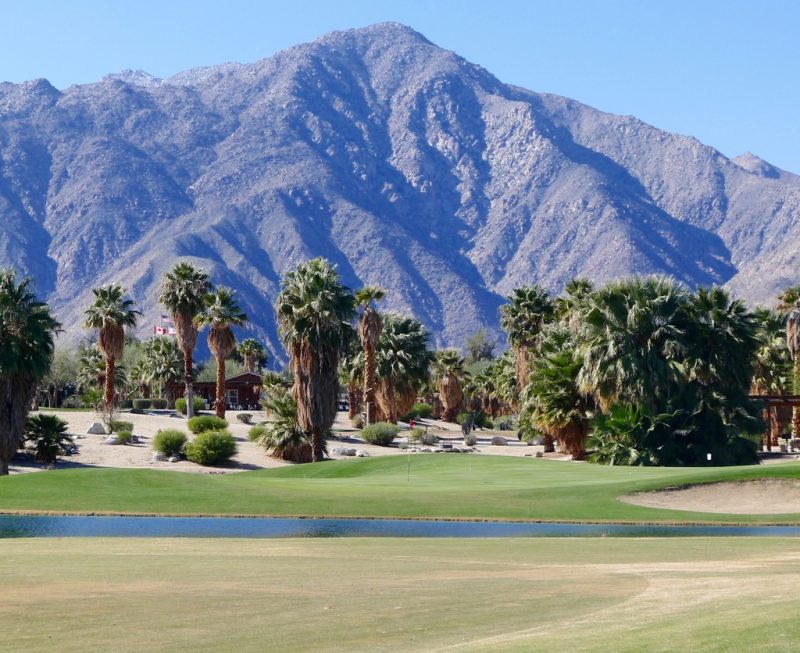 The Dramamine must be kicking in as I felt a little disoriented as I excited the final green. I was now lost in the middle of the RV Park. Where to go now? How do I get back to the clubhouse? Do I turn left or right? All I see is a sea of RV's. Luckily the tournament golfers were enjoying their 19th hole nearby and at this point were still able to point me in the correct direction. As I crossed behind Hole #1, I noticed the empty space on my scorecard. My final hole today greeted me with sand, palm trees and a big fat bogey 5.
Ace:  I loved the setting and surrounding scenery of The Springs at Borrego RV Resort and Golf Course. The fairways were a little rough, as you will see in the pictures, but the greens were in excellent shape. I enjoyed the course routing and even though it winds around the RV Resort, there is good signage to help you find your way (except for #9!). You will definitely need a cart to help you on your journey.
For those of you who need pristine conditions, this course may not be the track for you. However, I do have an 18-hole gem for you that makes the trip from San Diego well worth the drive. Ram Hill Golf Course designed by Tom Fazio is set on a hillside overlooking the desert. This outstanding facility has awesome golf and a perfect 19th hole setting with sunset and mountain views. Speaking of  the desert, your visit is not complete until you have spent time hiking/biking in the Anza-Borrego Desert State Park. As I see it, your perfect two day trip to Borrego Springs includes a morning playing 9 at The Springs at Borrego Golf Course followed by an afternoon at the state park. You camp under a blanket of stars and then up the next day to play Rams Hill. Perfect!
2255 DiGiorgio Rd, Borrego Springs, CA 92004;  760-767-0004;  www.springsatborrego.com