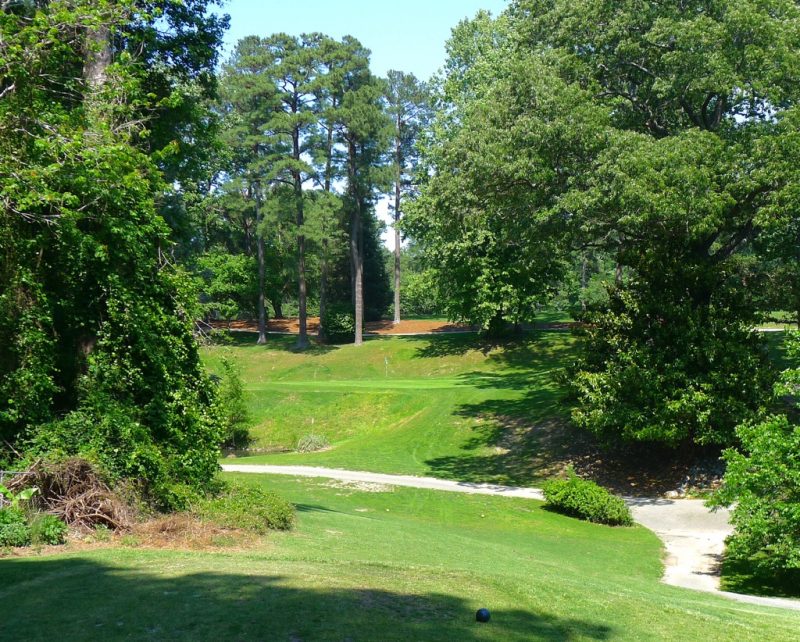 "Best nine-hole short course in the country". That is how it has been described by Golf Magazine. However, the real test of the Spotswood Course came when the crack team at Always Time for 9 hit the links in May of 2017. After intense scrutiny, the course scores have been tabulated and the results are featured at the end of the article. Sit back and enjoy the ride around this Robert Trent Jones , Sr. 9-hole beauty.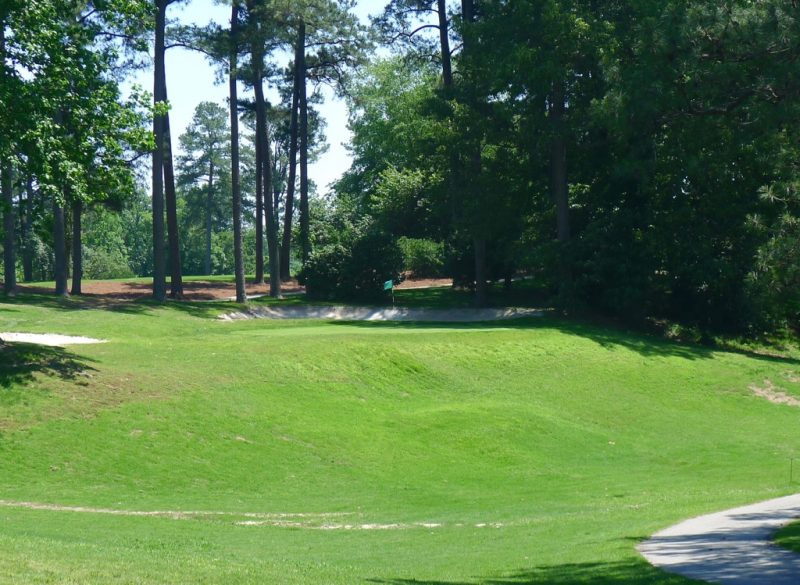 The green at Hole #1 is only a short 90 yards away from the front 9 white tees. The green is elevated a bit and any wayward shot could run back down the hill or find the front left bunker. Should have been an easy start to the round, so why was Ed the only member of the Always Time for 9 team to secure a par? If you are playing 18 holes on this course, the back 9 plays from the green tees and offers a varied look from your front 9 experience.
You would think that with a wedge in your hand you can hit the putting surface at Hole #2 from 100 yards. Well at least one of us did, nice job, Ed! Dave and I spent our time playing in the sand that Mr. Jones placed at the front left, center, and right of the green. Hole #3 is the only par 5 on the course and measures 470 yards. Your tee shot needs to clear the wires that run across the fairway and luckily we all found a way to thread our way down to a safe landing area. Your second (or 3rd) shot to the green has to avoid water and a bunker left; a bunker right; and a jungle behind the green.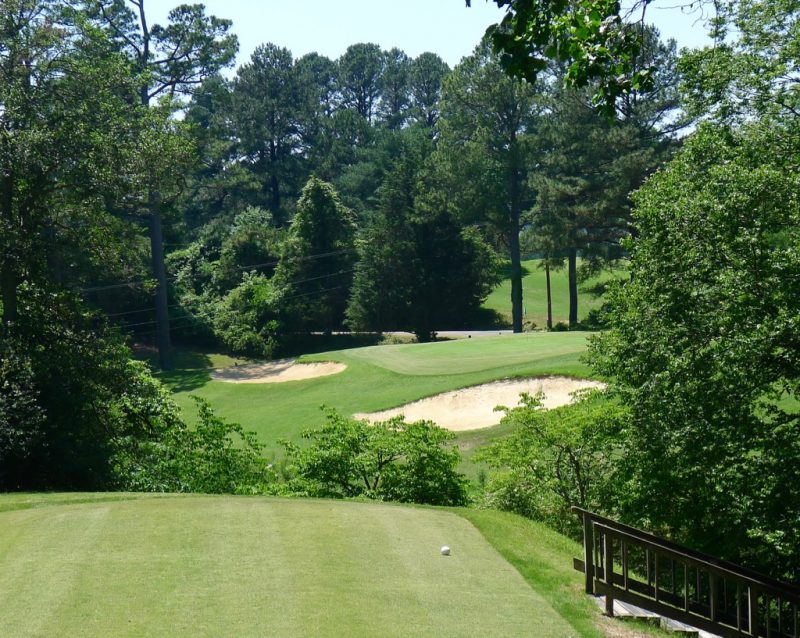 For all you big hitters, the par 4, 260 yards fourth hole green is within your reach and offers a generous fairway if you are short of your goal. However, if you are off target, there is a forest on the left; a fairway bunker right; and if you don't quite flush that drive, a bunker fronting the green. Hole #5 is a 215 yard par 3. It's not too difficult unless you find the trees and bunker to the left or the trees and bunker to the right. Right, not too difficult – we all carded 5's.
Hole #6 is a 325 yard par 4, with a dogleg to the left. Another hole that somehow beat us up – bogey's all around. Hole #7 starts a string of three consecutive par 3s that bring you home. This one is fairly wide open with bunkers guarding the green both left and right. Hole #8 is a scenic beauty (pictured above) of only 100 yards but it can be very deadly – just ask my playing partners. Your tee shot needs to carry a pond and vegetation to reach an elevated and narrow (front to back) green.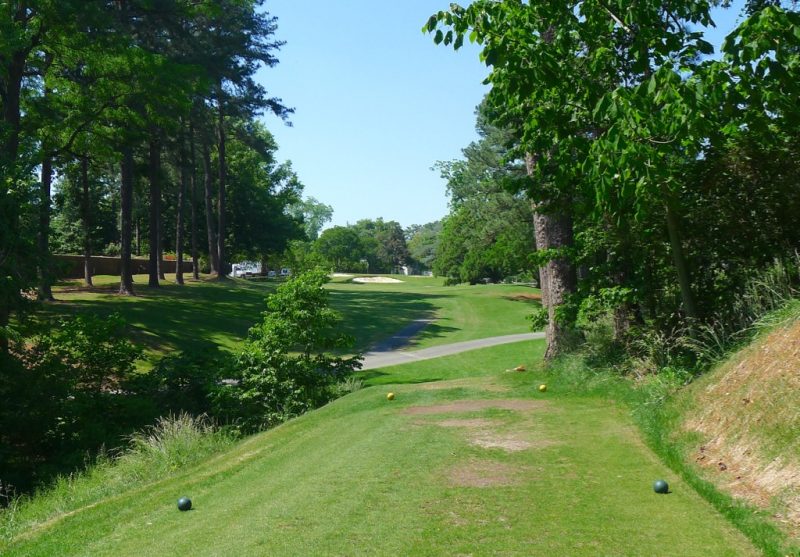 And then you have the 185 yard ninth hole. Visually I really liked this hole…but then I had to play it. Your tee shot needs to be precise in both distance (bunkers front the green) and direction (tight driving area). Mine had neither as I wound up to the right in the trees with no shot at the green. I botched my way home through the trees; made a stop in a bunker; and two putted my way to a double bogey. I know your next question is…how did Ed do?  I'm not sure, the last I saw of him he was still trying to climb the hill after his tee shot came up short at Hole #8!
Ace:  I know some of you scratch golfers are thinking, how can I give a par 31 course with one par 5; two par 4 holes; and six holes that range from 90 to 215 yards an ace? I suggest you come out and experience this course for yourselves. I am about a 14 handicap and I finished 10 over par for 9 holes. I'm not sure how Ed finished, I think he is still climbing that hill. The Spotswood Course will definitely test your skills. If you are playing with a family or juniors, there are the family tees that range from 43 yards to 150 yards. The overall experience was awesome. The fairways and greens were in excellent shape and the staff was amazing. We had a friendly greeting in the parking lot; help getting to the first tee; and had the pleasure of spending time after our round with Glen Byrnes, the Director of Golf and Recreation.
This 9-hole short course is a great way to get in some golf after a long day of experiencing the history of Colonial Williamsburg. Still not convinced about Spotswood? Never fear because the Golden Horseshoe Golf Club has two other gems at this location. The Gold Course is a true golfing experience designed by Robert Trent Jones, Sr. and recently (2017) updated by his son, Rees Jones. The Green Course (a Rees Jones design) completes this 45-hole outstanding facility. Whatever your golfing needs, a Golden Horseshoe visit will not disappoint.
401 South England St., Williamsburg, VA 23185;  757-220-7696;  www.colonialwilliamsburg.com