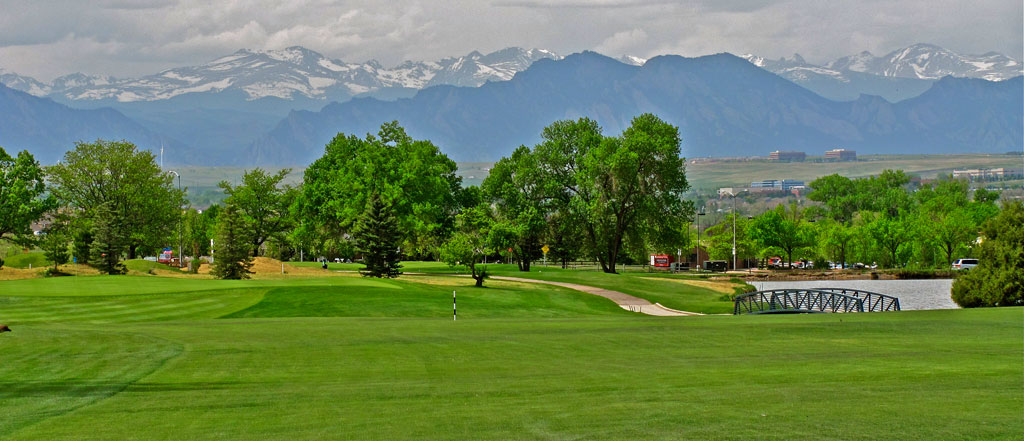 It looked like a crime scene – yellow tape everywhere. All that was missing was the outline of the dead body – but that would come later. The reason for the tape?
During the 2012 season, this fantastic facility received a complete facelift – new name, restaurant and pro shop.
The round starts with the number two handicap but this wide open par 5 is a good chance for your first birdie. Danger lurks down the right side of holes three, four and five, so make sure you bring your best "draw" ball flight to the "Blue". Concentration is the key on the par 3 fifth. At least once during your foursomes tee shots, some "yahoo" will yell "fore" or honk a horn from the busy street that parallels this hole.
Hole #8 is the number one everything – handicap; scenery; photo opportunity; water hazard and for us today – death hole. One of my playing partners somehow skulled his tee shot off the golf tee marker and the ball ricocheted back past him, missing him by…that much. Put the chalk away for now. Be careful with your second shot as the pond that fronts the green in not visible from back in the fairway.
Your round ends with an undemanding 150 yard par 3. If #8 plays like CSI:Miami; #9 plays like Andy of Mayberry.
Birdie: The Blue Course is part of the Hyland Hills Parks and Recreation District. There are many great options here for the entire family. The 9-hole Blue Course (par 36) is good, but the 18-hole Gold Course is even better. The South Par 3 has enough challenges to test all skill levels and the North Par 3 is designed for junior golfers or those just learning the game. Add Adventure Golf (miniature golf) and Adventure Raceway (go-cart) to make the complete family outing.
Ace:  The entire facility deserves this rating.
9650 Sheridan Blvd., Westminster, CO 80031;  303-426-4653;  www.golfhylandhills.com