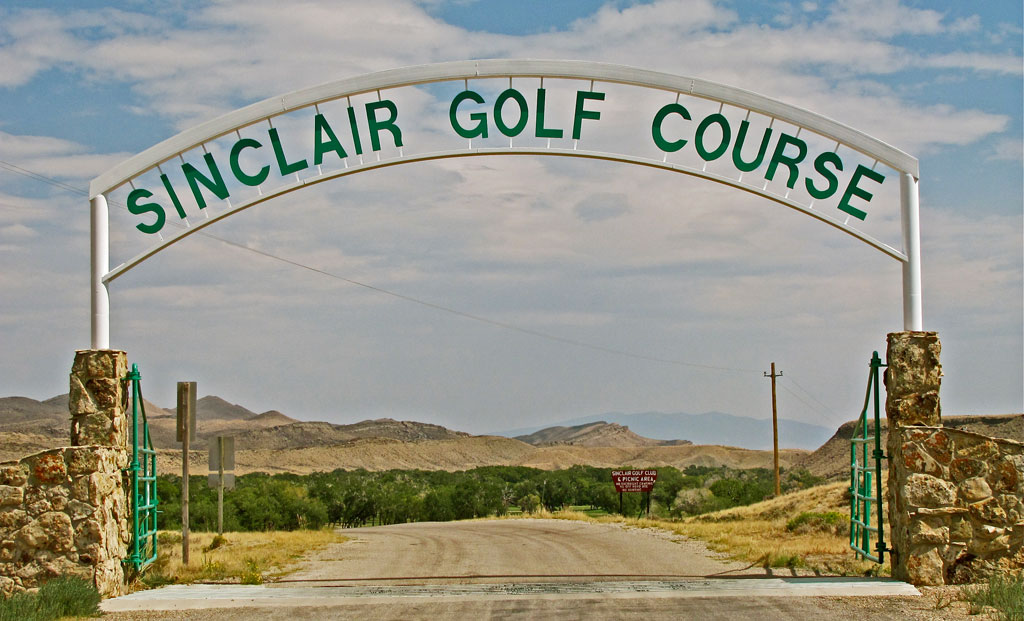 "Sinclair Oil Co., no trespassing". This sign greeted me on my first visit to the course along with a locked gate and armed guards. Okay so the armed guards may be stretching the truth, but it was not very inviting. I thought it best not to jump the fence and explore – I'll wait for another day.
Another day has arrived. Make sure you take the first paved road after the course sign. The dirt road will take you to the entrance of the "cleanest refinery in the west". If you pass the Sinclair Gun Club, you are on the correct road. Today the gate was open, gone were the "no trespassing" signs and I was greeted by Dino, the Sinclair Dinosaur mascot. Let's play some golf!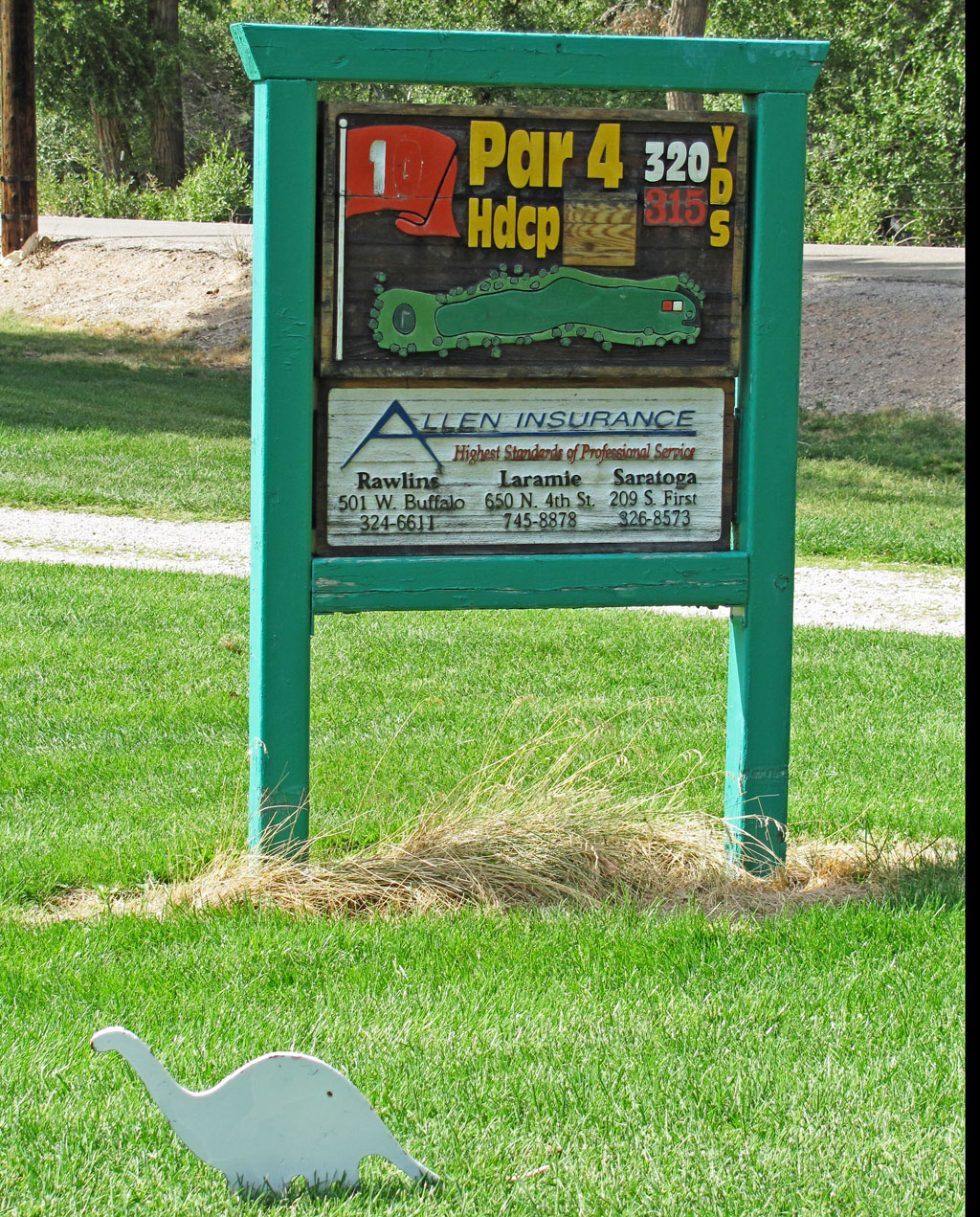 If you decide to play 18 holes, you'll tee it up from the white dinosaurs (2940 yards) on the front nine and the blue dinosaurs (3132 yards) on the back. Some holes have a second teeing area to give the holes a different look and challenge.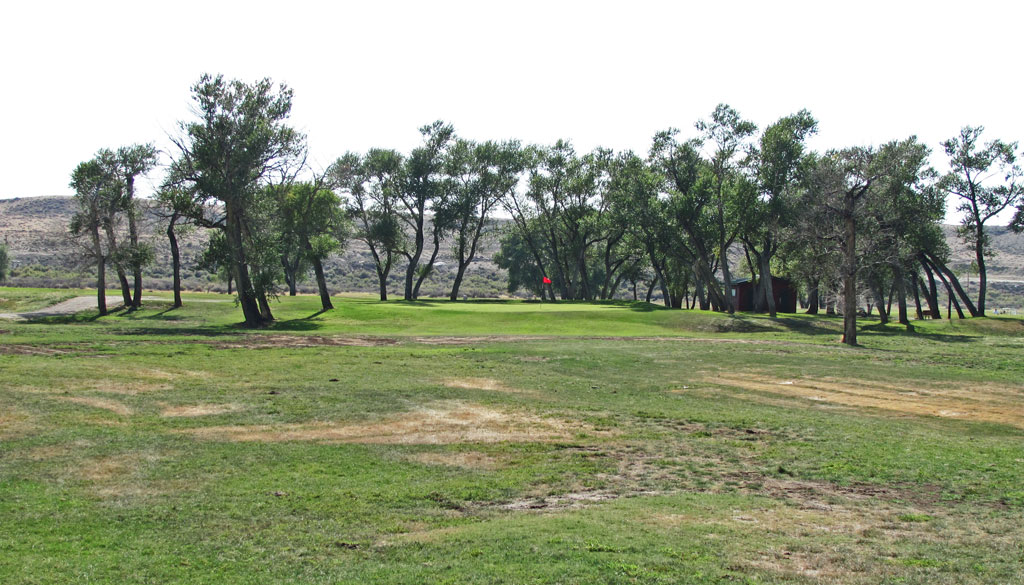 Trees are very much in play on the first three holes and I guarantee you will find at least one of them. The tree budget must have been used on the opening three because the last six holes are mostly wide open with no obstacles. There are a few bunkers but they are located in odd places. The course flooded in 2011, so maybe these bunkers just floated to random parts of the course.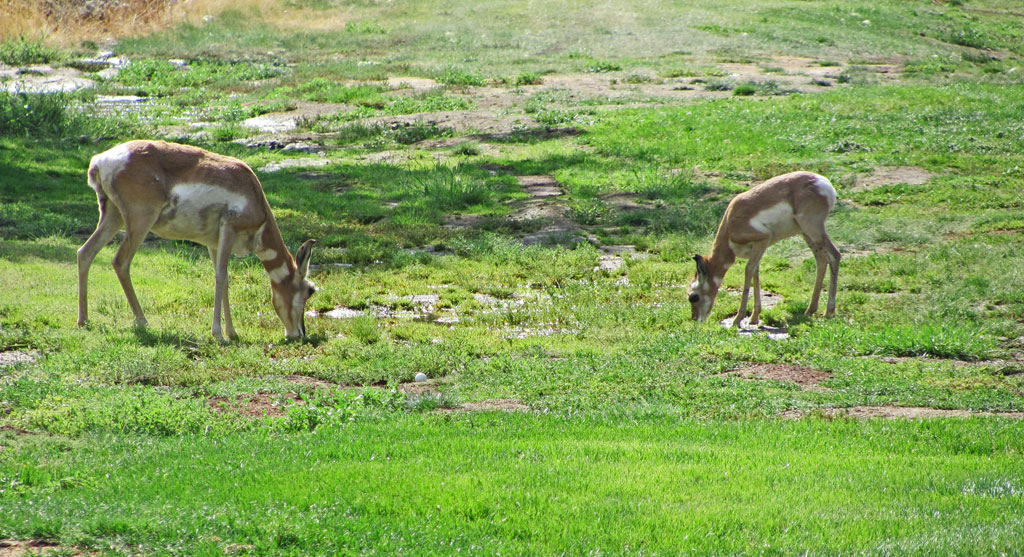 There were an abundance of antelope, which produce plenty of antelope droppings, which create messy fairways and greens – watch your step and bring an extra towel. Hopefully all the fertilizer will help bring the fairways back to tip-top shape.
Bogey:  The town of Sinclair was originally named Parco, but it did not play up to its name. The course lost my interest after the fourth hole (I usually don't drink on the course, but a cart girl would have been a welcome sight). Sparse grass and lack of imaginative course design were the biggest negatives. Hopefully by the time you give this course a try, you can update us on it's resurrection from the aforementioned flooding. On a positive note, the green fee was only $15 with cart; I was able to walk right on; 1hr 30 min round; and no Wyoming wind.
510 County Road 324 #A, Sinclair, WY 82334;  307-324-6320