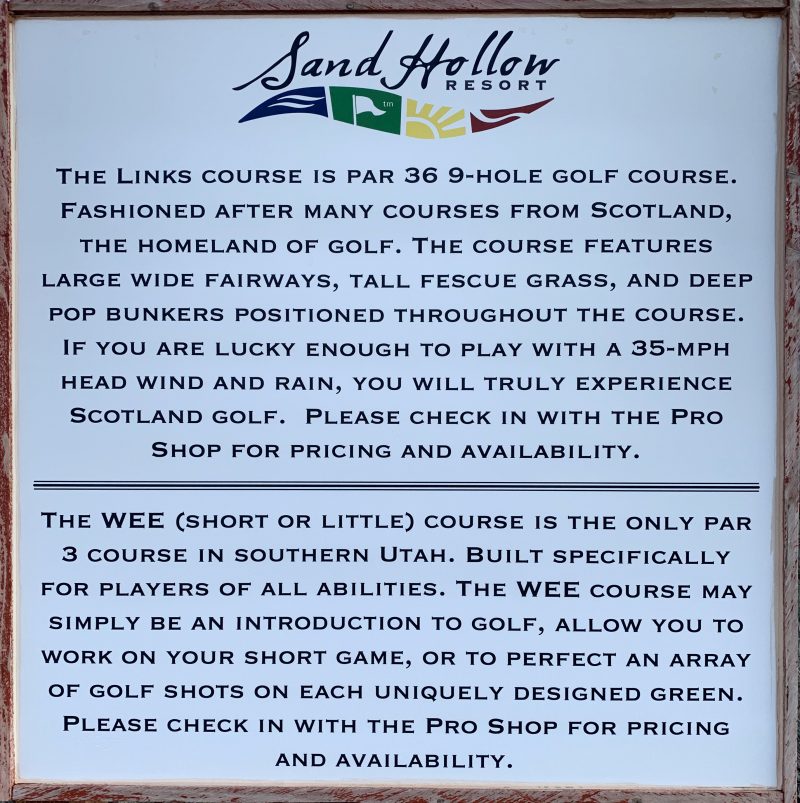 How did we turn a scenic 9-hole course into an even more scenic 10-hole course? Was it…Old age? Directional incompetence? Numerical (dis)order? Forgetfulness? Laziness? Forgetfulness? All of these? If you read through this review all these questions will be answered…or not.
It was a beautiful way to start the day at Hole #1 on the Links Course at Sand Hollow Resort. A wide fairway accepted my initial tee shot right down the middle. The putting surface gathered my second shot as it avoided the deep red bunkers that front this par 4 green. My ball then took a ride on the large undulating green and settled nicely by the hole for an opening par. If you tend to hit ground balls with your tee shots, you will have some trouble finding the fairways on holes #1 and #2. Hole #2 has native grasses and a stone wall to clear to make it safely to the landing area. Another large fairway; another large green; and another par.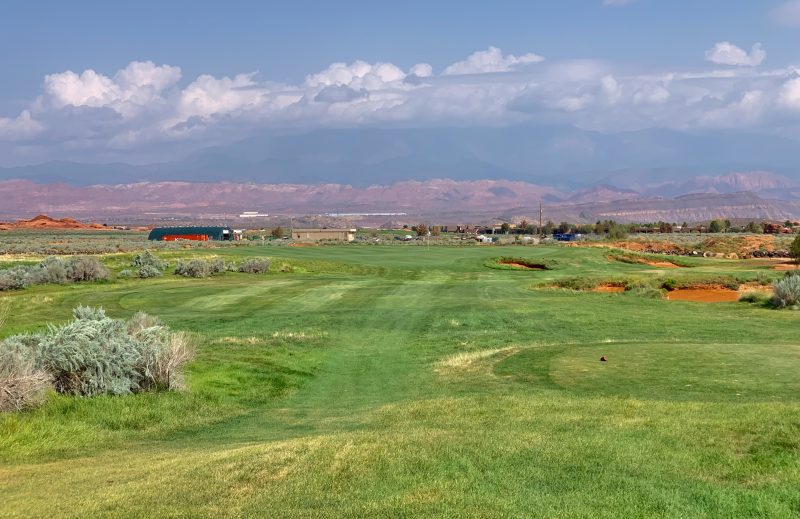 Hole #3 is a dogleg left par 5 of 523 yards (white) with a big red bunker at about 250 yards from the tee that will gladly accept any wayward shots. Even though the landing areas are large, wayward shots can easily find bunkers and native bushes. It's another tee shot that needs to get airborne or you are in big trouble. If you struggle getting the ball in the air, the Wee Course may be a better option for you. The par 3 fourth hole green is big; I mean huge; I really mean humongous. If you can't hit this putting surface you should be ashamed of yourself (I am). Just don't hit it to the right (I did) because of all the bunkers on that side.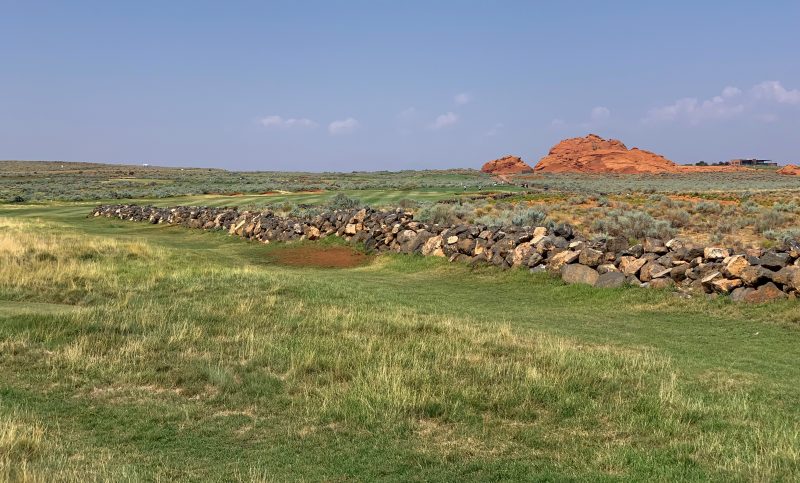 The sign by the first tee stated this links track was fashioned after many courses from Scotland. If you are playing in 35-mph winds and pelting rain, you will truly be experiencing Scottish golf. Today was calm, sunny, and hot. With sweat dripping down our faces, DC Dave was praying for the real, cooling, wet experience! At Hole #5 we encountered a tee shot that is typically found in Scotland. There is a small rock wall that borders the right side of the fairway as it bends to the right on this par 4. This wall must be there to keep the sheep off the fairway. It must be working as no sheep were seen today. You can drive your ball straight down the fairway, but has anyone who ever played this course ever tried not to clear the wall? This is a cool, risk/reward tee shot! When you are only playing a course once, you don't lay up…you always go for it!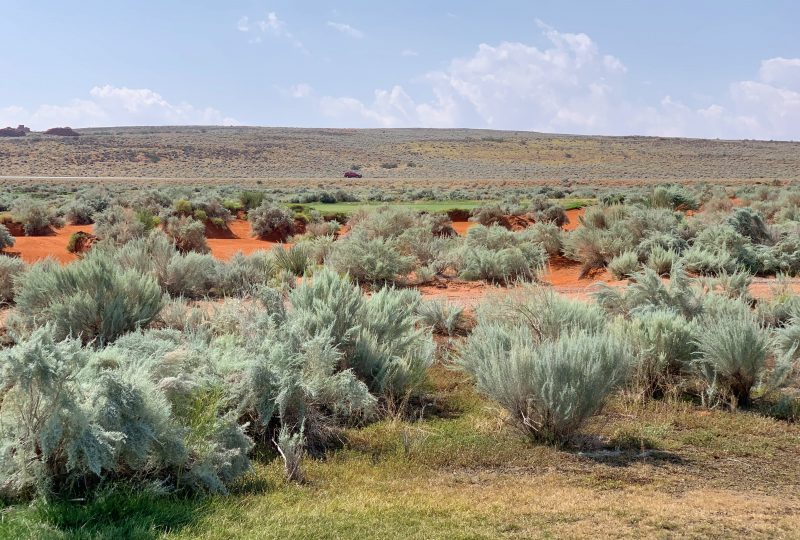 Hole #6 is a par 3 and only 120 yards. However, there is a very large waste area full of red clay and native bushes that needs to be flown or you are "screwed". This is not your ordinary par 3.
Remember way back in the very first sentence when I mentioned how we turned this 9-hole course into a 10-hole track? Hole #7 is where it all went wrong. Actually it was Hole #9 where we went off the rails. As we exited #6 green there is a tee box behind the green. We just assumed it was the next tee box – 1st mistake. The scorecard showed it was a par 4 of 420 yards but it looked much longer – 2nd mistake. My GPS started going crazy and as we walked down the fairway it showed the hole being 700, then 800, then 900 yards – 3rd mistake. We finished the hole and could not find Hole #8 – 4th mistake. When DC Dave and I finally realized our mistake, we hiked (and it was a hike) back to the real Hole #7.
If we had been in a cart, we would have followed the cart path and realized Hole #7 was next to Hole #6, not behind it. Old age sucks! The yardage now makes a lot more sense at this 420 yard par 4. It's a dogleg left and big bunkers guard that bend, so try to keep your first shot out to the right. Hole #8 is a dogleg right with many, many red bunkers. If you are a poor bunker player or you hit a lot of low screamers, think the Wee Course. Finally, or is it again, we come to Hole #9 (or is it #10?). A 564 yard par 5 that has a few fairway bunkers in the middle of the driving area. I par'd it the first time through so that is the score I'm writing on the scorecard.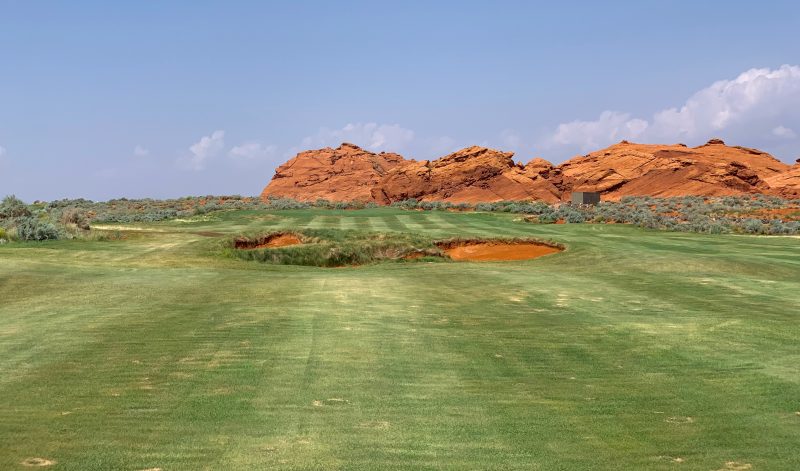 Rating – Ace (53 out of 60): Escape – Play – Discover – Relax. These are the words that grace the cover of the resort's brochure. The St. George area is one of my favorite spots in this country. The scenic beauty is second to none. For mid-August the course was in outstanding shape, but that could be because during the 100+ degree heat of summer only a few golfers are "silly" enough to be out playing. Besides the Links Course the resort features the 18-hole Championship Course and the aforementioned Wee Course. It's a first-class smaller resort facility!
Besides golf the resort offers an excellent restaurant; 1-6 bedroom condos; 4×4 adventure tours; and a short drive down the road you can explore Zion National Park.
5662 West Clubhouse Drive, Hurricane, UT 84737;  435-656-4653;  www.sandhollowresort.com