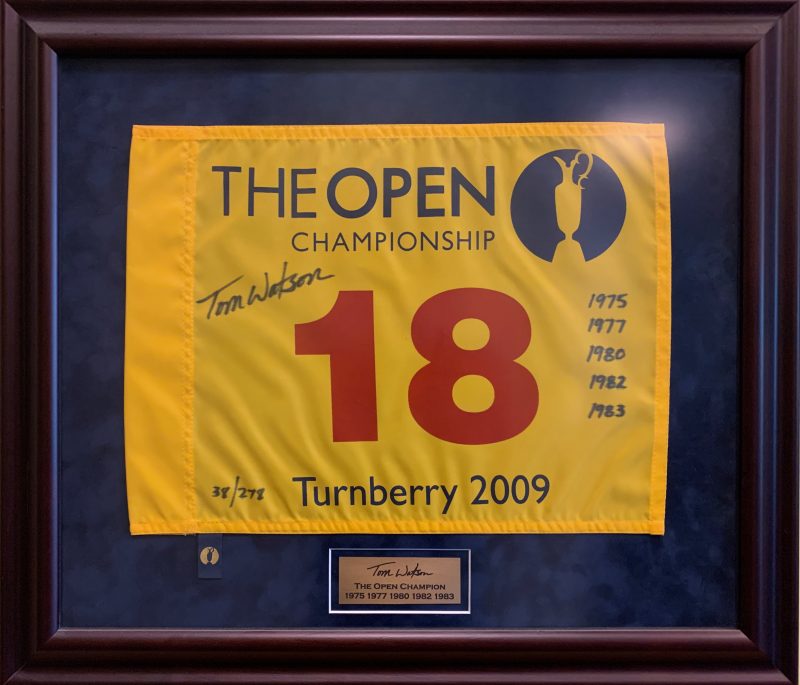 Heart of America Golf Course is home to the Tom Watson Golf Academy. So why wasn't he there to greet Always Time for 9 when we arrived? I'm sure he is a big fan of my website and I gave him plenty of notice that I was golfing on July 20th. Now this was the Tuesday after the 2021 Open and he might have been over at Royal St. George's, so maybe I'll give him a pass this time. But Tom, next time…
Even though the address is Kansas City, I was surprised to find this course in a very "rural looking" part of town. There are three small courses at this facility: The River (9-hole regulation); the Rock (9-hole par 3); and the Hill (3-hole learning course). The way our golf games were shaping up this week, we thought about playing the Hill Course but it was closed for the day. Since DC Dave and I are senior golfers, we decided to play from the "yellow" tees on the River Course. There are only two sets of tee boxes (blue and yellow) and neither are very long.
Looking back at the scorecard, I am surprised we didn't drive every green. Hole #1 from the yellow tees is 230 yards with a fairway that bends slightly to the right. The fairway is huge but the high handicap golfer needs to clear a creek to get there. We needed to rent clubs again but these were much better than the first three sets we rented. Standing on the tee box the fairway looked like the old baseball astroturf playing surfaces. In other words, they looked (and were) in excellent shape.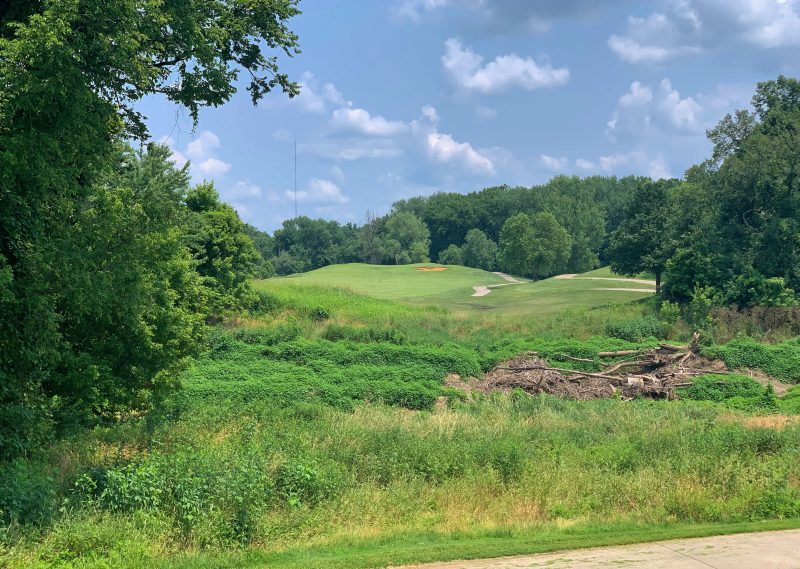 Hole #2 is another short par 4 hole of 230 yards. It will be the last time I say "short" because they are all…not long. The green is straight out there with a small bunker getting ready to capture your long drive. One of us (I won't say who DC Dave), pulled his tee shot to the left and we weren't sure what was over there. It does open up, but just like hole #1 there is a creek and native grass to carry to find the fairway. I can see how this course can be a challenge for the high handicap golfer and a "fun" challenge for the low handicapper as they (notice I didn't say "we") try to drive the green.
As we move down the path to Hole #3, we were joined by a pair of deer who were enjoying a casual walk through the woods. This par 3 is slightly uphill with bunkers to the right and a big dropoff to the left. Hole #4 will challenge the high handicapper because you need to clear the native grass in front to the tee boxes. A fun hole with plenty of trouble all around.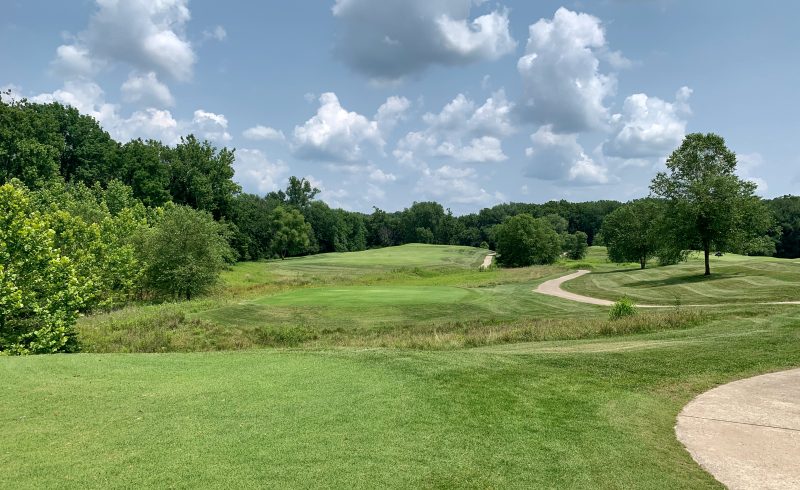 Up and over the trees or straight down the fairway at Hole #5? It's only 256 yards from the blue tees but up and over brings all the bunkers into play. Which will you choose?
The sixth hole has a bit of a dogleg to the left, and once again you have to decide – play it safe or go for the glory? This is what makes this course fun for the low handicapper. It is sh..not long but the design is excellent for all levels of golfer. If you go for the glory, your tee shot has to clear the big tree with it's one, two, or was it three limbs that hang over the fairway. Of course we went for it and we both ended up with pars.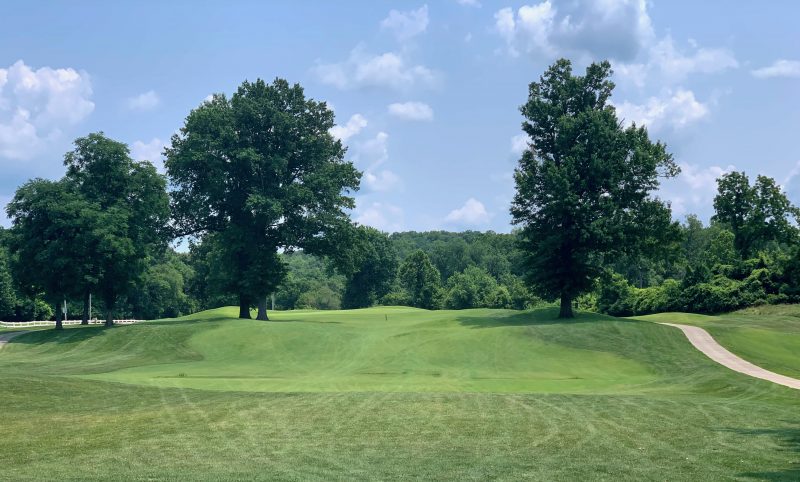 Hole #7 is the only par 5 on the course and your tee shot needs to carry the river that is just beyond the teeing area. It's a big dogleg to the right and uphill as you meander down the fairway. If you are a little walking-challenged you might want to take a riding cart. We walked and managed fine for nine holes. If you slice your shots this could be a good hole for you, but just don't go too far right. It is the number one handicap hole and it played to that level.
The par 3 eighth hole has bunkers left and right and a good size putting surface. Hole #9 is fairly straight and the fairway is generous. Water can be an issue for the high handicapper but it should be a good scoring hole to finish the round for the experienced golfer.
Rating – Birdie (48 out of 60): We enjoyed our round at HOA today. For a couple of senior duffers, it was a challenge even with the sh…not long yardage. It was a blast trying to drive those sh…not long par 4's. We wanted a course where we could stretch our legs between destinations and this was perfect. We were disappointed that Tom wasn't there to greet us after our round, but maybe next time. We'll be anxiously waiting by the phone for an invitation from Tom to join him for a round on our next visit to Kansas City.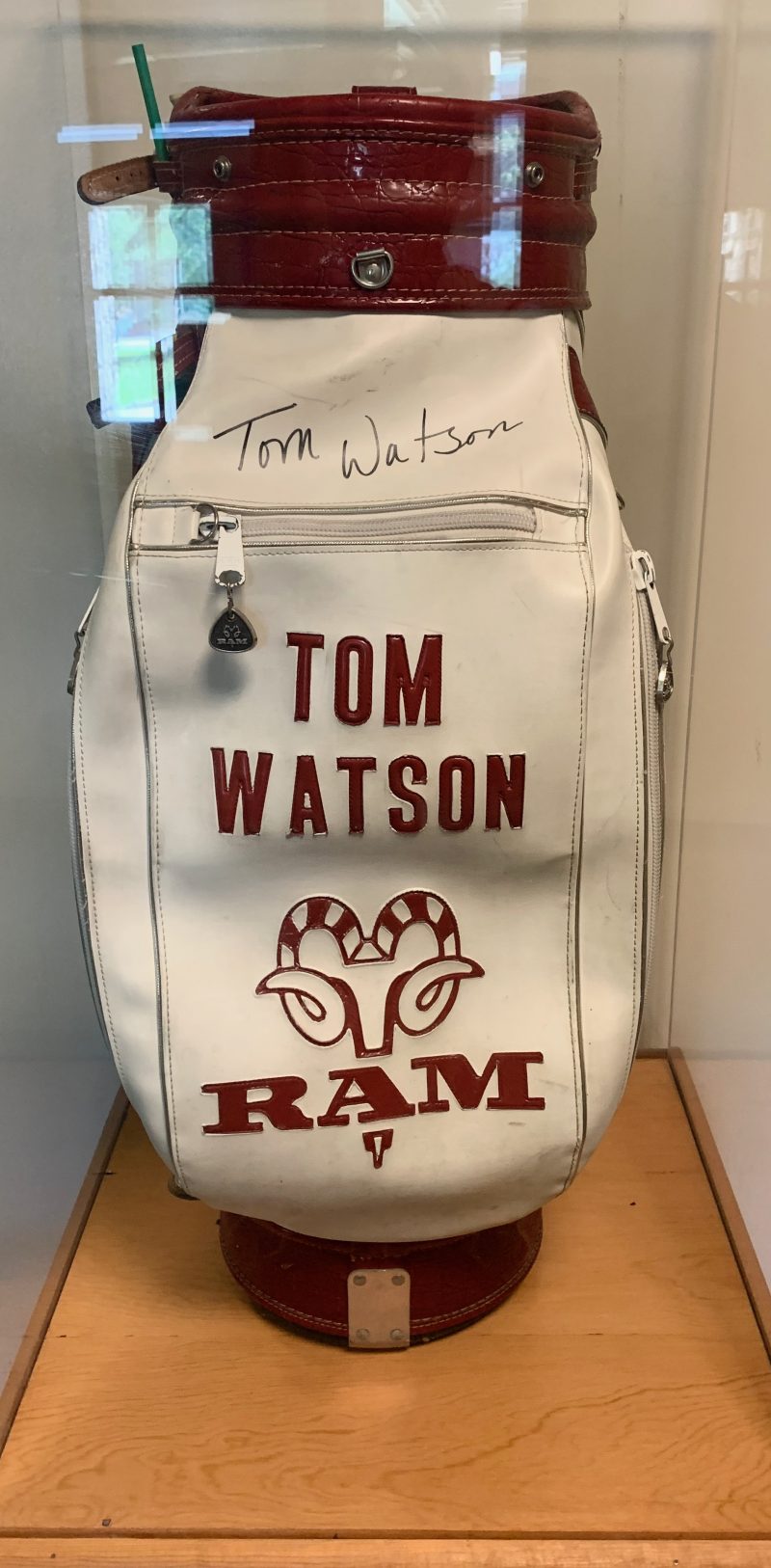 7501 Blue River Road, Kansas City, MO 64132;  816-513-8940;  www.hoagolfcourse.com