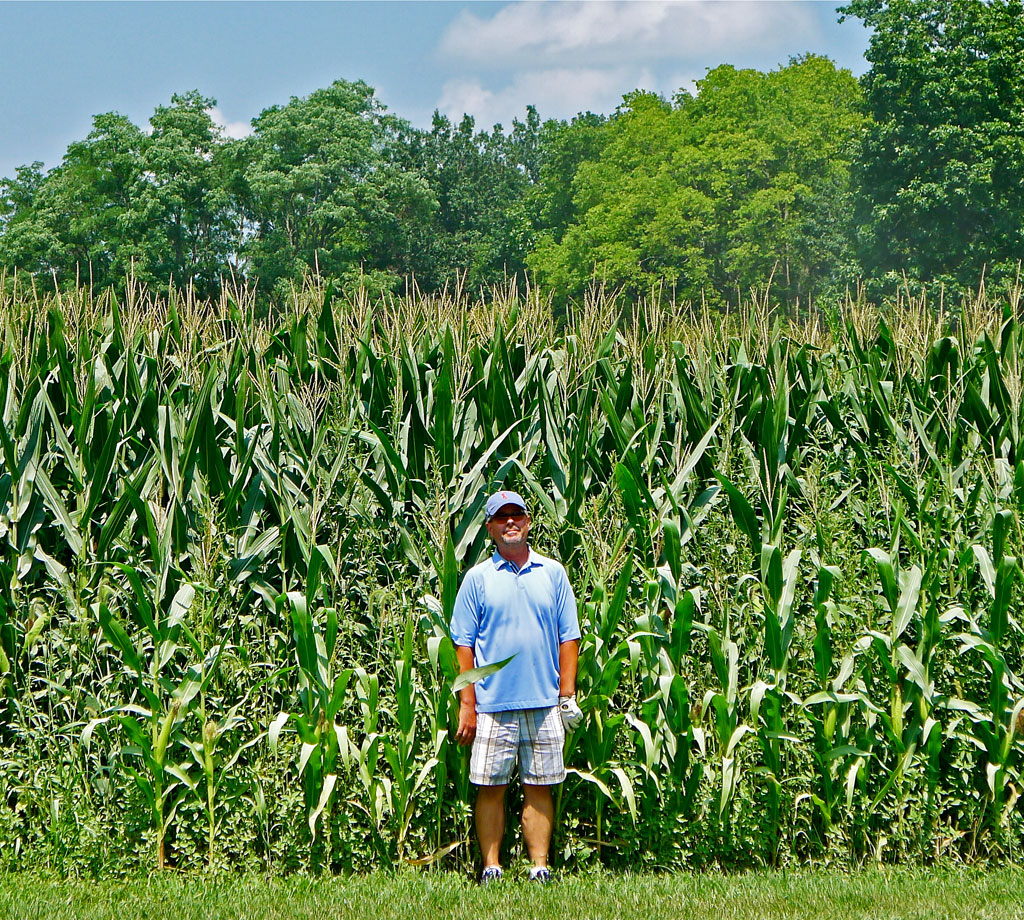 If you build it, they will come. I emerged from the eight foot tall corn stalks and walked on to The Riverview Club in the Villages of Van Buren. In my version of Field of Dreams, I thought I heard the distant voices of…
Sam Snead, Byron Nelson and Ben Hogan calling me to this course in SE Iowa. In reality, it was an email from old Boulder friends that brought us to Keosauqua. Our day started at Cup and Cake as we were entertained by the local coffee klatch. The local small town topics centered around sweet corn and pickles – "cute" was Karen's word.
Karen, Ginny and I frolicked down the tree-lined, rollercoaster fairway at Hole #1. Life is good as long as you hit it straight at this 426 yard par 5. Luckily we had an experienced local resident with us at Hole #2 Ginny advised me to aim toward the cornfield. I asked for clarification as this is Iowa and there is corn everywhere. I hit my best drive of the day between the "big" tree and the cart path – perfect placement for my approach shot. There is an alternate white teeing area up the hill but it's more fun to hit from the bottom.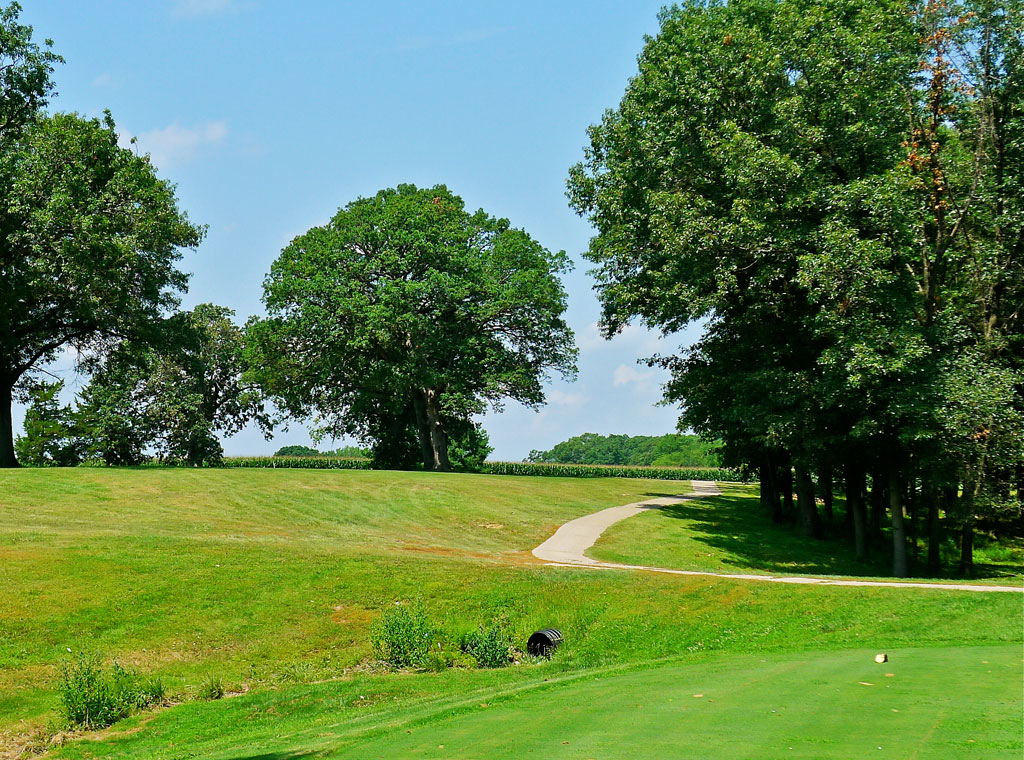 Wow! Hole #4 is a 246 yard par 3 over a pond. I can't even reach this with my driver. Ginny had it easy, she only had 231 yards from the ladies tees. Wow! Hole #5 is a straight 355 yard par 4 – now I can take Ginny's advice and just aim for the cornfield. Hole #6 is your classic Iowa "road hole" – fairway on one side, cornfield on the other side. For good measure, there is a drastic dogleg left on this 478 yard par 5.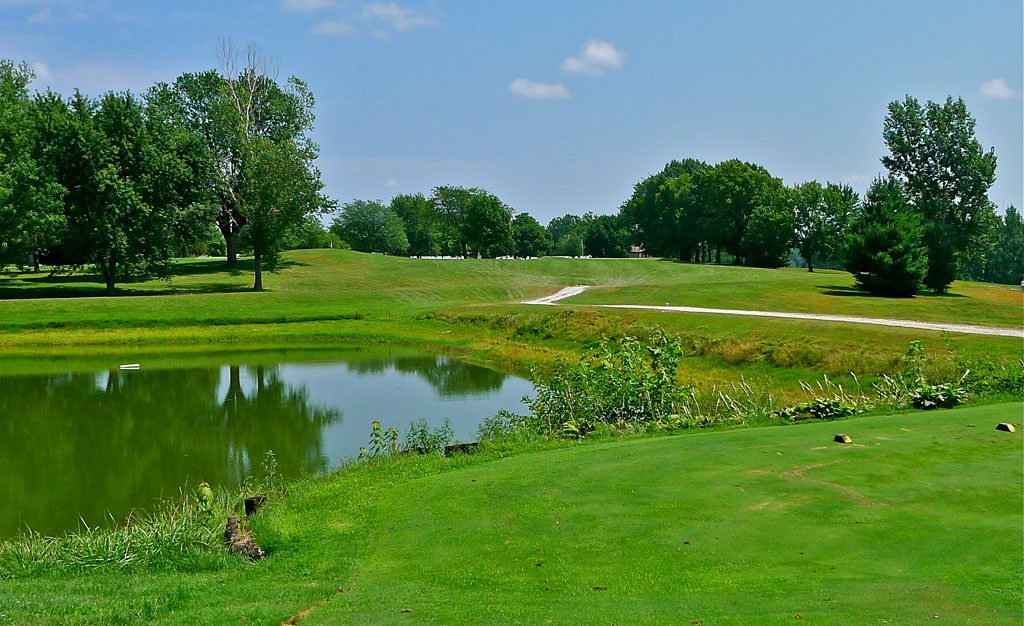 Standing at the tee box at Hole #8 all I see is an expansive fairway. I don't see any corn (or flag and green for that matter), so where do I aim?  Once again Ginny offers sage advice and politely suggests I aim at the 150 yard marker (duh!).  She also informs me of the creek I need to carry on my approach to the green. This game is so much easier when you have an experienced playing partner!  Hole #9 is a disappointing, boring par 3.
Birdie:  For a course named Riverview Country Club, the Des Moines river is close but never comes into view. However, if you want a panoramic glimpse of cornfields, this is the place. If you are traveling across Iowa on Route 34, Keosauqua is not far off course. Lacey-Koesauqua State Park and Lake Sugema Recreation Area offer swimming, boating, fishing, hiking and camping.
Are you looking for the unusual? stay in the Caboose Cottage at the Manor House Bed & Breakfast in Bentonsport.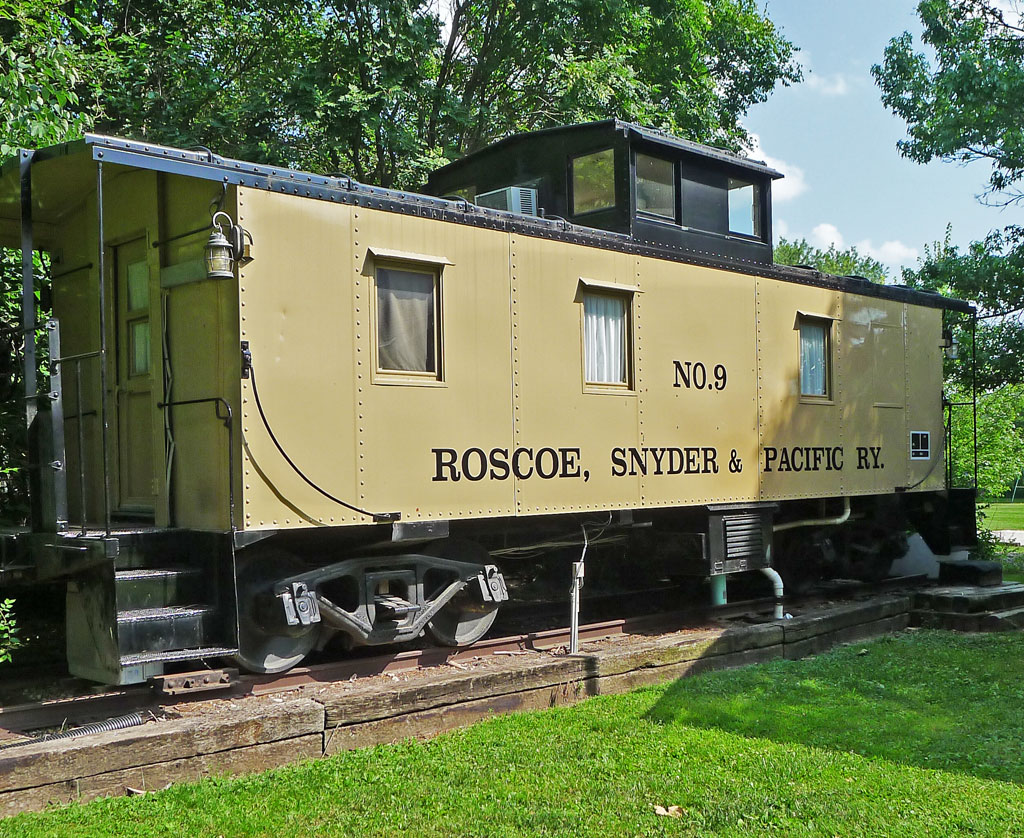 Looking for outstanding sweet corn? Look no further than the nearest farm stand. One final note about Southeast Iowa – get ready for the "one finger" wave. I know what you are thinking, but remember this is Iowa not New York – it's the index finger!
217 Riverview Drive, Keosauqua, IA 52565;  319-293-3200;  www.TheRiverviewClub.com