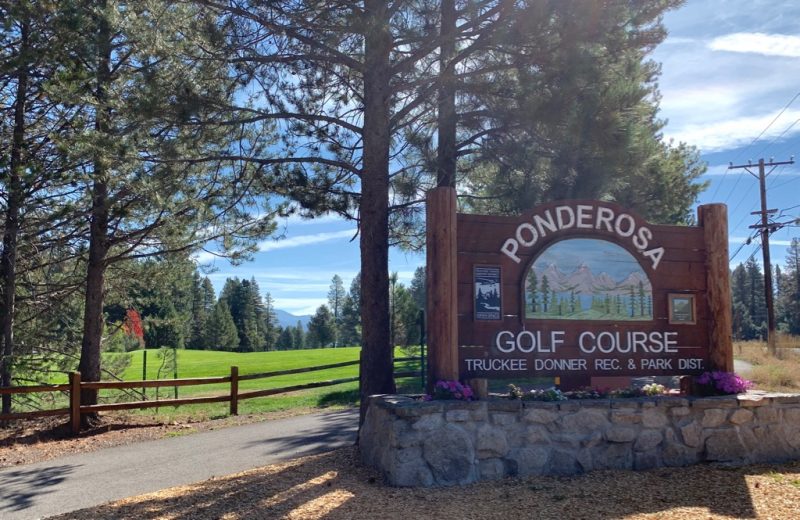 On this land we put our brand, Cartwright is the name, fortune smiled, the day we filed the Ponderosa claim.
Here in the West, we're livin' the best, Bonanza
If anyone fights any of us, he's go a fight with me
Bonanza.
(Please sing along)
Hoss and Joe and Adam know every rock and pine, no one golfs, fights, or eats, like those boys of mine.
Here we stand in the middle of a grand Bonanza.
With a ball and a club and a bag full of hope, we drove off the first tee
We got hold of that first drive, Bonanza.
Today, Ponderosa Golf Course featured a foursome of Ben, the father (played by Scott); Adam, the serious and level-headed brother (Dave); Hoss, the lovable, strong bull of a brother (Ed); and Candy, the ranch foreman (Bernie). Little Joe (Woody) was in Virginia City probably getting into trouble. Let's now take you on a journey around our ranch and introduce you to this new-fangled game of golf.
Hole #1 is a straight par 4 to open the round. It should be a good scoring hole, that is, if you hit it straight. Trees line both sides of the fairway and if you find yourself far enough to the right, you will find O.B. and possibly one dadgum angry neighbor. Keep it straight or get ready to hightail it out of there. Hoss was happy he had one of those new horseless buggies! At Hole #2, Hoss was licking his chops at the short, drivable, 292 yard par 4. Trees on both sides of the fairway may continue to play havoc with tee shots. Since the green slopes from back to front, it's prudent to leave your shot on the front side. Of course, if you are too short, there is a very large bunker to the front, left of the green.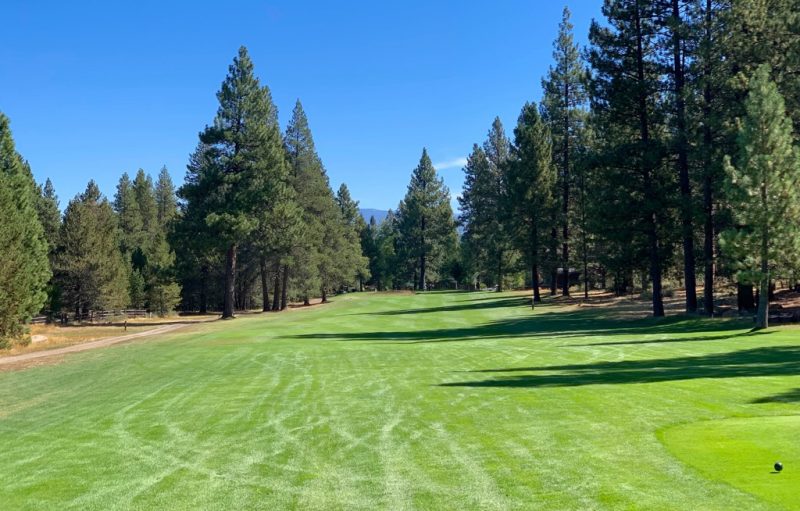 When Adam was designing this course, he thought that after watching his Pa swing a club, we needed a par 3 at Hole #3. This is a short hole of 135 yards but he forgot to tell me it was all uphill. Candy's little place is off to the right and now I know why he never has to buy any of these little white balls. When I finally made it to the top of the hill, I gave Adam a piece of my mind. The green was not in very good shape and I sent him out there after the round to correct the situation.
Candy had a few very helpful suggestions at Hole #4. The hole is a straight, 350 yard par 4, but who hits the ball straight? When Adam designed this hole, he made the fairway slope from left to right. And to the right, lining the fairway, is out-of-bounds. So, Candy says, "aim left and let the slope feather your ball to the center of the fairway". For all those golfers who follow in our footsteps, he placed a sign by the tee box that states, "aim left".  He took his own advice and placed a beautiful shot down the left side. Nobody tells Ben Cartwright what to do and I took my own route. I ended up down the right side in one of those dadgum fairway sand things. Maybe I'll keep a smart feller like Candy around. In summation, there is O.B. right; O.B. beyond the green: and the fairway slopes left to right.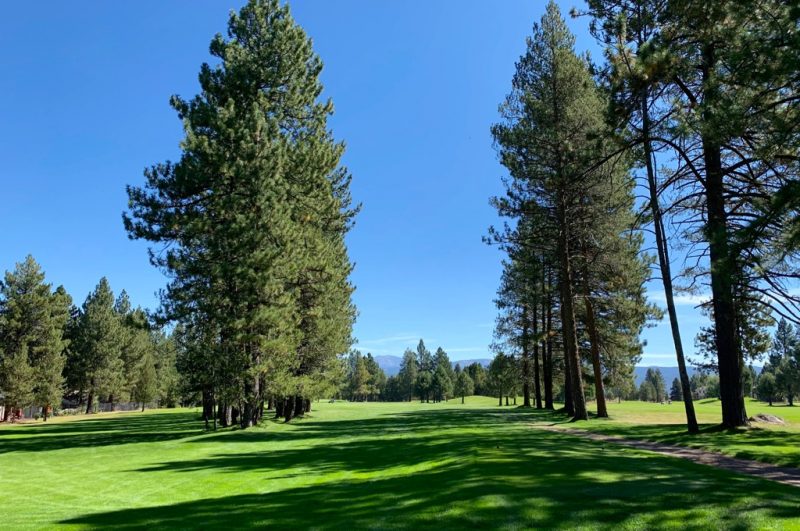 I told Hoss to "tee it high and let it fly" at Hole #5. Hoss gets a little wild off the tee, so Adam designed this hole for him. It's a par 4 with a dogleg to the left. With no O.B., he can let it rip here. I always like to spend a little time here viewing the mountains and admiring the vastness of our Ponderosa. The par 3 sixth hole is straight-forward and 163 yards long. There is out-of-bounds left, but it shouldn't come into play. However, the two large bunkers that flank the front of the green are very much in play.
I like Hole #7 because it makes my boys ponder how to play this hole. The par 4, dogleg left has plenty of room to miss to the right, but the trees to the left will make you think twice if you try to cut too much of the dogleg. Any guesses how everyone played this hole? Adam and I played it safe to the right (as expected). Hoss (like a bull in a china shop) and Candy went for the shortcut. Young-uns, can't teach them anything! As you pass the dogleg, way in the distance at the far end of the ranch, you'll see our new addition – Northstar Ski Area.
It's been a hoot watching Hoss strap on them boards and barrel down the hill. Of course you all know how Little Joe skis – straight and fast. Adam and me? Well, we sit in the lodge and look for the women-folk. I need to get Adam married and find wife number four for myself! (If you remember your Bonanza trivia, each of Ben's sons had a different mother). Getting back to golf, this is a fun hole. It looks benign from the tee box, but there are a few obstacles along the way that make it the number two handicap hole.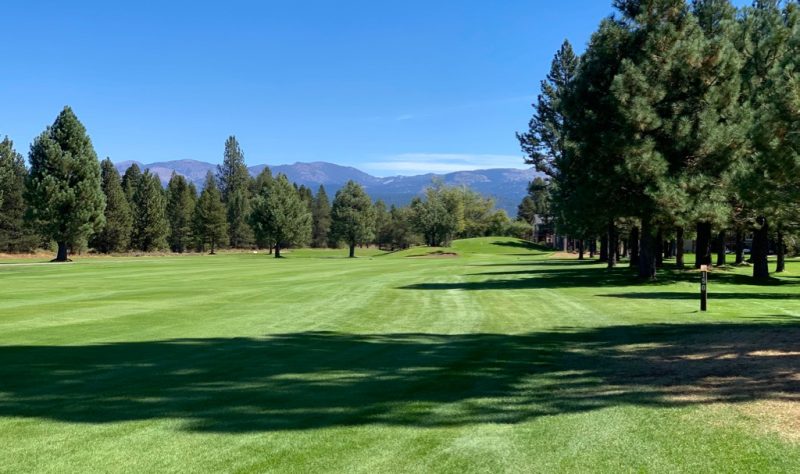 Hole #8 is one of them there scoring holes. At this par 4, I usually shoot birdies, but Hop-Sing wanted me to shoot deer today for supper. I was carefully studying the deer tracks in the left and right bunkers trying to decide which way they went. No birdie or deer at this hole today. I followed the deer tracks to Hole #9. Adam saved the longest hole for the last. I wish I had taken a rental pack mule to carry my clubs. I just didn't want to pay that nickel for one of them dadgum stubborn animals. Adam knows I have a bad slice and all those trees down the right side were a rite intimidating. Blast that Adam, my tee shot landed right at the base of one of those trees. So my advice – play to the left! However, even if you find the fairway as you wander down this par 5, there are two large trees in the middle that you'll need to find a way to squeeze through them. Yessirie, this is the number one handicap hole.
Rating – Birdie:  Just so everyone understands, this is a work of fiction. The Cartwrights were not a real family and Ponderosa Golf Club was not built by Adam (or Dave) and owned by the Cartwright family. However, Ponderosa Golf Course is real and part of the Truckee Donner Recreation and Park District. Just like many of the courses in the area, there are trees in abundance that will keep getting in your way if you don't hit a straight ball. Most of the long holes are straight with the exceptions being numbers seven and nine. The fairways were in excellent shape but the greens, on this day, were very rough. Not much in the way of amenities but if you want a quick round that will offer some challenge, stop by before you explore the rest of the area.
After our round, we visited the charming downtown area in Truckee before heading out to Donner Memorial State Park and Museum. The museum opened in 2015 and features artifacts and stories of the emigrant experience – including that of the Donner Party, the Land of the Washoe, Chinese construction of the railroad and early motoring over Donner Pass.
What a fun day. We were able to golf with the Cartwrights and dine with the Donner Party!
P.S. Hoss's real name is Ed Donner, so we made sure he was always well fed!
10040 Reynold Way, Truckee, CA 96161;  530-587-3501;  www.ponderosagolfcoursetruckee.com