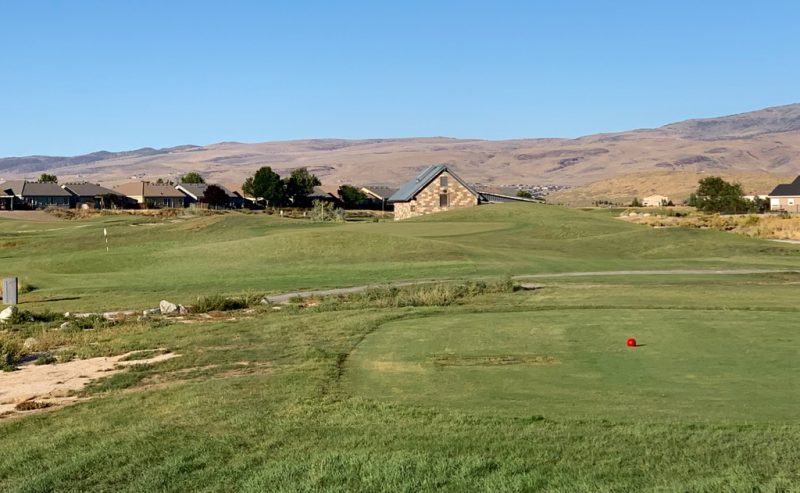 It was perfect! Not the course but the reason we were here. My priors day round was so bad, I needed a place to rediscover my disappearing iron game. I found it at Kiley Ranch.
The course is a 9-hole par 27 course with plenty of water trouble down the left side of Hole #1 through #8. They mix it up a little on Hole #9 as the water is now on the right and behind the green. The distance from the back tees range from 124 yards to 192 yards.
The only obstacles on Holes #1 through #4 are the water on the left and the duck crossing at #2. The greens were in good shape and since this is a par 3 course, you shouldn't care about the shape of the fairways.
After crossing the road and the water, the rest of the course (starting at Hole #5) offers a little more of a challenge. When I say, "a little more challenge", I'm referencing this to the beginner or high-handicap golfer. For the low-handicap golfer, refer to the first paragraph.
Rating – Par:  This course is not for the low-handicap golfer unless there is need for iron game practice. It is for a fun family outing; a place to learn the game; or a spot to unwind with a beer after a long, trying day of work or the gaming tables.
If you are a soccer fan, this course has the only Footgolf course in the Sparks area. So, try your hand (and foot) at 18 holes: 9 golf and 9 footgolf.
5800 Kiley Links Drive, Sparks, NV 89436;  775-354-2100;  www.kileylinks.com