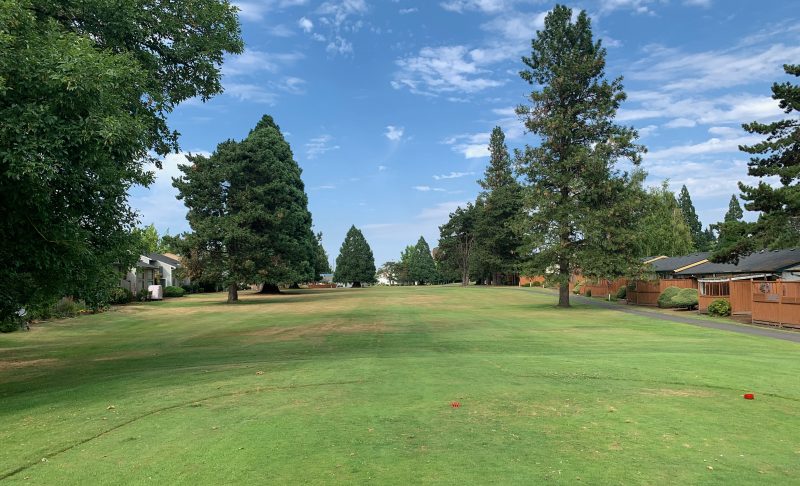 Welcome to the 4th stop on the Oregon/Washington, Always Time for 9/McMenamins, Golf/Beer Trail. We were supposed to play Evergreen GC in Mount Angel, but a men's club outing pushed us to Salem and Meadowlawn Golf Course. Which by the way moved us much closer to the McMenamins Thompson Brewery & Public House. We'll talk golf first, then get to the rest of the day.
Hole #1 has a nice wide-open fairway especially for someone who has not golfed in about 30 years. Mrs. Always Time for 9 hit four good shots on this hole with her new clubs. It makes a difference not playing a set that was made in the 1980's. This dogleg left is a good opening hole to get your round started and the large green is an inviting target for your approach shot. Hole #2 is a par 3 of about 150 yards. A big bunker fronts the right side and a shot way left will be playing from someone's back yard.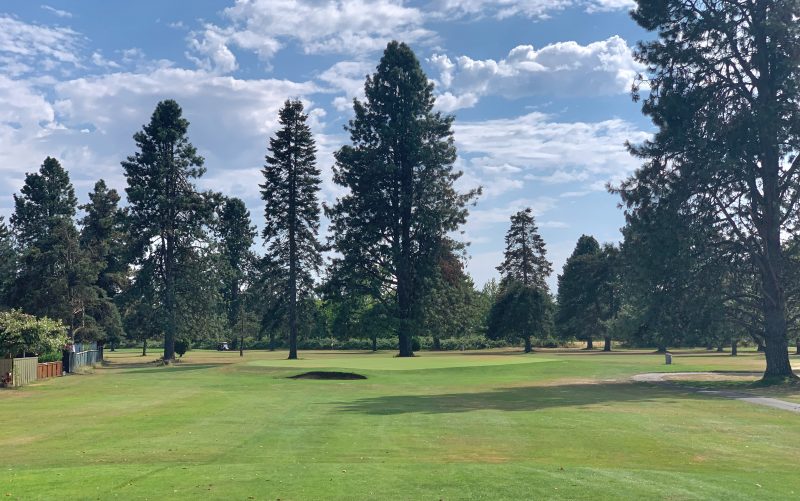 Stop the presses! Karen drives the green at the par 3 third hole from 86 yards and secures her first par in 30 years! Not to be outdone, I was lucky enough to birdie the hole from all of 93 yards out. At least I won't have to hear her talking "smack" the rest of the round. Hole #4 is a straight par 4 of 297 yards with tree trouble down the left side. You find another short par 4 (269 yards/white) at Hole #5 that has a slight bend to the right. As you probably have guessed by now, this is a par 32 course with a distance of 1975 yards from the white tees. It was perfect for getting Karen back on the links.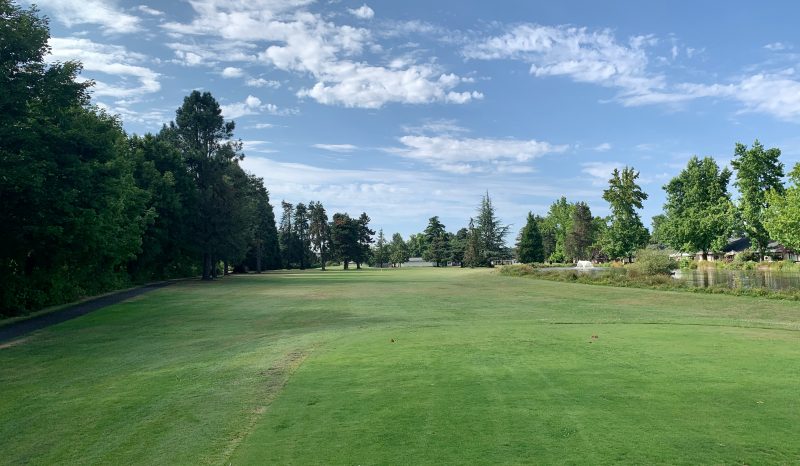 The par 3 sixth hole has some water to the right of the tee box that could come into play for the beginning golfer, but not for my playing partner today. Hole #7 has a dogleg to the left and some very large trees that may block your shots if you try to cut too much off the corner. Since trees consist of 90% air, my second shot made it through them to the green. Sometimes bad shots turn out good. One of my playing partners back home calls it an UBER…ugly but excellent result!
The par 3 eighth hole is 111 yards and has a tricky "crowned" green that will not hold balls that land too close to the edges. Hole #9 is a straight tee shot but the fairway eventually bends some to the right. Trees and houses on both sides can be a little intimidating to the beginning golfer, but Karen hit three shots straight down the middle.
Rating – Par (34 out of 60): The course was in very good shape for the middle of summer. It was not crowded, so it was perfect for Karen's first round in 30 years. The par 32 course of 1759 yards (red) was perfect to get back into the game. The quick round was ideal for us because we had other attractions to explore.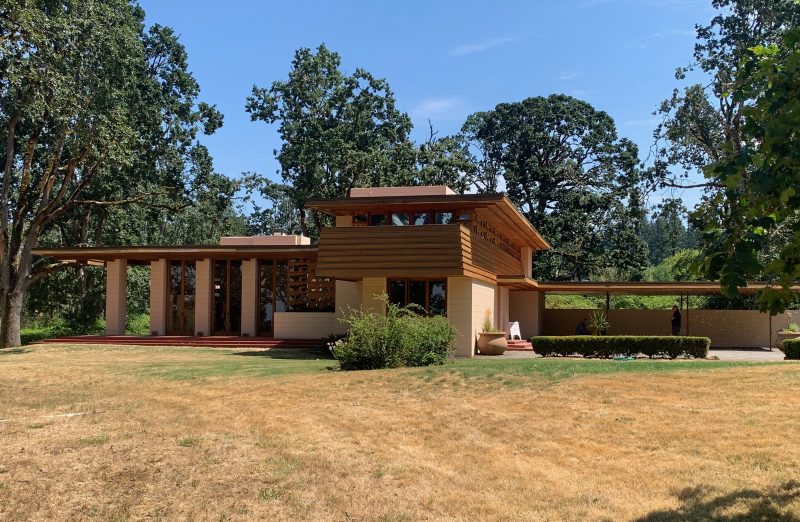 Our day started with a tour of the Gordon House designed by Frank Lloyd Wright in the Oregon Garden in Salem. The style of this house is known as "Usonian". It is characterized by an open floor plan, cantilevered roof, carport, and floor-to-ceiling windows and doors that create continuity between indoors and outdoors.
Our third stop of the day was the McMenamins Thompson Brewery and Public House. As I mentioned earlier, this is our 4th pairing of 9-hole golf courses and McMenamins Pubs. Their brochure states, "the house was originally inhabited by Franklin and Maria Thompson. It transformed from an early home to a pre-school, and from quiet family gatherings to folk dancing at a Bavarian restaurant. Please visit our first three Always Time for 9/McMenamins Golf/Beer Trail visits in Bend, OR (Old Back Nine); Gearhart, OR (Gearhart Golf Links); and Vancouver, WA (Fairway Village Golf Club).
3898 Meadowlawn Loop S.E., Salem, OR 97317; 503-363-7391;  www.meadowlawngolf.net