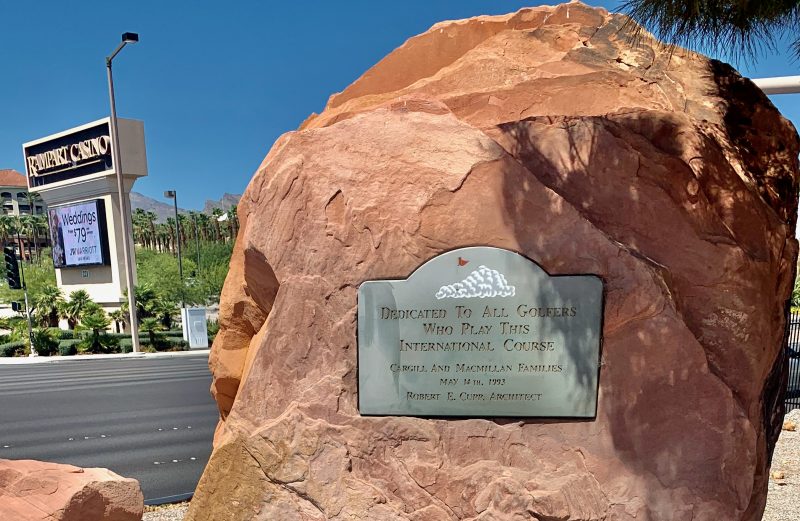 We could not travel to Scotland in 2020. We didn't (couldn't) travel to Scotland in 2021. We decided to travel to Las Vegas and bring the United Kingdom to us. Say what? During 2021 we visited St. Andrews, East Sussex National, Muirfield, Royal Troon, North Berwick and Mad River in Canada and didn't need to renew our passports. Again, say what?
The Cloud 9 course at Angel Park Golf Club was designed by Bob Cupp to give the cash-strapped golfer a chance to experience many of the shot concepts of the most celebrated par 3 holes in the world of golf. Let's start that journey!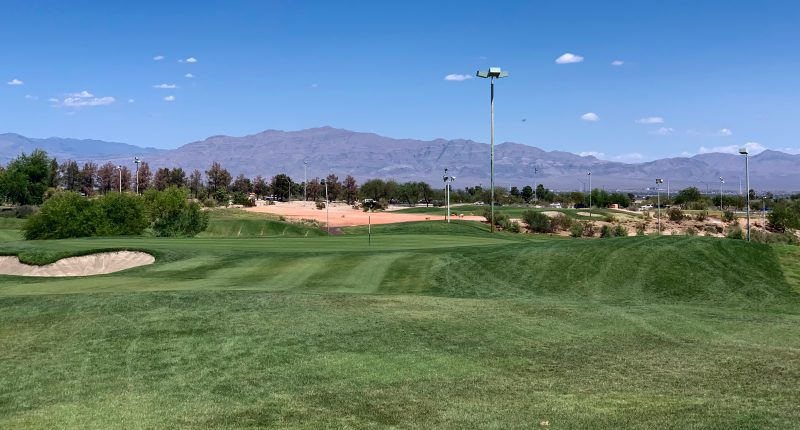 Hole #1 – "The Double Green" at St. Andrews. It was playing 71 yards today and a little tricky having a finesse shot to open the day. We both powered our shots over the green. Hole #2 – The Valley of Sin at #18 St. Andrews. Your ball needs to clear the valley, so long is better than short, but that is no bargain either. The undulating green makes this a difficult hole. On the first two holes Rampart Blvd. borders the left side, so any hooked shots could result in a broken car window.
Hole #3 – #16 at East Sussex National. There is a waste bunker in the fairway that spans the entire width of the fairway. Of course that should not even come into play on this 146 yard hole.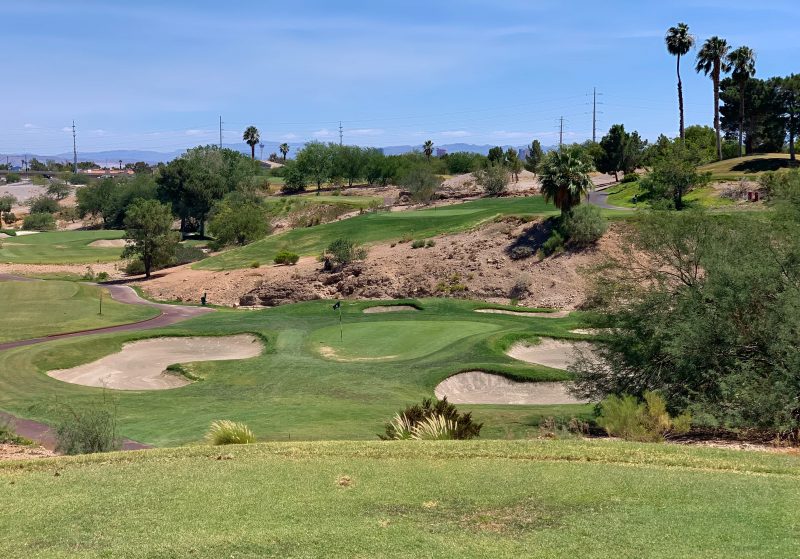 Hole #4 – Monterey Peninsula. It's 91 yards from an elevated tee box to a tiny green. Bunkers surround this green left, right, and behind. Hole #5 – Pinehurst Area. Since I have never played in the Pinehurst area, I have no idea how this 127 yard hole compares to anything in North Carolina. It's just another par 3 surrounded by bunkers. Maybe there are just a few sand areas at Pinehurst?
Hole #6 – #13 at Muirfield. If you decide to walk the course there is an uphill grade to get to this hole. So just be aware it could present some issues for the walking-challenged golfer. This is a fun hole because if you don't find the green with your tee shot, bogey or worse is probably going to be the result. Any shot to the right will find your ball tumbling down the hill into the next county. The bunkers to the left will present a difficult shot, and if it is "skulled" you will again find yourself down the hill into the next county. Have fun!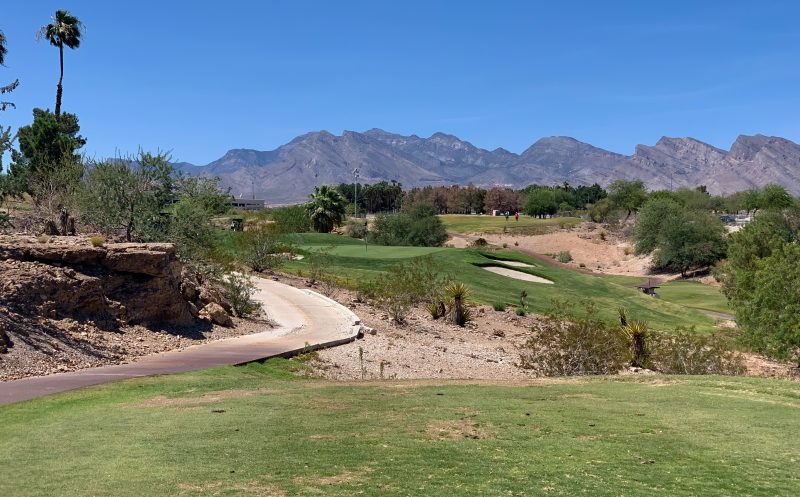 Hole #7 – The Postage Stamp #8 at Royal Troon. A precise shot is necessary to hold this small green that sits 85 yards away. Hole #8 – #7 at Mad River. A tee shot of 126 yards that needs to go up and over a raised waste area with the green partially hidden from view. Mad River is another Cupp design located in Canada. Hole #9 – #3 at Emerald Bay. The only trouble at this hole today was a few bunkers and a "two-club" wind that was blowing in our face. Another uphill hole that requires a little effort for us old folks to reach the green.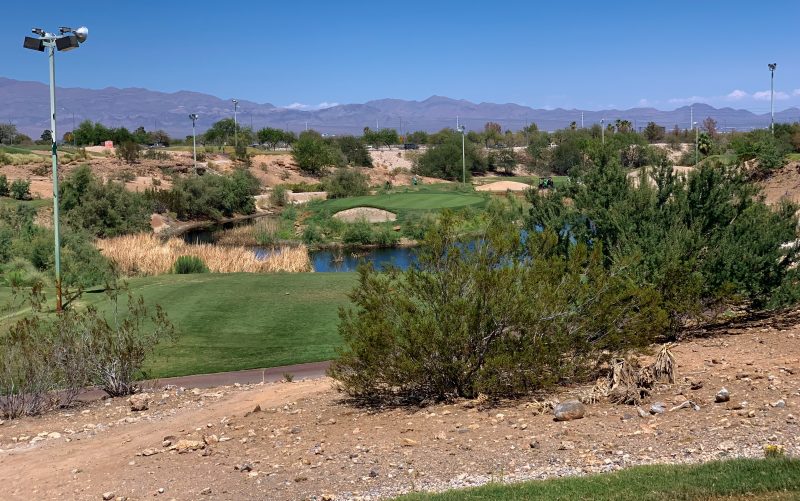 Hole #10 – Island Green #17 at TPC Sawgrass. Where the tee markers were today we needed to clear a bush; carry the water; carry the front bunker; and not miss short, right, left, or long. I believe this replica is harder than the original! Hole #11 – #6 at Riviera. There is a big bunker fronting the green and yes, a deep bunker in the middle of the green. Luckily both of us landed on the green and on the correct side so we didn't have to use a wedge on the green. The course greenskeeper was saved from any damage done by this twosome! Hole #12 – Redan #15 at North Berwick, Scotland. Get your sand wedge ready as there are huge bunkers surrounding this green.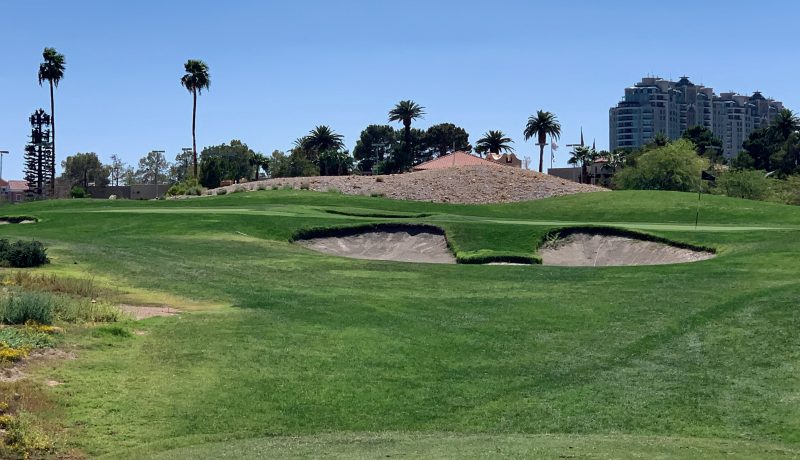 Rating – Ace (50 out of 60): This is a fun par 3 course with a variety of hole lengths and configurations. I'd like to see more courses construct par 3s like these with a little bit of "teeth" to them. The greens were not in great shape but being August in the desert with lack of water you can understand. The pace of play was quick and this is a great place to work on your iron game. If you play during the day there are 12 holes; if you play at night under the lights there are 9 holes. The Cloud 9 gives you a nice respite from those cold casinos and gets you out in the nice hot, fresh summer air. There are also two 18-hole courses at the facility: the mountain and palm courses. A 9-hole putting course, complete with rough and bunkers, is a fun small track to place wagers on who is the best putter (especially after a trip to the 19th hole!).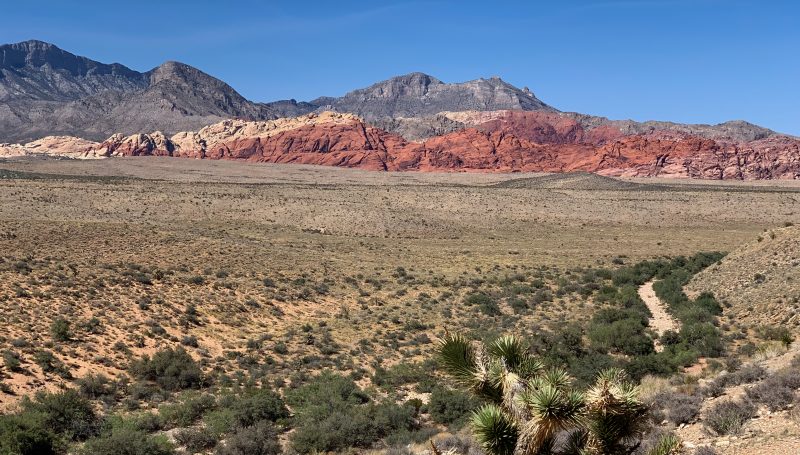 Besides the obvious things to do in Las Vegas, a drive outside the craziness and a scenic drive/walk at Red Rock Canyon is worth the short trip.
100 South Rampart Blvd., Las Vegas, NV 89145;  702-254-4653;  www.angelpark.com