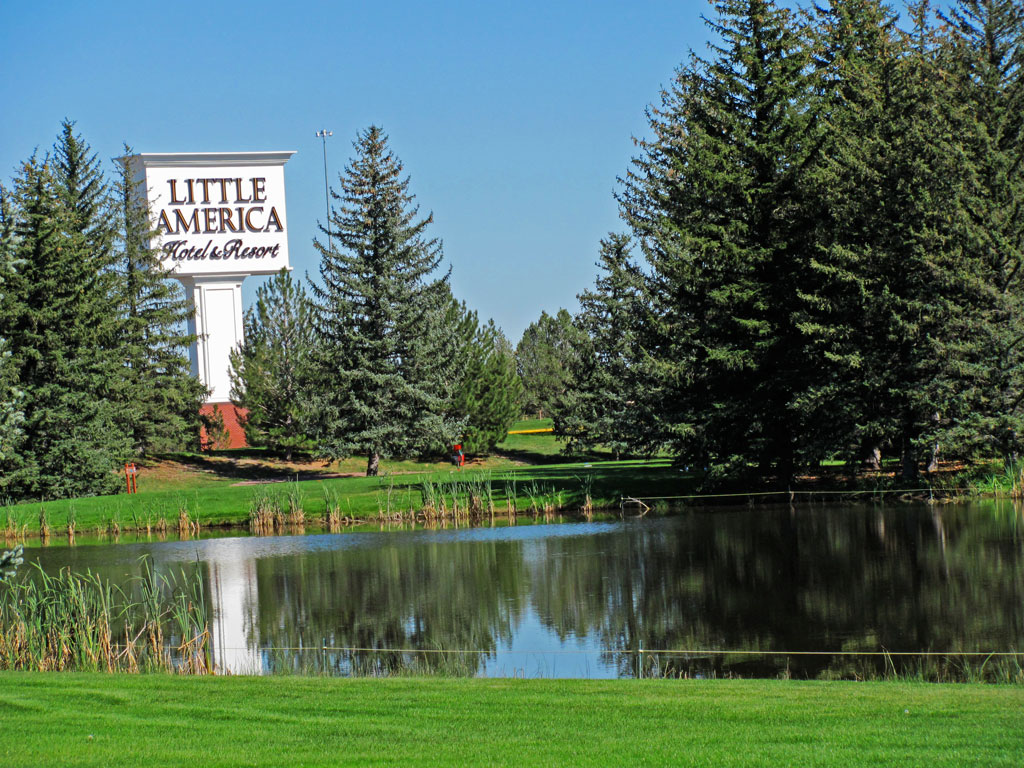 The billboard signs read: 50 cent cones; Stay and Play; There Yet?; Kids Eat Free; (Handsome) Mechanic on Duty 24hrs; Suite Dreams; Almost There; Refresh and Refuel; A Putt Above; and Finally There. So where is there?
Little America Resort and Golf.
This par 30, executive nine starts with a blind tee shot and a lovely view of trucks barreling down I-80. Keep your tee shot down the right side for the best approach to the green. Beware of the water at the bottom of the hill. A cobblestone cart path leads you to the par 3 second, that will require a precise shot to clear the water and land softly on a small green.
The well-groomed, well-maintained, tree-lined course has enough hazards to keep this short track interesting for all levels of player. It is an oasis of trees in the vast wind-swept plains of Wyoming. The par three's range from 138 to 180 yards; the par four's from a driveable 257 to 355 yards. All holes are straight except for the first and sixth which are doglegs left. However, most of Ed's and my drives were not straight, so those trees caused issues with our errant tee shots.
Even though the course circles the resort, it has a secluded feel because all the trees block the activities around the hotel. Besides the golf course, the facility features: 188 rooms, an olympic size swimming pool, kids playground, convention facility, travel center and restaurant. It is an ideal destination for the I-80 traveler. Oh by the way, I never did see that handsome mechanic from the billboard.
For those of you who remember the Burma Shave billboard signs from a bygone era, the aforementioned Little America signs are also starting to disappear. Good news is the signs are taking on a little different look.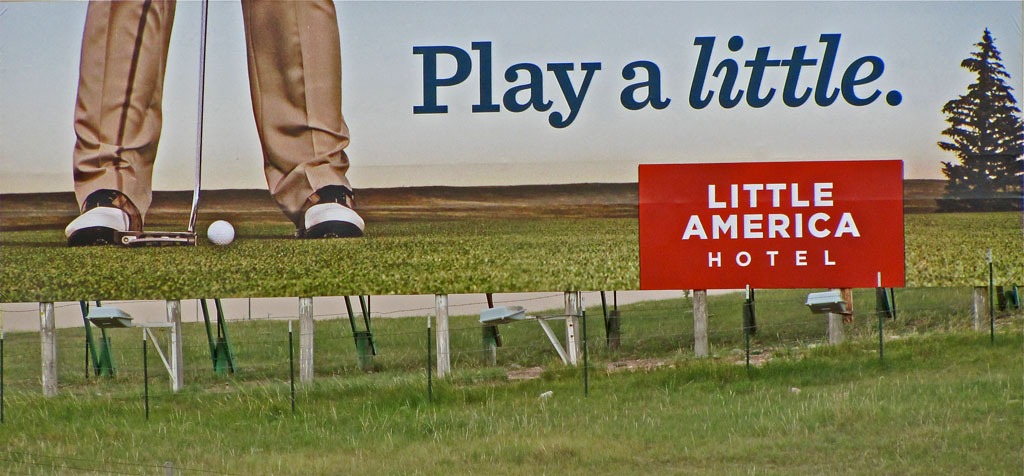 Birdie:  A beautiful course that is ideally suited for the semi-driver who is carrying his clubs and wants to get in a quick round. Pair a Saturday round with the incredible Sunday brunch for a fun weekend experience. If you are in Cheyenne during the end of July, Cheyenne Frontier Days is a don't miss venue.
2800 W. Lincolnway, Cheyenne, WY 82001;  307-775-8425;  www.littleamerica.com/cheyenne