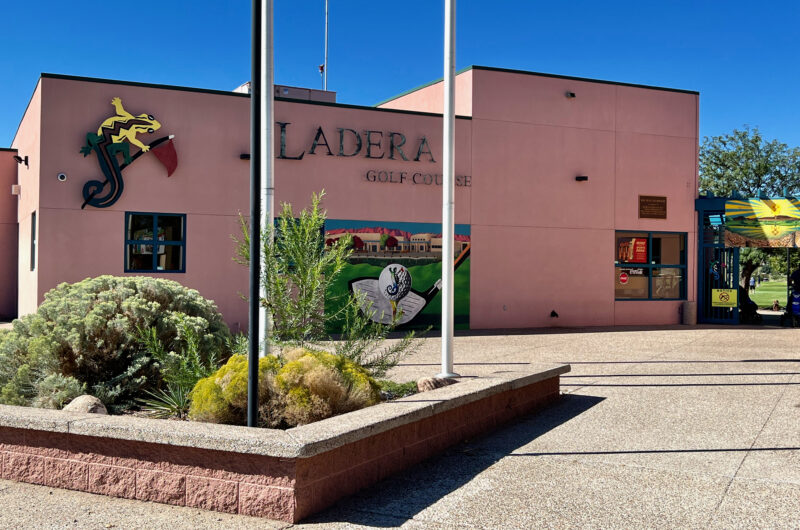 It felt like we were in an episode of Seinfeld. We were joined by the Costanza twosome at the Ladera Golf Course executive 9. I inquired if they were Frank and Estelle. How many times do you think they have been asked that stupid question? We tee'd it up and after three bad shots to start my round the only way to keep my blood pressure under control was to scream, "serenity now, serenity now"!
As you begin your round at this par 31 course, you have a choice of either the white or red tee box. Karen and Estelle (I will call her this to protect her true identity) chose the red tees (1852 yards), while Frank (again to protect his identity) and I chose to play from the tips (2053 yards). Hole #1 is one of two par 4s and is wide open down this initial fairway. Of course you actually hit the ball to find said fairway! We thought it was going to be a long day as one of the twosome in front of us took two swings and two misses to start his round. His playing partner said, we'll just play my ball for the remainder of the round. They did, and our day moved swiftly along. You'll find a large green just off to the left, and by the time I arrived my score was a six. Serenity Now!!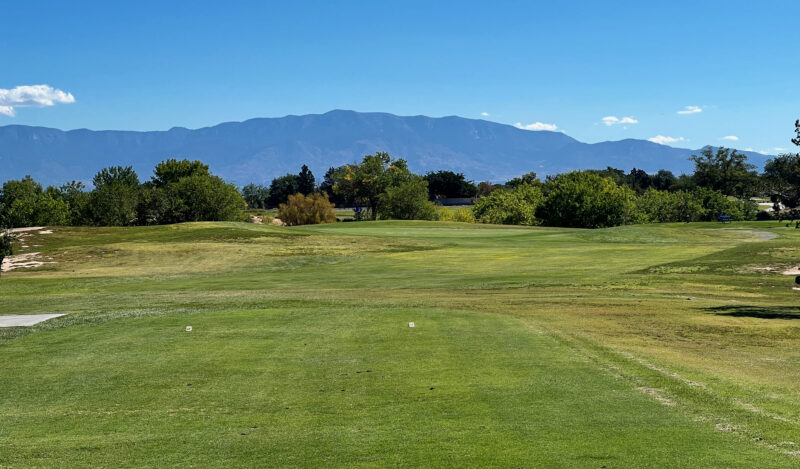 The scorecard reads 138 yards at the par 3 second hole, but today it was measuring about 170. Nice hole with a view of the Sandia Mountains in the background. A great variety of holes to start the round. A par 4, then 3, and now at Hole #3 a five. As you work your way through the fairway it is paramount that you stay down the right side. Sandy waste areas and trees will cause big headaches to the left.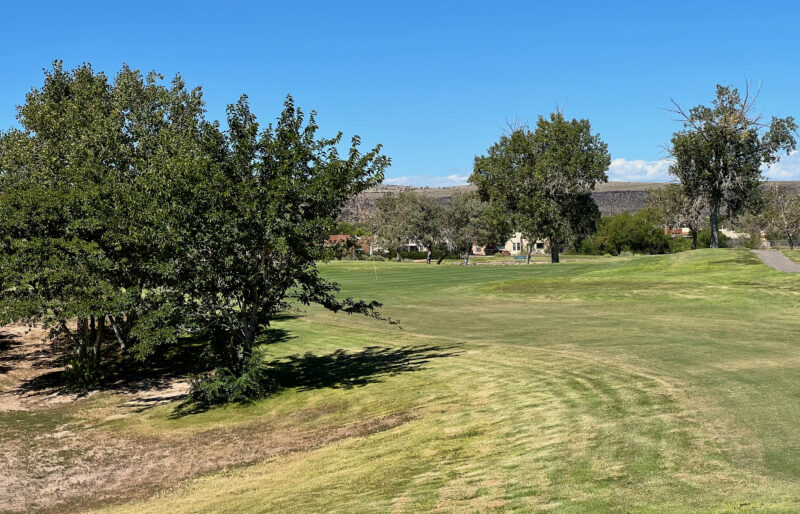 Hole #4 is a little funky as you need to hit over a tree (depending on pin placement) at this 120 yard par 3. I yanked my tee shot well to the left but still found the edge of this immense green. Hole #5 is a par 3 and was playing about 145 yards today. "Frank" pointed out that the grassy depressions around the green used to be filled with sand. Budget and personnel issues have rendered these hazards non-existent.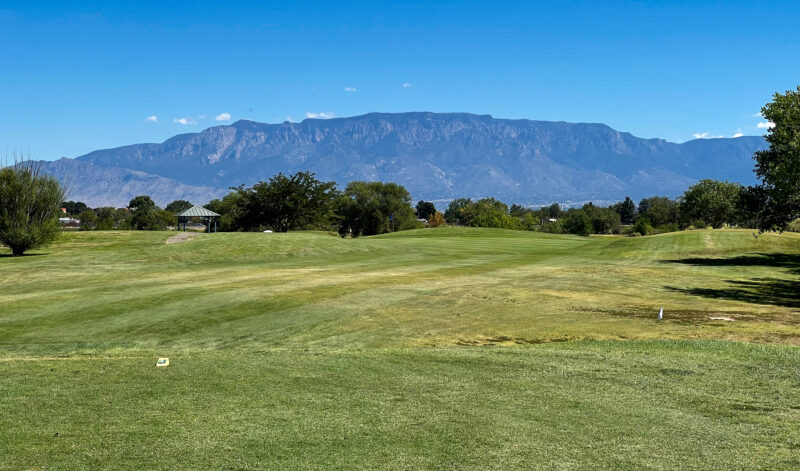 Hole #6 is a par 3 of 148 yards; Hole #7 is a par 3 of 188 yards. If my math is correct, that's a 40 yard difference. At the sixth hole I pulled my 190 yard hybrid and watched my shot carry into the next county. Oops – I was looking at the distance for hole number seven.  As my grandfather used to say, "what a dunderhead!". At least I knew what club to hit at number seven! Ah, just in time. For all of us bathroom-challenged seniors, the porta potty at six was a welcome sight.
Hole #8 is the second par 4. If you have a beautiful fade this dogleg right might be the perfect hole for you. However, the big banana slice will find vast sandy area. The tee shot at the finishing par 3 needs to get airborne or you will find a nasty ravine. This hole along with many of the others, offers an excellent view of the Sandia Mountains.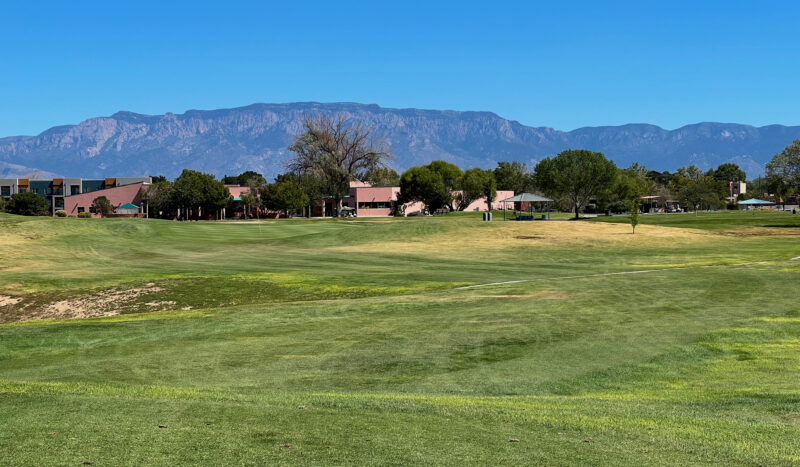 Rating – Birdie (41 out of 60): The course is fairly wide open with few hazards. Perfect for the high-handicap golfer and for work on your iron game. The greens are large and the condition of the course was excellent. Besides the executive course, there is an 18-hole Championship course. The 19th hole is excellent and serves up one of the best green chile cheese burgers in the area. Please be sure to order the green chile or The Burger Nazi might respond, no burger for you!
2022 Update: After a late season round, there was no Festivus Pole to be found!
3401 Ladera Drive Northwest, Albuquerque, NM 87120;  505-836-4449;
www.ladera-golf-course.business.site