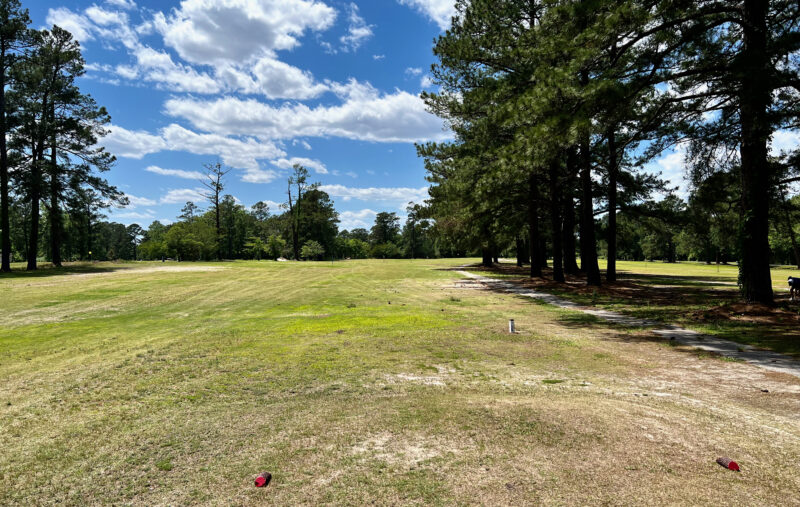 As we travel the back roads of North Carolina, Karen is doing her best Linda Blair impression as she scans the horizon looking for Barney Fife. You see, we are trying to keep one step ahead of the law. We have now been in the state for only 104 days and have already committed two Division of Motor Vehicle violations. We realize we are taking a big chance as we could be sharing a cell with Otis, but it is important that we change the map color of North Carolina on our Always Time for 9 website from gray to green. We are driving two and a half hours for a couple of reasons, but the most important is to play our first 9-hole course in North Carolina.
The first part of the journey was successful as we avoided a possible confrontation with the state police from Mount Pilot and entered the parking lot of Vineland Golf Course in Whiteville. As we entered the clubhouse, we received a warm welcome from Ben, one of the course owners, and were able to immediately proceed to the first tee. After placing our clubs on the cart we took a crape myrtle lined path to Hole #1. This reminded me of driving down Magnolia Lane at Augusta, but not so much for Mrs. Always Time for 9! We wisely used our senior status and played from the silver/black tees today. This 289 yard par 4 did not set up very kindly for my draw since a tree branch blocked a straight shot toward the green that is situated to the right. Of course I will take my current ball flight (slight draw) to my old banana slice.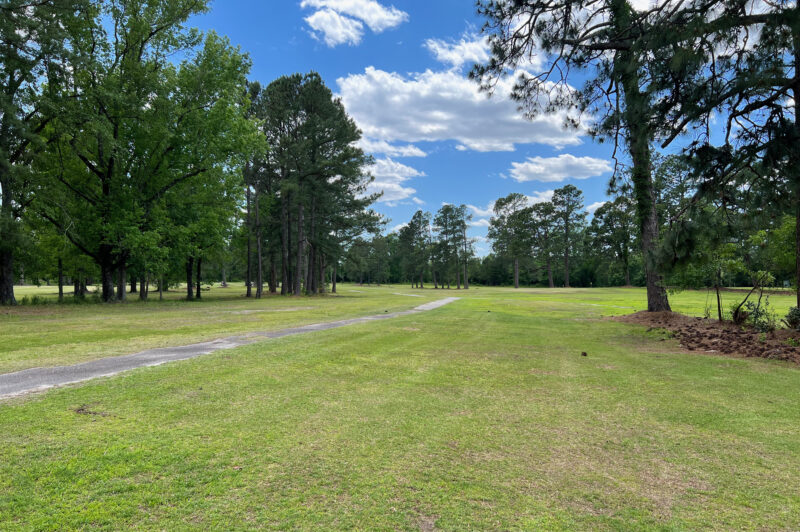 Playing from the silver tees at Hole #2, there is a dogleg to the left. Luckily the draw worked to perfection since a straight shot could push your drive through the fairway on this par 4. The tee shot at Hole #3 has a good size landing area, but the trees that line both sides of this hole start to intrude around the green, so a precise approach shot is necessary. The par 3 fourth hole is 159 yards with bunkers guarding both sides.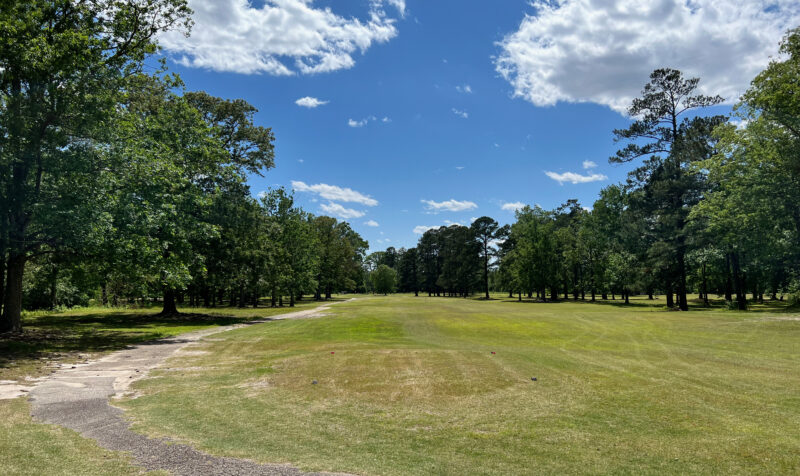 Hole #5 is a par 4 of 323 yards and is the number one handicap hole. The fairway is tree-lined but generous with a green that is angled to the left. There are many trees on the course; however, if you end up playing through them you can escape with few issues. Hole #6 is another straight tree-lined hole; however, on this hole if you hit into the trees to the left you will have issues! Very similar to hole #3, as you approach the green sand and trees may cause concerns along with a tricky green.
Fore, left!!! Any wild shot at Hole #7 will end up in the 8th fairway. If you happen to hit it straight and avoid the two bunkers it is definitely a scoring hole. Hole #8 is a par 3 of 116 yards with a pond to carry and two bunkers to avoid. Speaking of bunkers, they must have been besieged with rain lately because the bunkers were hard as concrete. My iron accuracy at both these holes was a little erratic, and I found sand at both #7 and #8. Not wanting to hurt myself or my clubs hitting from theses bunkers, I decided to putt from both and successfully achieved my pars on both holes. Ah, course management at its finest!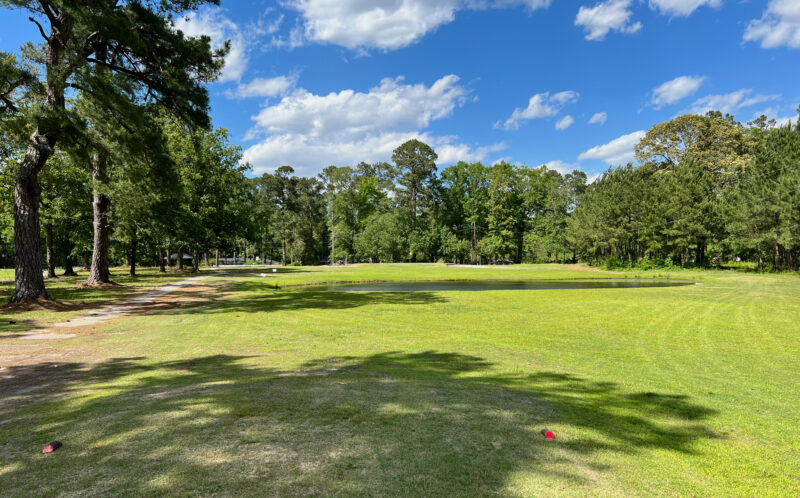 At the closing ninth hole timing is important. This par 5 of 423 yards is tree-lined; however, any hooked shot to the left may find your ball ricocheting off cars as they travel the road beyond those trees. So as you navigate this course your big banana slice may create fewer issues on this track. Who thought that ball flight would be a better option?
Rating – Par (36 out of 60):  The course, formerly known as Whiteville Country Club, was purchased in 2022 by six local investors and they are making it a community destination with other amenities besides golf. The course is open to the public and we paid $15 for the round including cart. For the most part the course was in good shape. The fairways were sparse in spots, but the greens were running smooth. The bunkers and cart path were in need of some tender-loving care. There are plenty of tee boxes that will create a different look if you play 18 and allow all level of players to choose the correct teeing area for their handicap.
The second reason for this trip (even at the risk of being fined or arrested), was to try to finally secure our North Carolina drivers license. If you have ever tried this, you know it is impossible to accomplish this within the required 60 days. Plus both of our vehicle plates had expired, but before you can get new plates you need a NC drivers license. Ah, a Catch-22! We successfully avoided Andy and Barney during the drive home and can now proudly display all the correct North Carolina DMV required paperwork. I think we'll stay here for awhile.
2333 James B White Highway North, Whiteville, NC 28472;  910-642-3623;  www.vinelandgolfcourse.com