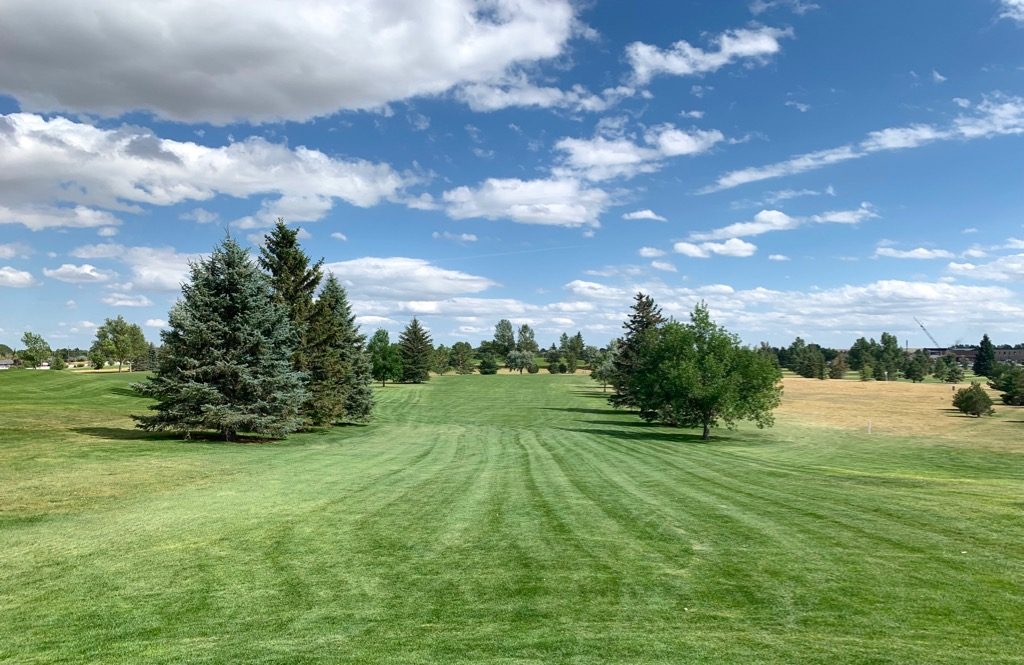 What the heck is going on??? Why can't I play this game anymore??? I blew into Cheyenne, WY with my game in excellent shape. I left town with my tail between my legs, searching for answers. The more I thought about my swing, the worse it got. Sound familiar?
The wind kicked up as we stepped out of the car (remember, this is Wyoming), but as I addressed my ball a calm settled over the course. I hit a decent shot down the middle of the wide fairway at Hole #1. This straight, tree-lined hole is an easy start to the day. I must have been lulled into another state of being because starting at the second hole, my golf game went to crap! This par 5 of 505 yards is all uphill. Your 1st, 2nd, and possibly your 3rd shots are all blind. After a not-so-good drive, I proceeded to top two 5-wood shots. This is (was) my go-to club that I have been hitting extremely well. So, what happened between yesterday and today? Somebody please help me! The green is large, quick, and slopes back to front, so it's better to be short of the green. No problem here, I still haven't gotten to the green.
Another blind shot at Hole #3, but over the crest of the hill, the large green is straight ahead. Don't wait for me, I'll be along soon. I can probably hit my putter farther than I am hitting my 5-wood! Hole #4 is a significant uphill par 3. Playing into the wind today, I hit one of my hybrids. I came up well short – I should have hit my driver. No way I was hitting that 5-wood! Hole #5 is a par 4, dogleg left with a tree in the middle of the fairway causing an issue. If you hit it over the tree (which I did), you can drive it through the fairway (which I did), but at least you have a better angle to the green. The putting surface is long, narrow and elevated. Even for me today, it was a fun hole to play.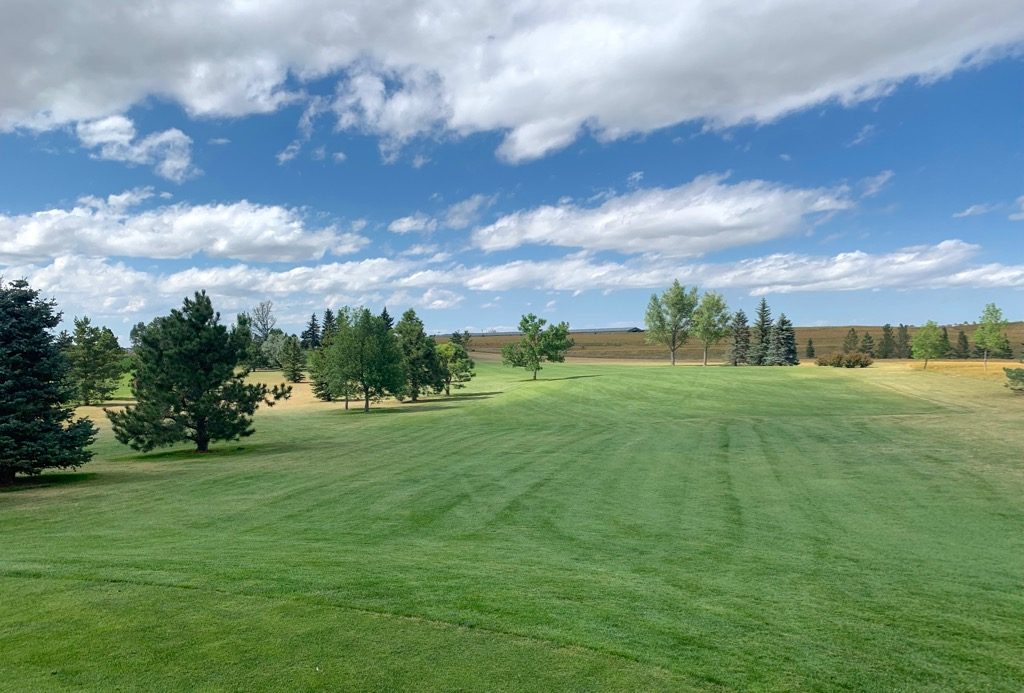 Okay, please go to the top of the page and closely study the photo of Hole #6 and let me know if it is time to give me a little closer supervision when I am out playing. I could be a danger to myself. I must have been in a complete fog and in deep thought trying to figure out my golf swing. This is a huge dogleg to the right with O.B. to the right. I hit my drive down the right side in the O.B. golden grass. Part of the issue was that Mrs. Always Time for 9 read the scorecard wrong and thought it was a dogleg left. When we reached my ball, we weren't even sure where the fairway was located. Looking at the photo, it's fairly obvious. We just picked up my ball and tried to find the single golfer in the red shirt who was playing in front of us. Anyone seen him?
Finally, back to reality! Karen said, "stop thinking and just hit the ball"! Hmm, why didn't I think of that. Hole #7 has a wide fairway with a slight dogleg left at the end which opens to an elevated green. Wow, I actually hit two good shots and two-putted for par. Amazing how no swing thoughts can improve your game. Thank you, Karen! The par 3 eighth hole is slightly downhill and free of any hazards. Just don't hit it long or you could bean the group standing on the #9 tee box which is located right behind the green. No I didn't hit them, remember my game returned because of my swing coach.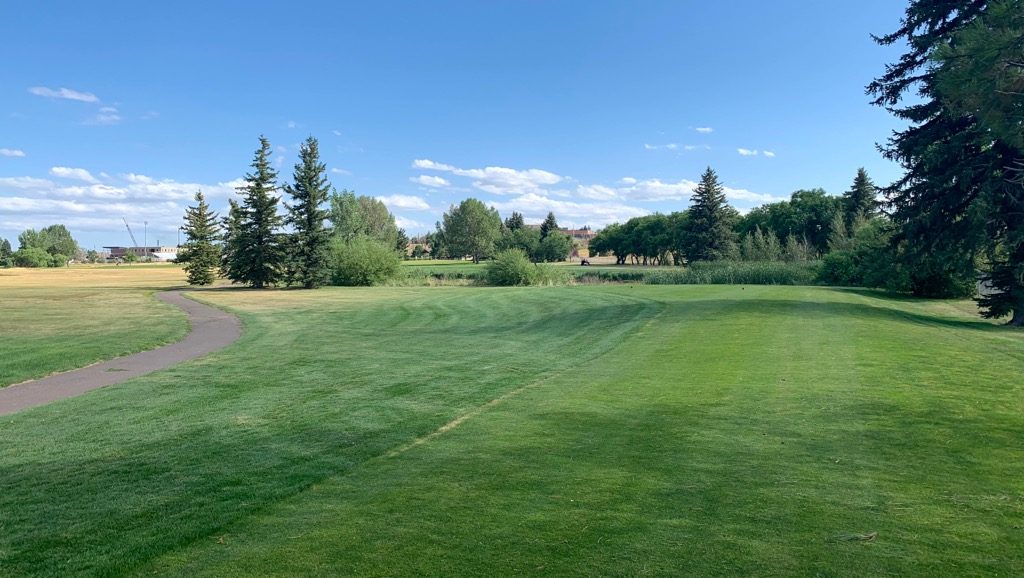 At Hole #9 you must carry the pond and shrubs that span the fairway just off the teeing area; turn your ball slightly left; and then safely find the green that is flanked by two large trees. If you can successfully accomplish all three, there is a good chance for birdie or even eagle at this driveable 284 yard par 4.
Rating – Birdie: What you find at Prairie View Golf Course are wide fairways, large greens , and a swing coach. I had game for one hole, completely lost it for five holes, and thanks to my caddie, found it again on the last three. What you won't find is sand, slow play, a course in poor condition, and a new swing coach for hire. It's easy to find right off I-80, so if you need to get out and stretch after a long day on the road, what better way than a quick 9-hole round. If you are in town in July during Cheyenne Frontier Days, this might be a good respite from all the riding, roping, and racing. You are now in the Wild West, partner, so you might even see some golfers wearing their best cowboy boots and hats as they work their way around the course between bull-riding events.
3600 Windmill Road, Cheyenne, WY 82001; 307-637-6420; www.airportgolfclub.com