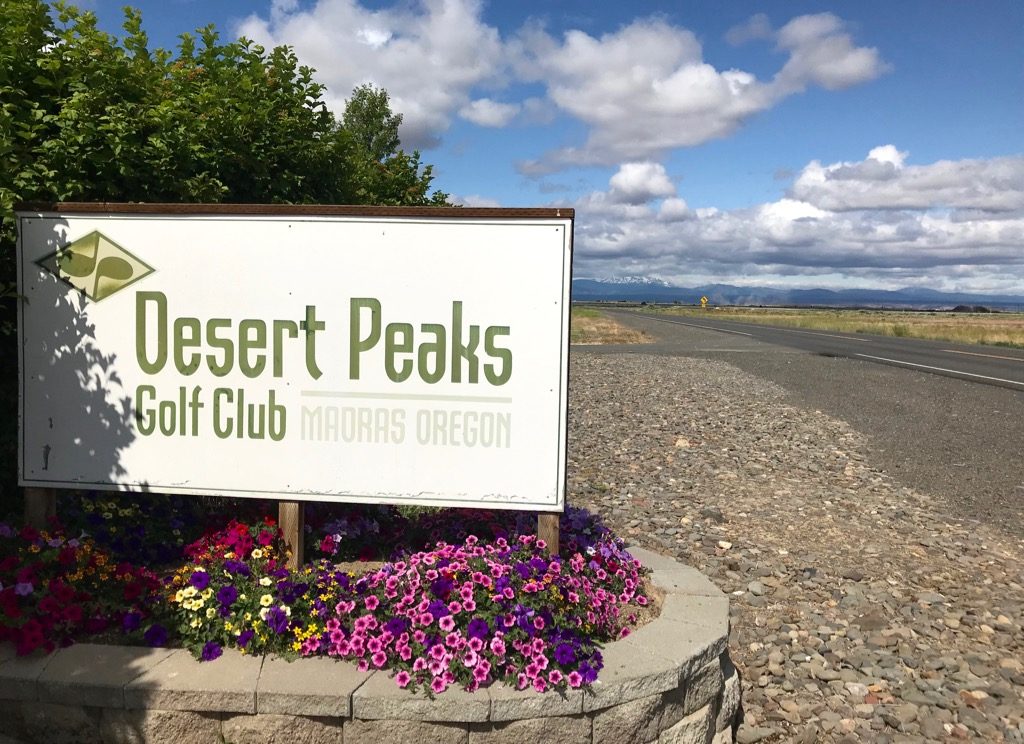 So where is it? We couldn't find it. In a town named Madras, there had to be a store called, "All Things Madras". During my teenage years in the 1960's, madras was "in". I had madras shorts, shirts, and even a madras sport coat. No luck in town, so it's off to Desert Peaks Golf Club. Maybe I can find a nice madras golf hat at the course.
Our GPS guided us to an industrial building that was guarded by high fences and barbed wire. This did not look very much like a golf clubhouse. We wandered a little farther down the road and accidentally stumbled upon our destination – Desert Peaks Golf Club. We knew we had arrived when we spotted the Budweiser beer truck unloading his precious cargo for the day.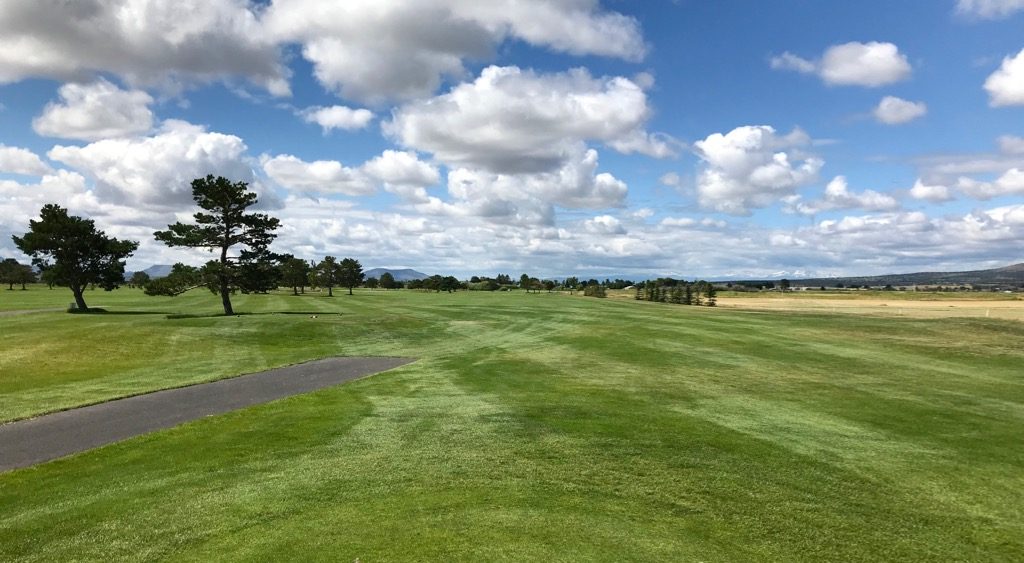 I don't think I have ever seen a fairway as wide as the one at Hole #1. Even if you have a terrible slice or a duck hook, you should be able to find the fairway – it's that large. The surrounding area had transformed from an industrial park to a peaceful rural setting. A farmer working his field to the right waved as we walked by. As you get closer to the green at this par 4, there is water (if full) to the left of the putting surface. Walking down the fairway of Hole #2, we were stuck by the open, quiet, serenity of the first two holes. Another wide-open fairway greeted my tee shot, large billowy clouds filling the beautiful central Oregon sky, and with no golfers behind us, we were able to take in the views of Mount Washington and Mount Hood in the distance. All of this must have been a distraction as I started bogey, bogey.
Have I mentioned these fairways are "ginourmus"? Hole #3 is no different. It's a par 4 of 383 yards with a slight dogleg right, a large fairway, a large green, and my third consecutive bogey. The only thing different about Hole #4 is it's a slight dogleg left. The rest is the same including my fourth straight bogey. I may have been lulled into a state of tranquility as I tee'd up at Hole #5. I was about ready to smash another long drive down…wait for it…another wide fairway, when Karen yelled at me and broke my "zen-like" spell. In my bogey-induced trance, I had tee'd up at hole #3 again. In my defense, it is a little tricky getting around that area.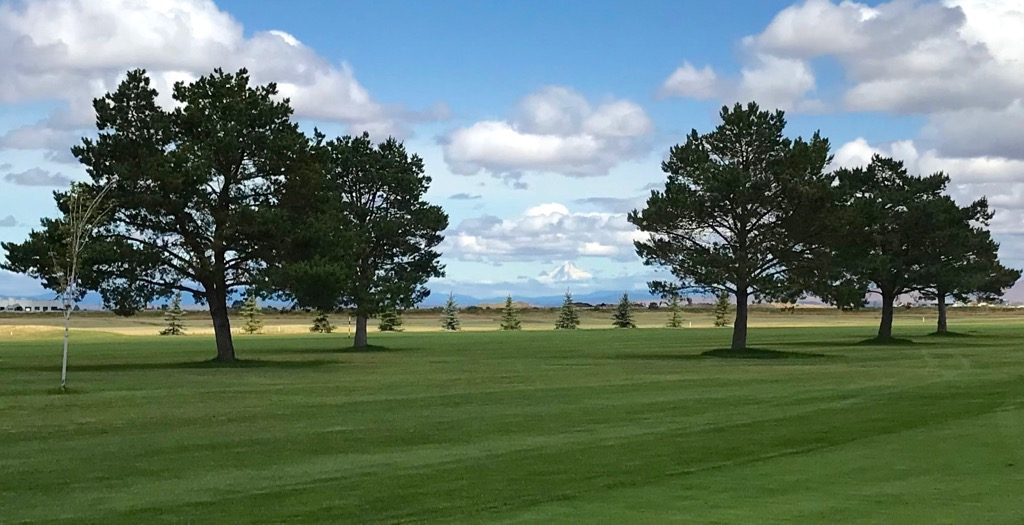 Strange leaning trees dot the right side of the fairway and I found the only one that could block my way to the green. Trouble awaits for any wayward shot to the right of the green. I can't catch a break as I record my fifth straight bogey. Take the time to embrace the nice view of Mount Hood in the distance. We now move from the peaceful, serene part of the course to Hole #6 which borders the industrial park. Take the time to stop and smell the…diesel fuel at this par 3. It's not really that bad unless you hook your tee shot out-of-bounds.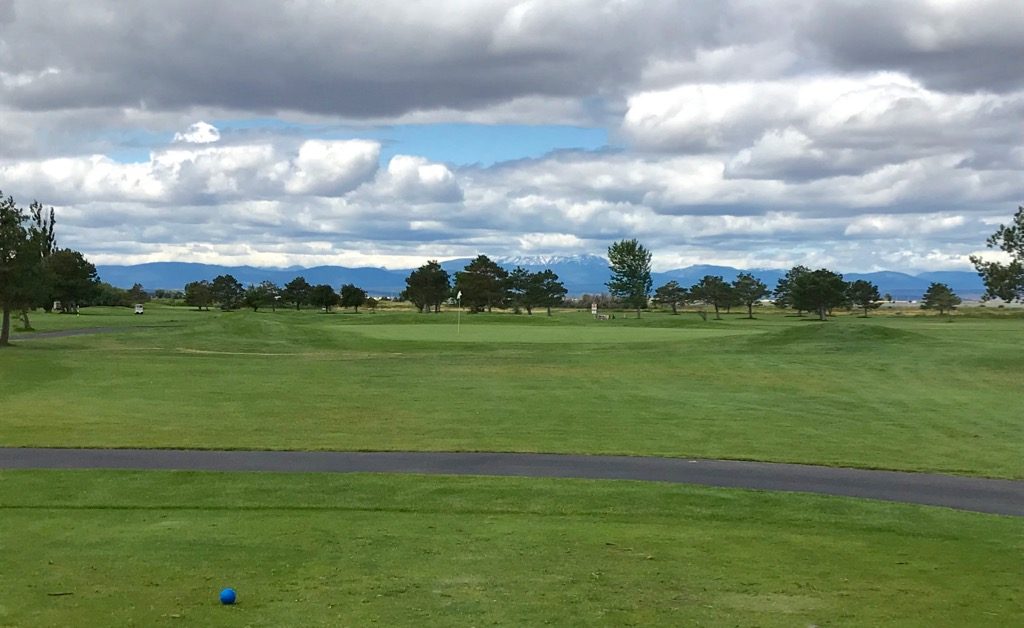 Hole #7 is more of the same -straight, wide-open, and another bogey! Hole #8 is very short (90 yards – white) with a nice view of the mountains in the background. and my score…wait for it…not a bogey but my first par of the day. They save the number one handicap for the final hole of the day. A long par 5 of 560 yards where I kept hitting it down the fairway until my ball finally found the bottom of the cup for my eighth and last bogey of the day.
Rating – Birdie: It was a bogey kind of day for me but a birdie for Desert Peaks Golf club. The course was in excellent condition. The fairways and greens were in great shape. A big "shout-out" to the maintenance staff! The course is an excellent choice for the novice golfer because it is wide-open and has very few hazards. It was a challenge for me today because I can't putt!!! The staff was very friendly and took the time to tell us about the course and the surrounding area. Thank you!!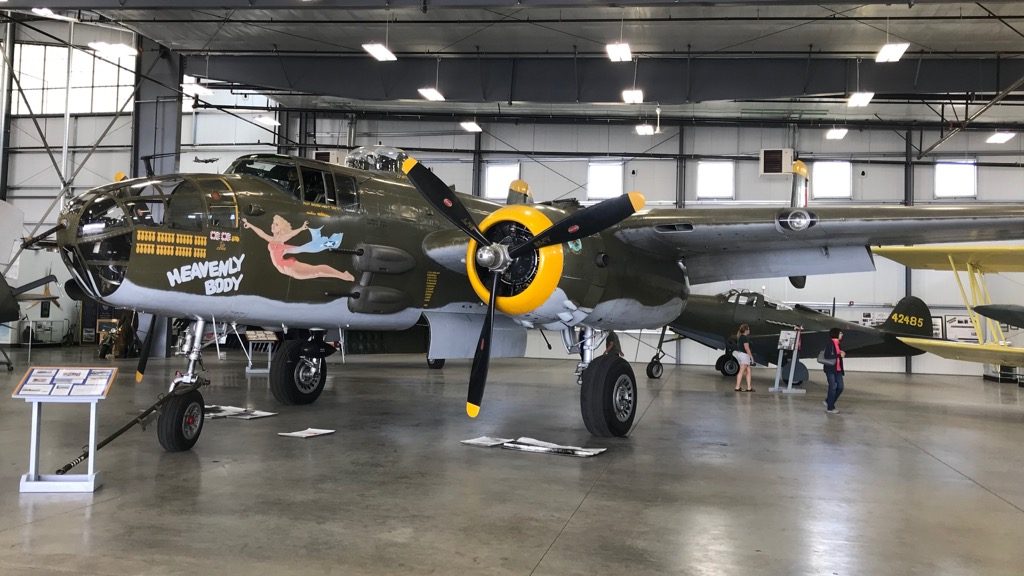 Our afternoon was spent visiting the Erickson Aircraft Collection. This vintage aircraft museum was started by Jack Erickson in 1983. The airplanes were special to me because my father worked as a mechanic on B24's in Italy during WWII. The collection includes: P-38 Lightning, P-51 Mustang, B-17 Flying Fortress, B-25 Mitchell and many more that are still in flying condition.
565 NW Adler, Madras, OR 97741; 541-475-6368; www.desertpeaksgolf.com