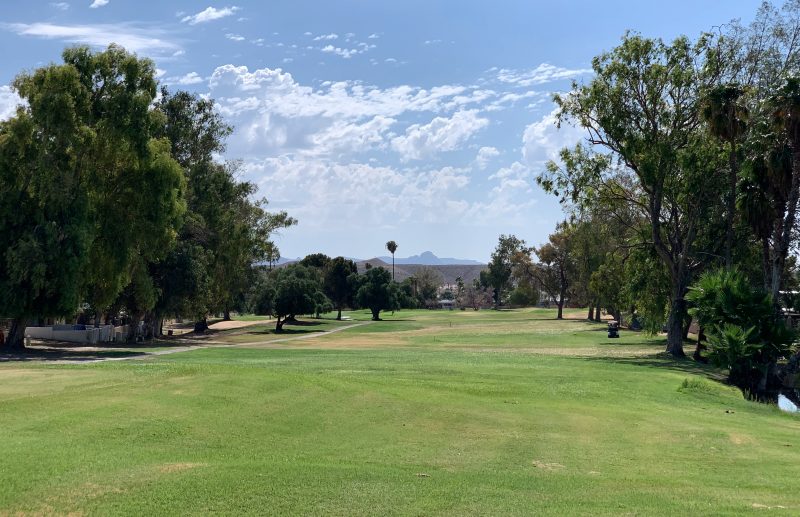 The Once and Future Golf Course! If you look beyond the current course condition, there is the makings of a nice layout. There are indications of a better course from the past, and today there was a lot of work being done, which I hope means a better future.
The cover shot of their scorecard is Hole #1. The only similarities are that it is a par 4; it's 301 yards; and there is still a pond to the right of the tee box. It is late summer, so I understand the fairways are bleached blonde due to lack of water. However, there are just too many spots that are baked bare by the sun and heat. Maybe they come back in the winter…I hope so. Hole #2 is a par 3 with homes running down the left side. They could come into play if your shot is pulled to that side.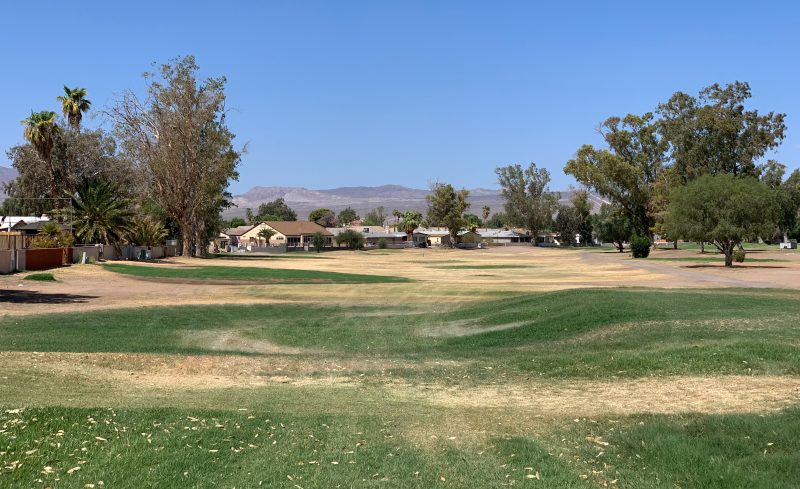 Hole #3 is the number one handicap hole with a big dogleg to the right. It was my favorite hole. Depending on the pin placement, the par 3 fourth hole may require a tee shot over a pond. Better to be left than wet! Hole #5 is a par 4 of 308 yards. We are playing our 9 holes from the blue tees. Only two sets of tees – front 9 (blue); back 9 (red). Homes again flank the left but many have screens to protect themselves from DC Dave's wild shots!
Holes #6 through #9 are where we started to see signs of an ancient golf course. Hole #6 had a dry swale across the fairway that may have contained water at some point. No grass was visible at the end of the fairway. Hole #8 had remnants of a sand bunker to the left of the green. Hole #9 had a nasty fairway with a large dry retention area that in prehistoric times must have contained water. It has the makings of an interesting finishing hole.
Rating – Bogey (24 out of 60): As I have mentioned, the condition of the course was poor, but if you look beyond that, the skeleton of the course could reveal a much better track. I want to give "kudos" to Karen, the woman who helped us. Her position is Food and Beverage Manager. Besides helping us with golf, she was taking care of the locals sitting at the bar; discussing details of a wedding reception with a young couple; and getting the area ready for another large gathering that evening. Talk about multi-tasking! Their motto is "Where Friends Meet Friends". I have to say, they were a friendly bunch.
If you have time after your round, you should visit Lake Havasu City. This is home to the historic London Bridge and a place you can gamble away all the money you saved by playing Chaparral GC.
1260 Mohave Dr., Bullhead City, AZ 86442;  928-758-3939;  www.chaparralgolf.com