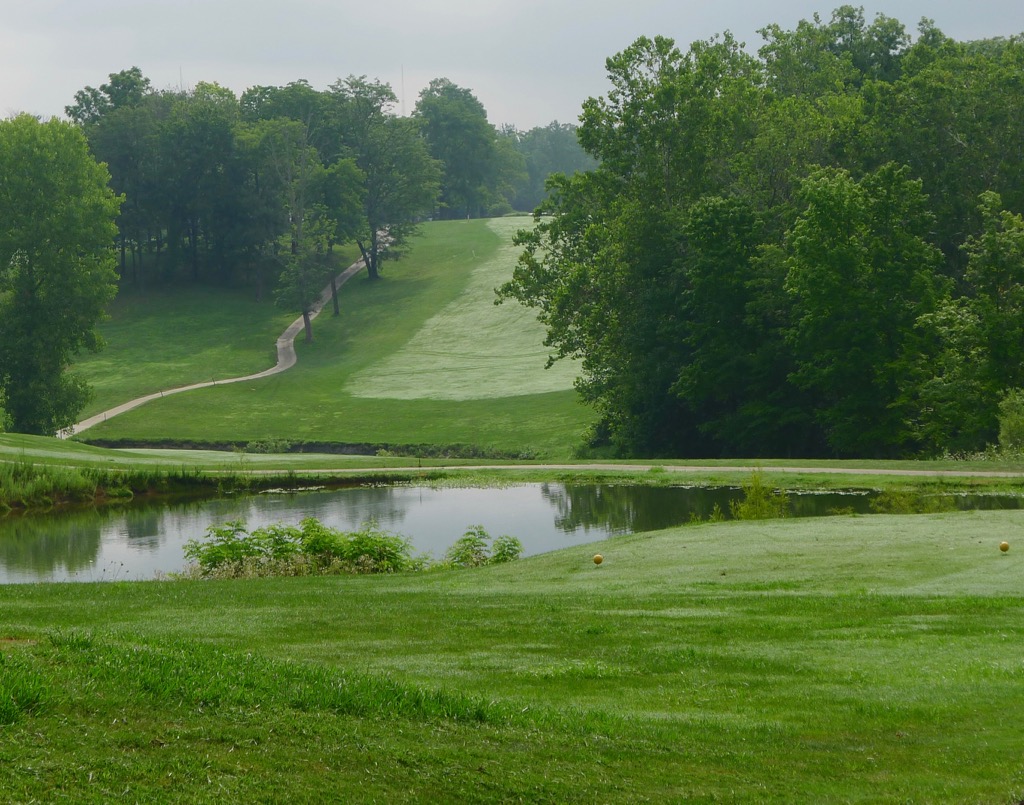 Have you ever met a Leprechaun who led you to the pot of gold at the end of the rainbow? If so, please give me a call – we need to talk. Have you ever thought Siri was leading you down the wrong road as you searched for a destination? Today Siri guided us through a neighborhood and at the end of the road we found…
That pot of gold in a hidden gem! 
The staff is outstanding at Beech Creek Golf Course. Before we started our round, Cheryl reviewed the scorecard with us and shared the uniqueness of holes 6-8. Even with that information, the four of us combined to shoot 19 over par for those three holes – senior duffers!
The fog was starting to lift as we tee'd it up at Hole #1. This 326 yard (white) par 4 is a nice opening hole with a wide fairway but it does have some mounding challenges along the way. Still some lingering fog at the par 3 second hole that required a tee shot over a pond. Woody had the only par…the rest of us blamed the weather conditions. Hole #3 is a sweet 543 yard par 5 with trees lining both sides of the rolling fairway. Oh and by the way, you have to carry a creek that fronts the green on this number two handicap hole.
This course has an outstanding rounded elevation of land and the dense growth of trees should not come into play on most holes. Hole #4, however, is not one of them. Have an extra ball or two in your pocket if you hook the ball on this 272 yard par 4. Hole #5 is the perfect time to work on that draw you have been practicing. There is a lone, tall, almost limbless tree looming on the left in the fairway. Even that "duck hook" would work to your advantage as the fairway moves to the left after the tree. Of course if your shot preference is a fade, the tree will become a challenge for you (trust me).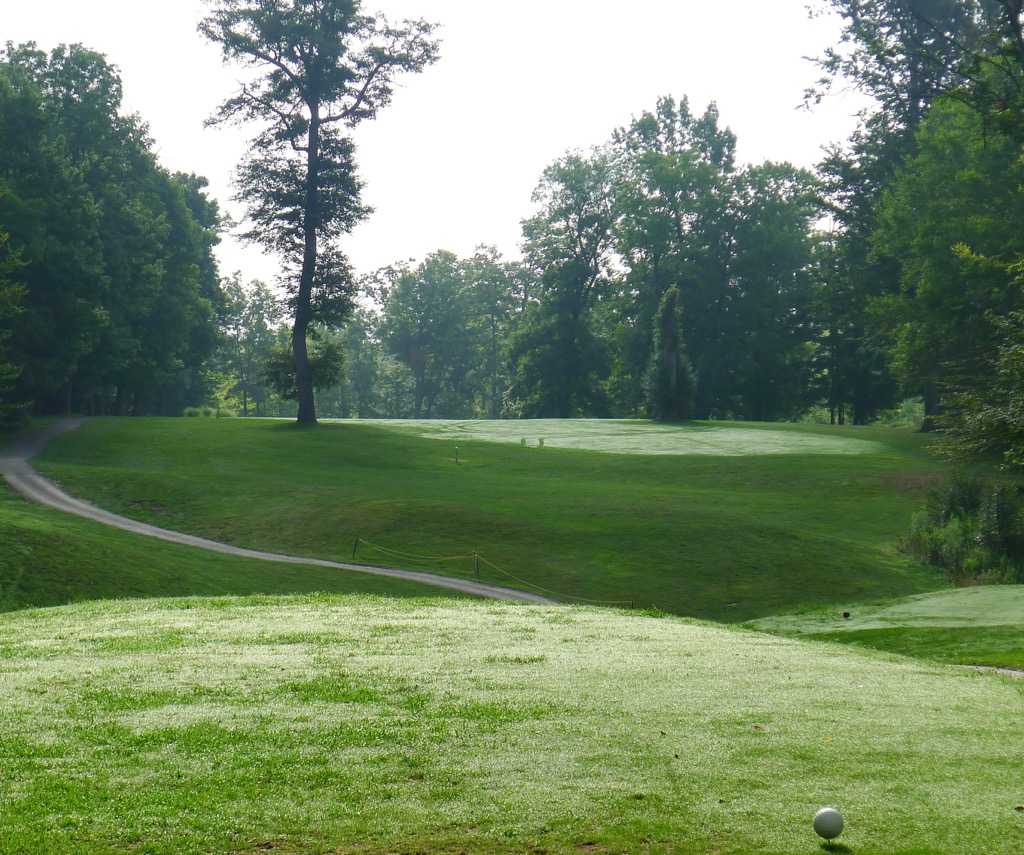 Now we enter Beech Creek's version of Amen Corner (do I need Augusta's permission to use this?). Reviewing the notes that Cheryl gave us, we are to play off the front tees at Hole #6. If you continue on to play 18, you then play off the back tees. By the way there is water (hidden from view) at this par 3. As instructed we played from the back white tees at Hole #7 – as if this 549 yard par 5 number one handicap hole wasn't hard enough. You need to land your tee shot in a small area (at least it looks that way from the tee box) that is squeezed between two bodies of water while also avoiding out-of-bounds and trees to the right. While getting frustrated at this hole, remember to check Cheryl's note about taking a look at the eighth hole to the left as this will help to figure out how to play that hole. Of course we forgot to take her advice as we were too busy butchering the seventh hole (see photo at top of page). Let's recap: 1) you have water to carry on the tee shot; 2) trees and OB to worry about to the right; 3) uphill fairway to green (which is nowhere to be seen as you motor up the fairway) and of course the second body of water to clear; 4) while struggling, remember to take a peek at the end of the fairway of the eighth hole. We couldn't take in all the information and all recorded double bogeys.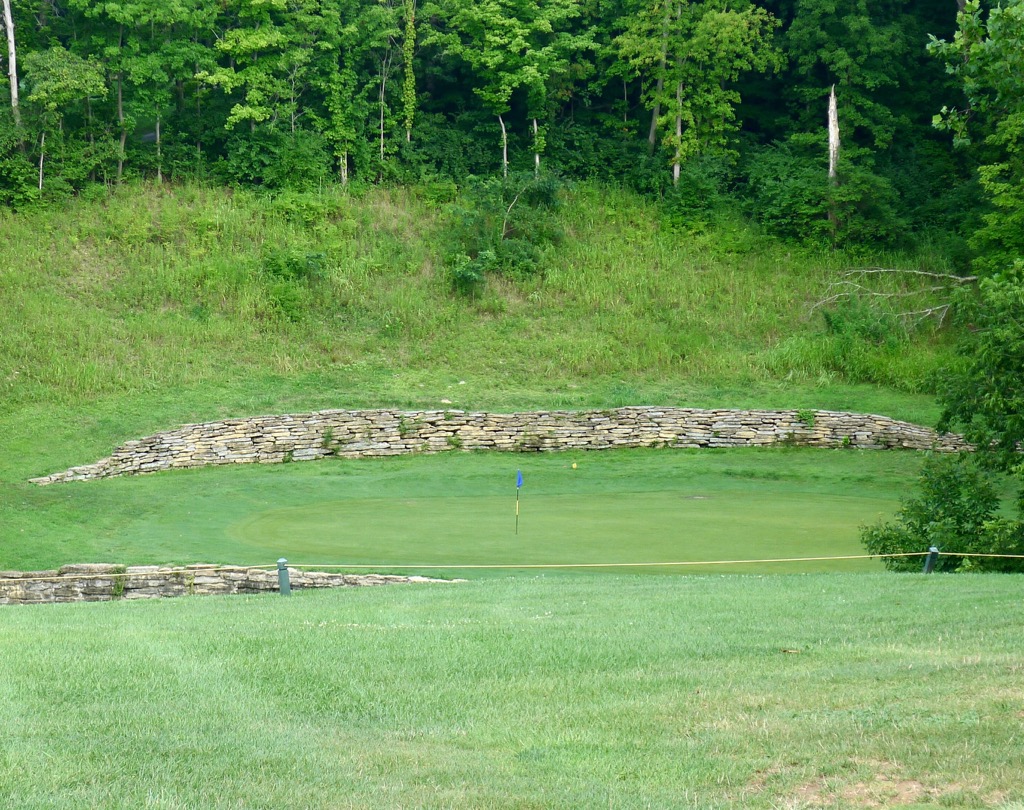 Hole #8 is a sweet hole but only if you know what's coming. The fairway drops off after about 200 yards (white); then there is a carry over water to a downhill secluded green. Like I said – sweet! The finishing ninth hole is a par 3 with tree trouble to the left.
Ace: Beech Creek Golf Course is owned and operated by brothers Tom and Joe Macke. They also designed the course which opened in 1995 and in my humble opinion it is an awesome layout. The course challenged us not only with the rolling fairways and undulating greens, but also with course management. It is not a long course (2811 yards white/ 2980 yards blue) but you will use just about every club in your bag. The GPS system on each cart and Cheryl's guidance helped with our club selection and made our day a very enjoyable one.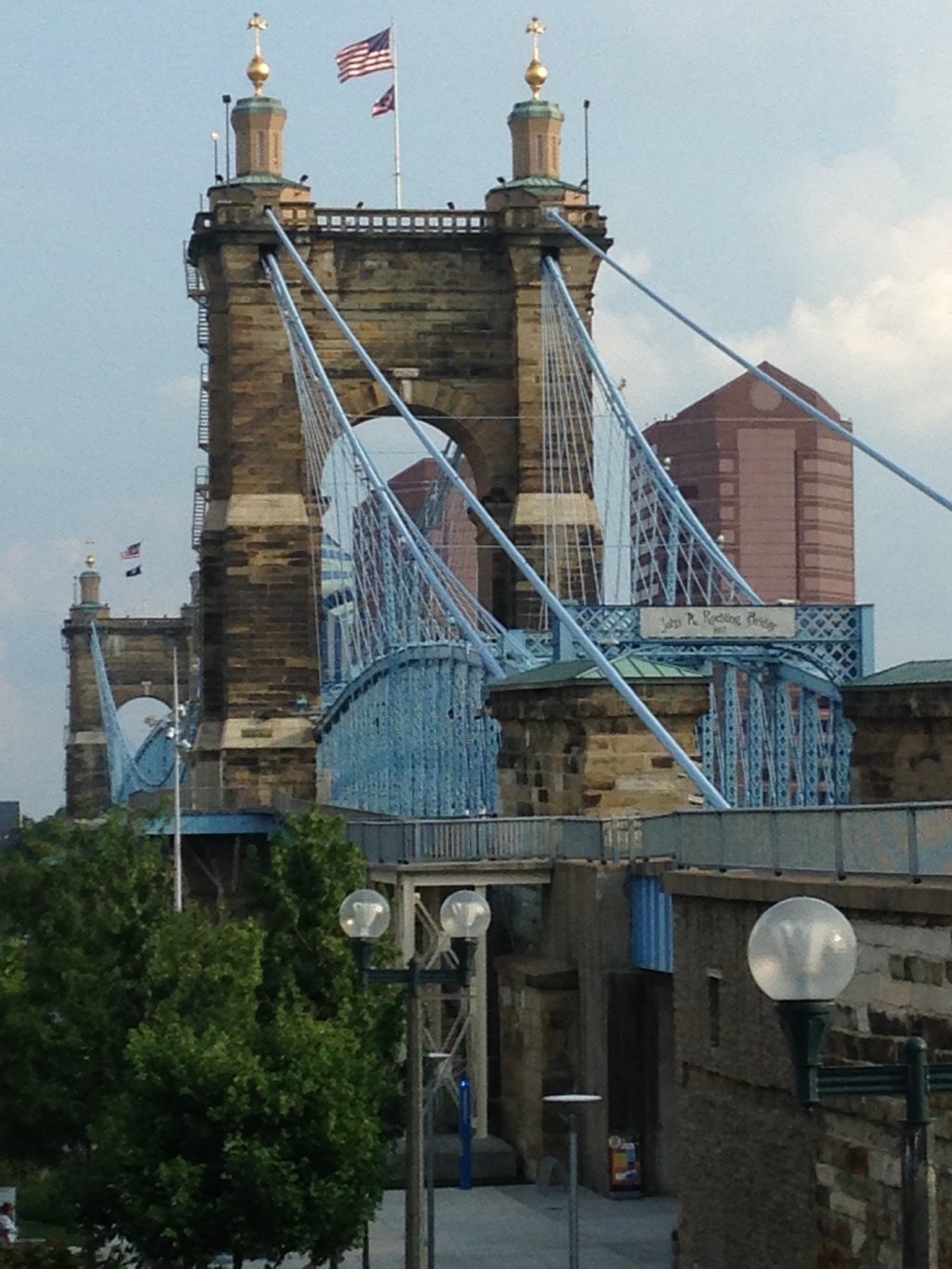 One reason we look for 9-hole courses is that we want to explore other attractions as we visit the great cities around the country. Today we took a brewery tour on the Brewery Heritage Trail (www.OTRBreweryDistrict.org) and spent some time enjoying local brews at Moerlein Lager House in Swale Riverfront Park. The park, on the banks of the Ohio River, offers a bike/hiking path, Great American Ballpark, Paul Brown Stadium and great views from the Roebling Suspension Bridge. Today we smoked cigars and renewed old friendships.
1831 Hudepohl Ln, Cincinnati, OH 45231;  513-522-8700;  www.beechcreekgolfcourse.com