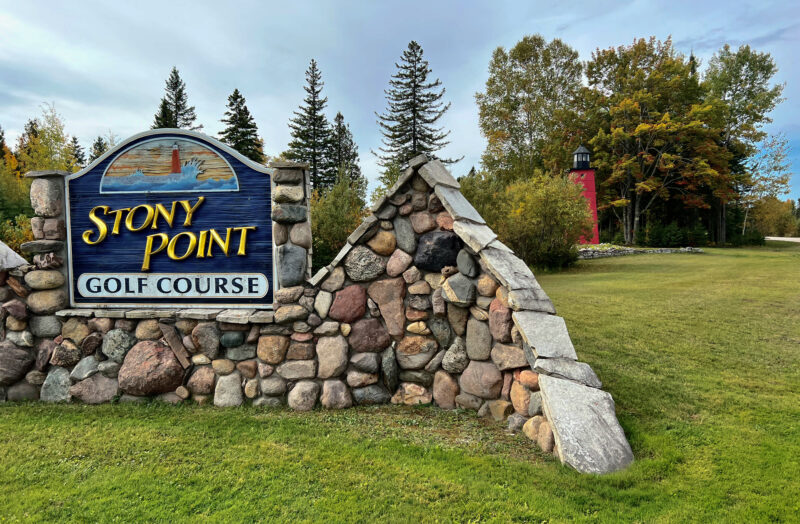 Halfway between Green Bay and Mackinac Island along Lake Michigan you will find Stony Point Golf Course. This is also the mid-point of our Great Lakes Circle Golf Tour.  When we entered the parking lot and saw only two cars, we immediately concluded that this may not be one of those hidden gems Always Time for 9 is always seeking.
After paying our $15 (yes, $15), we move to Hole #1, not expecting much from this course except a few hours of exercise. We are off to a good start because it is an excellent weather day for October in the Upper Peninsula of Michigan. We are feeling a senior type of day, so we will tee it up from the gold tees. The par 4, 310 yard hole curves to the right around the water hazard. There is an island in the middle of the water that Woody will need to play from if he can find a boat to get out there! There is more water to the right of the green, so it's a good idea to stay left on this hole. Is that correct, Woody? Three of us made putts of over 30 feet to start the round. I hope this is a sign of things to come.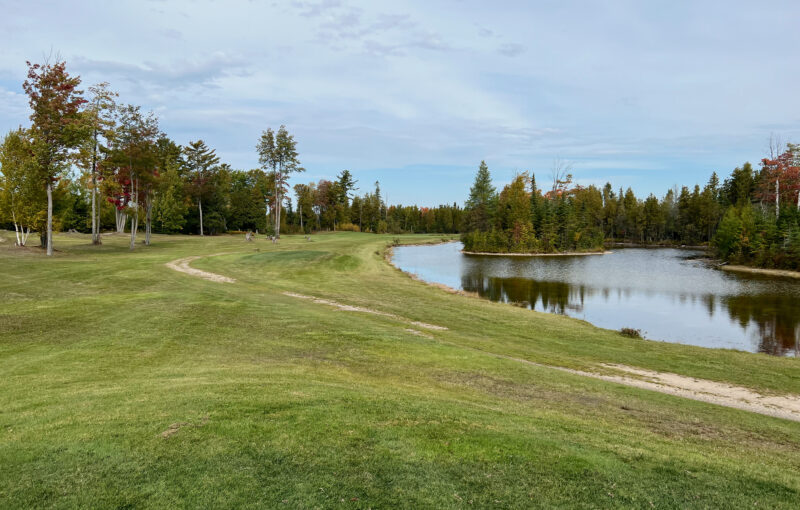 Hole #2 is a par 3 with a large green; a big body of water to the left; and not much room for error both right and behind the green. I felt as if I was walking into the Valley of Death (as in the Charge of the Light Brigade) at Hole #3. Water to the right of them; water to the right of them; water in front of them; into the undulating green rode the four golfers. Even though this is a straight driving hole, there are woods and water everywhere. After three holes we are all looking in our bags to see if there are enough balls to finish our 9-hole round. Woods and water are making a very penal course for our wayward shots.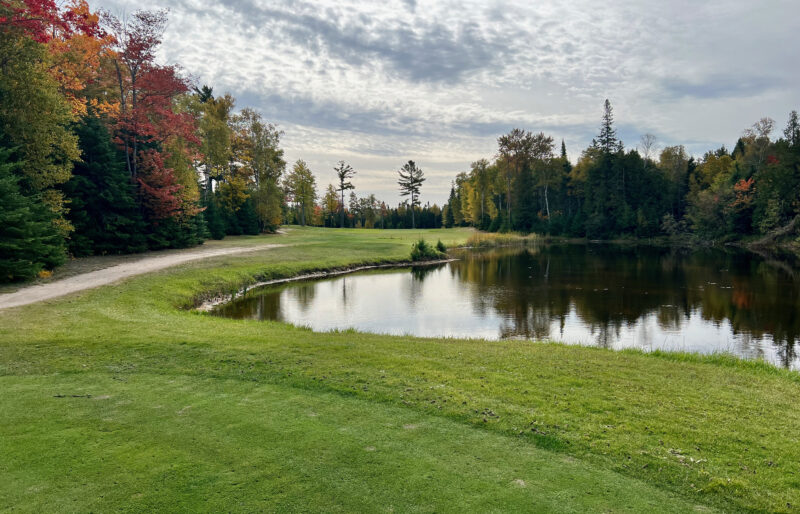 Luckily we are playing from the forward tees today so I think we will have enough balls to finish our round. The water becomes much more of a hazard if you are playing from the back tees. I like the way this course is set up so far and it has been a pleasant surprise after three holes. As we approach Hole #4, we are greeted by more water down the right side as well as a dense forest to the left. Just when you think you have left the water hazard (and more balls) behind, it creeps up again by the green.
This is starting to sound like a broken record, but at Hole #5 there are plenty of trees to the left and water to the right as you work your way down the fairway. One consolation is the water just off the teeing area is no longer there – just a dry water bed. The sixth hole is a shortish (255 yards) par 4 but there is water that crosses the fairway and of course, dense trees on both sides. Choose your driving club wisely on this hole! After a scenic walk through the woods you arrive at the par 3 seventh hole. This "crowned" putting surface is protected in front by a small pond and a sizable bunker. Long is good here, but the green is a precarious one.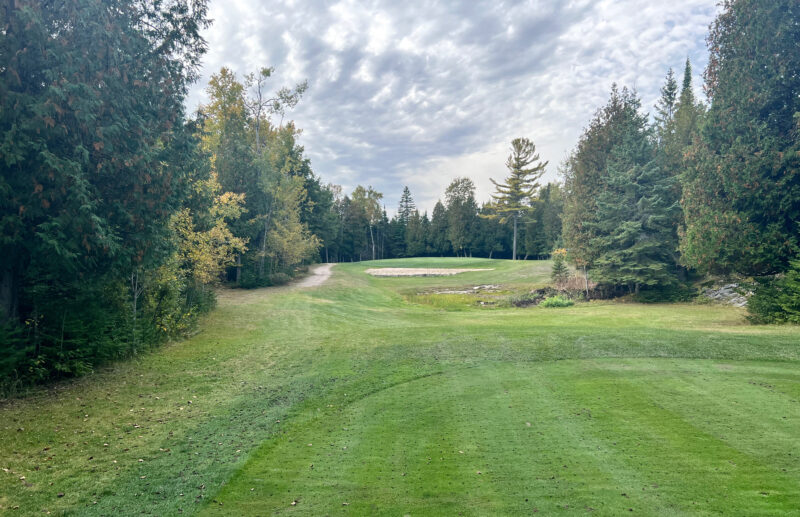 As I stare down the fairway at Hole #8 I'm thinking – you've seen a lot of water during the first seven holes, but this is ridiculous. There is wet stuff (and trees) down the entire length of this hole. It starts to your right, then about halfway it traverses the fairway, and continues down the left side to the green. I surrendered two balls to this number one handicap hole. Compared to the rest of the course, Hole #9 is relatively safe (today). The fairway is wider than most and it looks as if there is usually a pond fronting the green, but today it was bone dry. The lighthouse is a nice touch at this finishing hole.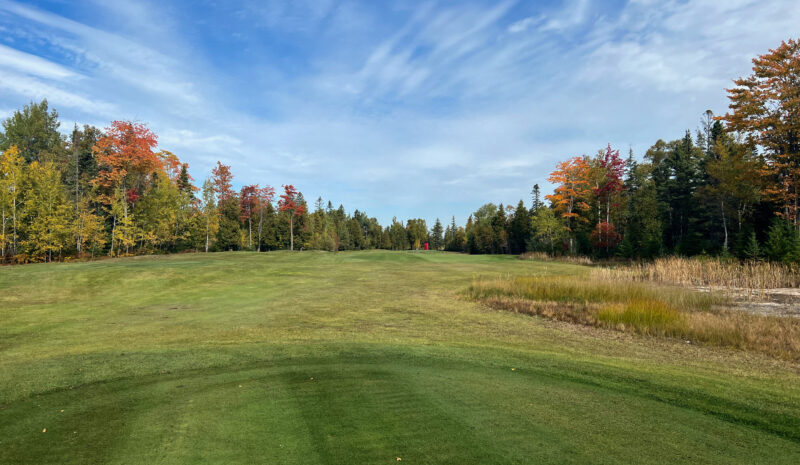 Rating – Birdie (49 out of 60): Not a whole lot more I can say about this course except water and woods to the left; water and woods to the right; water and woods to the front. Straight and long are two words to fix in your mind! That being said, we really enjoyed this course and it is another "hidden gem" to add to our growing list. If you are looking for amenities, this is not the place. It's just a solid, small-town course at the tip of Lake Michigan and exactly what we were seeking. The greens are large and in good shape, the fairways were patchy on some fairways, and the bunkers were the worst part of the course. Most had more weeds than sand. The $15 we spent was well worth the stop as we traveled on The Great Lakes Circle Golf Tour.
8102W US Highway 2, Manistique, MI 49854;  906-341-3419:  www.gardenstonypointgolf.com