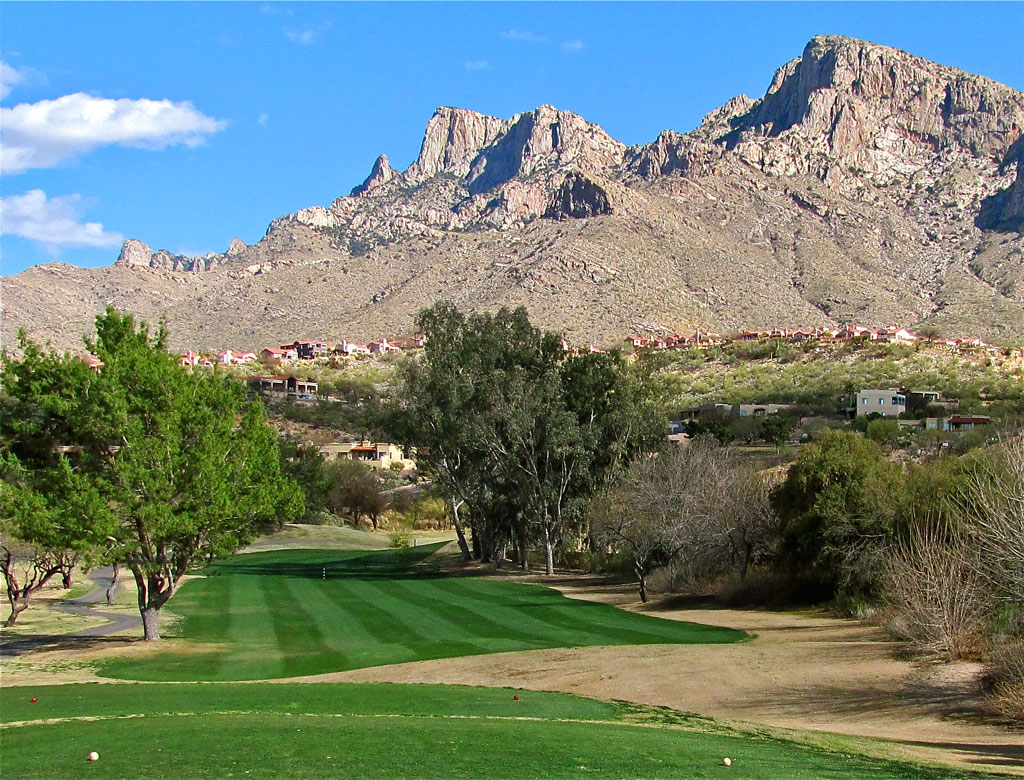 The El Conquistador Country Club offers spectacular views of the Santa Catalina Mountains and the Tucson Valley. This Hilton property offers two 18-hole championship golf courses and a challenging 9-hole course carved through the rolling hills of the Sonoran Desert. I chose the …Pusch Ridge Golf Course.
This nine hole, 2,788 yard beauty is target golf at it's best. The elevation changes, tight fairways and undulating greens make this a challenging layout.
Another course that starts with a dogleg left, par 5. Don't the golfing gods know I can't work the ball that way? All is forgiven as I birdied the first hole. At #2, the course narrows as the houses start to crowd the fairway. If you are wild off the tee, this course may not be your best option. After a couple of days playing off hardpan, it is amazing how much easier this game is when the fairways are lush.
A large tree to the right of tee box #3 can present a problem. This was the first time I had ever stood outside the tee markers to get a better angle to the green – it worked perfect. The green at #5 is surrounded by water on three sides, so stay left for the best result. I took my own advice – hit it left into the road, then into a car – just not that far left!
Precise shots are required on the par 4, sixth hole (pictured above). The best placement of your drive is middle to left for a clear shot at the green. Your approach shot needs to find the green as there is trouble left, back and right. Your round ends with a downhill, into the wind par 3. I needed to hit two club lengths more than I did.
Ace:  Pusch Ridge was a bargain for $29 (including cart and range balls) during the Arizona high season golf. Paired with the two country club courses (Conquistador & Canada), this Hilton Golf & Tennis Resort offers a state of the art golf getaway at one location.
10000 North Oracle Rd., Tucson, AZ  85704;  520-544-1770;  www.hiltonconquistador.com