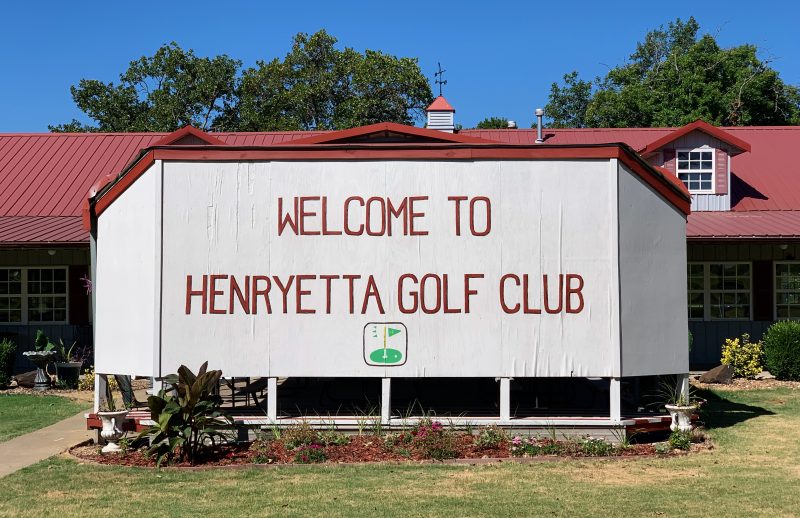 Perry Duke Maxwell, you did a nice job, sir. Henryetta Golf Course is one of the early works of this architect who designed the lauded Southern Hills Course in Tulsa. His design philosophy was to use the existing natural topography and his greens were typically large and contoured with swells. Did Henryetta GC follow this design ideology?
At Hole #1 we decided to play the white tees because we almost always play from that length. When Mr. 5-Wood looked at his scorecard he couldn't find the white tees listed. Any guesses why? I use my phone for both scoring and GPS, so I usually refer to the scorecard. With further inspection, the front 9 is marked in blue and the back 9 is marked in white, in case you're playing 18. Sometimes I think I have never stepped onto a golf course! This hole is a fun way to start a round. It's a dogleg to the right, but there is a large pond that fronts the green and very reachable if you choose a driver. I did choose my driver and finished a foot short of the water. Mr. 5-Wood's driver was smoked so hot, it needed to find the water to cool down. Choose your club wisely!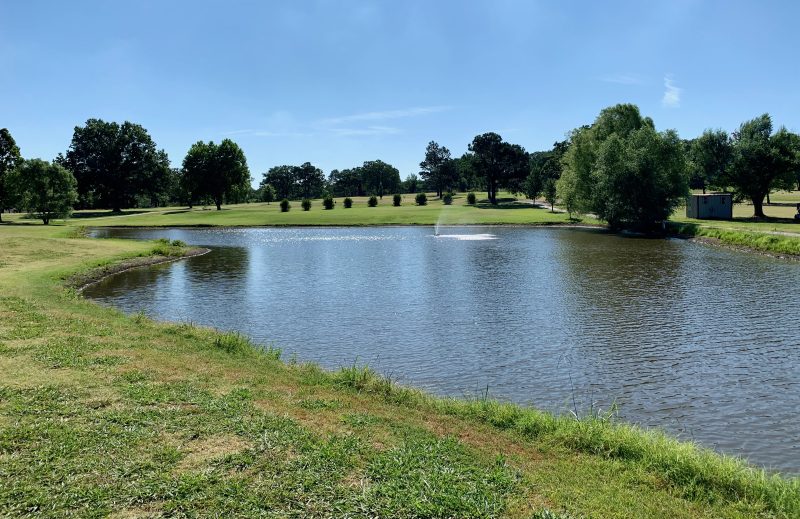 On Hole #2 we did establish the fact that these two old men should be playing from the blue tees. It's a long par 3 (185 yards) with a small "turtleback" green. It was hard to get my long hybrid to stop on this green. The flag at Hole #3 is straight out there with not much trouble left or right. The greens continue to be small and crowned. Hole #4 is a par 5 with a big dogleg to the left. An interesting and good hole with: a wide fairway; not much trouble; a blind approach shot; and a green that is hidden on top of a hill. Another dogleg left at the fifth hole that once again sets up nicely for my draw. It can be a risk/reward hole for the longer hitter who can try to clear the trees that guard the turn in the fairway. Another well designed hole.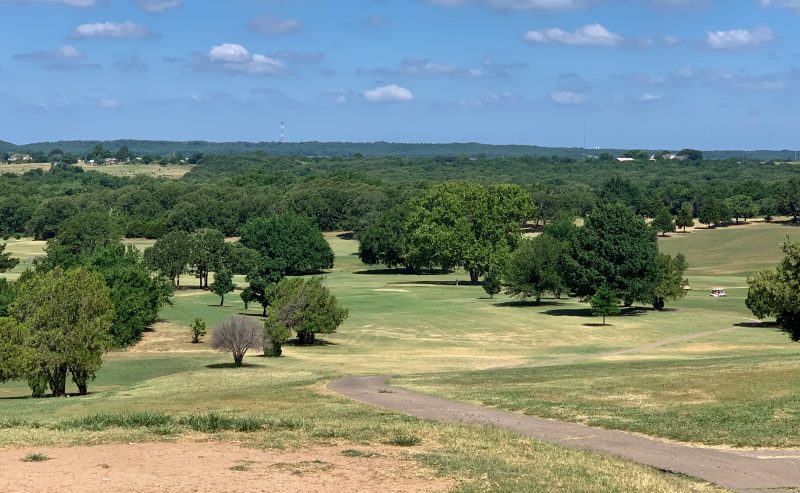 As we stood on the (blue) tee box, we were baffled about how to attack this short par 4. In the distance we saw two greens. Maybe you play one on the front 9 and the other on the back? Luckily another group was close and we asked for their assistance. The correct green is the one on the left with the dead tree stump at the back of the green. A little confusing for the first time playing this course. I'm liking this dogleg left track. Mr. Maxwell must have had a draw or a wicked hook. You find another one at the seventh hole – a long par 5. It has a wide fairway, so just keep hitting it straight!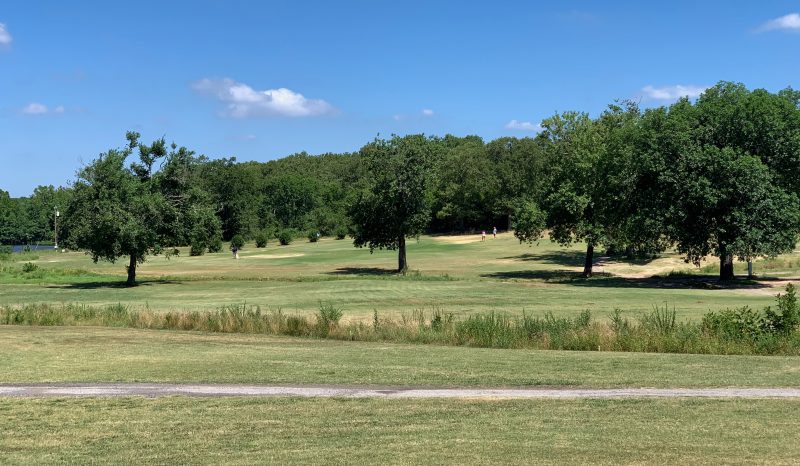 Another long par 3 (190 yards) at Hole #8. First order of business is to get your tee shot airborne because there are two small creeks to carry. Second, it was into the wind today. Third, there is a tree that blocks part of the view of the green that should not be an issue, but you know how that works. I played this course fairly well except I scored "5s" on each of the par 3s. Hole #9 is another dogleg hole and I'm not even going to tell you which way it turns.
Rating – Birdie (45 out of 60): This course is defined by the curvature of holes to the left and small greens. So if Maxwell built large greens, they weren't here. That being said, the two par 3's are long, but they do have larger greens. At this course, he gave you large landing areas for your drives, but the second or third shots were more difficult because of the small greens. A nicely designed course (unless you fade the ball!!!). We rolled into town on a hot 100+ degree July day. For this time of year the course (both fairways and greens) were in very good condition. An excellent job by the maintenance team for an area that is hot, dry, and short of water! The course staff and fellow golfers were very friendly and helpful.
P.S. As we finished our round on the 100+ day, we were hot, (not) dry, and in need of water. What a couple of knuckleheads!
30596 S 216 Road, Henryetta, OK 74437;  918-652-8664;  www.henryettagolf.com