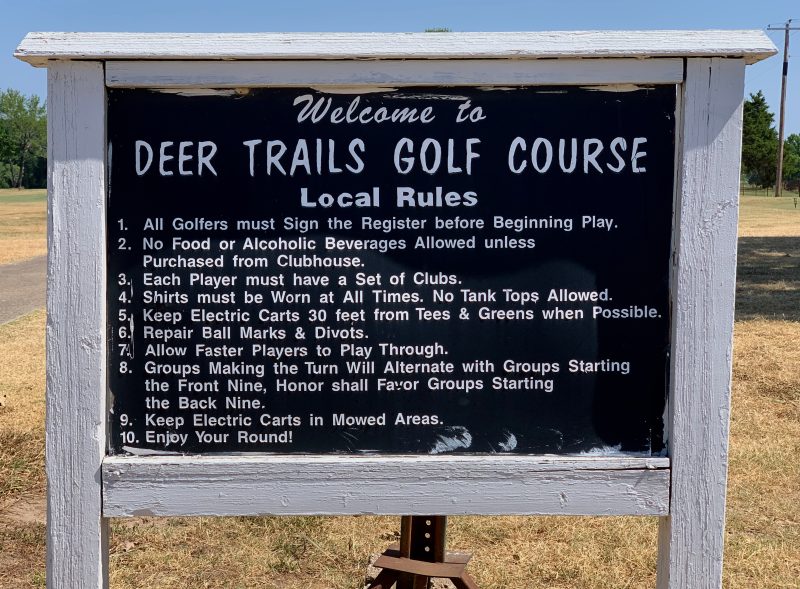 At one o'clock on a July afternoon, we were the last twosome to attempt to play this day. When I asked the woman at the pro shop if we could get out without a tee time, she politely said yes. However she was probably thinking, don't these stupid old Colorado men know it's currently 101 degrees and heading to 110? No wonder we did not see anyone following us this day!
We are in either Barling or Fort Smith, Arkansas – I've seen Deer Trails Golf Course associated with both towns. Officially, we are in Fort Smith – I think. This is a 9-hole course but if you play 18 the front 9 plays from the white tee box; the back 9 plays from the blues. You definitely get a different look if you play 18. Hole #1 from the white tees is 325 yards and wide open to start the round. A big hook however, could land you in the street that parallels the first hole.
Telephone wires and poles need to be averted if you want a clear shot at Hole #2. Any shot to the left may find the #3 fairway. Left you find trees; right may find a telephone pole. Straight is good! It's 101 degrees now, not much shade, but the sun is shining and we are playing golf…all is good? Are we now at Hole #3 or Hole #12? Remember there are different tee boxes for the front and the back. We found #12 but where is #3? What makes it even more confusing is #3 is a par 4 and #12 is a par 3. Are you following?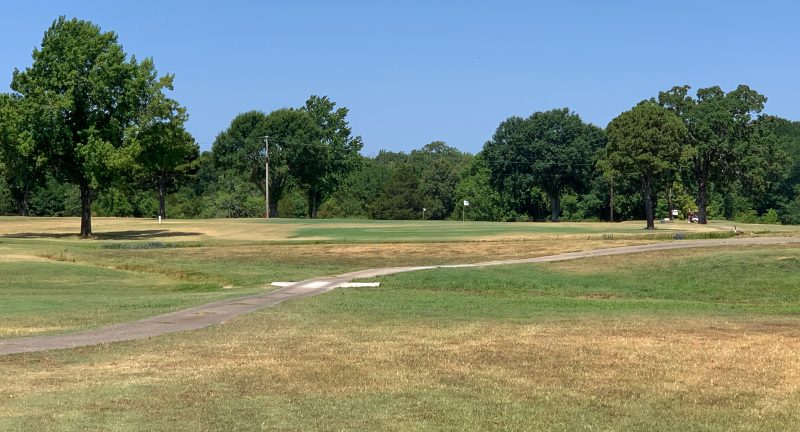 We finally found Hole #3 with the help of a groundskeeper. Today there was no sign for #3, but you have to walk past #12 to arrive at the correct tee box. Of course once you get set, there is another issue. You see two flags (one short/one long) in the distance. The closest flag is for #12: the farthest is our current target. Mr. 5-Wood skipped his tee shot off the pond that is just off the teeing area and his shot rolled to within two feet of the pin. You might have guessed by now that his ball was sitting on the 12th green! Strange and unique!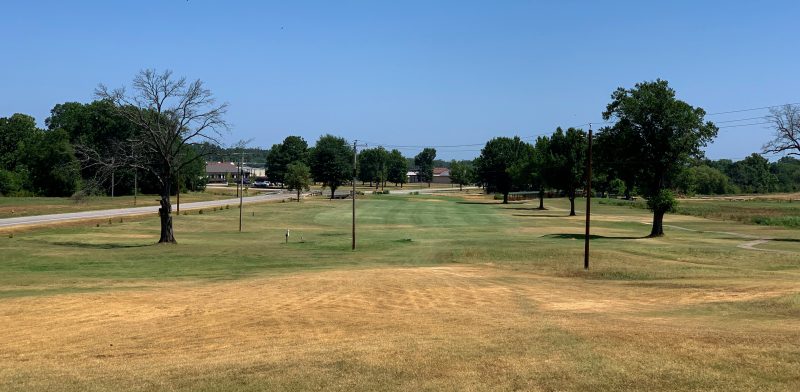 Hole #4 is the number one handicap hole and a fun one. Let's see what makes this so difficult: 1) a road running down the left side; 2) trees and high native grass for a wild slice on the right; 3) a telephone wire and poles in the center; 4) a creek fronting the green; 5) a small putting surface; 6) a 420 yard par 4. Solid, fun hole!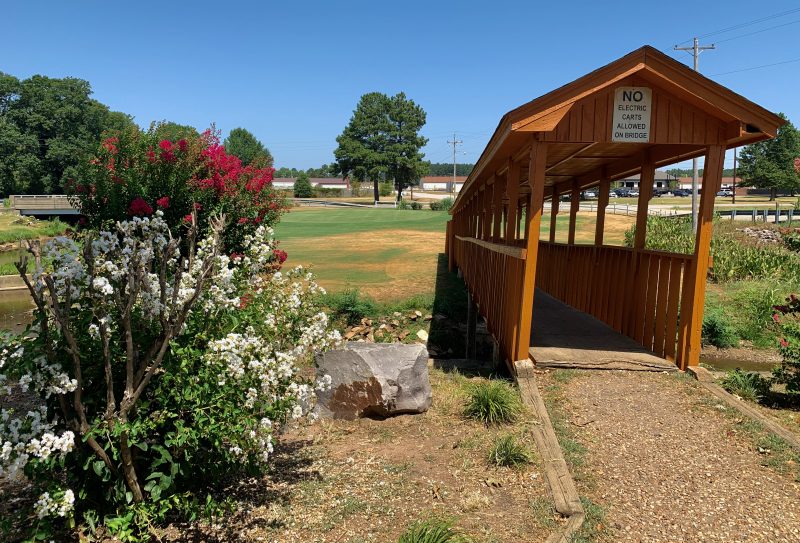 Hole #5 is the fifth straight par 5 and it has a slight curve to the right. The creek we met on the last hole crosses the fairway, but should not create any issue unless you can't get your tee shot airborne. Hole #6 is the first par 3 and it is defended by three large trees and two generous bunkers that surround the medium sized green.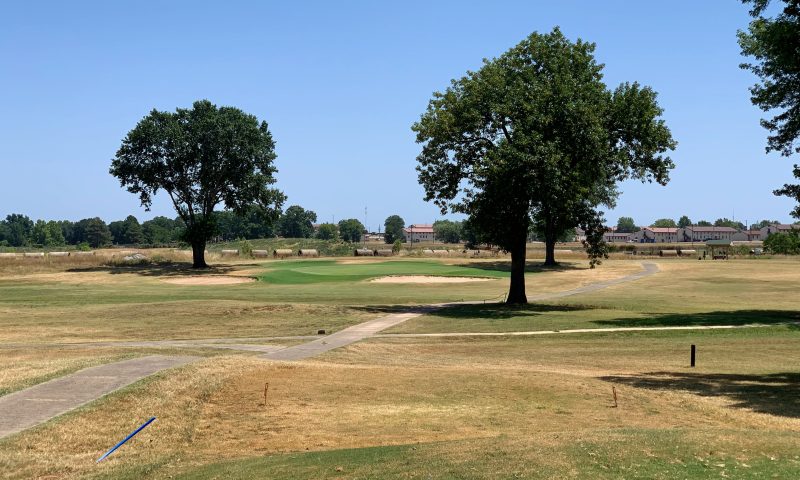 Hole #7 is the first par 5 and my advice is to keep hitting straight and uphill. There is trouble left and the only trouble center is the "no carts" sign that hindered Mr. 5-Wood's third shot! The par 3 eighth hole is 180 yards with a tree and bunker situated to the right and a pond way left. Hole #9 is a par 5 of 454 yards and straight. Watch out for the false front of this tricky final green.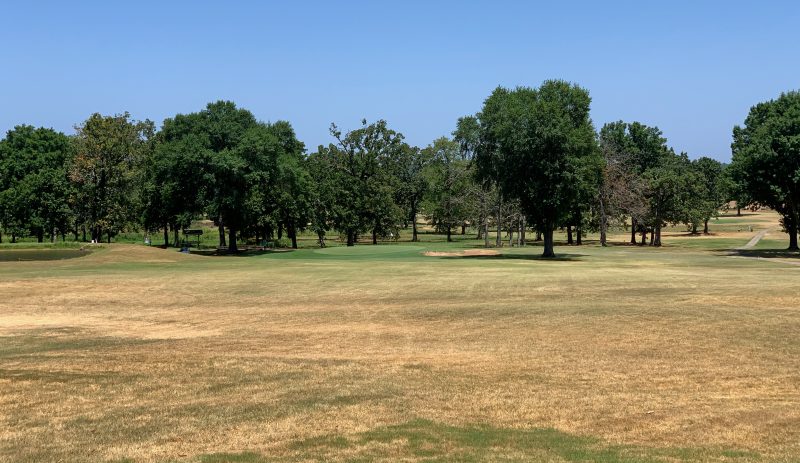 Rating – Birdie (42 out of 60): Whether Deer Trails is in Barling or Fort Smith (the scorecard says Ft. Smith), it is a fun course. Whether the thermometer shows 110 degrees, 100 degrees, or 80 degrees, it is a fun course. For a hot July afternoon, the course was in relatively good shape. The small greens on the first five holes made for difficult targets to hit and hold. The different tee boxes for front and back will give the course a different look if playing 18. Local rule #10 – Enjoy your round – we did!
11707 Custer Blvd., Fort Smith, AR 72916;  479-478-6971;  www.ChaffeeCrossing.com