As I drove up Onion Street (yes, Onion Street), I thought I heard Julie Andrews singing, The hills are alive with the smell of onions…or was it the Beatles singing, Sweet onion fields, forever? At least Karen did not have to tolerate me singing these songs!
BIG Onions – yes; BIG Smiles – check back after I complete my round at Country View GC!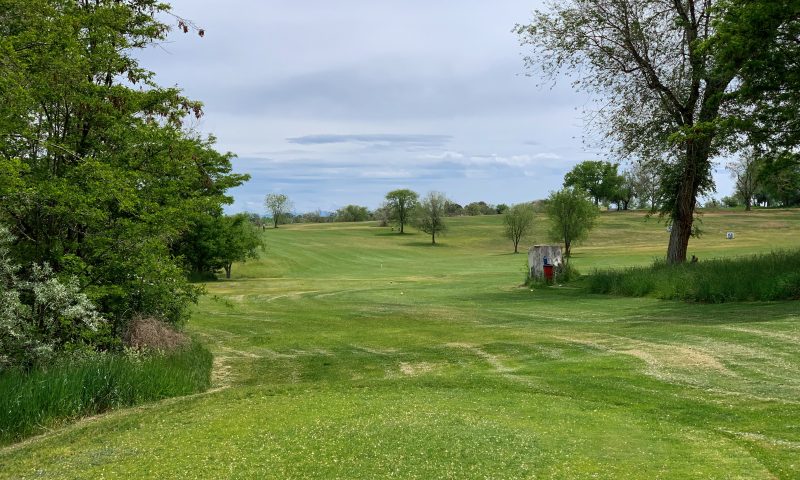 I decided to walk today, but as I stood on the tee box at Hole #1, I viewed the hills in the distance and wondered if I made the correct decision. We'll see. This par 4 has a dogleg to the left and a nice wide fairway to accept your opening (wild) tee shot. That is wide to the right; not so much to the left! There are black, blue, white, yellow, and red tee boxes to choose from and we are at the whites and playing 350 yards. The fairway slopes to the left and your second shot is to a semi-hidden green. A fun first hole to get the blood flowing.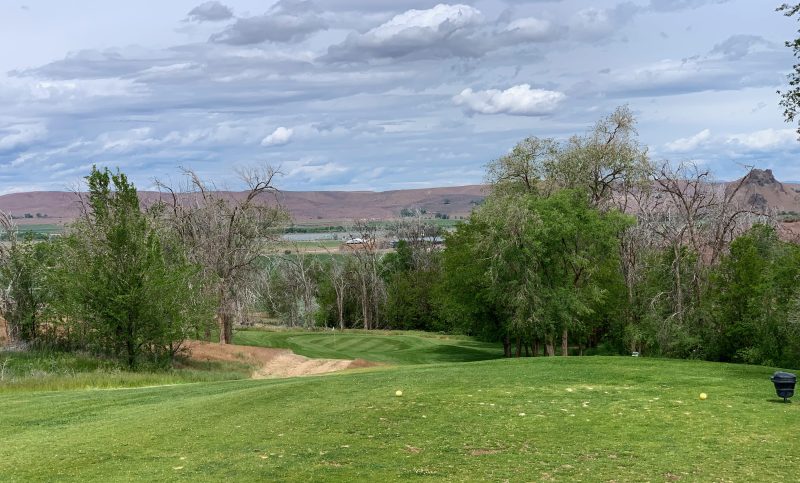 Hole #2 is another dogleg left par 4. Your tee shot requires a carry over a section of native grasses to find the safety of the fairway. Over the years, as my game has improved (maybe evolved is a better word), doglegs to the left fit my eye much better than the old days of my banana slice. Hole #3 is a par 3 of 143 yards from and elevated tee box. A nice hole with plenty of room on all sides around the small green.
As I struggle up a gravel path to Hole #4, my decision has been made. If I play this course again, I will take a cart! This par 4 is another dogleg left and it goes downhill, then back uphill. My heart is starting to race, and I'm hoping they have a defibrillator at the clubhouse. This course is about halfway on my trip from Salt Lake City to Bend, OR. I wanted to get out and stretch my legs with a walk, but I didn't want to die! Be careful as you exit the fourth green. the next hole you find is actually the eighth hole.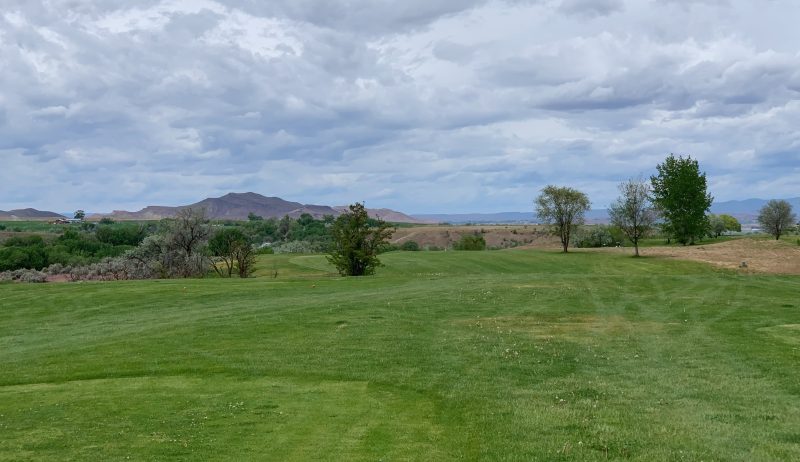 Hole #5 is just a little beyond #8 and runs parallel to a large field. This 450 yard par 5 looks straight, but is nothing of the sort. The fairway slopes downhill and dangerously from right to left. I hit what I thought was an excellent shot right at the 150 yard pole in the middle of the fairway. I never found my ball. Hole #6 is a 150 yard par 3 over a gully to an uphill green. The seventh hole is a dogleg left (I'm liking these doglegs) and a 488 yard par 5. If you slice your tee shot right, you've got problems. If you are left, you are probably playing from another fairway, but you've cut some distance off the hole. I wonder how the regulars play it? The first bunker I've seen is to the right, front of the green.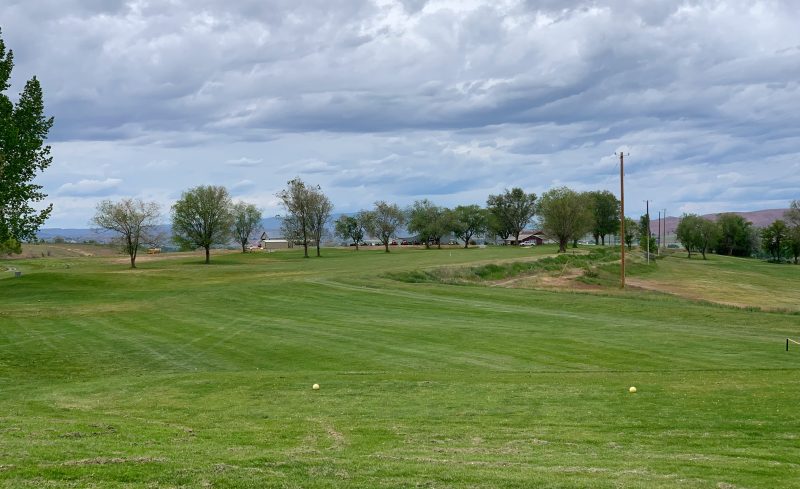 Hole #8 is a little walk from the last green, so I'm thinking CART. It's one of the easier holes because it's: straight; short (290 yards); and has a wide landing area. Hole #9 is a dogleg right (say what?) with plenty of trouble. If playing from the blue tee, your tee shot needs to carry a pond. There is a creek that runs down the right side and you have to carry that if you want to cut off a large portion of the corner of the fairway. No way I'm wandering back to the black tees!
Rating – Birdie (42 out of 60): This is a family-run and designed course. The owner, Scott, did an excellent job with the routing and configuration of this 9-hole course. Every hole has some character to it…up, down, long, short, left, and right. What I think is complex about this course is from a distance it looks fairly flat, but as you walk these fairways, they drift and slope to the left and right. This can cause a few issues when playing for the first time. The course was in good condition except the greens were a little long. As I finished my round, I visited with Scott who was working on the finicky greens mower. He was just heading out to cut those greens. Thus is the life of the independent, small-town, golf course owner. This course is worth the stop if you need to get out and stretch your legs, or you just want a fun round. However, if you are 70+ years of age, consider a cart.
Now for your listening pleasure…
The hills are alive with the smell of onions
With smells they have smelled for a thousand years
The hills fill my nose with the smell of onions
My mouth wants to eat every bulb, but those tears

3870 Arabian Dr., Ontario, OR 97914;  541-881-1171;  www.countryviewgolfcourseontario.com