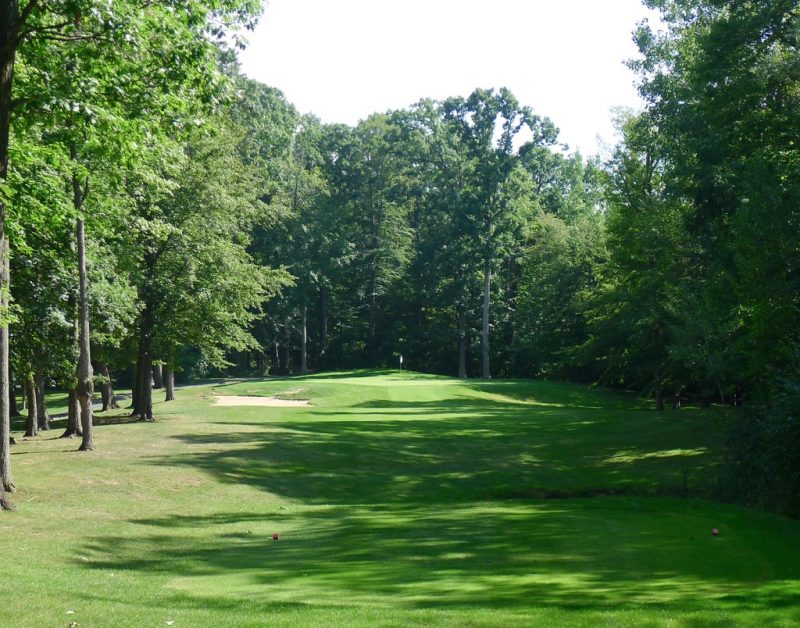 Classic cars had been on the agenda for our first day in Michigan. We spent 12 hours eating, drinking, cruising (before drinking), and watching the procession of cars cruise Woodward Avenue during the annual Woodward Dream Cruise in the suburban Detroit area. One of the towns on the route is Birmingham and it just happens to have two 9-hole golf course. Couldn't ask for a better pairing, right?
Wrong! Springdale and Lincoln Hills are the two "municipal" golf courses in town. We set out to find Lincoln Hills. Siri guided us to a cemetery at the listed address. This is the second time during my travels that we ended up at a cemetery that was supposed to be a golf course. I'm starting to get a little paranoid. We found Springdale only to find out that this "public" course is only open to city/county residents, but we could buy a city card at a ridiculous price. Bye, bye Birmingham – off to Farmington Hills.
Twenty minutes later we arrived at Copper Creek Golf Course and once again I thought we were in for disappointment. The gentleman who was trying to help us acted like he may have been more comfortable working the maintenance staff than the pro staff (this could have been the case). He explained they were very busy and may not be able to get us out. He disappeared for about 10 minutes (with no explanation) and left us to watch the 2017 Solheim Cup. When he came back, he informed us that our cart was ready and we could go right out – okaaaaay?
It is a little hike to Hole #1, so I would highly recommend a cart for your round. A blind tee shot awaits you at this 342 yard (white) par 4. A nasty pot bunker could be found by your drive and if you avoid this one, watch out for trouble front and left of the green. It was a miracle to avoid everything and record a birdie on the first hole of the week. Hole #2 provides a scenic tree-lined fairway that bends to the right and ends with a small (width) but long green. The trees on both sides of the fairway should deflect any wayward shots and protect the homes that back up to this hole.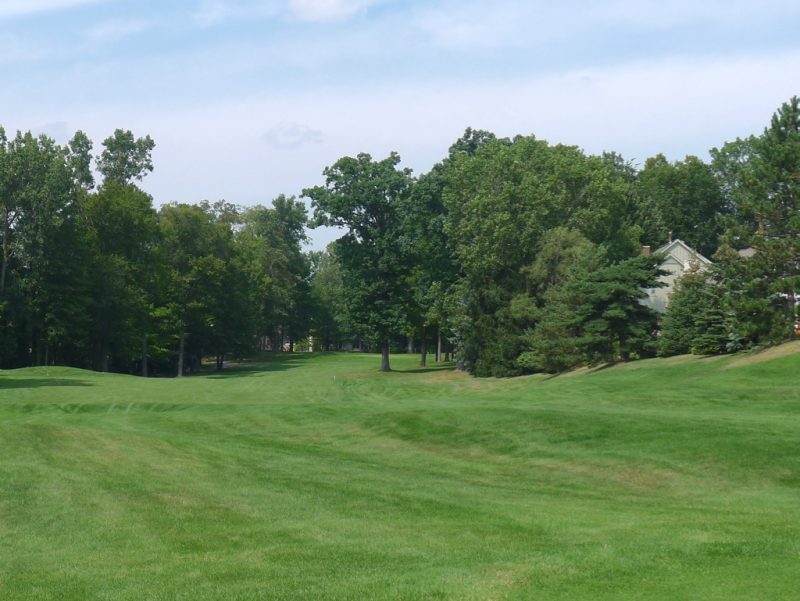 Hole #3 is a straight-forward par 4 of 332 yards – birdie time! Hole #4 is another straight par 4 but strategically placed bunkers in the fairway and left of the green could cause some issues. I'm playing to even par after four holes – I like it! Ed was "this" close to an ace at the par 3 fifth hole. Tap in putt for birdie. The water at the front and right of the green must have eagerly accepted my tee shot as we were never able to locate it.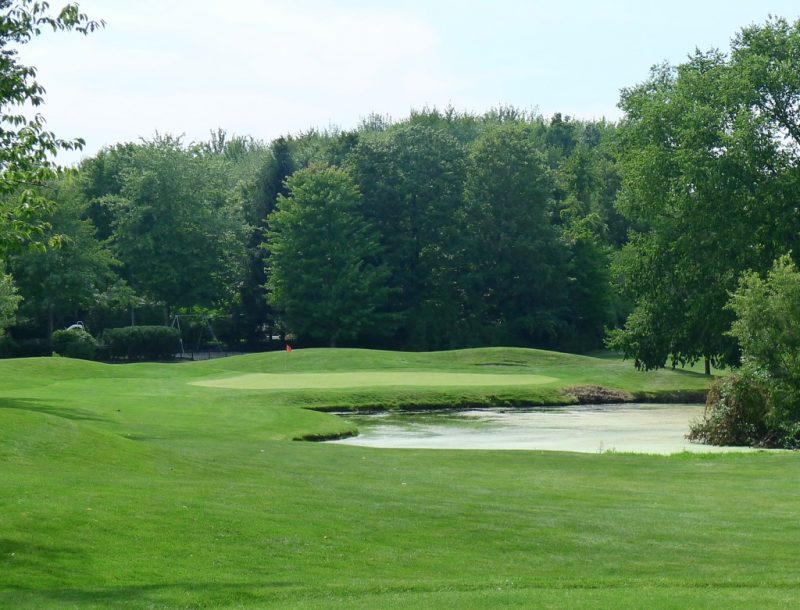 Hole #6 greets you with a tree-lined, blind tee shot, and for us short hitters, a possible blind second shot. Of course after climbing uphill, you finally see the green downhill and to the right. The seventh hole is 490 yards and the only par 5 on the course. The tee area is enclosed by trees, but once you drive your ball through these, the fairway opens up to the left. The hole, however, bends to the right and there is a jungle down the side. This is the number one handicap hole and played like it. Bunkers need to be avoided at the 150 yard marker and front/right of the green. I took the green-side traps out of play by expertly blading my wedge over everything.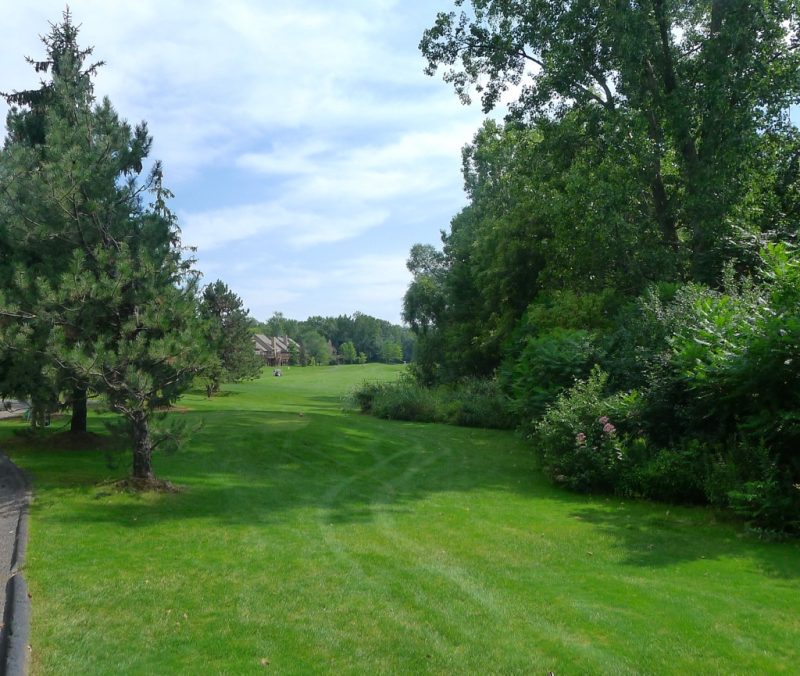 Hole #8 (picture at beginning) is a beautifully framed par 3. Hole #9 is a straight and rather benign finishing hole.
Birdie:  So was it worth the 20 minute drive to play Copper Creek? Of course! We are playing golf on a beautiful day and at a nice course. The course conditioning was excellent and the scenic values added to a fun round. You can play Copper Creek GC and still have plenty of time to eat, drink, watch, and cruise the Woodward Dream Cruise.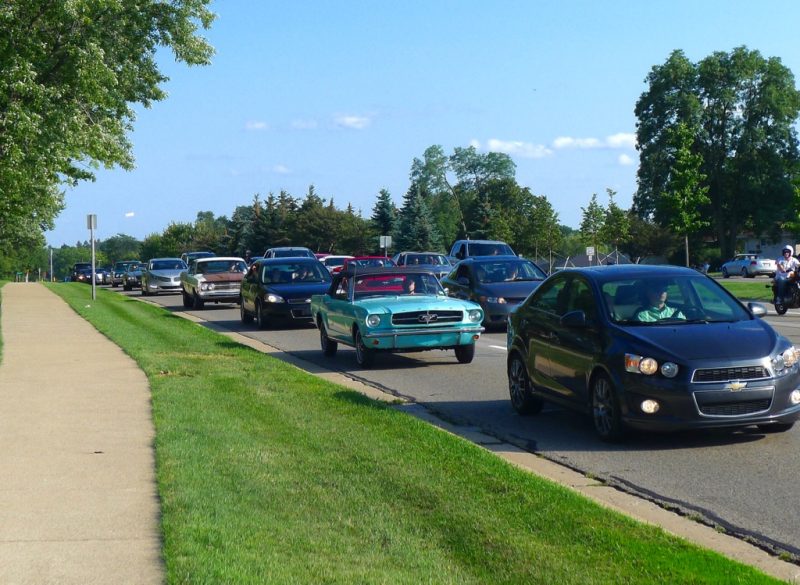 Another completely different experience in Bloomfield Hills is a visit to the Cranbrook Educational Community. The campus consists of Cranbrook Schools, Cranbrook Academy of Art, Cranbrook Art Museum, Cranbrook Institute of Science, and Cranbrook House and Gardens. You can spend a good half day there either before or after your round.
27925 Golf Point Blvd., Farmington Hills, MI 48331;  248-489-1777;  www.coppercreekgolfcourse.com